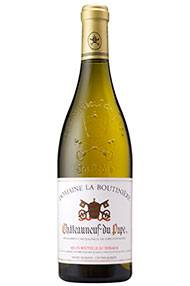 2009 Châteauneuf-du-Pape Blanc, Domaine la Boutinière
White | Drink now | Domaine la Boutiniere | Code: 15729 | 2009 | France > Rhône > Cote Rotie | White Rhône Blend | Medium-Full Bodied, Dry | 13.5 % alcohol
The Story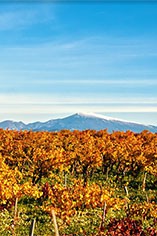 Producer
Domaine La Boutiniere was founded in 1920 by Félix Vidal. This family - owned company is now run by Fourth-Generation winemaker, Frédéric Boutin, who has been the owner and winemaker since 1997. Domaine La Boutiniere represents 12 hectares of property with 10 hectares in the Châteauneuf-du-Pape appellation and 2 hectares in the Courthezon region. Vines are an average of 70 years old and the wines are produced from all 13 grape varieties allowed in the Chateauneuf appellation.
Grape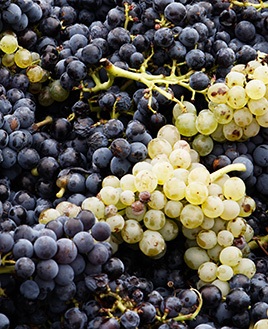 With the exception of the wines from Condrieu and Château-Grillet virtually all Rhône Valley whites are made from blends.
In the north, the white wines of Hermitage, Crozes-Hermitage, St-Joseph, and St-Péray are produced from blends of Marsanne and Roussanne. Generally Marsanne is the dominant partner and it lends colour, body and weight to the blend, as well as richly scented fruit. Roussanne, a notoriously low yielder and pernickety to grow, produces intensely aromatic wines which contribute bouquet, delicacy and finesse to the blend.
Until about 15 years ago there was very little interest in southern Rhône whites as it was widely believed that the combination of dull non aromatic grapes and the baking summer heat meant quality wine production was nigh impossible. Since then the quality has improved markedly through the introduction of cool fermentation techniques and increased plantings of northern Rhône white grapes.
The base of many blends is still Grenache Blanc, a widely planted variety producing fresh wines with apple-like fruits, often with hints of aniseed. Ugni Blanc is still found in many blends, as is Clairette though their general lack of character and definition has led to a reduction in plantings. The future for southern Rhône whites appears to lie with Roussanne, Marsanne, and, increasingly, Viognier.
Region
Côte-Rôtie is one of the most famous of the northern Rhône appellations, with some single vineyard cuvées now selling for the same prices as First Growth Bordeaux. It is the northernmost outpost of the Syrah grape.
Côte-Rôtie translates as 'roasted hillside', as the south-facing slopes are exposed to the maximum-possible sunlight. The appellation covers 500 hectares, with 200 hectares of vineyards stretched across eight kilometres. Vines have been planted here since Roman times, although the appellation was only created in 1940.
Phylloxera devastated vineyards in the late 1800s and Côte-Rôtie's fortunes remained in the doldrums for another century. After the War, a farmer would receive double the price for a kilo of apricots as for a kilo of grapes, hence vineyards were grubbed up and wine production became increasingly smaller.
It has only really been recognised as a top-quality wine-producing area since the 1970s, with
Guigal
being the main impetus behind its revival. The two best slopes, Côte Brune and Côte Blonde, rise steeply behind Ampuis and overlook the river. The Côte Brune wines are much firmer and more masculine (the soils are clay and ironstone), whereas the Côte Blonde makes wines with more finesse and elegance due to its light, sandy-limestone soil. Both the Côte Brune and Côte Blonde vineyards rise to 1,000 feet, with a gradient of 30 to 50 degrees.
The wines are made from the Syrah grape, however up to 20 percent of
Viogner
can be used in the blend, adding finesse, elegance and floral characteristics to the wine. Viognier ripens more quickly than Syrah and the appellation rules stipulate that the grapes must be added to the fermentation – rather than blended later. The best Côte-Rôtie are very deep in colour, tannic and spicy, and need 10 years to evolve and develop.
There are nearly 60 official vineyards (lieux-dits); the best-known are: La Mouline, La Chatillonne (Vidal-Fleury, owned by Guigal) and La Garde (Rostaing) in Côte Blonde; La Viallière, (Rostaing), La Landonne (Guigal, Rostaing) and La Turque (Guigal) in Côte Brune.
Styles vary from heavily-extracted tannic wines which need many years to soften through to lighter, supple and less-structured wines which do not require extended bottle ageing. The most famous wines of Côte-Rôtie are Guigal's three single-vineyard cuvées: La Mouline, La Turque and La Landonne. These are aged in new wood for 48 months, and demand for them amongst connoisseurs and collectors is significant, leading to prices sometimes comparable to Bordeaux First Growths.
Recommended producers:
Guigal
,
Gerrin
,
Rostaing
,
Ogier
,
Burgaud
Best vintages: 2006, 2005, 2004, 2001, 1999, 1991, 1990, 1985
Customer Reviews
Questions And Answers