Warehouse Shop:
Meet the Team
Whether you are looking for a particular bottle to celebrate a special occasion or just something to enjoy at home on a Friday evening, our experienced and knowledgeable shop team are always on hand to offer advice and help you find the perfect bottle.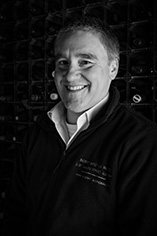 Leon Reilly
Shop Manager
With a family home on the Bordeaux Right Bank, Leon has grown up with a passion for wine – indeed, he still delights in discovering the region's Petits Châteaux. After graduating with a politics degree from Bristol, Leon worked in the world of Lobbying and PR before spending a decade running his own photography business. Hanging up his camera, he completed his WSET qualifications in his spare time before coming to work for Berry Bros. & Rudd.
Although weaned on Bordeaux, Leon's other favourite regions are California and Cognac. When not sharing his wine enthusiasm with anyone who will listen to him, Leon can be found spending time with his partner and two children.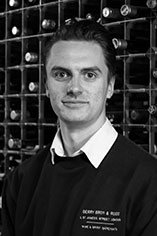 Paul Keating
Wine Advisor
Paul's eyes were first opened to the alluring world of wines and spirits whilst working in a cocktail bar in his home town of Winchester. With initial emphasis on cocktail making (specifically those containing copious quantities of rum) he found himself drawn to the wine cellar, discovering a passion that has thrived ever since.
Realising his true calling, he began working as a sommelier in two different establishments in the New Forest, both of which had superlative wine lists from which he could learn. Gaining his WSET Level 2 and 3 in quick succession, he is now studying for his WSET Diploma. Specific interests include the wines of Champagne and Burgundy, as well as Riesling from around the world.
Dominic Goddard-John
Wine Advisor
Dominic's journey into wine and spirits began almost a decade ago, tending a local pub bar part-time whilst studying. After completing his degree in digital music and sound technology, he re-entered the hospitality sector as a cocktail barman at The Vineyard, part of the Relais & Châteaux group. After touring the wine vault and handling a double magnum of 1982 Petrus, his passion for the industry escalated dramatically. He joined our Warehouse Shop team in September 2016. Besides wine, he maintains a keen interest in music, regularly writing, singing and playing his guitar in a band.
Tatiana Humphreys
Wine Advisor
After studying History of Art at Edinburgh University, wine felt like a natural step for Tatiana. Her interest was sparked by working in her local wine merchant. She jetted off to the Languedoc to work at an estate during the 2016 vintage – learning about winemaking and discovering some rare grape varieties, including Grenache Gris, Macabeau and Carignan Gris – before joining the Berry Bros. & Rudd team. Tatiana is still expanding her knowledge of wine, enjoying finally getting to grips with the intricacies of Burgundy and Bordeaux.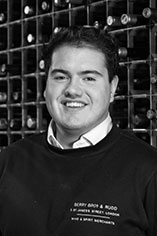 Ben Dunne
Wine Advisor
Ben Dunne joined the Warehouse Shop team at the end of 2016, putting behind him nearly a decade's worth of hospitality experience in order to follow his true calling. It was only in 2012 that Ben became fascinated by wine and has since spent much of his time exploring food and wine matching. He has a love of the New World, with a particular preference for big, bold, Californian whites, but is keen to develop his knowledge as he ventures into the Old World. Outside the office, Ben can often be found in the kitchen, creating new pairings for bottles and trying not to make too much of a mess.