Home > Bordeaux 2020 > The sweet spot
FIVE MINUTE READ
---
At their best, the wines of Sauternes are otherworldly. Clara Bouffard explains how centuries of know-how, precision in the vineyards and meticulous winemaking are distilled into every precious drop.
Once its most famous export, Sauternes is now Bordeaux's best-kept secret. Though it was a favourite of wine lovers like Washington and Jefferson, Sauternes is more often relegated to the status of "just a dessert wine" today. But in every bottle – and half-bottle – lies an incredible human story – not to mention an accessible, fresh, diverse and enticing wine.
REMARKABLE TERROIR
Sauternes is tucked away in a remarkable pocket of terroir between the Garonne river and the Landes pine forest. It's almost an hour's drive south of Bordeaux city, beyond the vineyards of Pessac-Léognan and most of Graves. There are five villages here: Sauternes, Barsac, Bommes, Preignac and Fargues. All have the right to use the Sauternes appellation; producers in Barsac are entitled to use their own appellation should they choose to do so.
Like the Médoc, Sauternes was also classified in 1855, indicating its relative stature at the time. The region accounts for no fewer than 27 classified growths.
With some exceptions, most properties in Sauternes remain family owned. Successive generations follow one another, working together and passing on savoir-faire. At Ch. Coutet in Barsac, Aline Baly represents the third generation of her family, working with her uncle today. "We want to maintain a balance between experience and innovation with a multi-generational and multi-cultured team," she says.
---
Sauternes is a wine of miracles
---
At Ch. Climens – another Barsac first growth – Bérénice Lurton took over from her father almost 30 years ago. She is still in awe of the land and the wines: "It is such a magical terroir, associated with a demanding history. The wines are transcendent: they are as deep as they are airy; and as powerful as they are subtle."
Nearby, at second growth Ch. Doisy-Daëne, Jean-Jacques Dubourdieu represents the fourth generation of his family. He is also the co-director of the Sauternes appellation. "Our savoir-faire is centuries-old," he says. "We have no competition on a global scale. We produce less than one percent of overall production in Bordeaux."
For such a small percentage of Bordeaux's overall output, a huge amount of work goes into making Sauternes.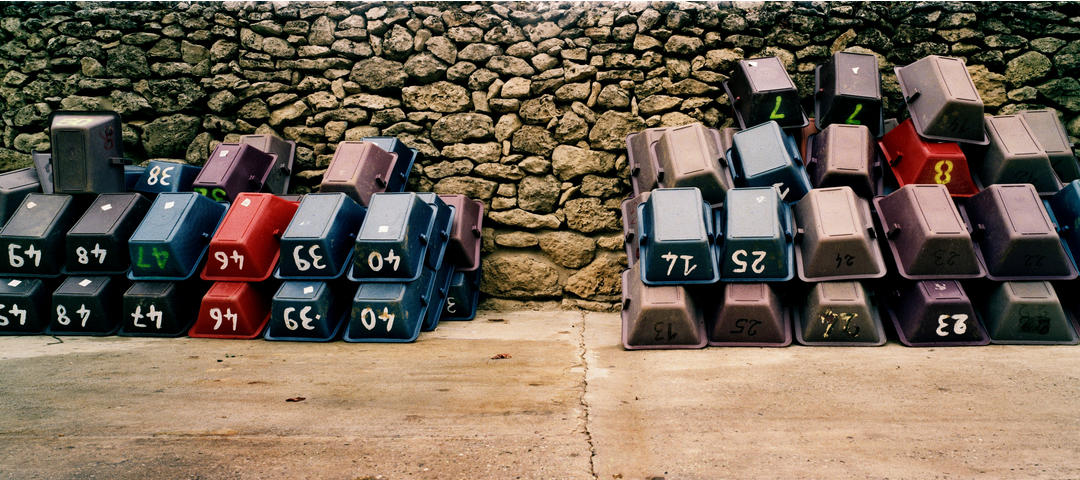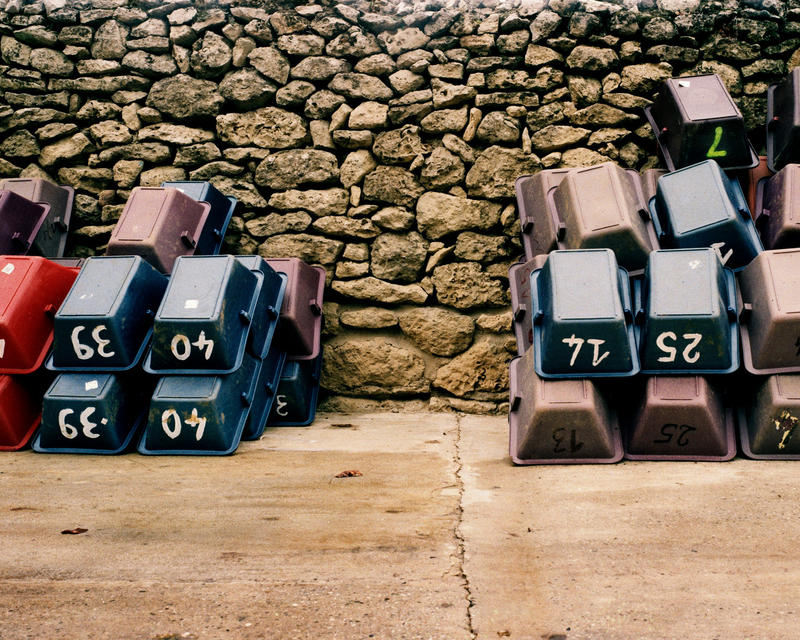 Harvest baskets in Sauternes, cleaned and ready for the next pass through the vineyard
WHAT IT TAKES TO MAKE SAUTERNES
"Sauternes is a wine of miracles," says Aline. The idea of making wine is, for many, a romantic one. Many of us would like to believe that it's the result of magic.
But producing wine of any kind is a real challenge: you have to worry about nurturing vines; warding off diseases; and enduring frost, hail, drought and floods. Then there's harvest, fermentation, maturation and bottling. And that's not to get into sales and distribution. As if all that were not intricate enough, making Sauternes has yet another challenging, but crucial, step: the development and action of botrytis or "noble rot".
"Sweet wine production is by essence even more risky and unpredictable than any other agricultural work," says Bérénice. Yields for Sauternes and Barsac in 2020 were very low, just 12.3 hl/ha, compared with 17 hl/ha for sweet Bordeaux overall.
What may sound like a herculean task to the ordinary consumer is very much the norm at the châteaux. That Sauternes has a rich heritage and exceptional terroir is well understood. Listening to producers, it becomes clear that making Sauternes goes beyond the workmanlike management of natural hazards. The producers love these golden wines, and their passion is what it really takes to make Sauternes. But passion means nothing if it cannot be shared.
A GUIDE TO OPTIMUM INDULGENCE
Traditionally, sweet-wine pairings with food have been limited to foie gras or dessert. But in recent years, consumption patterns have changed. New trends have emerged, revealing Sauternes' incredible gastronomic versatility. These wines are known for their delicate balance between sweetness and acidity, earning them a place at the dinner table. If you haven't yet given them a chance, these wines will surprise and charm you.
Lighter or younger vintages pair especially well with savoury food. Iberico ham, oysters and foie gras would make a dazzling tapas trio. But there are many more options of charcuterie and seafood that would work just as well.
"I specifically enjoy Climens as an apéritif," says Bérénice, who also has a penchant for food-and-wine pairings, especially with spices and cheese. Spicy food and Asian cuisine paired with Sauternes will bring out the best of those sweet and sour flavours.
Aline particularly enjoys Sauternes with cheese: "Don't be surprised to find me with a glass of Coutet and a cheese platter, enjoying a book in my hammock." The wonders of blue cheese and aged Sauternes together are well known. But other styles, such as - but certainly not limited to – mature Comté or Gouda, work beautifully too.
---
The wines are transcendent: they are as deep as they are airy and as powerful as they are subtle.
---
The key is contrast and balance. And the beauty is that, once opened, a bottle will easily keep for three weeks in the fridge. With desserts, best practice is to avoid pairing wines with anything too rich or too sweet. Fruit-dominant desserts, such as a lemon meringue tart, will perfectly balance the sweetness and acidity.
At Doisy-Daëne, the Dubourdieu family enjoy all of the above, as well as poultry and pork pairings, too. But simplicity sometimes prevails, and they'll enjoy a glass "in lieu of dessert, or on its own to celebrate good news," says Jean-Jacques.
Serving Sauternes on ice with a slice of orange, or as part of a cocktail, is a more contemporary approach. Indeed, it's a local favourite becoming widely adopted in Sauternes, where hospitality and wine tourism are growing.
SAUTERNES 2020
In 2020, everything that could have gone wrong, did go wrong. Hot and dry conditions in early September were not favourable to the development of Botrytis cinerea. A drastic climatic change at the end of September saw the rapid arrival of Botrytis but heavy rains prevented the concentration of the grapes, and storm Alex caused further damage with torrential rain and located hailfalls.
Although at times some producers feared a total loss of harvest, their efforts were rewarded with short but miraculous harvest windows. The 2020 vintage in Sauternes is proof that passion prevails and is rewarded. Despite the small quantities and numerous vicissitudes producers endured, the wines are perfectly clean, aromatic and balanced. They are a tribute to the dedication of their winemakers.
Browse all newly released Sauternes from Bordeaux 2020 here.