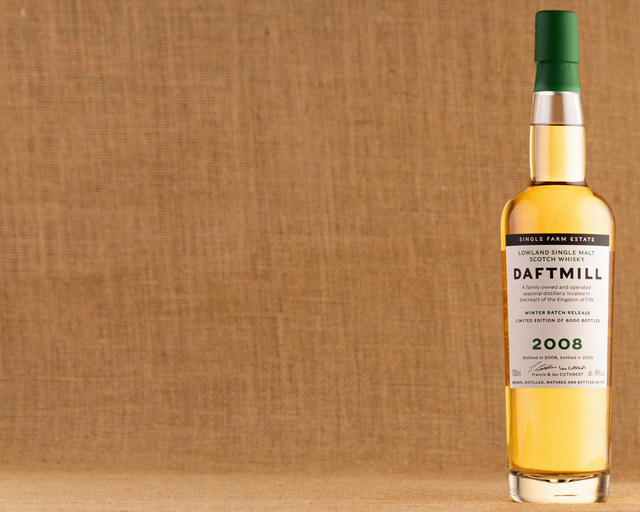 Operating as a true farm distillery since 2005, Daftmill is owned and run by the Cuthbert family. The distillery only operates during the quieter seasons at the farm – mid-summer and winter – meaning that production can sometimes be as limited as 100 casks per year.

To be the first to hear about upcoming Daftmill releases, please register your interest using the form below
The production of Daftmill
Discover how distilling works at Daftmill; co-founder Francis Cuthbert tells us how they run their farm distillery.
Explore the world of whisky
Frequently Asked Questions
When is the next Daftmill release?
The 2008 Winter Release ballot will be opening on Monday 19th April 2021.
What is the closing date for the ballot?
The closing date for the ballot is Friday 7th May 2021.
When will winners be selected?
Winners will be selected on Monday 10th May 2021.
How are winners selected?
Winners are selected automatically and completely at random, by a computer.
When will my bottle arrive?
Once your order has been placed with a member of our Wine Advice team, your delivery will be within 3 working days, unless otherwise stated.
Can I store my bottle in Customers' Private Reserves?
No, unfortunately bottles cannot be stored in Customers' Private Reserves as they are not sold in bonded cases.
Have you received my entry?
After entering, you will receive a confirmation email.
How much does it cost?
The ballot is free to enter. If you are successful, you will then have the option to purchase the bottle of Daftmill for the listed retail price. The retail price is listed at the point of entering the ballot.
What are your terms and conditions?
The ballot runs from Monday 19th April to 6pm on Friday 7th May 2021. You can enter the ballot online at bbr.com/Daftmill. Winners are selected at random after the closing date. You cannot enter the ballot more than once per person, and anyone caught doing so will be removed from the ballot. Winners will be notified no later than Monday 17th May 2021. Following notification, winners will have five days to contact Berry Bros. & Rudd to purchase a bottle of Daftmill. After this time, if no payment has been made, their lot will be redrawn and those contacted as unsuccessful may win a bottle. Deliveries will be shipped within five days of payment. Bottles are limited to one per person. Please note that 776 bottles have been made available to us, and 728 will be available to win out of a total of 5,928 bottles produced by Daftmill. Bottles are limited to one per customer, per delivery address; any orders for more than one bottle per customer will be removed. Please note that deliveries between customers may not be consolidated at any time. Due to current export complications following Brexit, this ballot is eligible for deliveries to UK registered addresses only. We hope to reopen ballots to international addresses in the near future. We apologise for any inconvenience caused.