Home > Editorial > Autumn in the kitchen
10-MINUTE READ
As memories of summer begin to fade, and the air grows crisp and cool, there's great pleasure to be found in the kitchen. Cooking affords us sanctuary, in a bubbling pot of lentils or the careful peeling of freshly fallen apples. The kitchen, after all, is a space for imagination and creativity. The dishes we cherish the most are often entwined with our memories; recreating them is an act of storytelling.
Olia Hercules is a Ukrainian food-writer and chef. Joe Woodhouse, her husband, is a vegetarian food-writer and photographer, and a long-term collaborator of Berry Bros. & Rudd. Together, the couple share four autumnal recipes – two from Ukraine, two from the British Isles. Connected to their early memories, these are dishes they turn to, time and again.
This is one of the most popular salads in Ukraine – one of my childhood (and adulthood) favourites. It can be altered slightly throughout the seasons; cabbage and carrots are the constant, and thinly sliced cucumbers can be added in the summer. I sometimes add red onion and toasted sunflower seeds, too, if I want to "fancy it up".
When I was little, we used to get the special, amber-coloured unrefined sunflower oil straight from the factory opposite my grandmother's house in Voznesensk. It smelled of deep-roasted sunflower seeds, a rich, almost viscous smell – a hit as strong as that of sesame oil. I loved it, but I don't know if I appreciated it in childhood. I do now. So, if you can't get hold of good unrefined sunflower oil, mix some good neutral oil and sesame oil instead.
INGREDIENTS (SERVES FOUR)
2 tbsp unrefined sunflower oil or sesame oil
2 tbsp white wine vinegar
1 tbsp honey
Sea salt flakes
1 small head white cabbage, thinly sliced
2 carrots, roughly grated or julienned
25-30g dill, finely chopped
THE METHOD
Mix the vinegar with salt and honey (it will help them dissolve) in a large bowl, and whisk them together.
Mix the vegetables and dill together through the seasoned vinegar, pour over the oil and mix again. Taste for seasoning and add more salt or vinegar if needed.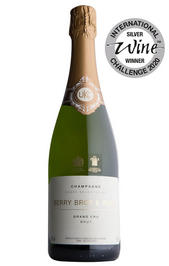 Berry Bros. & Rudd Champagne by Mailly, Grand Cru, Brut
Sourced from the prestigious Grand Cru village of Mailly, our Own Selection Champagne is a classic blend of 75% Pinot Noir and 25% Chardonnay. There's brioche and flowers on the nose, and an elegant palate that marries notes of lemongrass, gingerbread and honeysuckle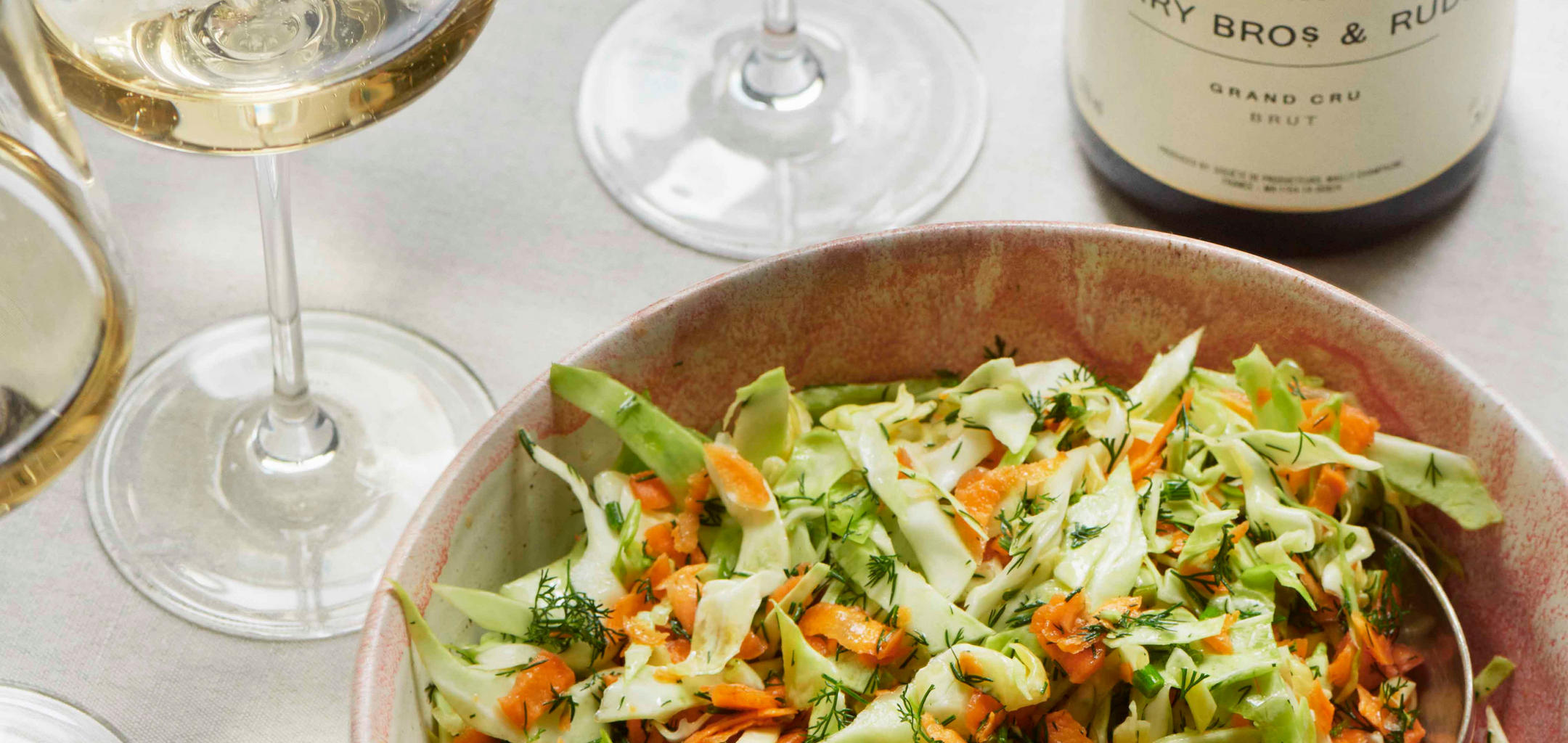 This is a dish we always make when our huge extended family gets together. In the good old days, it was my Aunt Zhenia's job to cook the whole goose or duck in its juices. Her husband, Uncle Sasha –who was a surgeon – would cut the noodles by hand into perfectly uniform shape, each one exactly like the other.
Zhenia and Sasha are long gone, but their dish remains among the wider family. I make it often in London. It is extremely simple, a true three-ingredient dish. Its alchemy does the job, creating flavour and textures unmatched by other dishes. Sticky, soft, slow-cooked bird, naturally sweet and salty and slippery; toothy homemade noodles, coated in silky duck fat.
The work that goes into making the noodles adds to the deliciousness of the dish: it makes one feel loved. But if you are in a hurry, good quality fresh pasta bought from a shop will do, of course.
SERVES FOUR
FOR THE DUCK
1 whole duck
Sea salt flakes
Freshly ground black pepper
FOR THE NOODLES
2 large eggs, the best quality you can get
30ml water
300g "00" pasta flour
Fine sea salt
THE METHOD
My mum has a special elongated cast-iron pan that fits a whole duck – even a goose – in it, but if you don't have one, do break the bird into pieces. Whether you use the whole bird or in pieces, cut off the fatty bits that you find inside the cavity.
Place the meat into a cold pan, then switch on the heat to low – this will ensure that the fat is rendered slowly. Once enough fat has been rendered, turn up the heat and cook the whole duck, or duck pieces, in the fat until properly browned. You may need to do this in batches.
Now add 200ml of water, season the duck well and cook over the lowest heat possible, covered tightly, for two hours – or until the duck is tender and you can easily pull the meat off the bones.
Meanwhile, lightly beat the eggs with water and slowly sift in the flour – just enough to create a firm dough. You can use a machine to do that, using the dough hook. Knead it and let it rest.
Divide the dough into four pieces and roll it as thinly as you can. Then, flouring heavily between each fold, fold the sheet of pasta up, 8cm each time, and cut, using a sawing action so you don't squash the layers together, across into 1-2cm noodles. Alternatively, use a pasta machine if you have one.
When you finish, make sure to separate the noodles with your fingers. Cook the noodles for 2 minutes in salted boiling water when the duck is ready.
To serve, toss the noodles in the duck juices immediately after the noodles are cooked and drained. Put the meat pieces (or the whole duck, as we do in Ukraine) on top of the noodles and serve. Pickles or a simple green salad with a sharp dressing work beautifully here, helping to cut through all the delicious fat.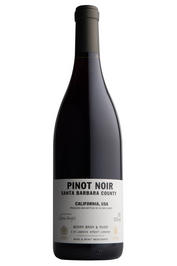 2019 Own Selection Santa Barbara County Pinot Noir by Au Bon Climat
Our Santa Barbara County Pinot Noir is ripe, with rich aromas of red cherries, damsons and wild berries. The palate has a generous and silky texture, its tannins supple and beautifully integrated. Subtle notes of spice and wild herbs provide complexity and intrigue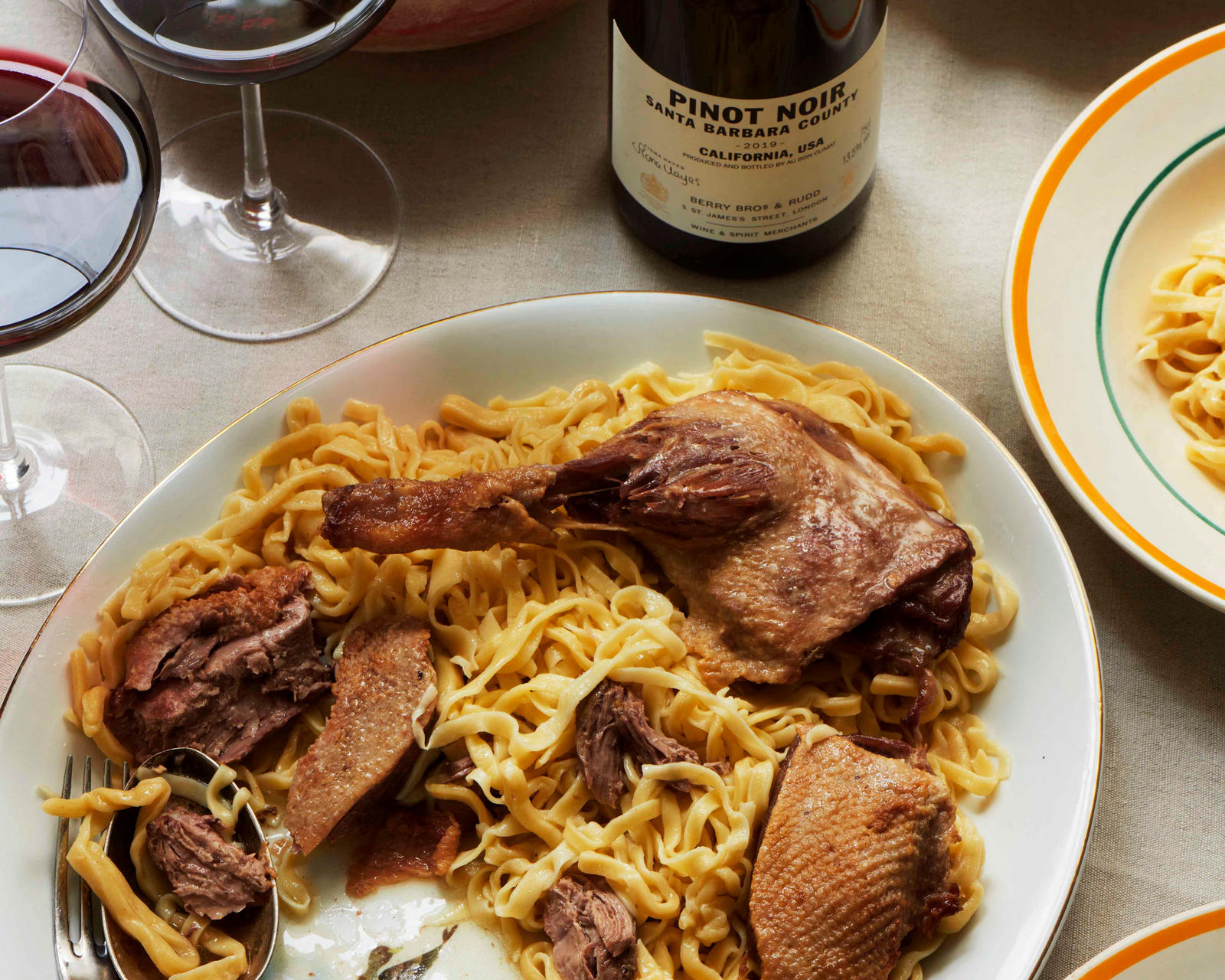 I turned vegetarian at the age of 10. It was somewhat of a shock for my parents, who were convinced it was a passing phase. But they indulged me by cooking a range of recipes from different chefs. This recipe, originally from Delia Smith, was a firm favourite in our family during those early days, substantial enough to satiate all appetites.
The recipe has morphed over the years to be more my expression. I now make it for our children. Whenever I suggest making it to my brother or mother, they always respond with a "yes". Really simple to cook, it can also be assembled ahead of time and heated through when you're ready. I also like to make individual pie-dish versions; they can be cooked and served individually, and they also heat through quicker. Equally, the amounts can be easily doubled or tripled if feeding the masses. It's great with a crunchy salad or some peppery watercress leaves.
INGREDIENTS (SERVES FOUR)
3 tbsp olive oil
1 medium onion, cut into small dice
2 sticks of celery, cut into small dice
2 medium carrots, washed and cut into small dice
3 garlic cloves, peeled and sliced
100ml white wine or cider
2 tins of plum tomatoes (400g each)
250g dry puy or green lentils, or 500g cooked
1kg potatoes, peeled and cut into equal size pieces
100g unsalted butter
200g cheddar, coarsely grated
Sea salt flakes and black pepper
A bunch or two of watercress to serve
THE METHOD
Heat the oil in a large pan and add the onion, celery and carrots. Over a medium heat, stir until the vegetables begin to soften, for approximately 10-12 minutes.
Boil the potatoes in salted water until they fall from a knife easily when pierced. Drain thoroughly and mash until smooth with the butter and a good pinch of salt. Set aside until it's ready to assemble.
Meanwhile, if cooking the lentils from dried, add them to a pan with a good pinch of salt and cover well with water. Simmer gently until tender, about 20-25 minutes.
Add the garlic and white wine to the softened vegetables. Let the alcohol evaporate for a minute and add in the tomatoes. Either with a wooden spoon or a masher, roughly crush the tomatoes to break them up. Rinse the tins with half their volume in water and add to the pan. Bubble away for 5 minutes and add in the drained lentils.
Cook together until the sauce has thickened and is clinging to the lentils. Season well with salt and pepper.
Heat the oven to 180°C. Spread the lentil mix evenly over a deep pie dish that will easily accommodate everything. Add half the cheese on top of this. Then, spoon dollops of mash over the top for a complete, even cover, trying to form peaks as you go. The idea is that these will crisp in the oven. Finish with the remaining cheese and bake in the oven, turning half-way.
Once the pie is bubbling at the edges and the top is golden and crisp, it's ready. It should take approximately 30-40 minutes. It may take a bit longer to heat if it's been pre-assembled and straight from the fridge. Allow to stand for 15 minutes once it's out of the oven.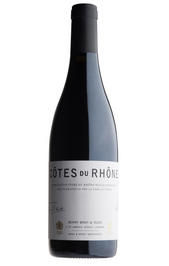 22020 Own Selection Côtes du Rhône Rouge by Rémi Pouizin
Our Côtes du Rhône is so typical of the Rhône, with its herbal notes of dried basil and sage. It's full of fresh blackberry fruit, macerated raspberries, ripe red cherries and an appealing kernel hint. Fine tannins move across the palate smoothly, and the lip-smacking freshness demands another sip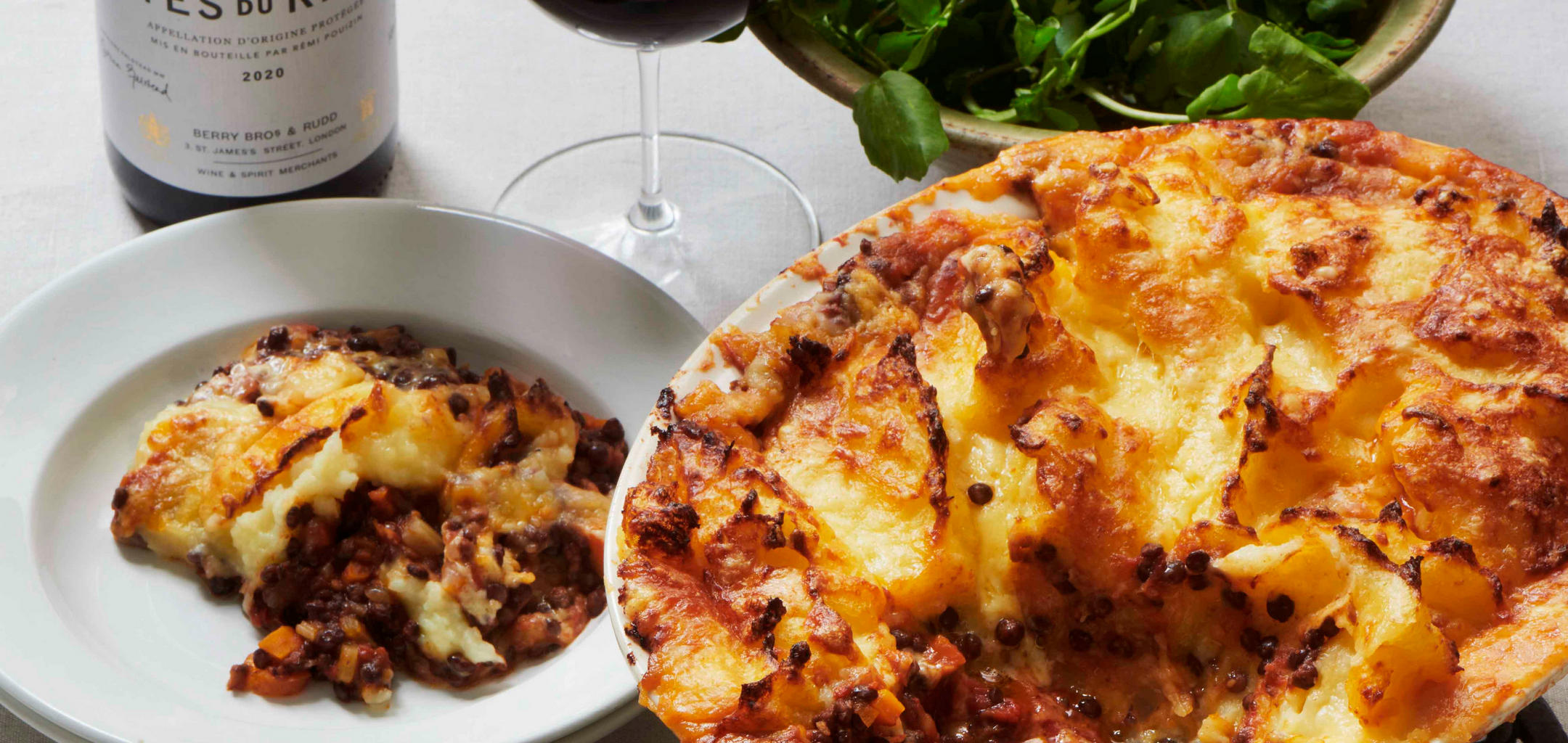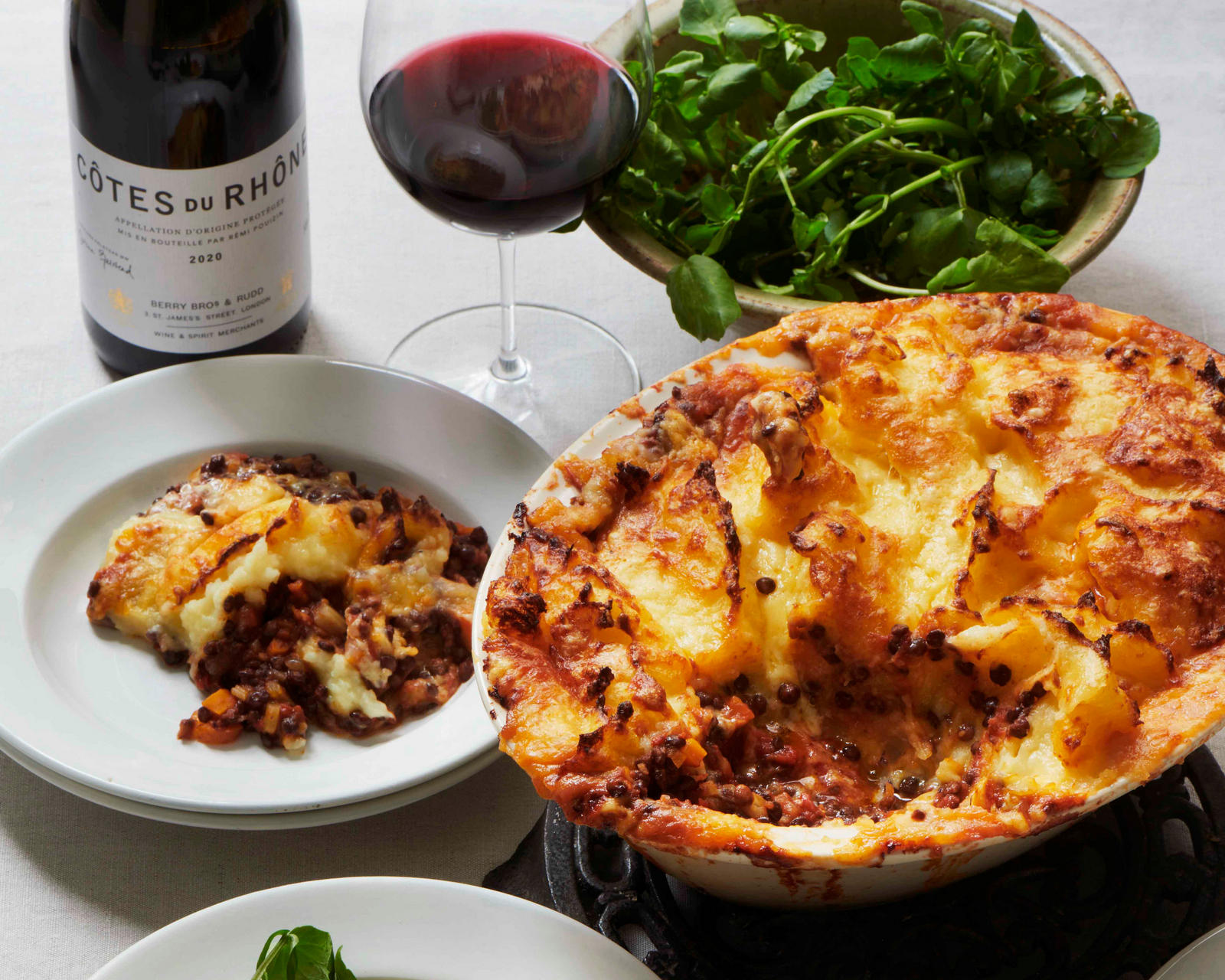 This is such a fond memory from my childhood. Evening mealtimes, especially when I was growing up, were special times. My parents and I, along with my brother, sat down to proper hearty food. We always had a hot meal. Whoever finished first would get the larger helping of seconds.
We always had dessert with our evening meal. My father – being a farmer and working outside all day, as well as having rather a sweet tooth – was keen on us having a proper finish to the evening meal. Apples and custard is one of my favourites – it's so simple, but so comforting.This came about as an easy "get out of jail" type dessert for my mother, if she didn't have time to make something too involved.
We used to have the apples cold and the custard warm. Today, I reverse that: I particularly like cold custard, thick and velvety. But do serve it however best pleases you. When Olia was pregnant with our son, I made this for all of us as a breakfast. Swapping the custard for yoghurt, it goes down really well – especially if the oats are still warm from the oven.
FOR THE CUSTARD (SERVES FOUR)
500ml double cream
50g unrefined caster sugar or honey
6 egg yolks
1tsp of vanilla bean paste, or a split pod with seeds scraped out
FOR THE APPLES
4 apples. Russet, Braeburn or cooking apples all work well – peeled and cored, cut into a 1/2cm dice
50ml sweet Sherry
1tbsp honey
FOR THE TOPPING
50g rolled jumbo oats
50g whole almonds, skin on, chopped in half lengthways
THE METHOD
Heat the oven to 180°C. Meanwhile, in a medium-sized saucepan, add the apples, Sherry and honey along with 100ml of water. Bring to a simmer and cook, stirring until the apples are just starting to collapse.
Turn off the heat and set aside. These can be made ahead and either served cold or reheated.
Heat the cream with the vanilla in a medium saucepan big enough to incorporate all the custard ingredients easily. In a mixing bowl, beat the egg yolks with the sugar until the mixture is combined.
Once the cream has started to bubble at the edges, pour around 100ml over the yolks and whisk until completely combined. Add another 100ml and whisk again. Then, add the remaining cream and continue to mix. Add the mix back to the pan through a sieve.
Over a medium-low heat, stirring constantly to avoid any mix catching, heat the custard mix. (I find that using a flat-sided spatula works best for getting to all parts of the pan base.) It will thicken fairly quickly, though patience is key here not to overcook it.
Once the custard is of a consistency that coats the back of a spatula, it is ready. Remove from the heat and allow to cool before chilling further in an airtight container in the fridge (if you prefer it cold) or serve warm straight from the pan.
Mix the oats and almonds on a baking sheet and toast until just golden in the oven; 10-12 minutes should do the trick.
Spoon the custard into bowls. Add the reheated apples on top and sprinkle over some of the oat and almond mix.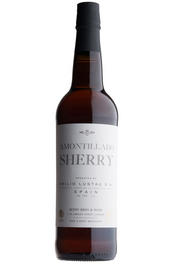 OWN SELECTION AMONTILLADO SHERRY BY BODEGAS EMILIO LUSTAU
This Amontillado has been blended and classically aged in Jerez de la Frontera, the home of Sherry. It has a wonderful colour and texture from the flor yeast, with good freshness and deliciously complex malty hazelnut flavours