Home > Editorial > On Barbaresco
TWO-MINUTE READ
---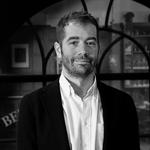 Davy Żyw, Italy Buyer
Its impossible not to draw parallels between Piedmont's two premier fine wine regions: Barolo and Barbaresco. The two share so much, but nothing more important than the grape. Nebbiolo is demanding and picky about where it grows, but when tested, this grape is capable of showcasing the subtlest of differences and nuances of vineyard and winemaking. Although only 12 kilometres apart, there are many climatic, cultural and geological differences between these two regions. The climate is a little warmer in Barbaresco. It lies next to Tanaro River, further from the Alps and closer to the sea: lower in elevation, with sandier soils. Here, Nebbiolo ripens a little earlier, meaning these wines are often more approachable in youth than Barolo. This where a key difference lies, with Barbaresco released one year earlier.
Like the Barolo region, vineyards are grouped by village communes. There are 11 communes in the Barolo region; being a much smaller area, there are only four communes in Barbaresco, with the greatest sites around the hilltop villages of Nieve, Treiso and Barbaresco itself.
There are different soils in both regions, but we find that many of the best sites in Barbaresco and Barolo have soils from the Tortonian age. These are rich with sand, clay with mineral blue marl, all of which give profound character to the wines of the region. There are similarities, too, in exposures: many of the favourable cru vineyard sites have south-facing elements, sometimes with steep, naturally occurring amphitheatres. Although lower than Barolo, altitude plays a key role in Barbaresco too. This has an impact on climatic differences, but it's also important when considering how the hillsides exfoliate. By doing so, they reveal different layers of ancient strata, in turn giving distinct identities to the wines.
An important bridge between these two great regions is the human element: we are increasingly finding more great producers, from both regions, investing in each other's vineyards. This cross pollination of winemaking expertise and talent benefits both regions. Barbaresco may still be lesser known than Barolo, but both are on a road of discovery, as they understand the full potential of the region's terroir and find their place in the global fine-wine arena.