Home > Editorial > Château Haut-Bailly: come on up to the house
EIGHT-MINUTE READ
---
Véronique Sanders has been connected to Château Haut-Bailly for as long as she can remember. When her grandfather sold the property to the Wilmers family, it could have been the end of her story. In fact, it was just the beginning. Here, she shares insights from her 20-plus years at the helm of this much-loved Pessac-Léognan estate
The Sanders family bought Château Haut-Bailly in 1955. Successive generations – Daniel Sanders, then his son Jean Sanders – ran the estate until 1998, when it was acquired by the American banker Robert "Bob" Wilmers. Yet despite the change in ownership, there's still a Sanders at the helm 25 years later. "I've always been here. It's in my blood," Véronique Sanders tells us as we sit down in a large hall. Véronique is Jean's granddaughter; she remembers vividly spending holidays here as a child, "at the boots of my grandfather." She dreamed of working here one day, perhaps even running the place. Though her career looked to be going another way: she studied in Paris and worked abroad before joining what was then the family firm.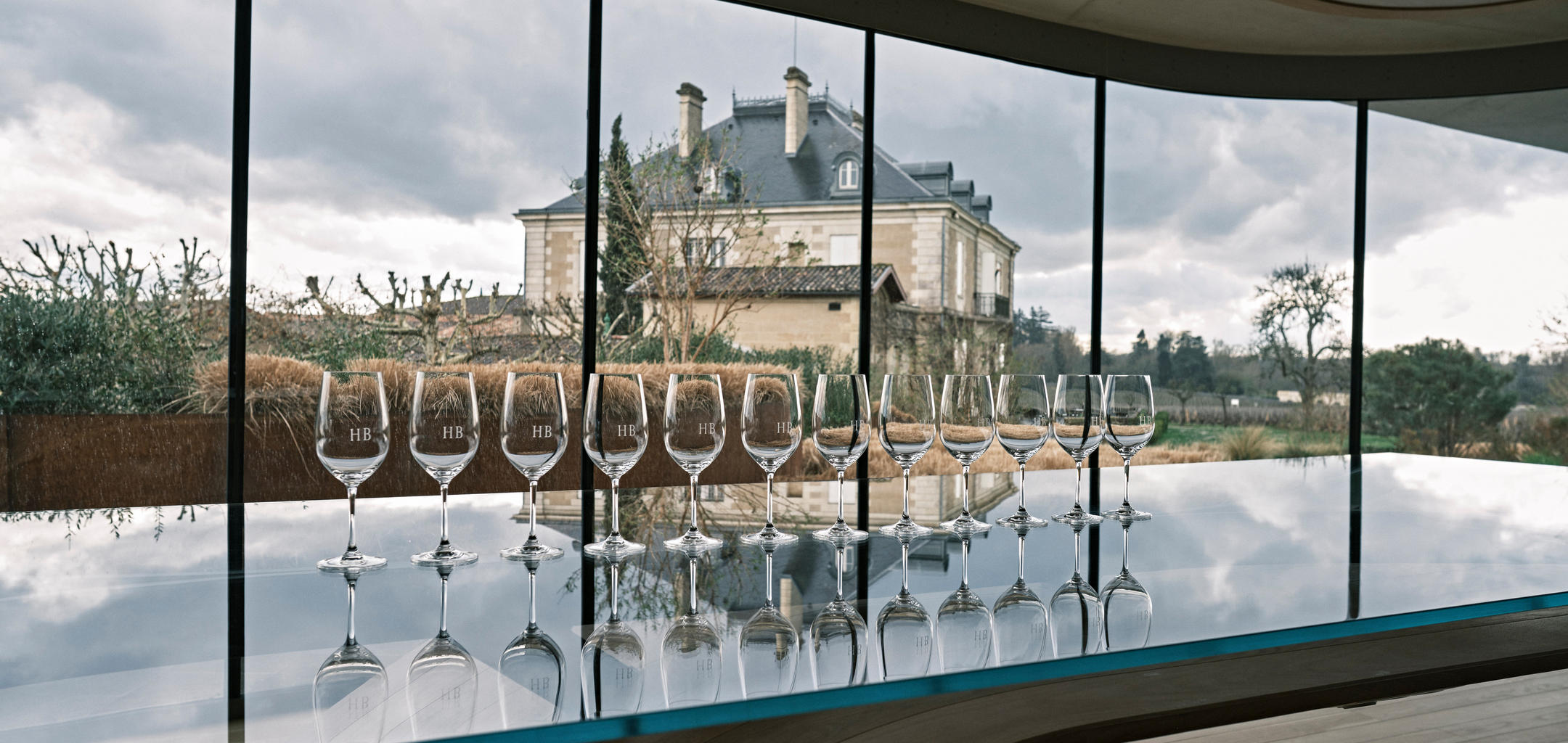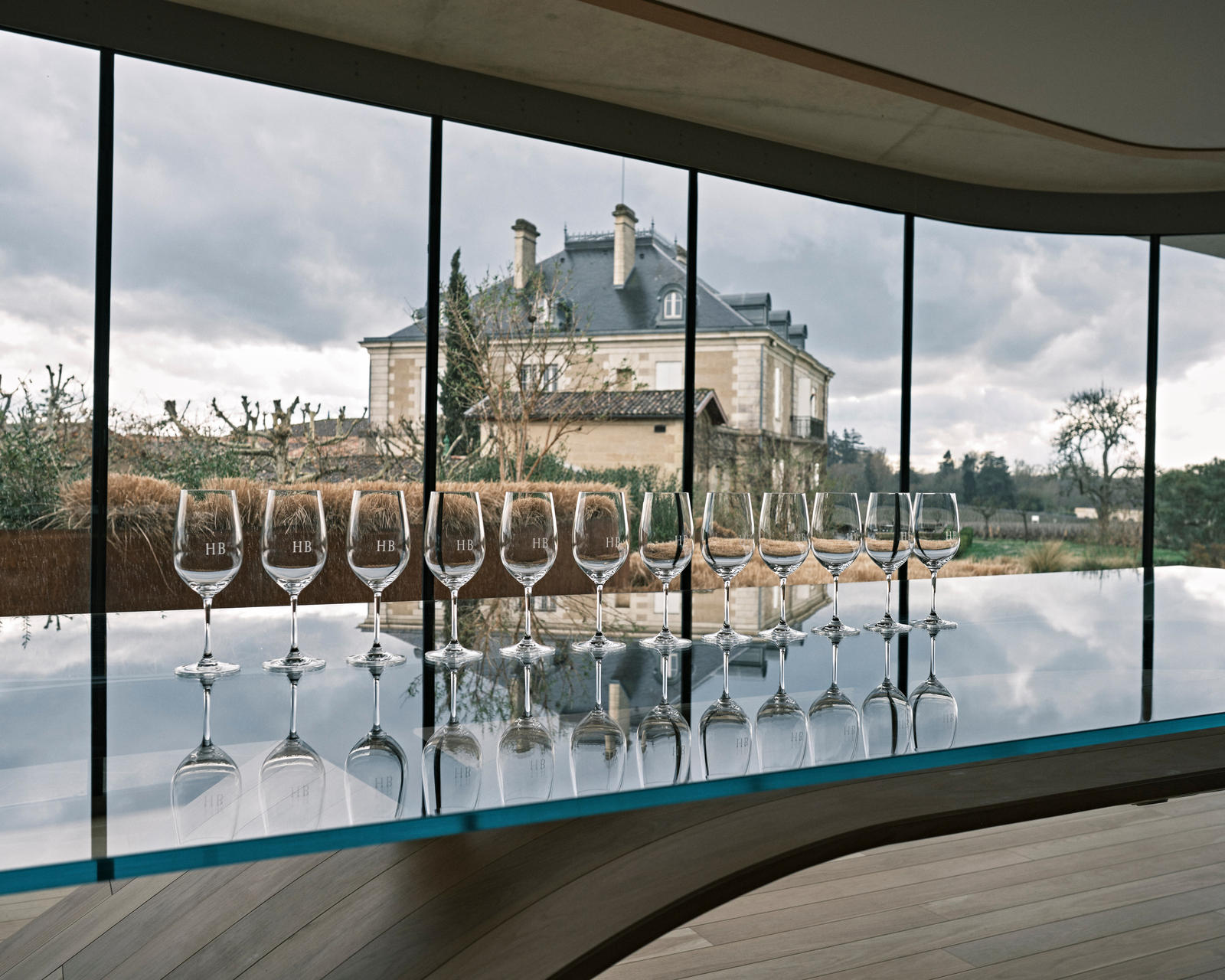 The elegant new tasting room offers an unbeatable view of the 19th-century château
That she would take over was by no means predestined. "When I started, there were no women in the industry," she says. "Even in my own family, having a woman at the head of the estate was not obvious." She credits the late Bob Wilmers with taking a leap of faith in her and her abilities, appointing her as President in 2000. "Bob had the audacity to trust me when I knew nothing and had everything to prove," she says. "Of course, it was sad that we sold the estate, but it was fabulous to be able to put all my passion and energy into running it."
Though Bob sadly passed away in 2017, his memory is palpable here. "Every moment was special" with him, Véronique says. "Bob was so sharp. He could see the global picture; the objectives; the challenges. He was always so interested in people. His greatest talent was to ask questions. And he would remember every answer, even six months later. He could have dinner with Hillary Clinton or the most junior person from our company, and he would have interests in common with both. That's very rare."
Today, Bob's son Chris Wilmers is the Chairman. Based in the US, he's a professor of environmental science and ecology at the University of California, Santa Cruz. "Chris is a reference point in that world," says Véronique, "which is, of course, what we need today. He reminds me of his dad in many ways."
 "Bob Wilmers had the audacity to trust me when I knew nothing and had everything to prove. Of course, it was sad that we sold the estate, but it was fabulous to be able to put all my passion and energy into running it"
- Véronique Sanders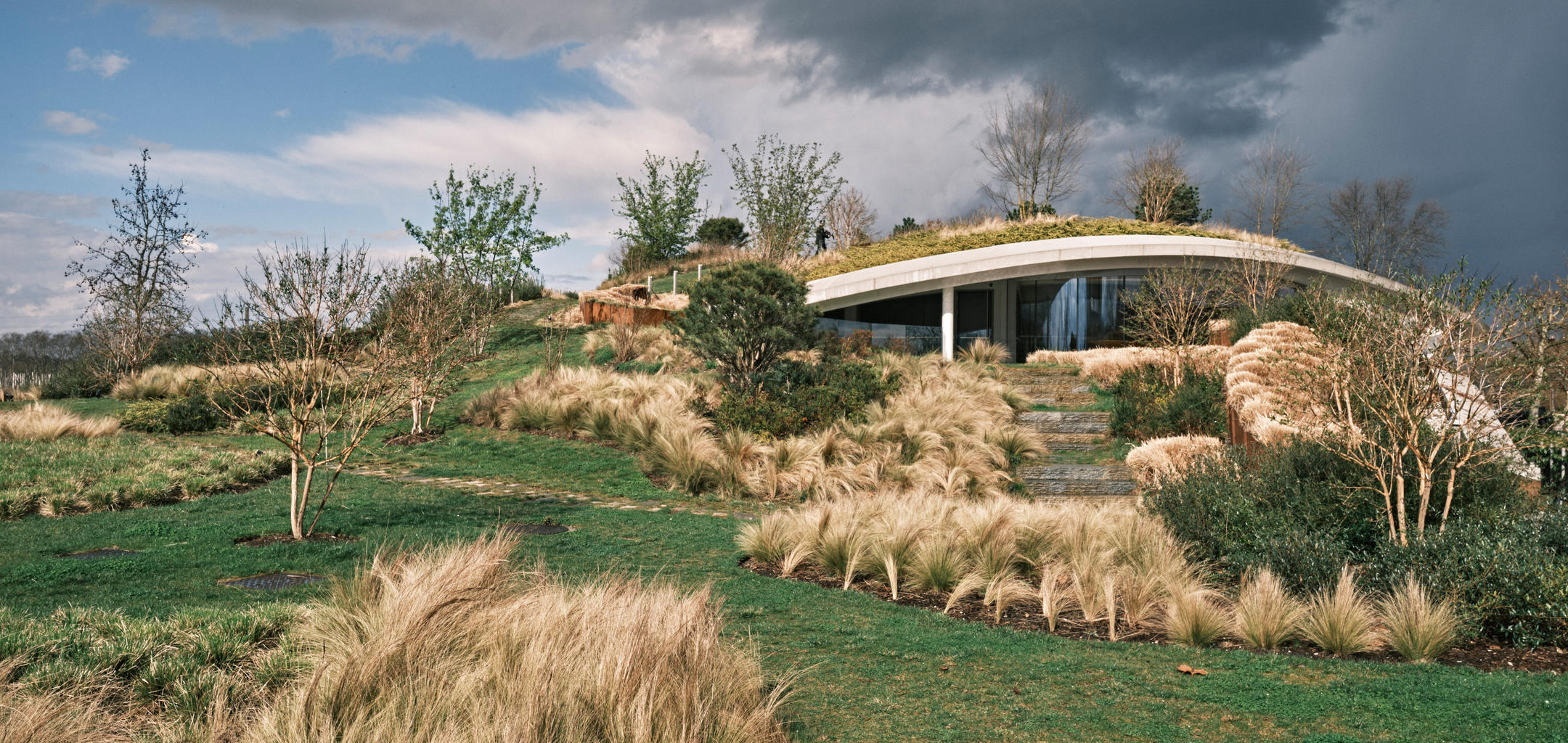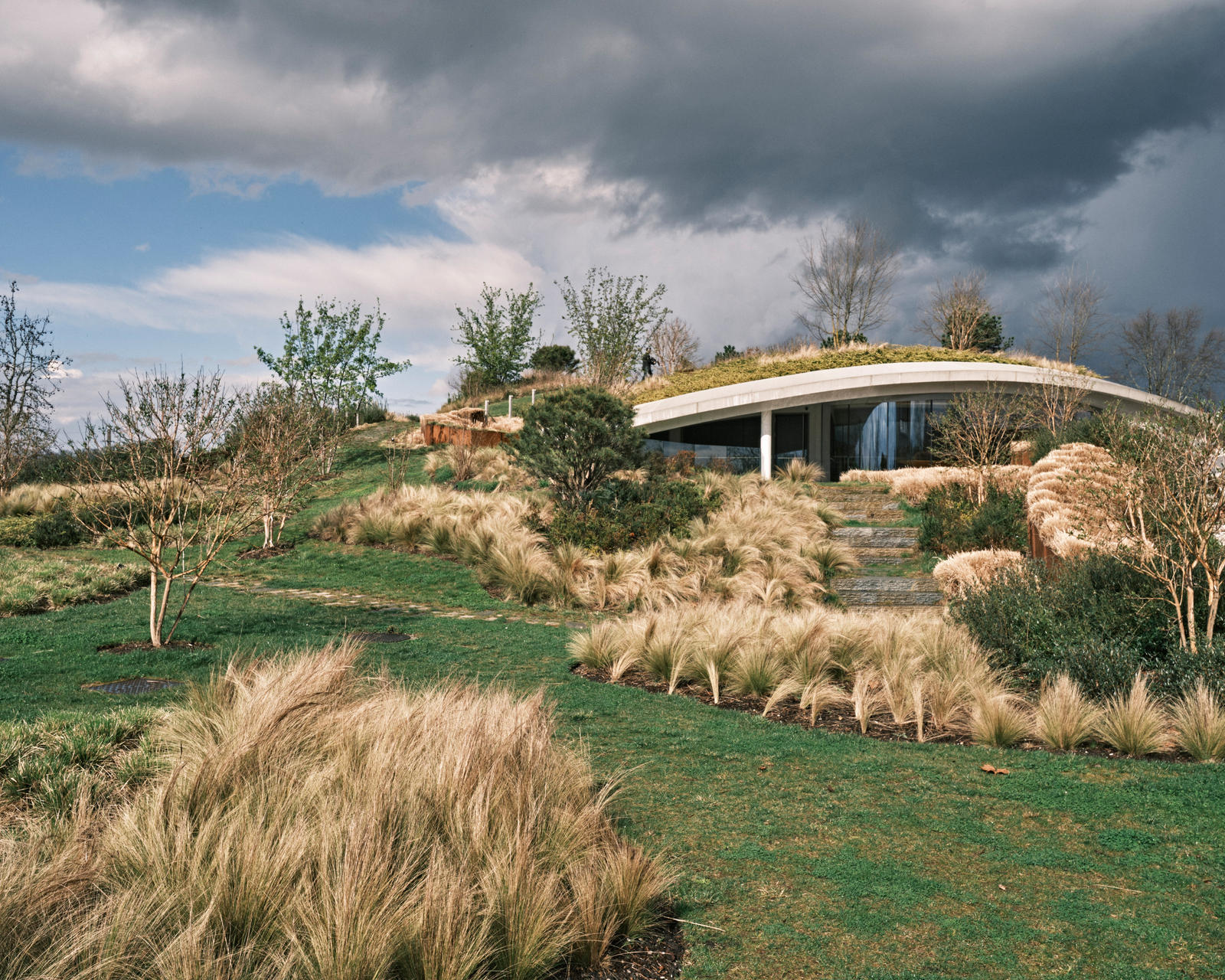 The exterior of the new winery. The building is nested into the ground. "When you're in the vineyard you don't see a building," Véronique says
Véronique is warm, thoughtful and charming. She is also modest – and quick to point out that the Sanders story "is only a little part of the history of Haut-Bailly". There is documentary evidence of vines here as far back as the 1300s; the estate is in Pessac-Léognan, in the Graves, "the heart of the Bordeaux region, where we've been making wine since the Middle Ages."
The estate's rich history is well documented in Jane Anson's Château Haut-Bailly: An Exceptional Terroir. Of the many "great characters" here over the centuries, Véronique highlights Alcide Bellot des Minières, the so-called "Roi des vignerons" ("King of winegrowers"). "He put all his money and investment into Haut-Bailly," she says. "He pushed it to the level of the First Growths."
Documents from the 20th century show that Haut-Bailly routinely commanded the same prices as the likes of Ausone, Margaux and Yquem, Véronique says. But despite its proud and colourful history, this is not an estate that needs to rely on past glories. The modern era here, with Véronique and the Wilmers family working hand-in-hand, has been something of a golden age. "My grandfather wouldn't have sold Haut-Bailly to someone he didn't trust," Véronique believes. "He and Bob basically chose each other."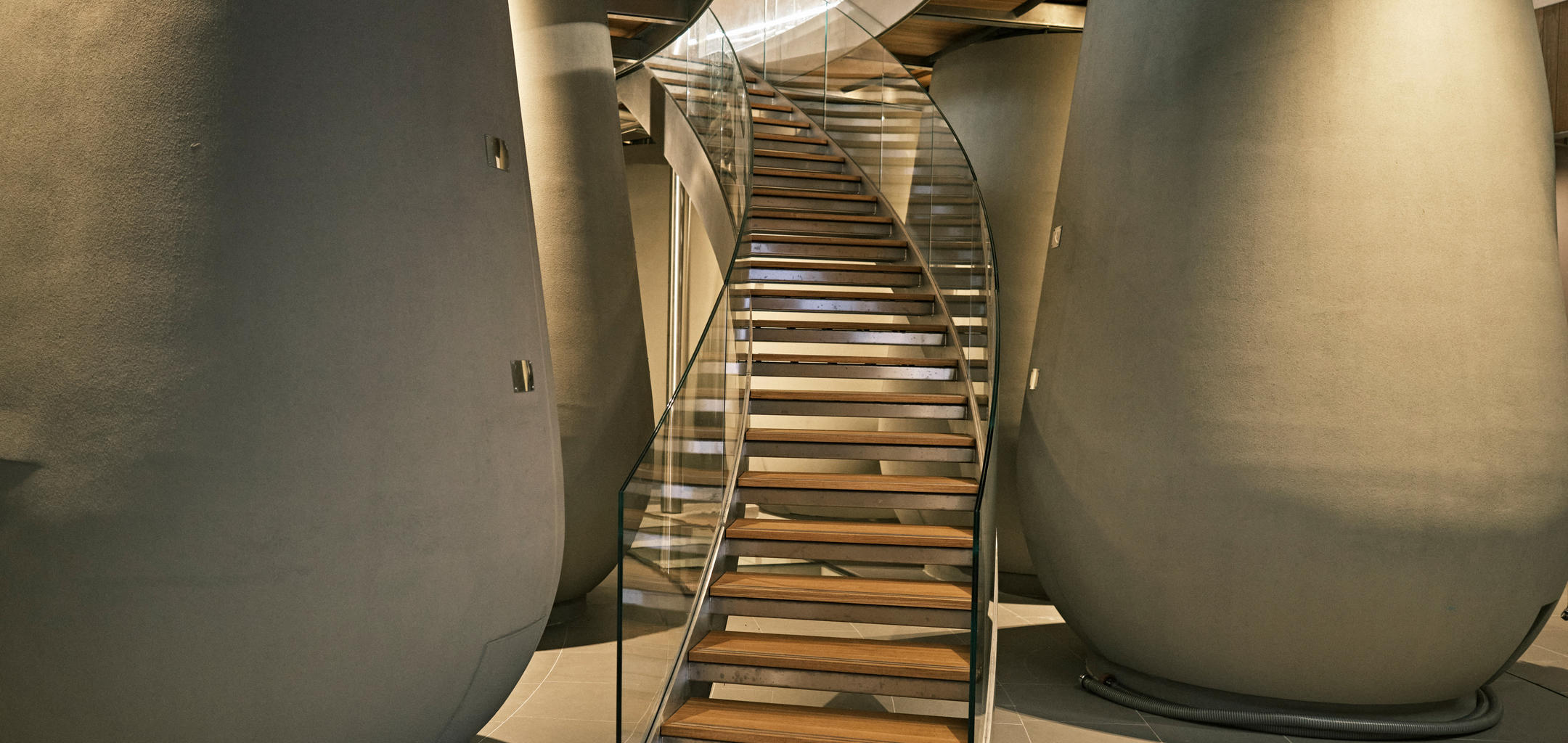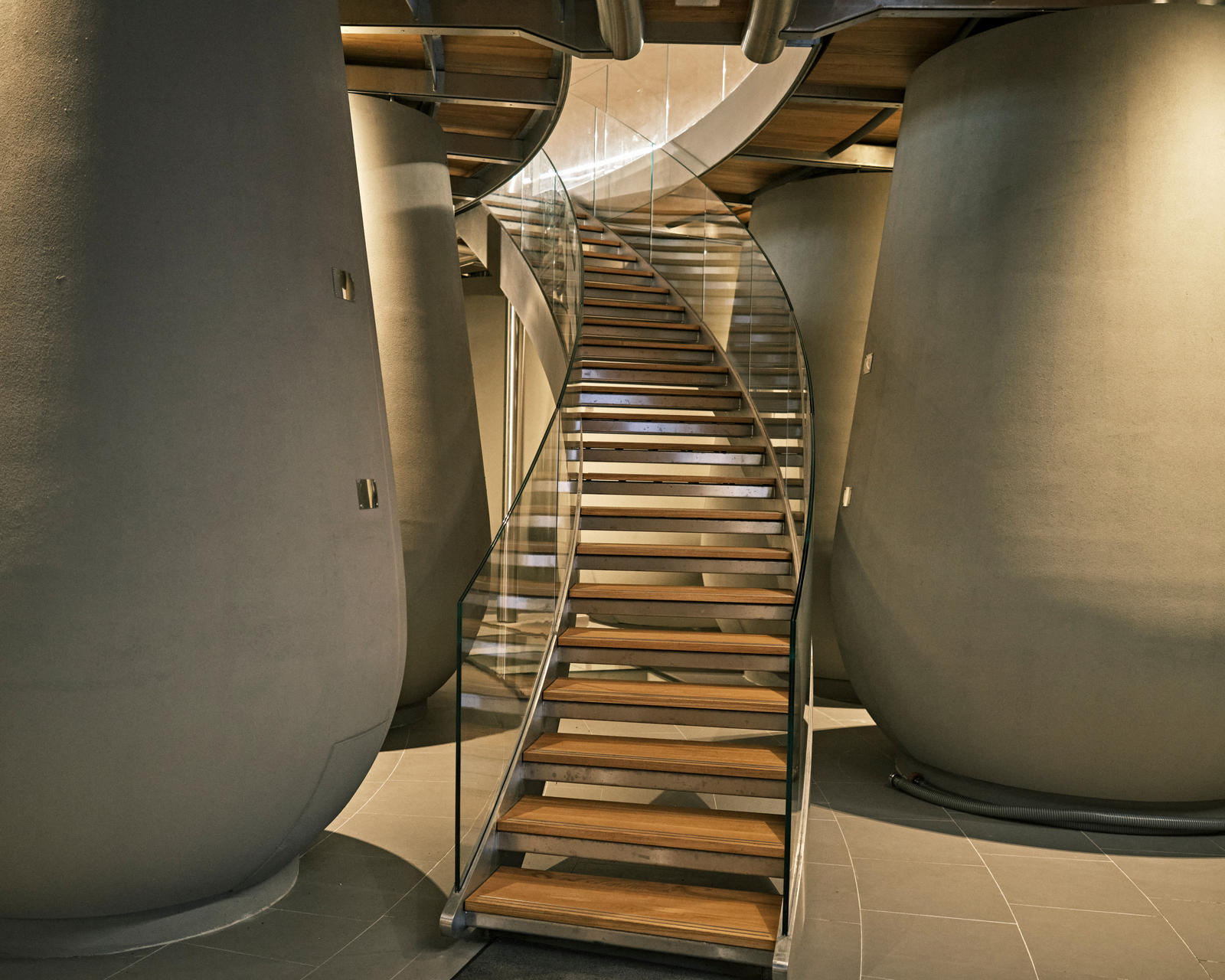 The winery's pristine interior
Véronique had to roll up her sleeves from day one. "We had so much to do when I arrived," she recalls." "They were very long days; we had to be everywhere. But I loved it." There was pressure to make improvements in the cellar to reflect advances in technology. There was also a weighty responsibility not to mess things up. Her grandfather had been producing excellent wines, and Véronique "had to maintain that quality, not fail, and go even higher if I could." Being a woman in a male-dominated industry presented its own challenges, too. "For the technical team, having a woman in charge was not easy, but I think we made it."
Things have "moved fast" in her time here: "Since 1999, we've never stopped having something under construction, or a new project. It's a never-ending process." This march of progress reached its zenith in 2020, with the unveiling of a brand-new cellar by the architect Daniel Romeo. "Everyone sees the cellar," Véronique acknowledges, "but the first phase of that project was actually a huge study in the vineyard, to see how we can adapt to climate change."
This was not Véronique's first analytical look at the terroir, but it was the most technologically advanced. It gave them "a very detailed map, showing what we should plant where, in terms of rootstock and grape variety." The team now have a clearer idea than ever before of the nature of the vineyard. Their 30 hectares of vines extend over a range of soil types, including the appellation's signature deep gravels as well as clay. It's a nuanced site, warranting a nuanced approach. Work in the vineyard is done "at the level of each single vine. It's a bit crazy, but I like crazy things."
There are no "set recipes" for vineyard operations. They grow six grape varieties here, on a range of rootstocks and soils. Decisions about pruning, canopy management and harvesting are made with respect to each individual plot, sub-plot or vine. "We might de-leaf on one side; we might not de-leaf at all; we might de-leaf on both sides," Véronique says. "Every decision is just an adaptation to the climatic conditions."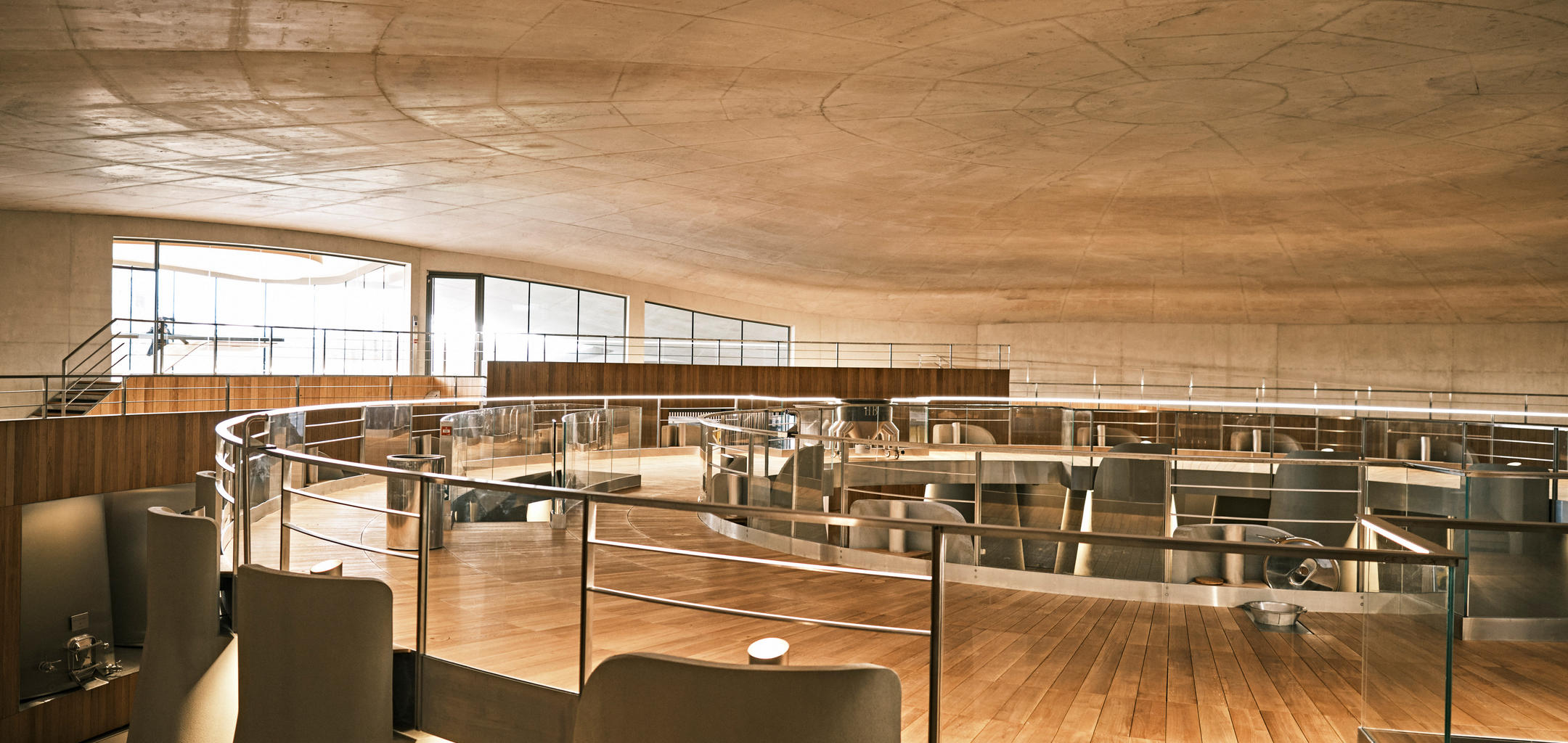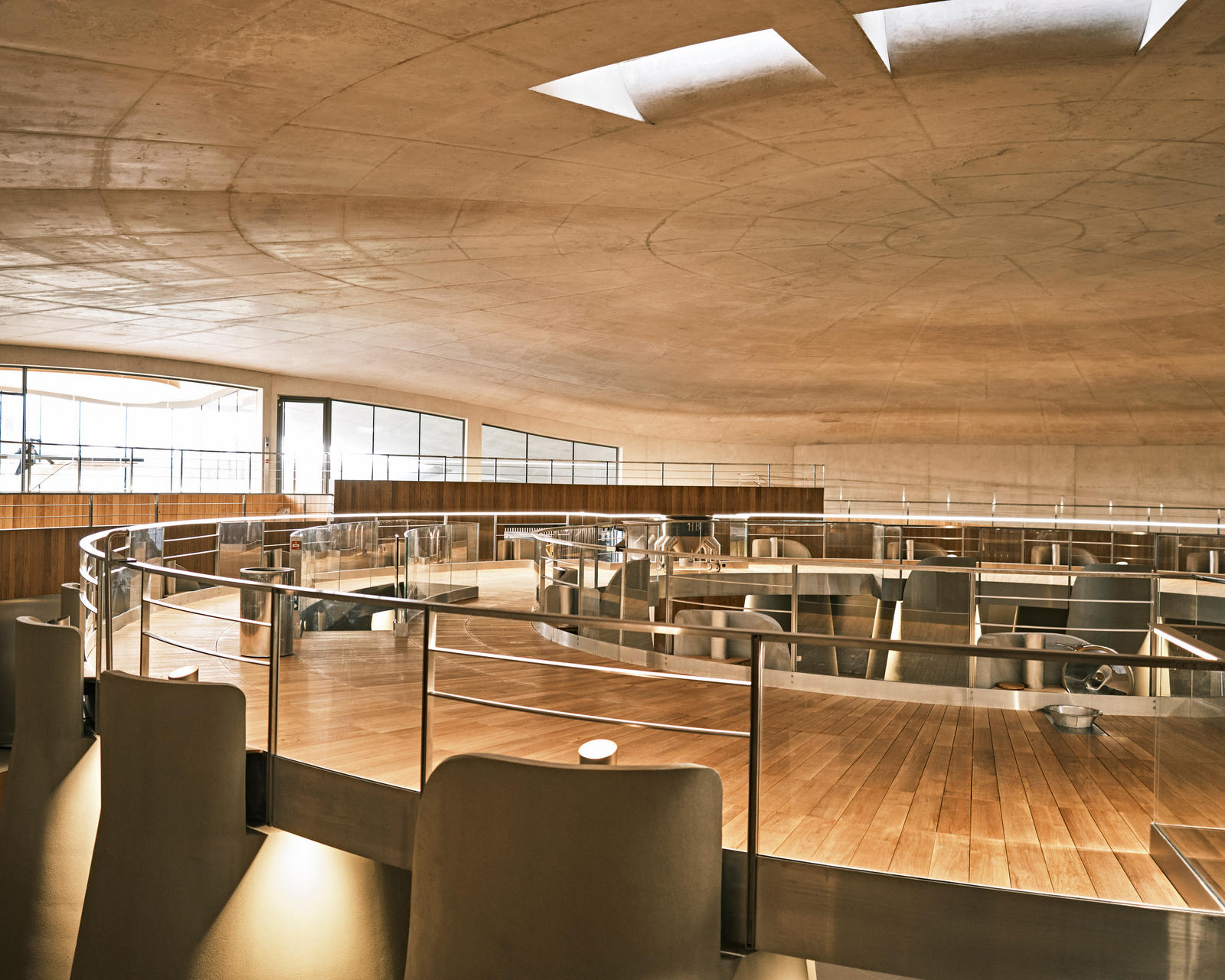 A space dedicated to precise winemaking
Embracing the diversity of the vineyard yields a broad spectrum of fruit. "Depending on the grapes we get, we will vinify differently," Véronique explains. This detailed approach meant they needed to rethink the facilities. Working as precisely as they do here called for more vinification space (as did the Wilmers' purchase of nearby Château Le Pape in 2012; it too is made at Haut-Bailly). "We wanted a central place at the heart of the estate where everybody could work."
Haut-Bailly being such an historic vineyard, this presented a slight logistical challenge. "Of course, we were not allowed to pull out a single vine," smiles Véronique. The solution was to build both downwards and upwards, out of the ground; the cellar is effectively camouflaged by natural foliage. To the naked eye it looks like little more than a garden atop a small hill; the 19th-century château is taller than it. "When you're in the vineyard you don't see a building," Véronique says. "You just see a garden."
And though you can't easily tell from its calm exterior, this is a working winery, with state-of-the-art facilities. Overall, the winemaking approach is "very traditional", Véronique says. The human touch is a light one; the goal is to coax out the inherent characteristics of the vineyard above all else. "Everything is gentle to preserve the fruit, the tannins and the identity of what the terroir gives us. We are not hiding anything; we are just trying to reveal it."
For Véronique, the identity of Haut-Bailly is elegance. "Elegance is the opposite of showing off," she says. "Elegance has to be discreet; but it has to be memorable."
It's one thing to lead an estate of Haut-Bailly's calibre. It's quite another to do so for over 20 years, to live up to and exceed the high standards set by those that came before you. And to do that consistently is quite remarkable. "It's easy to make one, two or three good vintages," Véronique reflects. "It's easy to be in the light for a while. It's more difficult to reflect the great characteristics of this terroir in every single vintage. We start each year as if we were starting from scratch: knowing nothing, and with the same enthusiasm as if it were the first time."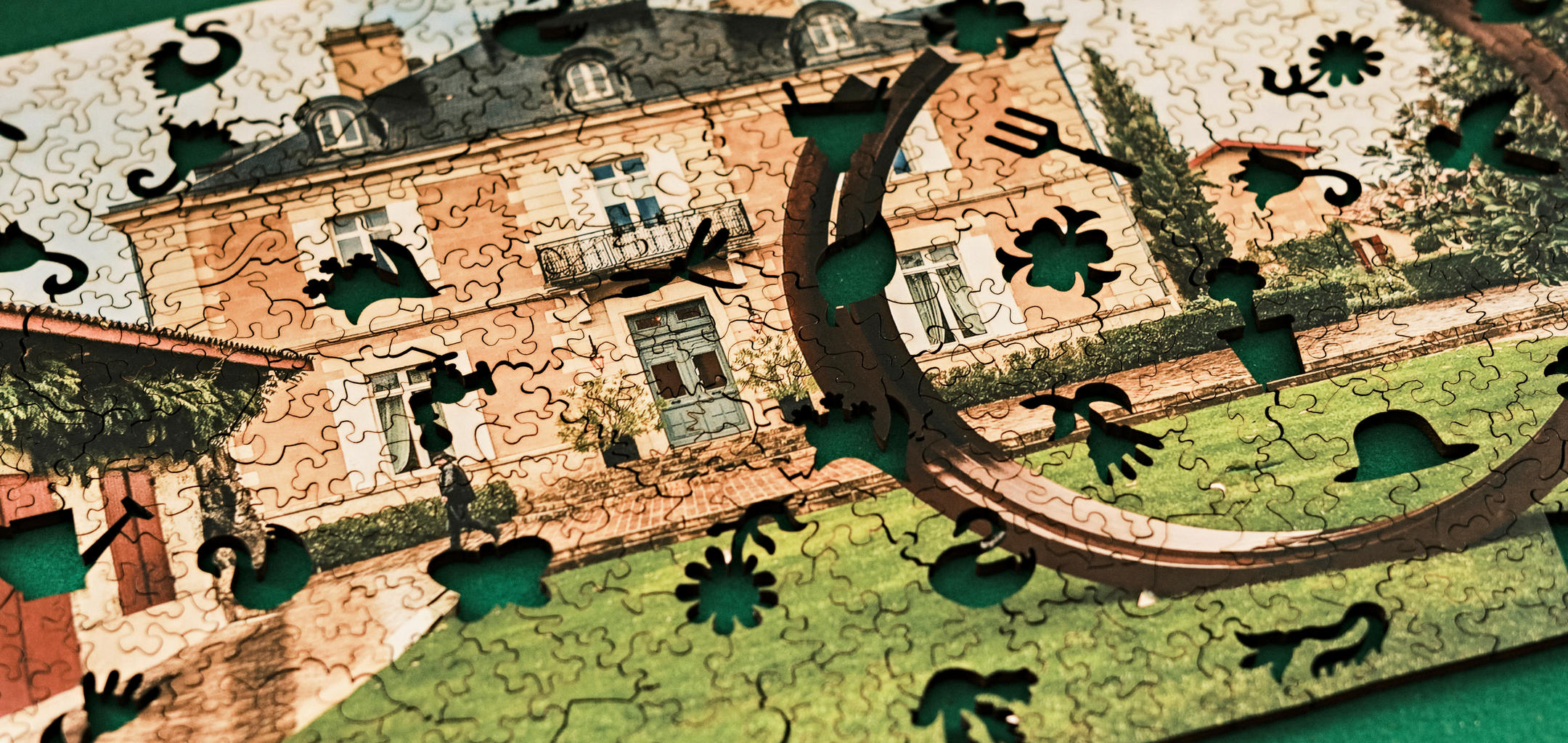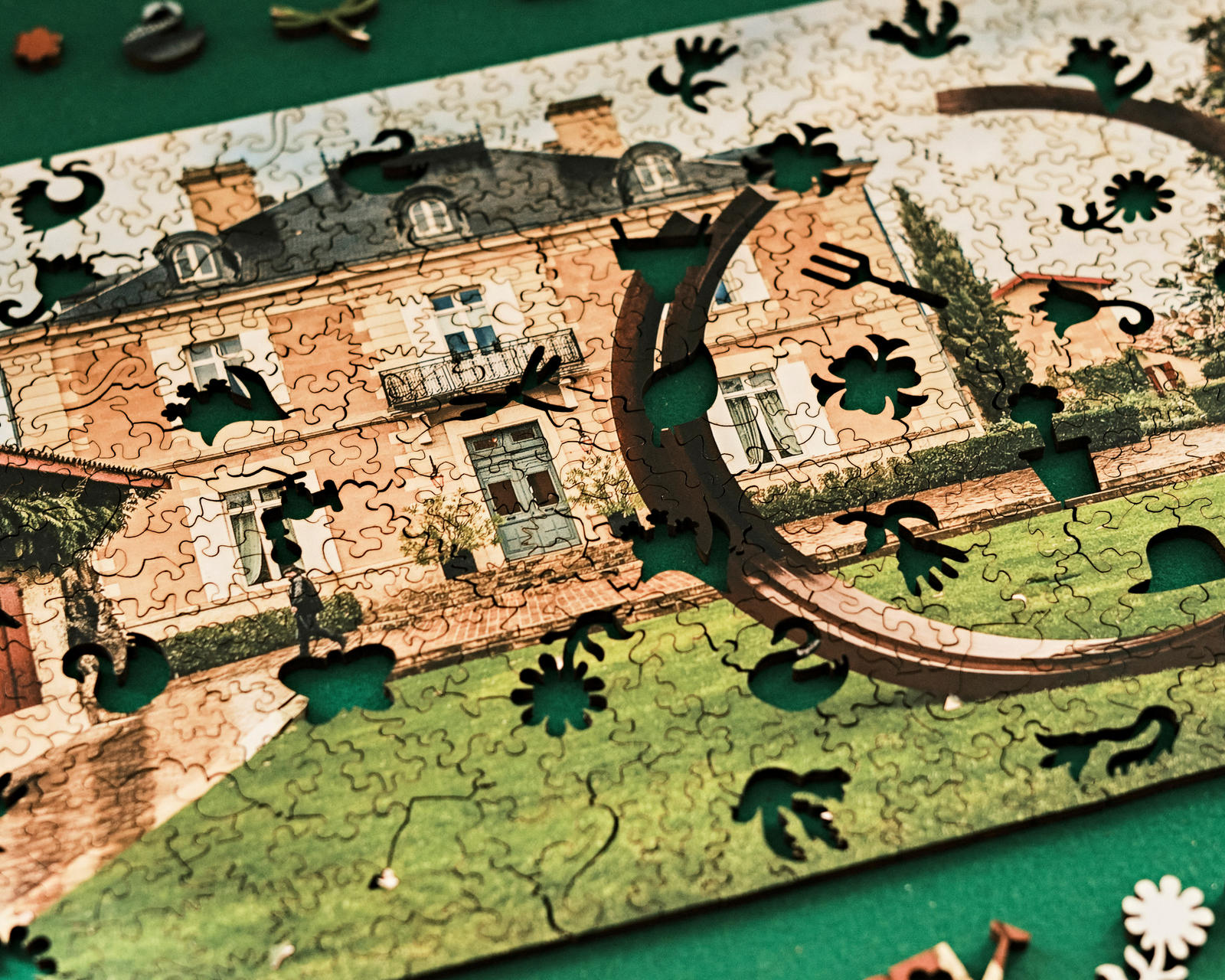 Véronique's enthusiasm is striking. She's led an admirable career and is today among the most respected figures in Bordeaux wine. Her tenure here has required considerable determination, perseverance and hard work. Talking to her, walking through the discreet cellar and taking a moment in the calm of the rooftop garden, the image of a swan swimming comes to mind: to the naked eye, it's just gliding on the water; but underneath it's paddling powerfully.
"I think you learn from your experiences," she reflects. "It's tough, sometimes, like in 2021, when you lose a lot of your crop. But you should never give up. I'm here today because I truly love the place. I think it's a treasure. The château itself is not so nice; it's a big, cubic house. But it's there. It stands on the top of the hill, majestically. It looks at everything around it. Everybody knows that you are 'going up to Haut-Bailly' or 'coming down from Haut-Bailly'. Everybody who comes here feels this authenticity. It's a true vineyard, a true place. We don't pretend to be something else."