Home > Burgundy 2021 En Primeur > Domaine Michel Lafarge
Domaine Michel Lafarge
FIVE-MINUTE READ
Words: Charlie Geoghegan
---
What does a Burgundian wine cellar look like? Deep, dark, cavernous. Mould on the walls; on the ceiling; everywhere. Wine, from famed vineyards with poetic names, ageing peacefully in oak barrels, adorned perhaps with chalk scribbles in the winemaker's own hand. Bottles of old vintages lying on their sides, fuzz-covered labels so faded as to be virtually illegible. Rarely does the reality live up to the expectation, yet this is exactly what you'll find at Domaine Michel Lafarge. Since the 19th century, this Volnay estate has been the base of a winemaking family quite content to do things its own way.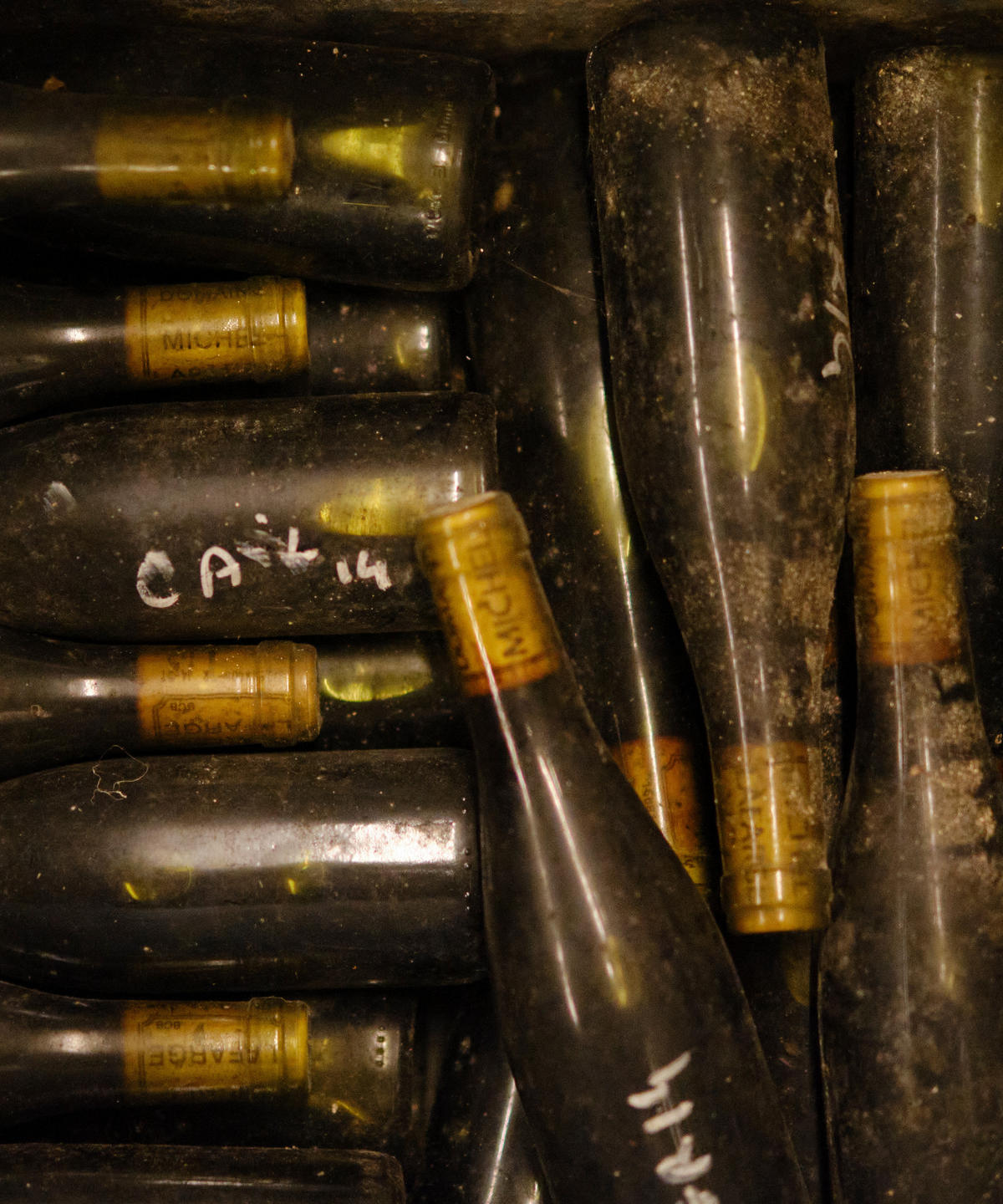 01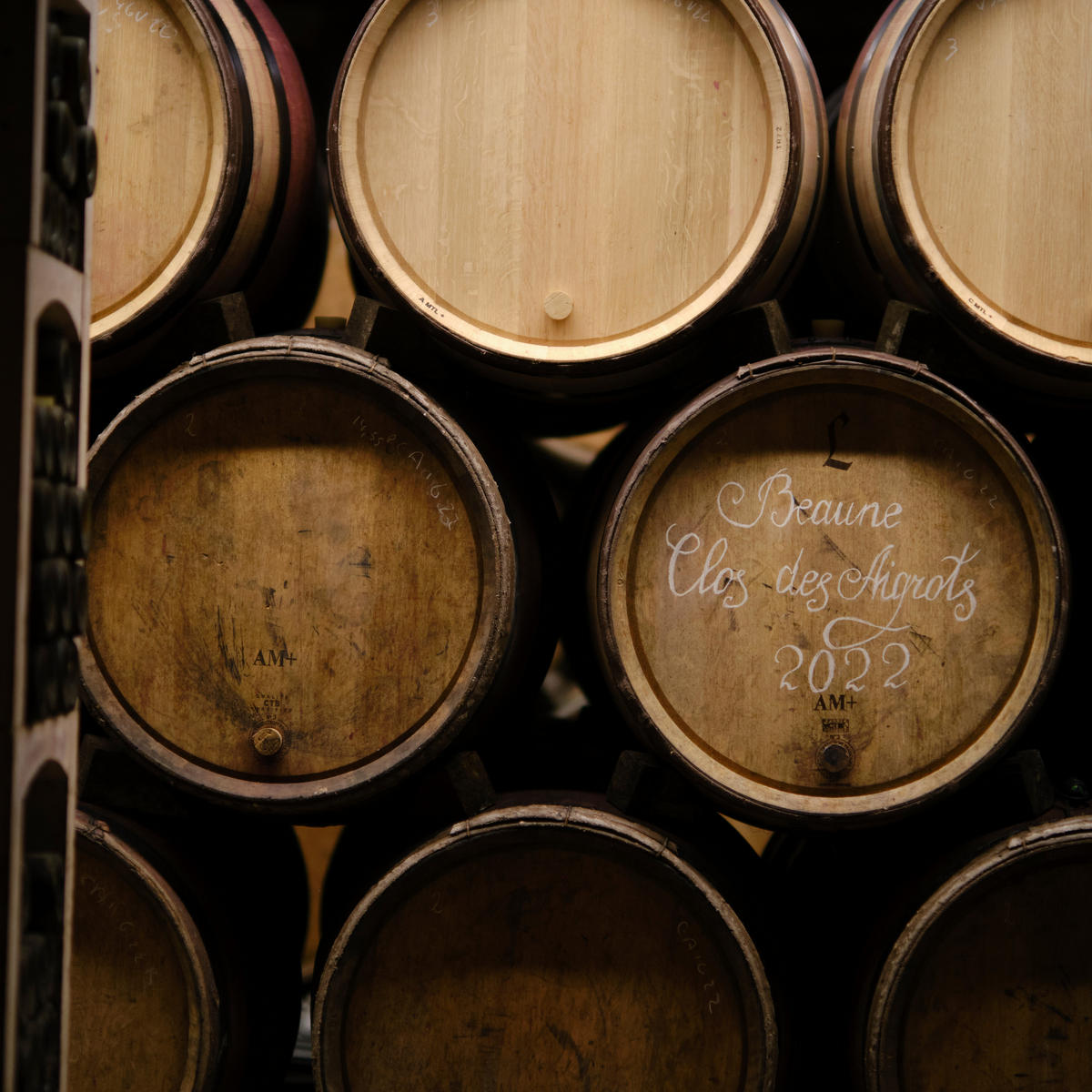 02
01: These mature bottles rest peacefully in the cellar – for now

02: You don't see a lot of new oak here, though there is some
The domaine is run today by Frédéric Lafarge and his wife Chantal (née Vial), along with their daughter Clothilde. The eponymous Michel, Frédéric's father, was a legendary figure within and beyond Burgundy. He sadly passed away in early 2020. Clothilde fondly remembers her formative years working with him. "I learned a lot about the old vintages," she says. Michel's first vintage was 1946, and he was a generous mentor to both Frédéric and Clothilde. "We had conditions like this back in 19-whatever," Clothilde remembers him saying, before offering her a solution to this or that issue. His legacy lives on, and his 70-plus years of savoir-faire still inform decisions made today.
"This is a family that moves to the beat of its own drum, and this has never been a domaine where change happens for change's sake"
This is a family that moves to the beat of its own drum, and this has never been a domaine where change happens for change's sake. Back in the 1960s and '70s, the use of chemical fertilisers became more widespread in Burgundy. But Michel was unconvinced and never used them, sticking to his more traditional guns. "His friends called him crazy for not using chemicals," Frédéric reports. A lifetime later, Michel's conviction has paid off. Many vignerons have moved away from this approach, and the Lafarge vineyard is in a considerably better condition for it. "We're lucky," reflects Frédéric. "We have a lot of old vines [50-60 years old on average, some 100] because of the good agricultural methods my father used."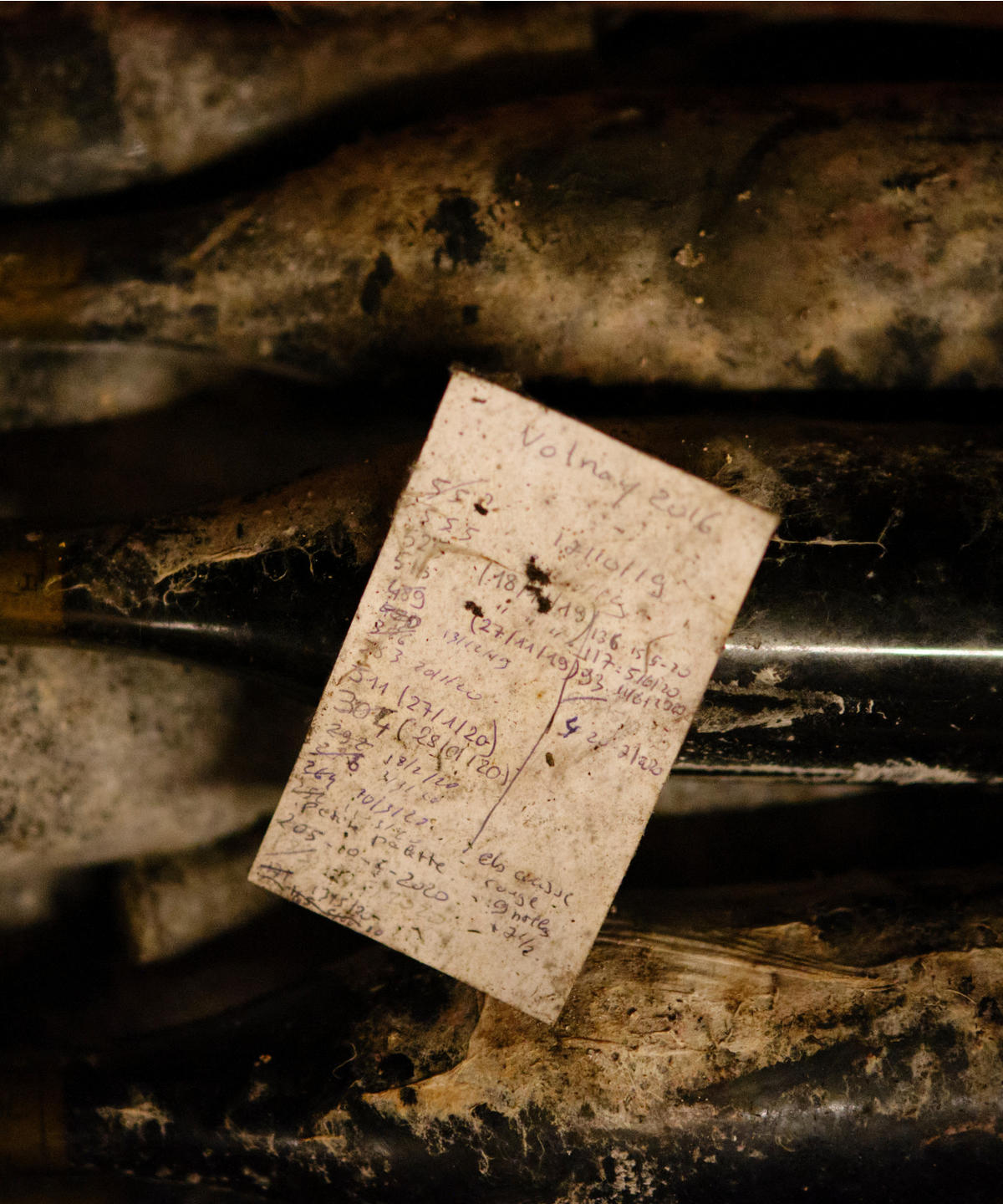 03
04
03: Some bottles are so mould-covered as to be impossible to recognise; a handwritten crib sheet proves useful

04: A bung cloth ensures a tighter seal for the barrel
When the Lafarges are convinced that a new idea is good, they implement it. When they're not, they don't. The exchange of ideas between generations here runs in both directions. Frédéric became familiar with biodynamic viticulture in the 1990s through an encounter with researcher and vigneron Pierre Masson. Believing it to be a worthwhile change, he took the idea to his father. "It was new, and it was different," Frédéric recalls. They started small in 1997, and they quickly saw improvements – "in the soil, the vines, the grapes and the wine," says Frédéric. By 2000, the entire domaine was farmed biodynamically.
On biodynamics, Frédéric has never looked back. "It's the story of our lives," he says. "We work with nature. It gives us balance in the wines." His vineyard is healthier and his vines more robust, he believes, better able to withstand whatever nature throws at them. "Biodynamic treatments help the vines in the summer," says Clothilde, citing the warm and dry 2020 vintage. Lack of water was problematic at some estates, but not chez Lafarge: "We didn't have too much hydric stress, and the alcohol level wasn't that high compared to some other winemakers," she says.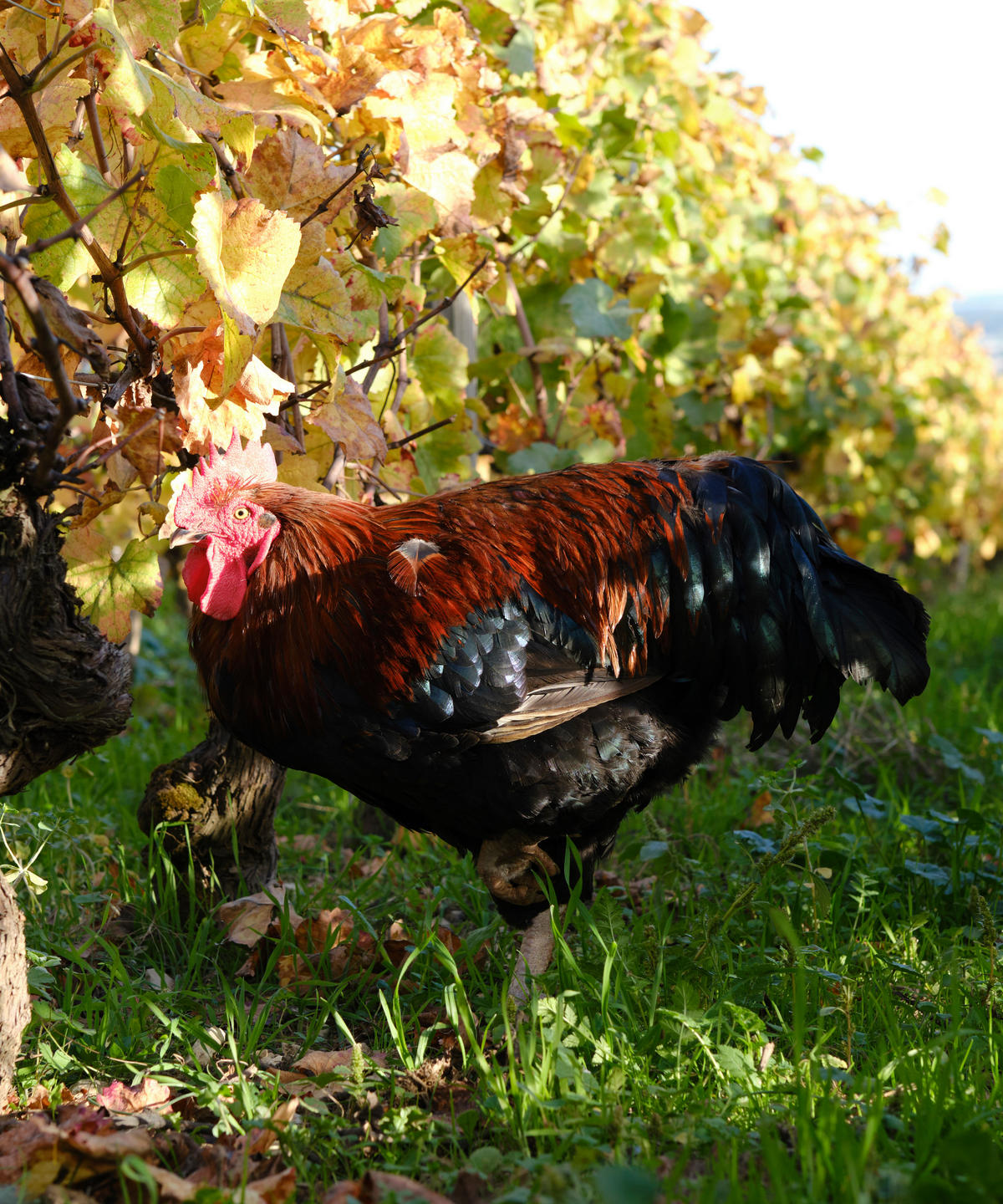 05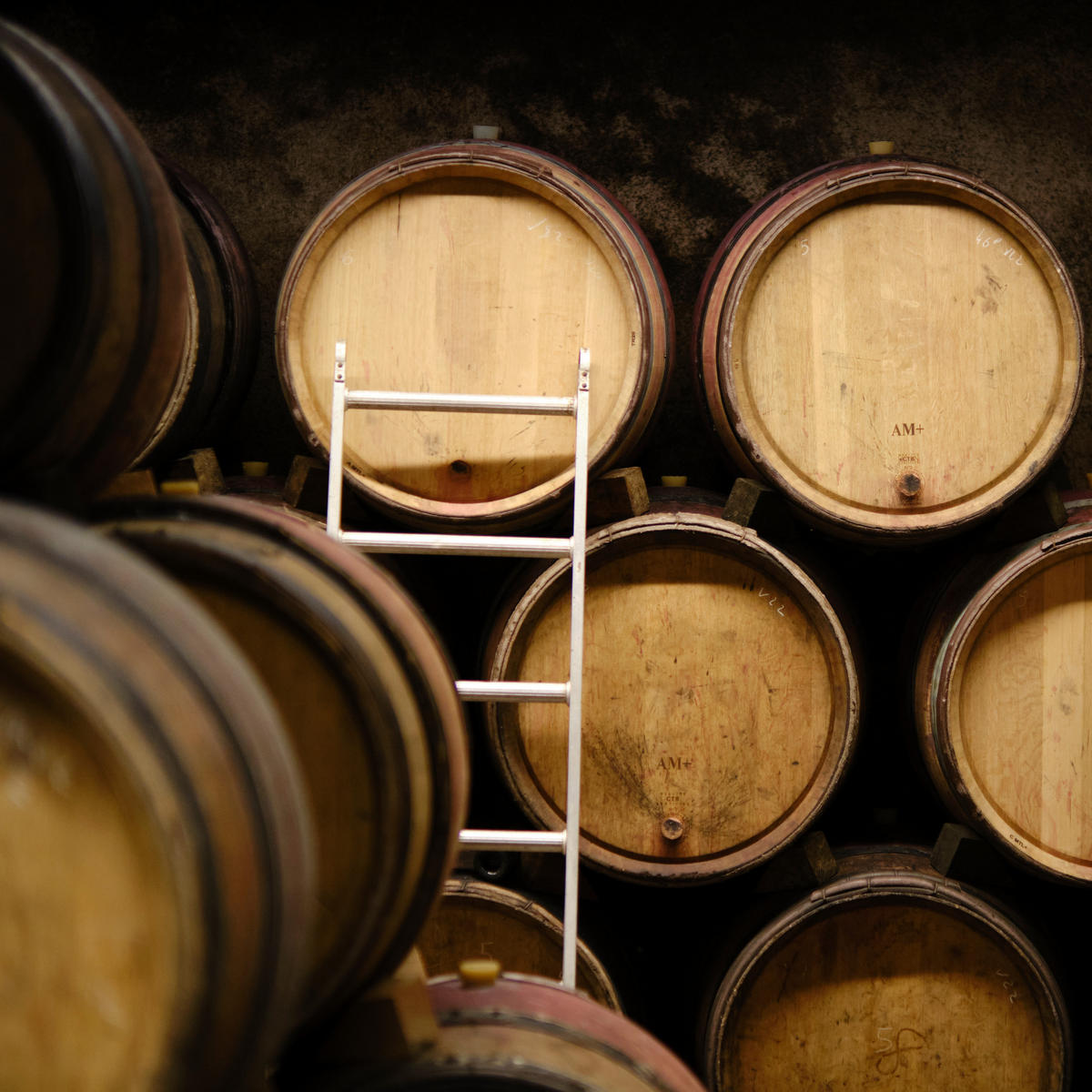 06
05: Chickens have been a permanent fixture here since 2003

06: Space is at a premium in this cellar, so barrels are stacked three-high
The estate is teeming with life. A small army of chickens roams the Clos du Château des Ducs, a Volnay Premier Cru of which the domaine is the sole owner (a "monopole"). Chickens were first introduced here in 2003, to fight off the threat of mange-bourgeons, small caterpillars which feast on young buds. That problem has gone away, while the chickens have become a permanent fixture – eating what they find in the soils and providing all-natural fertiliser as they go. When Clothilde announced that she was hiring a horse to assist in the vineyard, her late grandfather was surprised. "He had worked with horses a lot, but for him, the tractor was a revolution," she recalls. Clothilde learned to work with horses at viticultural school in Beaune and since 2018 has reintroduced this particular tradition. "It's very good to have animals, for life – not just for work" says Frédéric. "And we eat very good eggs."
"We don't know how it'll be in five or 10 years. It may not be easy to make wine in the future"
Work in the cellar is gentle and largely traditional, quite likely because they see no need for it to be any other way. You won't find any whole-bunch fermentation here; everything is de-stemmed, some cuvées by hand using wicker racks. Foregoing the use of more modern technology, the winery falls silent for a couple of days. "There are no vibrations and no machines," says Clothilde. "It's nice for the grapes." Frédéric believes this intensive, laborious process is worth the hassle, bringing "more purity and intensity, and better energy".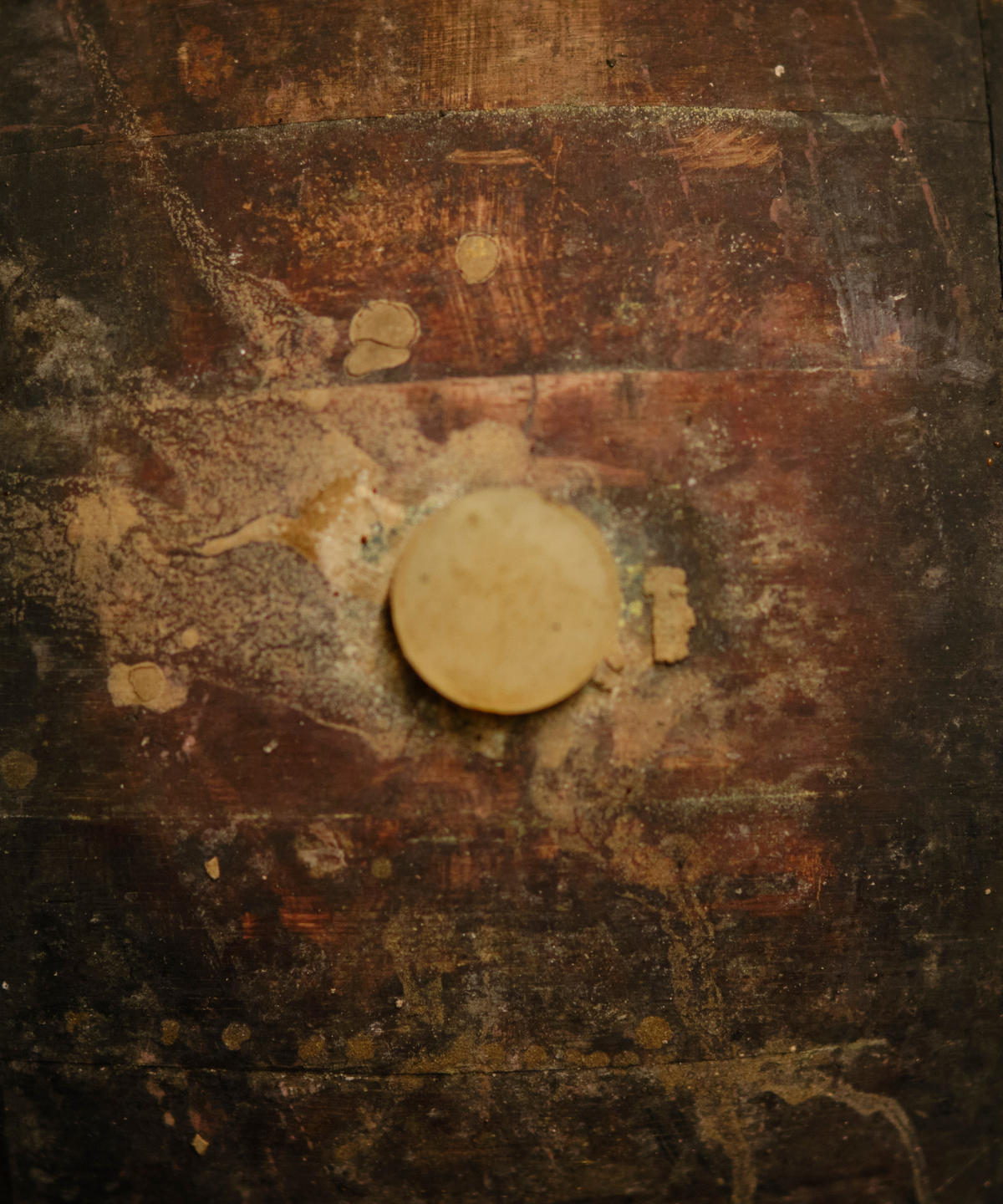 07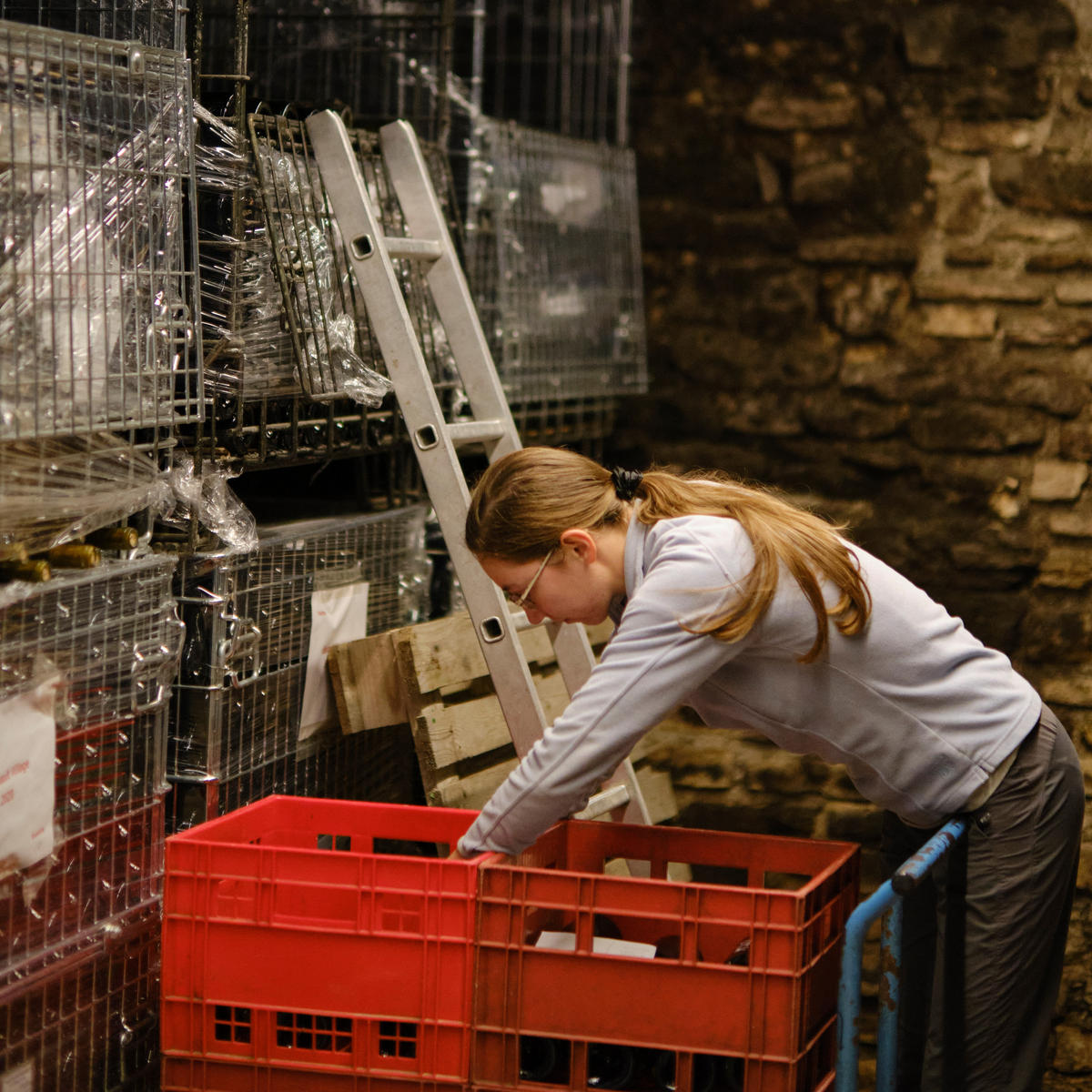 08
07: The older oak barrels here have seen some wonderful vintages

08: Eléonore Lafarge, Clothilde's sister, at work in the cellar
Clothilde is barely 30 years old. The Burgundy of today is different to that of her father's first vintage, 1978 – and worlds apart from her grandfather's era. Climate change is an ever-present and ever more unpredictable threat, difficult to prepare for despite the wealth of lived experience here. "We don't know how it'll be in five or 10 years," she says. "It may not be easy to make wine in the future." Yet she is driven, and optimistic about at least one aspect of Burgundy today: "More and more women from my generation are becoming winemakers or négociants, or working in vineyards," she says. In an industry that is traditional, and traditionally patriarchal, breaking through as a woman can be a challenge. "When men and women start the same job, the woman has more pressure to show she can do it," she says.
To a fly (or fungus) on the wall, the Lafarge cellar might seem a somewhat impractical workspace. But the small team, working calmly and with care, seem to manage just fine. Clothilde's sister Eléonore brings a crate of unlabelled bottles up to ground level via the service elevator. She wipes each clean by hand before transferring them to a small bottling line. The machine gets to work, affixing the iconic Lafarge label, the capsule and a neck label. Another neck label is attached by hand for good measure. In silence, she passes these bottles on to her colleague. It's methodical, it's idiosyncratic, but it works.