Home > Editorial > Northern Rhône 2020 vintage report
THREE-MINUTE READ
---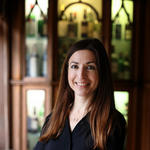 On the face of it, 2020 was a year of extremes in the Northern Rhône, with above average heat, drought, and sun. However, a combination of rather specific weather phenomena and an early harvest meant that the wines have the profile of a much cooler year. They display bright, pure flavours; wonderful perfume; smooth, silky tannins; and, above all, balance.
Much of the vintage's success can be attributed to the abundant precipitation that came in late '19, arriving as rain showers and snow melt. Guillaume Sorrel went as far as to say that these precipitations saved his vintage – arriving so early in the vine cycle, they replenished the all-important water stores for the vines to feed off later that year. And it was needed, too, for the rest of the year was exceptionally dry. Overall, '20 saw significantly lower than average rainfall, so ground-reserves were vital. By 1st April, the Northern Rhône had recorded a cumulative 54mm rainfall – half the annual average by that stage of the year, which is 19mm.
May and June brought a little rain – June even saw a little more than average – providing a burst of hydration that helped sustain the plants over the exceptionally hot, dry summer that ensued.
A second determining weather phenomenon was the mild late-winter and early-spring. Spring '20 was among the warmest on record in France – some Northern Rhône vineyards recorded spring temperatures two to three degrees warmer than their past 50-year average. This brought about early flowering and budbreak – two weeks earlier than the previous vintage for many vineyards. This advance was saved by a mercifully frost-free spring.
A third key feature of the vintage was the summer heat. Like in spring, temperatures were a steady three degrees higher than the average. August did not provide a final rainfall as it had done in '19 and some vines shut down due to the heat. This however, proved to be a blessing in disguise: it helped preserve acidity, freshness, and moderate sugar and alcohol levels in the remaining harvest.
While temperatures were hot, crucially, they were also stable. Warm days were balanced by even cooler nights, which allowed the bunches to ripen gradually and evenly, producing small, healthy and perfectly formed berries. In Syrah, this yielded clean, fresh fruit flavours, silky tannins and refreshing acidity. Northern Rhône whites made from the typically lower acid varieties of Viognier, Marsanne and Roussanne saw enhanced perfume, vibrancy, texture and freshness.
Perfect phenolic ripeness was achieved up to two weeks early in many parts of the Northern Rhône. Consequently, growers often chose to harvest early; many recording the earliest harvest dates since the famously hot vintage of '03. This helped mitigate the extremes of the year by warding against excessive alcohol levels and retaining acidity. The white grape harvest started around 20th August across the Northern Rhône. The red harvest followed soon after – one producer we spoke to in Crozes-Hermitage started as early as 24th August, with many other warmer sites following suit. For most producers we spoke to, all grapes had been picked by mid-September.
Undoubtedly, the '20 vintage sees a return to the classic, elegant styles of the past. One critic has even noted how they might appeal to lovers of Burgundy. Due to their freshness, openness and silky nature of their tannins, many are approachable young. However, their age-worthiness should not be overlooked – their higher acidity means they have the structure to age gracefully – the best wines could easily see 20 to 25 years.