Home > Editorial > A tale of two families
A tale of two families
EIGHT-MINUTE READ
---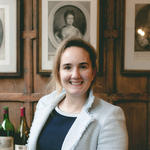 Throughout the years, various members of the Berry and Rudd families have shaped the business in different ways – but always guided by the same, ever-constant family values. Over the course of two special lunches, Alexandra Gray de Walden sits down with some of these family members, delving into half a century's worth of stories and discussing their hopes for the future. Photography by Krystian Krzewinski
In the wood-panelled anteroom of the Directors' Dining Room at No.3 St James's Street, a tray of Champagne flutes is presented to three Berry Bros. & Rudd colleagues – all of whom are descendants of the two eponymous families. Meeting for lunch today, Ned Rodger, Edward Rudd and Alicia Stark greet one another with that sense of familiarity which comes from a lifetime of interaction. Ned is currently on paternity leave from his role as Account Manager, and Alicia and Edward are both keen to hear how the new arrival is getting on.
"She sleeps," Ned answers joyfully to his "business cousins". As, currently, the youngest member of the Berry family to be working for the company, Ned's family story now seems secure for the tenth generation. "I'm B9," he later explains to me, referring to the ninth generation on the Berry side.
Given Berry Bros. & Rudd has been in existence for 325 years, I wonder whether the various generations of the two families ever feel like just a number passing through on their shift, before successors take over? Edward Rudd (R3, I believe), our Business Investment Director, explains that the business always comes before personalities.
A drawing showing Charles Walter Berry, Hugh Rudd, Reggie Berry and George Berry – older generations of the two families – enjoying lunch in the Directors' Dining Room
"The history helps," he says. "This isn't about me or what I might want. It's about what's best for the business," he continues. How can one ever know, for certain, what that is – particularly when there are two families' worth of decision-makers and opinions to be considered?
Ned says, "At the last family gathering, my grandfather [Christopher Berry Green] said the most important thing about Berry Bros. & Rudd is the relationship between the two families. That's what keeps the business going."
This is a far cry from the imagined scenes of dynastic battles in the boardroom, then. Conversely, it seems that the cocktail of characters, ideas and opinions is what makes the company so long-lasting. I imagine that family values are another key ingredient in the recipe for success, which Ned confirms: "Those values have been in the business for so long, and if you're working within it, they bleed through."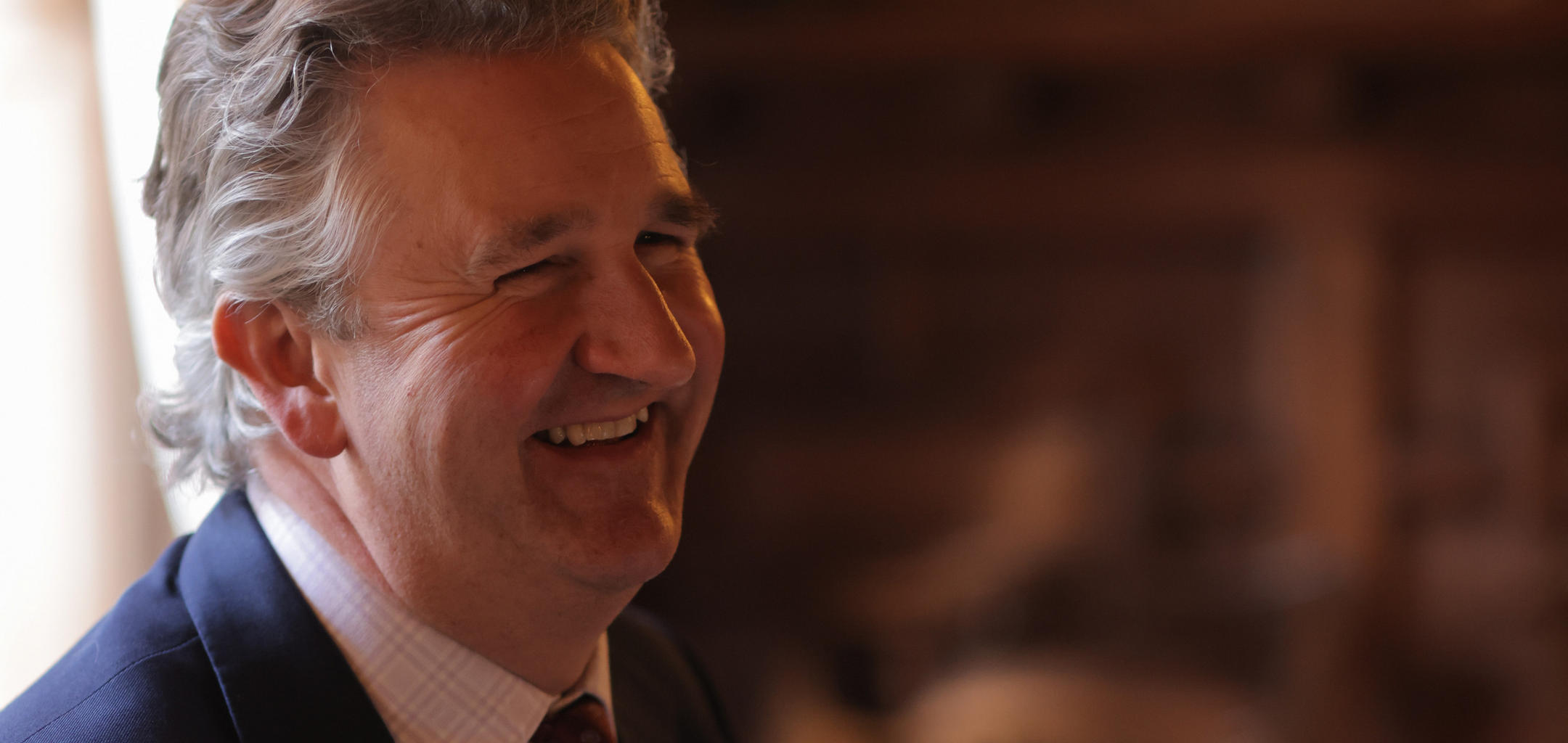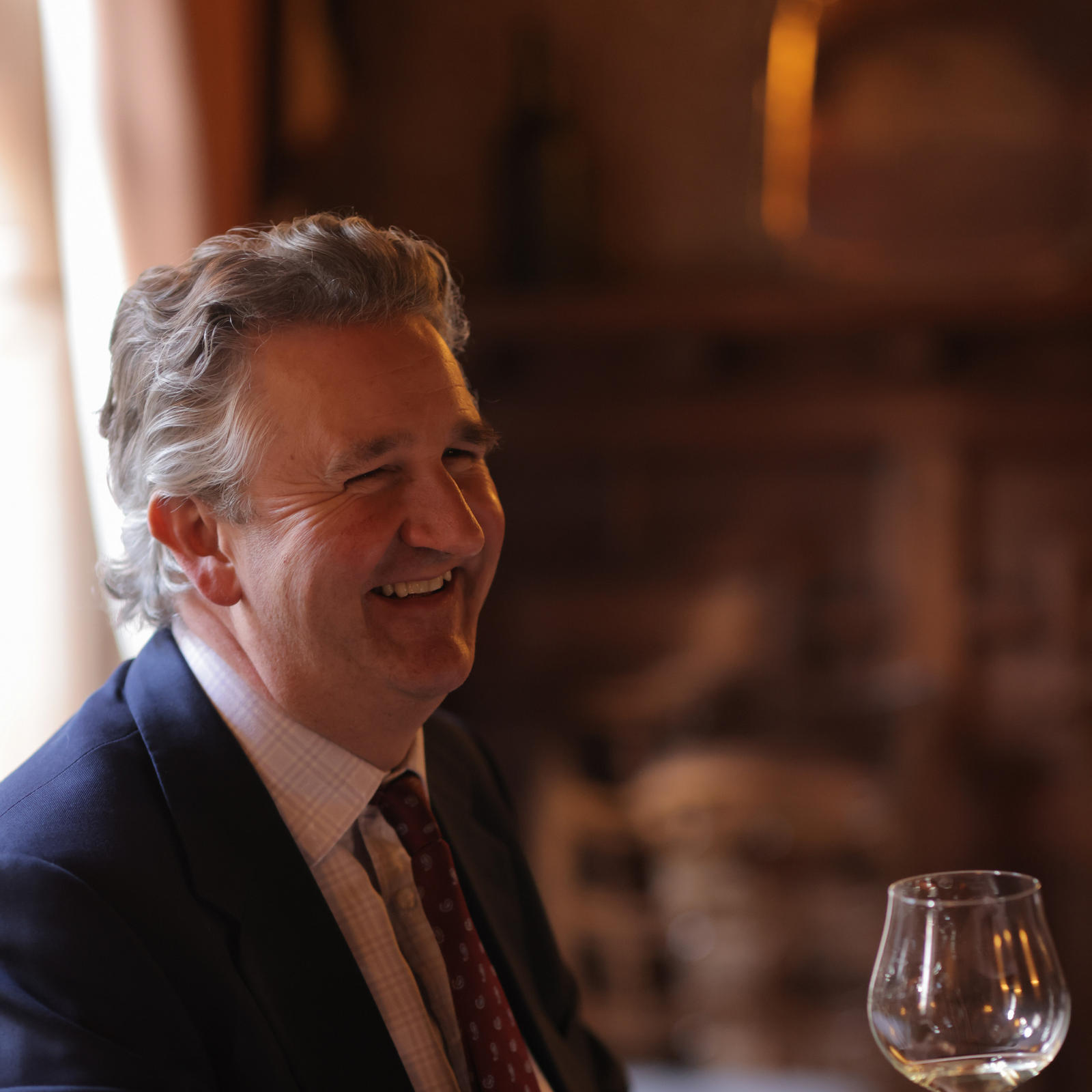 Edward Rudd represents the third generation of the Rudds
Short of being written somewhere in the company vault for posterity, these values seem to be a loose collection of etiquette and ethos. "We all just try to do the right thing," Alicia (R4, if you will) tells me. "We are always trying – whether it's for the business, the environment or the family."
A few weeks after my lunch at No.3, I meet Christopher Berry Green to hear his perspective first hand. Retiring in 2004, Christopher's career spanned 51 years – which saw him work in an impressive range of roles including London Shop Assistant, Sample and Import Clerk, Managing Director and Chairman. Ensconced in the sitting room of his Hampshire home, he echoes the same values that were shared by Alicia and Ned. "If you have a family business and the attitude of family members within it is right," he smiles, "the staff all become part of the family." As a current member of that extended family of colleagues, I fervently agree with him. "Undoubtedly, if you manage to make all the staff feel part of what you're doing, it can survive. That is what makes a family business. I can't over-stress that."
Having valued and reinforced the partnership between the Berry and Rudd families for over 50 years, Christopher has, undoubtedly, made his contribution to the future of this family-owned business. Almost unintentionally, it seems that Edward, Ned and Alicia have also each taken a particular responsibility for future-proofing the company. For Alicia, it's the point of sustainability and how climate change and environmental pressures will affect the world of wines and spirits, as time moves on.
Alicia's mother, Lizzy Rudd, is Chair of Berry Bros. & Rudd. She has recently committed the company to long-term environmental goals, and is championing sustainability as one of the company's core values. Alicia is keen to take on that mantle.
"I'd like to carry on what my mum is doing", she beams across the dining table. "If we think about legacy, say for my children or grandchildren, if we don't look at sustainability then there isn't going to be anything to pass on. I'm really proud of Mum; that's what she wants to do and what she wants to leave behind."
"The best wine is any wine shared with friends. We sell experiences and stories. Wine is the art of storytelling"
The Rudd family have a disposition for passing ideas and passions from one generation to another. Alongside Francis Berry, Alicia's great-grandfather Hugh Rudd masterminded one of the company's greatest success stories: the Cutty Sark Scots whisky. Hugh's story is steeped in the world of spirits, and so too is Alicia's. As a Business Development Manager for our spirits brands, she shares her passion for these stronger liquids with hotels, bars and restaurants around East London.
"I love the spirit side of the business" she enthuses. Having previously worked as a mixologist and a chef, Alicia has a professional knowledge of flavours and understanding of how they work together. This must be invaluable when discussing botanicals in No.3 Gin or the warming components of The King's Ginger.
Any business which has successfully navigated three centuries' worth of history knows there is a fine balance to be found – that between tradition and modernity. While at the cutting edge of the wine and spirits world, seeking out ever more innovative and inspiring producers to work with, Berry Bros. & Rudd certainly has a strong foothold in the past. "I'd like to think that when I'm retiring, my grandfather could still walk into this building and recognise it," Ned reflects. "It's an important thing to keep hold of and mustn't be taken for granted."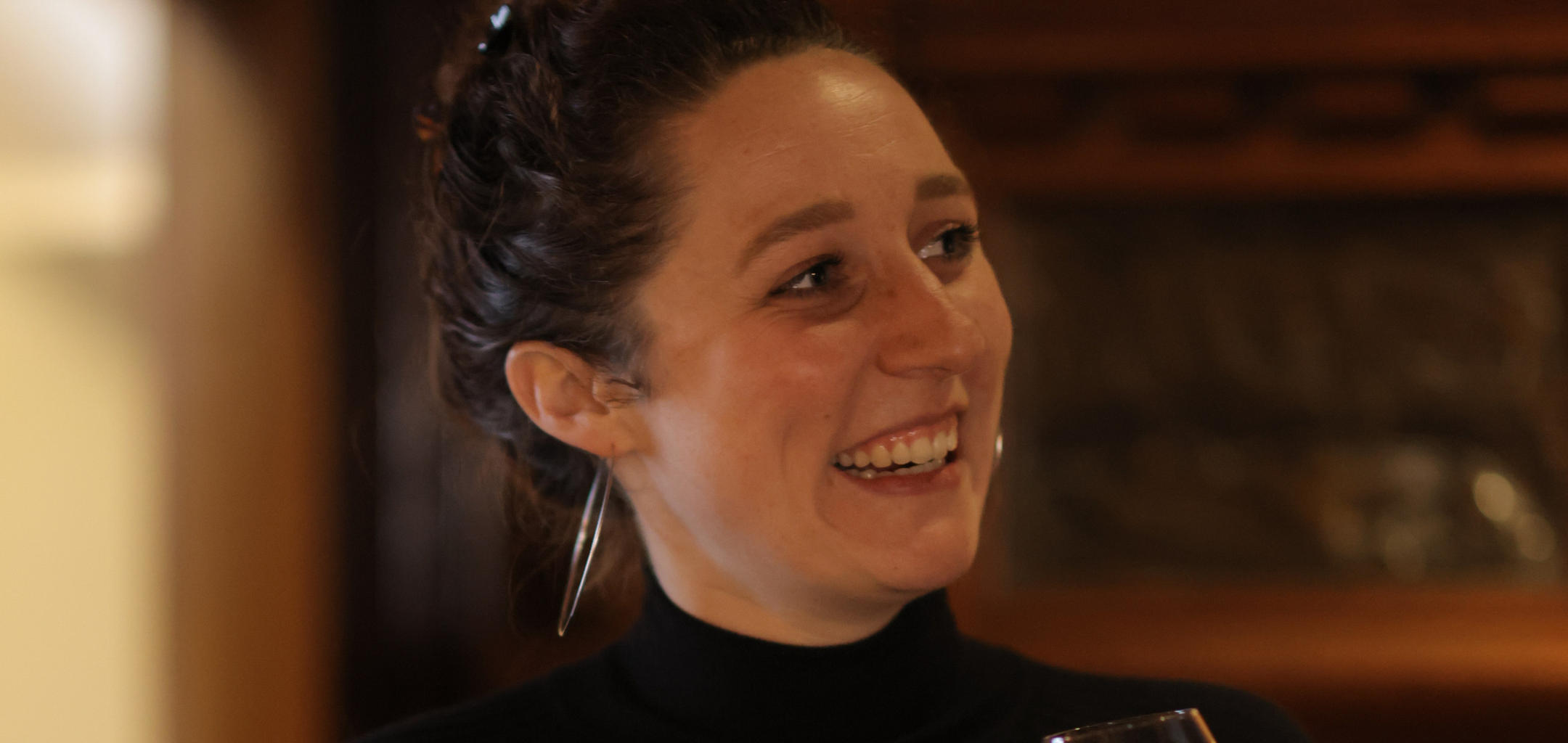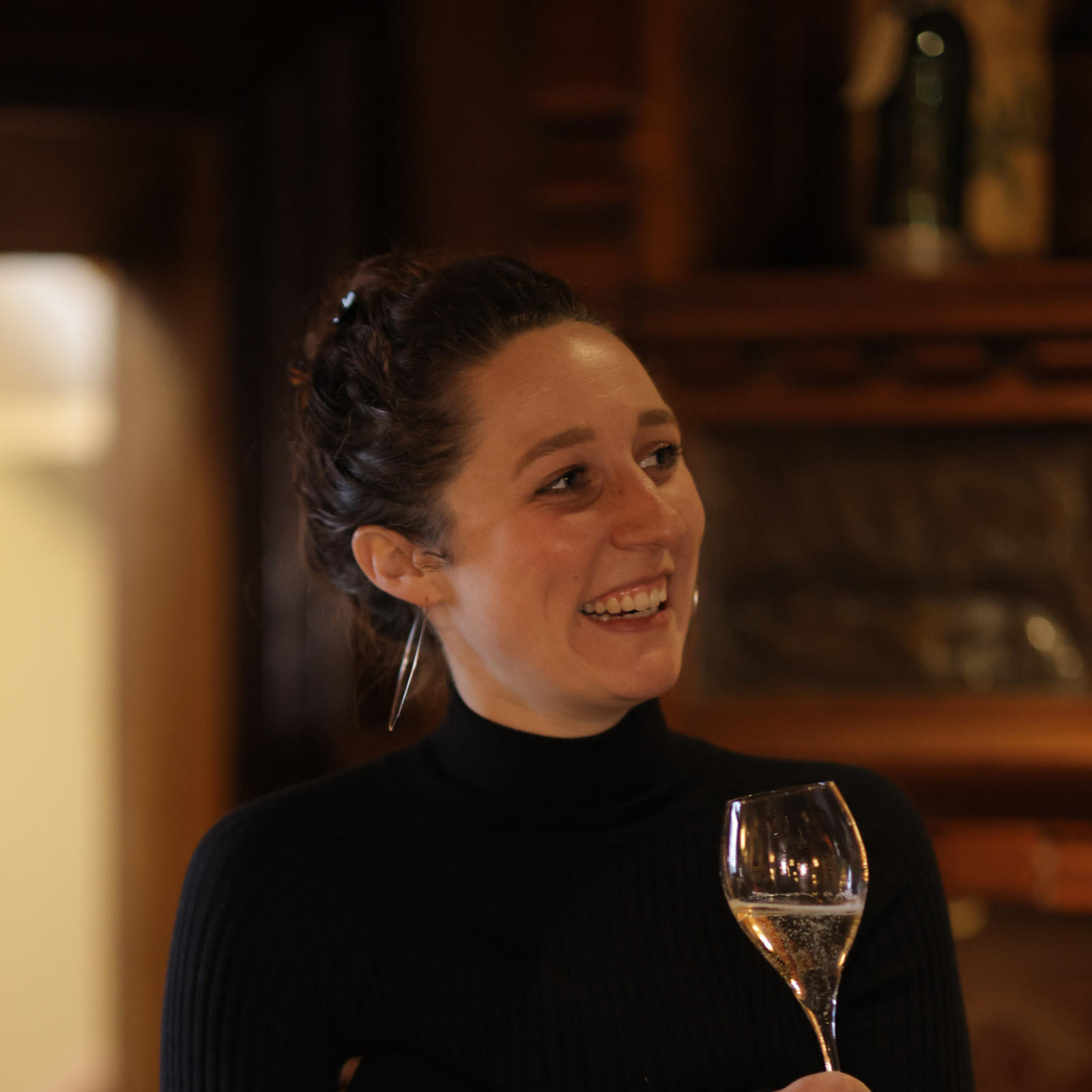 Alicia Stark, Lizzy Rudd's daughter, is of the fourth generation of the Rudd family
Numerous guests at No.3 St James's Street have declared that a visit there is as close to stepping back in time as it is physically possible to get. "The buildings are at our core. They're an anchor," Edward explains. Now sitting in the Director's Dining Room, with its William Morris wallpaper and distinctly Arts and Crafts character, we are all enveloped by that history. It is very easy to see this gravitational pull in action. Buildings and property form a large part of Edward's role in the company. He spearheaded the project to build our new, state-of-the-art warehouse in Hampshire, which opened its doors in 2022. He also oversees the company's portfolio of properties here in this corner of St James's Street.
It was under Christopher's stewardship that our Basingstoke warehouse was built in 1967. "It's difficult to explain quite what a project this was," he tells me in his Hampshire home. "We were coming out of the 1930s and World War II with cellars that had no automation at all. And here we had this enormous warehouse. It was so thrilling, so exciting. Everybody involved was excited by it."
Following in Christopher's footsteps, Edward saw the Jubilee warehouse project through from sourcing the land to seeing the first bottles laid down on its racking. "It all took quite a long time and was quite painful," he sighs, taking a sip of wine.
Edward is now delighted with Jubilee and what it represents for the future. "The amount of wine maturing in our customers' personal reserves will increase in the next five to ten years." At least we know it is all currently being stored in the best possible conditions, and Edward's legacy is now, literally, set in stone. I'm sure he's grateful that Ned's suggestion to name the warehouse "Ed's Shed" never came to fruition.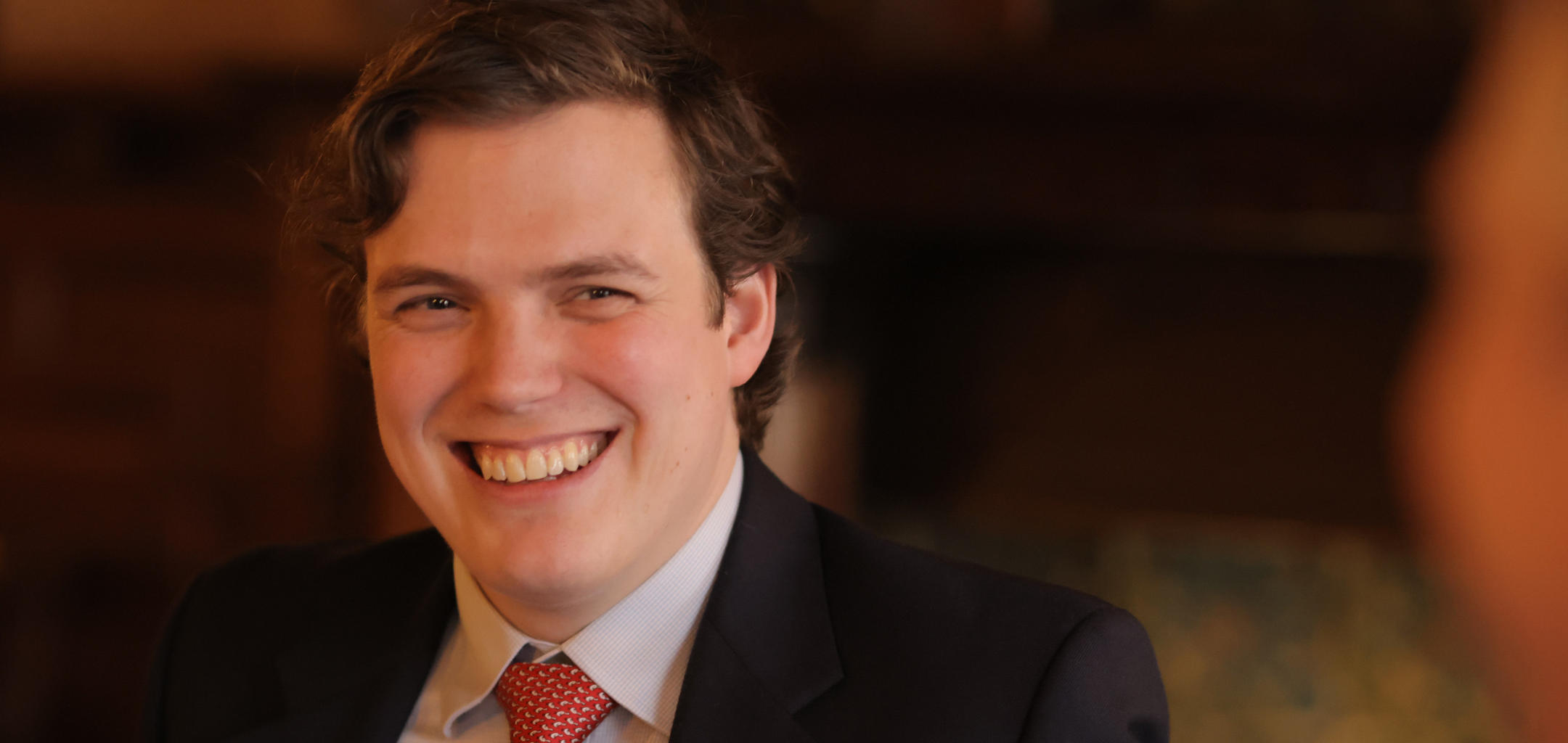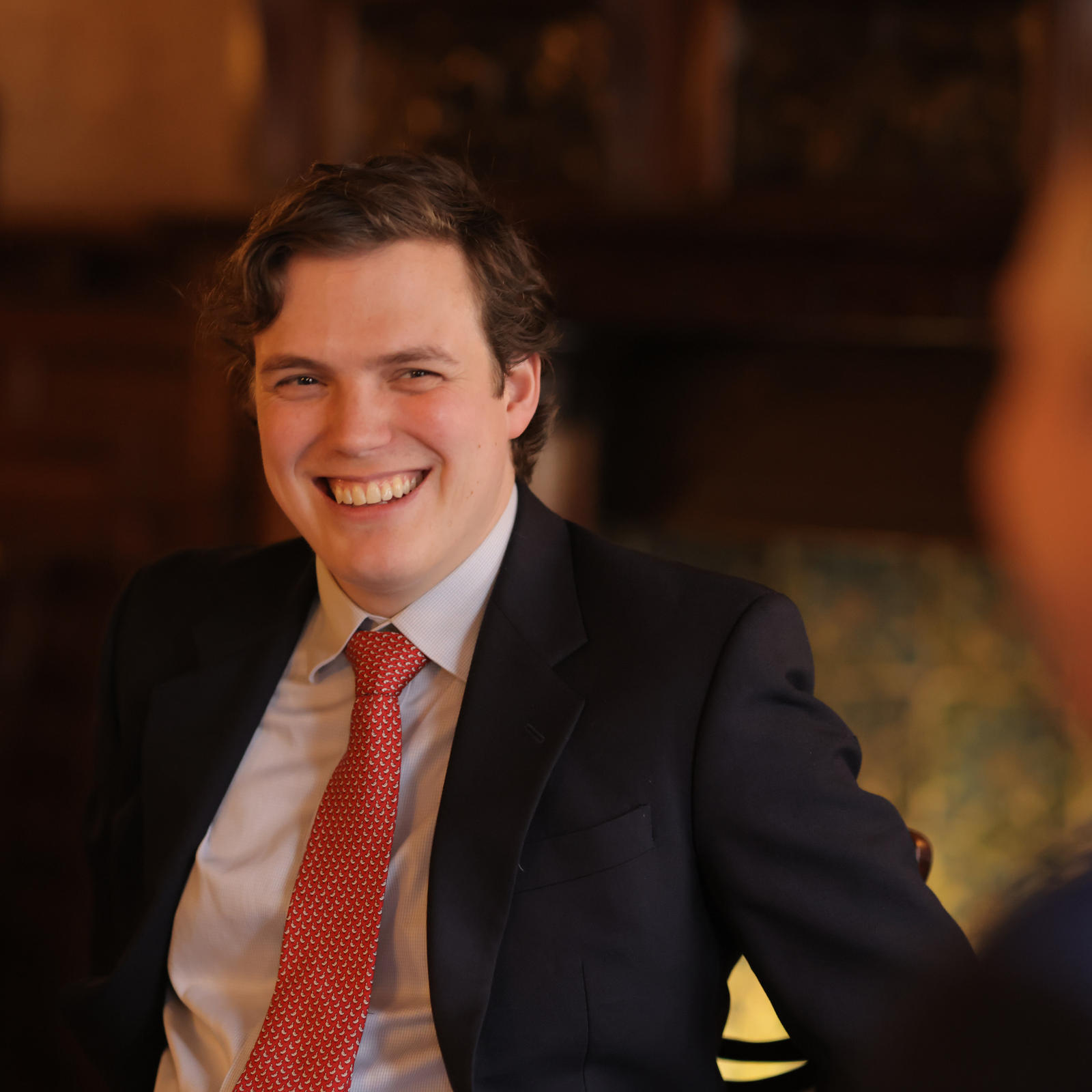 Ned Rodger represents the ninth generation of the Berry family
Talk inevitably turns to today's luncheon wines and I am keen to hear tales of any memorable bottles or shared wine experiences from the three guests. Christopher is known to have said that the best wine he'd ever drunk is "any wine shared with friends". Ned agrees, elaborating, "We sell experiences and stories. Wine is the art of storytelling."
"The best wine isn't necessarily the most expensive one," Alicia adds. "My grandfather used to say, 'Don't ask, just drink and enjoy.'" Alicia warmly remembers her grandfather (and Edward's father), the late John Rudd – himself a former Chair of the company.
At Berry Bros. & Rudd, it is said that everything to look for in a wine or spirit comes down to one thing: is it good to drink? Throughout my conversations, this philosophy is affirmed with great passion. The currency of any wine or spirit is in the experience of drinking it: its time, place and the company it is enjoyed with. Market value really is a secondary consideration for them all.
And so, it is their feelings towards this business which inextricably links the two families. Far from being solely concerned with bottom lines, Berry Bros. & Rudd is a merchant of experiences, stories and memories.