Home > Editorial > Château Léoville Barton: "a spirit about the place"
Château Léoville Barton: "a spirit about the place"
Words: Charlie Geoghegan
Published: 5th May 2023
SEVEN-MINUTE READ
---
There have been Bartons in Bordeaux for almost 300 years. Today, Damien Barton Sartorius oversees one of the region's longest-running family firms. Here, he remembers his grandfather, considers his own place in the story and ponders the future
Damien Barton Sartorius doesn't want to be "the generation who screwed everything up" for his family wine business. "That's pretty much my only aim," says the 32-year-old general manager of Barton Family Wines.
Three hundred years ago, an Irishman nicknamed "French Tom" left County Fermanagh for the South of France. Thomas Barton reached Bordeaux in 1725 and became a wine merchant. A century or so later, his grandson Hugh Barton acquired the pair of St Julien estates with which this family would become inextricably linked: Château Langoa Barton and Château Léoville Barton.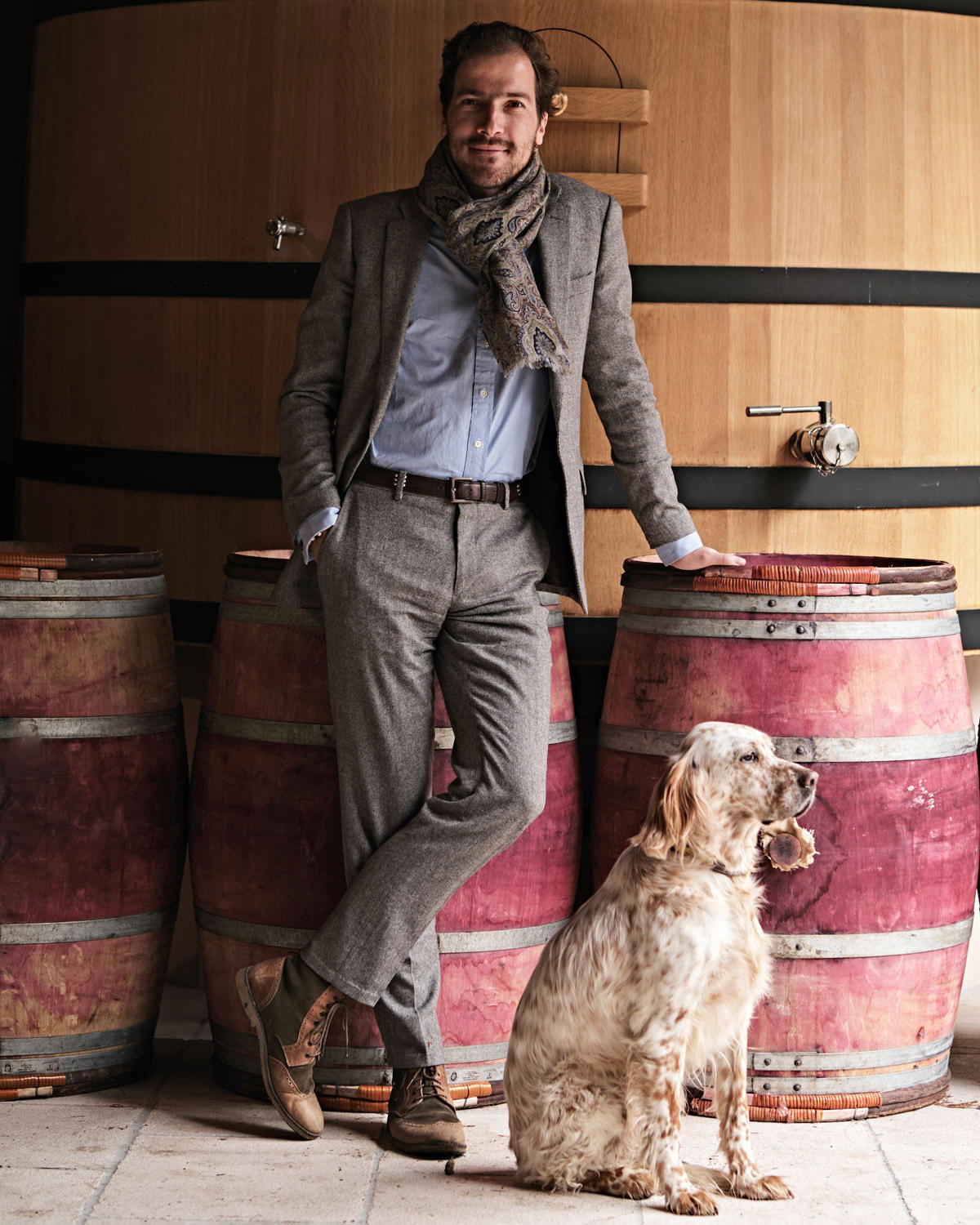 01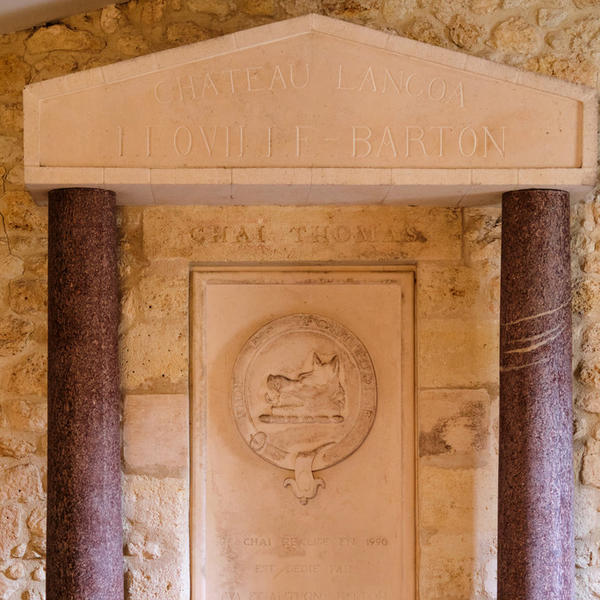 02
01: "People get way more excited about the dog than about me." Damien Barton Sartorius with Izarra

02: If these walls could talk…
They are two distinct vineyards but there is only one château building, Langoa. Both wines have long been made under one roof, by the same team. Eighth-generation Damien grew up here with his sister, Mélanie, the family's first trained oenologist. The children watched and learned from their mother, Lilian, and their grandfather, the late Anthony Barton – who sadly passed away in 2022, aged 91.
Anthony was born in County Kildare in 1930 but spent most of his life in Bordeaux. By the time he inherited the estates from his uncle Ronald in the early 1980s, they were not in great shape: leaking roofs; old equipment in various states of disrepair; and stagnant demand for the wines. "My grandfather was the first one to really look at the property," Damien reflects. The châteaux "didn't make any money" for significant periods of the 20th century, and Damien credits the family's stake in the négociant business Barton & Guestier with keeping the lights on. With some long-overdue investment and considerable energy, Anthony "managed to get this big boat moving", Damien explains – not only restoring it to its former glory but pushing it to new heights. "Before, people only bought Léoville when it was on sale. Now, they can't get enough."
"Before, people only bought Léoville Barton when it was on sale. Now, they can't get enough"
— Damien Barton Sartorius, Château Léoville Barton
Growing up here, Damien remembers eating grapes and riding along with tractor drivers. Today, he oversees a team of 50; among them are people that have worked for the family since before he was born. In business, Damien is answerable to his mother. The pair "needed to learn to work together", Damien says, but they're a good match for one another. When the family get together socially, they rarely if ever discuss business: "Once we leave work, she's not my boss; she's my mother."
Lilian is adept at "separating work from private life" – something that doesn't come quite as easily to Damien, it seems. Along with his work at the family estates, he is an accomplished entrepreneur with two distinct wine companies of his own. His fiancée loves his passion for the wine business, he reports, "but she tells me not to bring work home". Business is better today than perhaps it ever has been at the châteaux. The boat is on steadier waters, heading in the right direction. And there's no issue keeping the lights on. "The work is done," Damien says. "I don't have much to do anymore".
He has, however, just finished a major renovation of the cellar – something that his great-great-uncle Ronald could hardly have imagined in his day. Damien found his mother and grandfather supportive of the idea. "If it's for the good of the wine, you should do it," he remembers Anthony telling him some years ago.
Yet the new facilities remain understated and functional, there to do a job – one that depends almost entirely on nature's bounty. Léoville Barton was once part of a larger vineyard planted in the 1630s, along with the estates now called Léoville Poyferré and Léoville Las Cases. The Barton share today has 51 hectares of vines, predominantly Cabernet Sauvignon, planted on deep gravel and clay soils.
"The reality is that we couldn't make Léoville Barton even five minutes from here, because we have the terroir; we have the river; we have the soil," he says. "We have a great team, but the same people working somewhere else would not produce the same quality of wine. We can't brag about the quality because it's given to us by nature."
"The reality is that we couldn't make Léoville Barton even five minutes from here"
— Damien Barton Sartorius, Château Léoville Barton
Even if he wanted to brag, Damien doesn't seem the type. This probably runs in the family. His grandfather was known by many as "The Gentleman of the Médoc", and Damien remembers his "connection to people" as an example worth following. "It wasn't a business strategy," Damien says. "But if you do good, it'll pay back sooner or later."
Few Bordeaux families are as widely respected – and as genuinely liked – as the Bartons. It's not hard to find somebody with a fond memory or good word to say about Damien and his people, and we find several examples during our time in the region – including competitors, colleagues and one particularly gregarious charcutier. (Mention Damien's name in the right shop in Pauillac and you'll find yourself treated to extra-generous samples of grenier médocain and mortadella.)
Damien is warm, totally down to earth and suitably self-deprecating. "People get way more excited about the dog than about me," he smiles as he and his four-legged companion, Izarra, get their photograph taken. "That's an old-school camera," he says to photographer Jason Lowe, face down in his work, getting the shot just so on his Hasselblad. "This is the exact same camera I photographed your grandfather with 20 years ago," the photographer replies. Jason, it transpires, paid a visit here circa 2002 on another Berry Bros. & Rudd project.
Damien smiles and goes a little quiet for a moment. "It's nice to reflect," he says after a pause.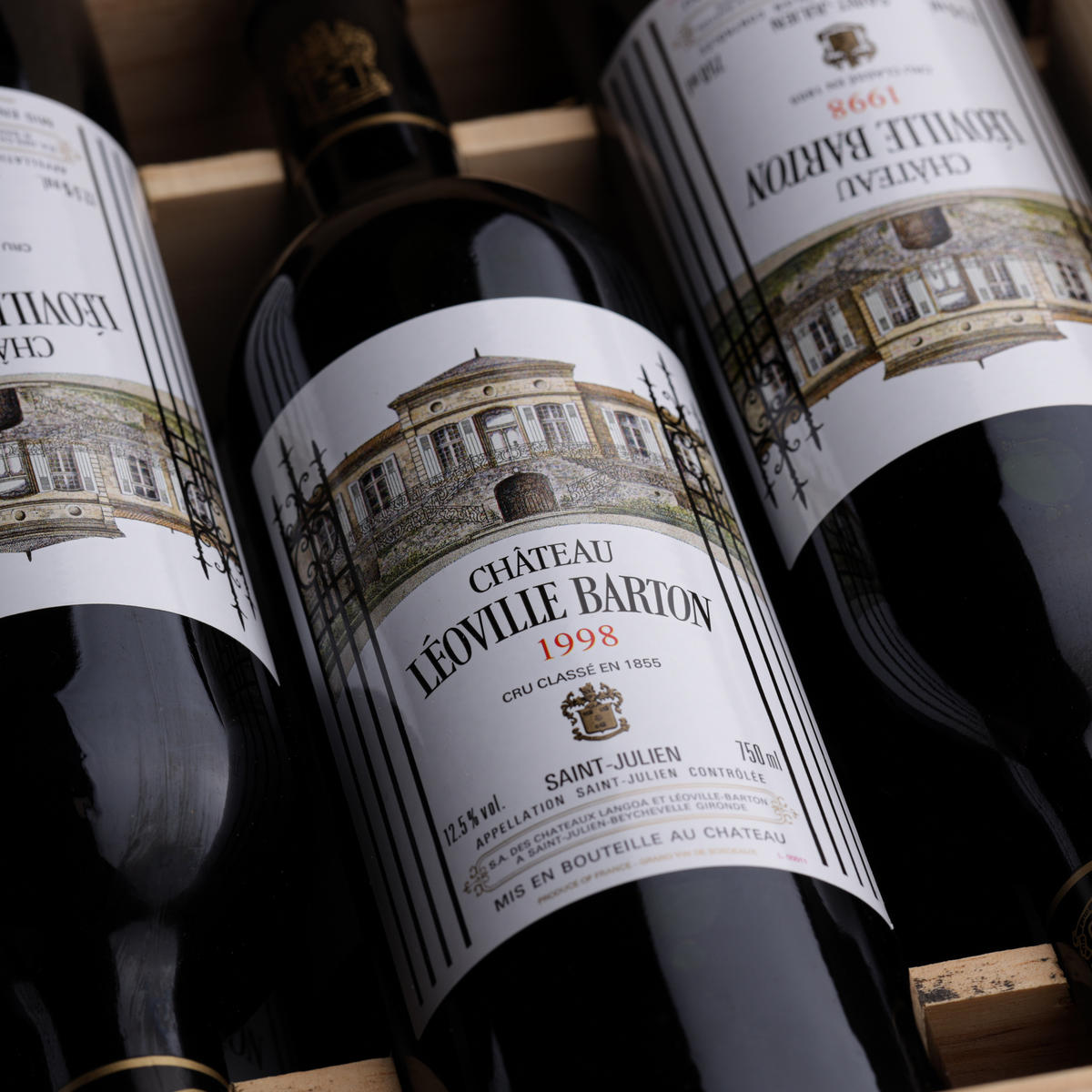 03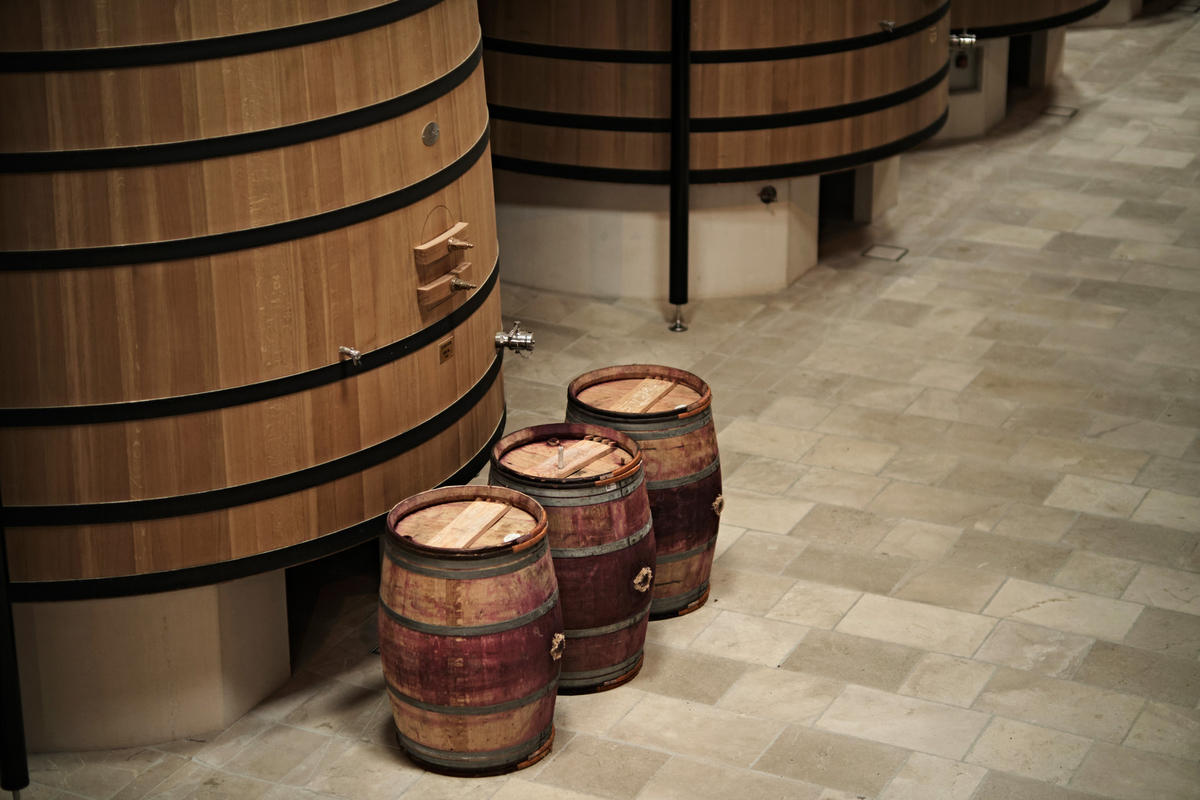 04
03: Léoville Barton doesn't have a château of its own; the label actually depicts Château Langoa Barton

04: Barrels big and small
Something that Damien reflects on quite a lot is the environment, and here he is not quite as chipper. "We've had 200 years of winemaking at Langoa. I don't know if we'll see another 200," he says. The 2022 vintage brought things into stark relief here: "It's a great vintage, but it was horrible to live through. We lost many vines, some trees died and nature suffered. I'd rather not see more vintages like that, but there will be more of them."
He is actively working on reducing his carbon footprint, and those of the estates, through limited travel and transport. England represents 40% of his business, he says; he prefers to take the Eurostar rather than fly when he visits the market. One of his other businesses is 225, a range of Bordeaux wines sold in returnable, refillable bottles. Efforts towards greater biodiversity and organic viticulture are ongoing at both Léoville and Langoa. "I would hate for my children to say, 'What have you done? Why didn't you do this? Why didn't you do that?'"
"There's a spirit about the place. It's a place that lives. It's all the generations that have been here"
— Damien Barton Sartorius, Château Léoville Barton
The Barton family's wine venture is now eight generations in. Damien is future-focused and progressive but aware of the past; he considers himself "just another member of the chain" that has come before him. Each of his forebears has left a mark of some sort. "There's a spirit about the place. It's a place that lives," he says. "It's all the generations that have been here." And, like each of his ancestors, he feels a responsibility to those that will follow in his footsteps. "I'm not trying to leave an imprint of myself," he says. "I just want to make sure that the next generation can have the place the same way it was given to us."