Home > Editorial > Southern Rhône 2021 vintage report
THREE-MINUTE READ
---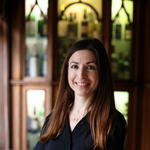 Just as it was in the North, 2021 can be described as a challenging vintage in the Southern Rhône. We'd heard mixed reports before heading there in November, so were keen to see for ourselves what our producers had made of the vintage. After all, it's in challenging years such as this, that the skill of the vigneron and quality of their plots really come into their own.
The vintage set off to a precocious start. A mild, damp Autumn in 2020 was followed by a short cold spell in January '21, before February's Saharan winds brought unseasonable highs of 10-18°C, advancing the vegetative cycle in the vineyard. Indeed, Vincent Avril of Clos des Papes, who uses his almonds as a marker of ripeness, noted that his trees bloomed two days earlier than in 2020 and nine days earlier than in '19. Vines continued to thrive under these conditions, leaving them easy targets for one of vignerons' worst nightmares – the Spring frost. Sure enough, on the night of 7th to 8th April, what has been described as a catastrophic frost hit the vineyards. Bernard Tranchecoste of Château Sénéchaux explained how that night, the Mistral wind unexpectedly stopped. It usually wards away the worst by preventing frost pockets from forming but without it, temperatures were allowed to plummet to between -3°C and -4°C for a good few hours overnight – ample time to do its worst. Indeed, early reports indicated potential losses of up to 80% across Châteauneuf-du-Pape. The problem with frost is not only the damage it inflicts there and then, but the fact that it leaves grapes weaker making them more susceptible to fungal diseases like mildew.
Hand in hand with mildew is, of course, humidity. Late spring/summer 2021 saw plenty of this, with bouts of heavy rain falling throughout. Together with cooler temperatures and less than average sunshine, this also roused fears of coulure or uneven ripening. A small heatwave through the second part of July into early August, saw daytime temperatures rise to 36°C. This saved much of the harvest by facilitating bunch ripening (véraison) and allowing phenolic maturity to develop. Finally, autumn storm forecasts for 2nd to 3rd October forced producers to make an all-important decision on whether to harvest before the weather hit (risking under-ripeness in certain plots), or after (risking dilution in a year when they could frankly do without it).
The challenges were relentless and 2021 stands in stark contrast to the previous two (essentially drought) vintages. It necessitated skills and decisions not required in the region in decades. Techniques including how to manage the vine canopy to maximise exposure to the sun and wind were considered. How significantly should vignerons alter their winemaking practices, for example in the use of whole bunch (weighing its aromatic benefits against the risk of underripe stalks)? Should new oak be used (which might overpower a leaner fruit, but equally might bolster the structure)? How strictly should the grapes be sorted (balancing quality with further reduced quantity)? How much to change their blend in the varieties or vineyard plots used?
Within the Southern region, however, all was not homogenous. Gigondas emerged largely unscathed, particularly higher up near the Dentelles de Montmirail where the altitude allowed frost to roll off. In Châteauneuf-du-Pape the impact was patchy, with some plots seeing 70% reduction, but overall impact limited to around 20%, largely thanks to the proximity of the Rhône River. Meanwhile, some periphery regions in the Côtes-du-Rhône and Vin de Pays appellations were blighted – Christophe Sabon from Janasse recorded his smallest vintage ever, standing at -45% overall, and -80% on his Vin de Pays. Among the varieties, Syrah was more heavily impacted than later-budding varieties like Mourvèdre; as such, we note a significant drop in the amount of Syrah used in the Châteauneuf blends of Château de Beaucastel and Clos des Papes. Finickity Roussanne also fared worse than thicker skinned Marsanne, although white varieties generally performed better as they don't have as much tannin to ripen so require less sun.
As such, we cannot view the vintage equally – the skill of the winemaker and the quality of their plots was paramount. Indeed, the best domaines came out glowingly, and were a joy to taste, and we have the privilege of working with many such producers.
In the red wines, we discovered a "classic" style, and wines of exceptional elegance. Managed well, the cooler temperatures permitted a long, slow ripening period, producing grapes with full phenolic ripeness but lower sugars. This promoted the aromatic and pure fruit profiles of the wines, with none of the jammy or burnt fruit flavours you sometimes see on over-ripe Grenache. Equally, alcohol levels were blissfully low - a good percentage lower than the recent average, and a welcome change to some of the headier wines of some vintages. While they might not be the vintage to cellar extensively, the higher acid levels will nonetheless allow those with sufficient mid-palate density to age a decade or two without issue.
Among the white wines, we saw an exceptionally strong vintage, defined by freshness, clean flavours and bright acidity. The naturally full-bodied southern varieties show all their typicity of texture, flavours, and aromas ‒ smooth, unctuous, predominance of ripe, fleshy stone fruits and edging into honey. However, the higher acidity balances them nicely, allowing them to shine but not overbear. It also ensures they're worthy of cellar ageing, and I'd recommend opening them across their evolution.
The skill of the grower can't be stressed enough in vintages such as 2021, and we can wholeheartedly recommend the range of wines we've selected ‒ and hope you agree. It's a vintage that can be enjoyed in their youth, as the fresh flavours, lower alcohols, and crunchy acidities, make them highly appealing already. However, just as the best wines of 2008 are still drinking beautifully now, so we can expect these to be drinking a decade from now. It's a style of vintage I personally enjoy, and one I plan to return to over the coming years.