Home > Editorial > Festive Claret: the charm of red Bordeaux at Christmas
11-MINUTE READ
---
Rich and warming, red Bordeaux has long been a favourite in the UK during the chilly festive season. In this short collection, Victoria Bull explains why Claret always features on her Christmas table; Tom Cave imparts his advice for decanting red Bordeaux; Henrietta Gullifer shares her top tips for matching food with Claret; and Stewart Turner gives us his favourite recipe for Christmas goose - the perfect partner for a glass of red wine.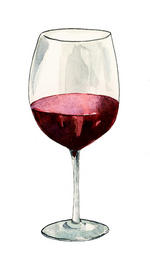 In Victoria Bull's household, the enjoyment of red Bordeaux is an undisputable part of Christmas – even if it's the only thing everyone agrees on.
Settling down to Christmas dinner is my favourite moment of the year – especially as, owing to my own thoughtful tradition, I always place myself closest to the bread sauce.
Then commences the gleeful hand-rubs, the profusive compliments to the chef, and those joyful sounds made by all who have happily decided they are about to eat well above their waistline. Christmas is built on traditions; we delight in their familiarity and celebrate their perfection – and heaven help those who tamper with them (who says you can be too old for stockings?).
Claret is one of these traditions. It gives a respectful nod to the past, best enjoyed in the present – and improved only by the promise of another bottle lying in wait, eager to be uncorked.
For Christmas, it is perfect: red Bordeaux is a wine that deserves to be poured generously into hopeful, outstretched glasses; or, taken off to be sipped pensively in a moment of rapturous solitude. The delicate spice, firm structure and sensitive tannins of a Bordeaux red wine beautifully complement the rich array of flavours on a Christmas table. The inviting fresh fruit aromas instantly please us, while its savoury notes and complexity are there to thrill the more vinous.
Most importantly, its moreish character powers us through our most eloquent of family debates. And if Claret ends up being the only thing we can all agree on, then long may this tradition last.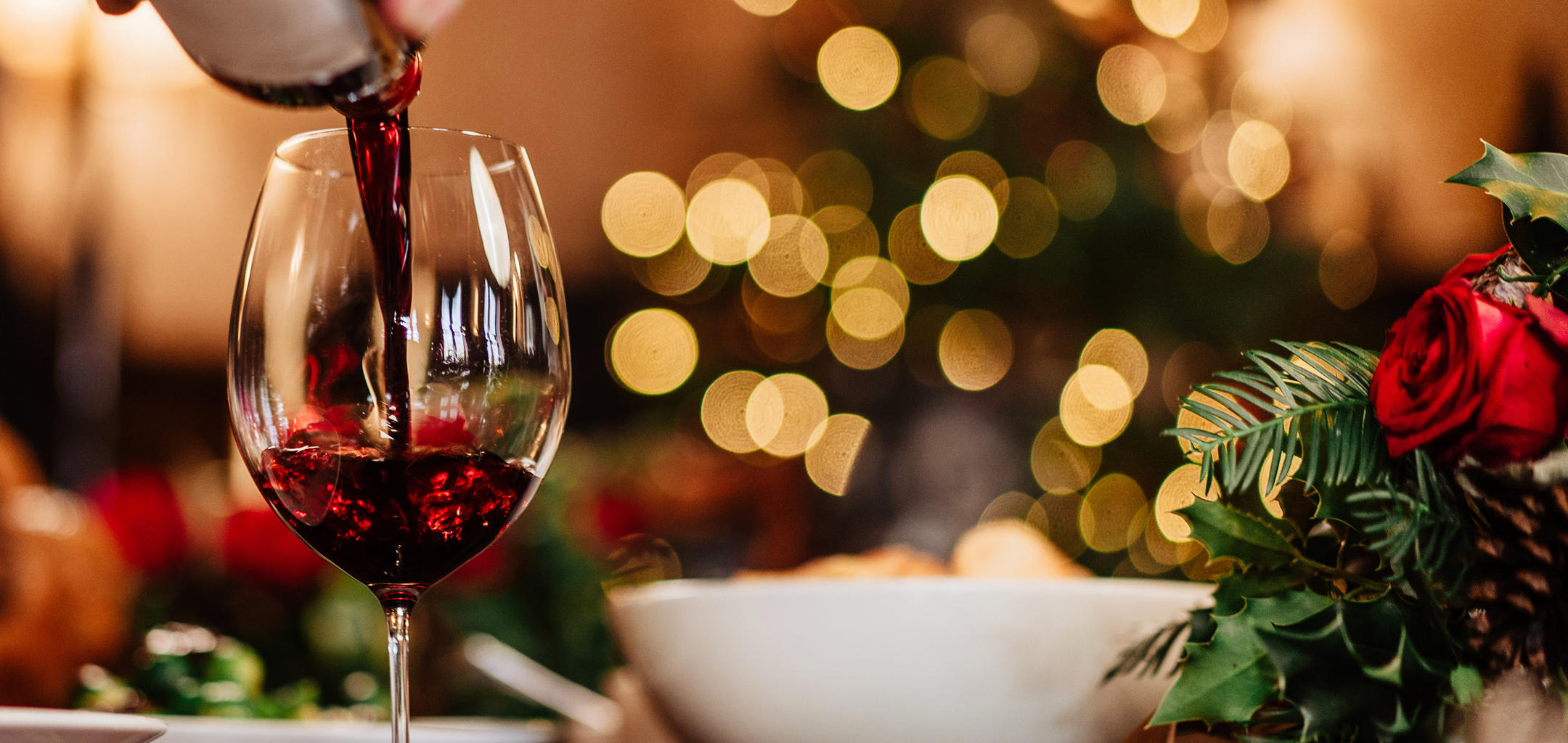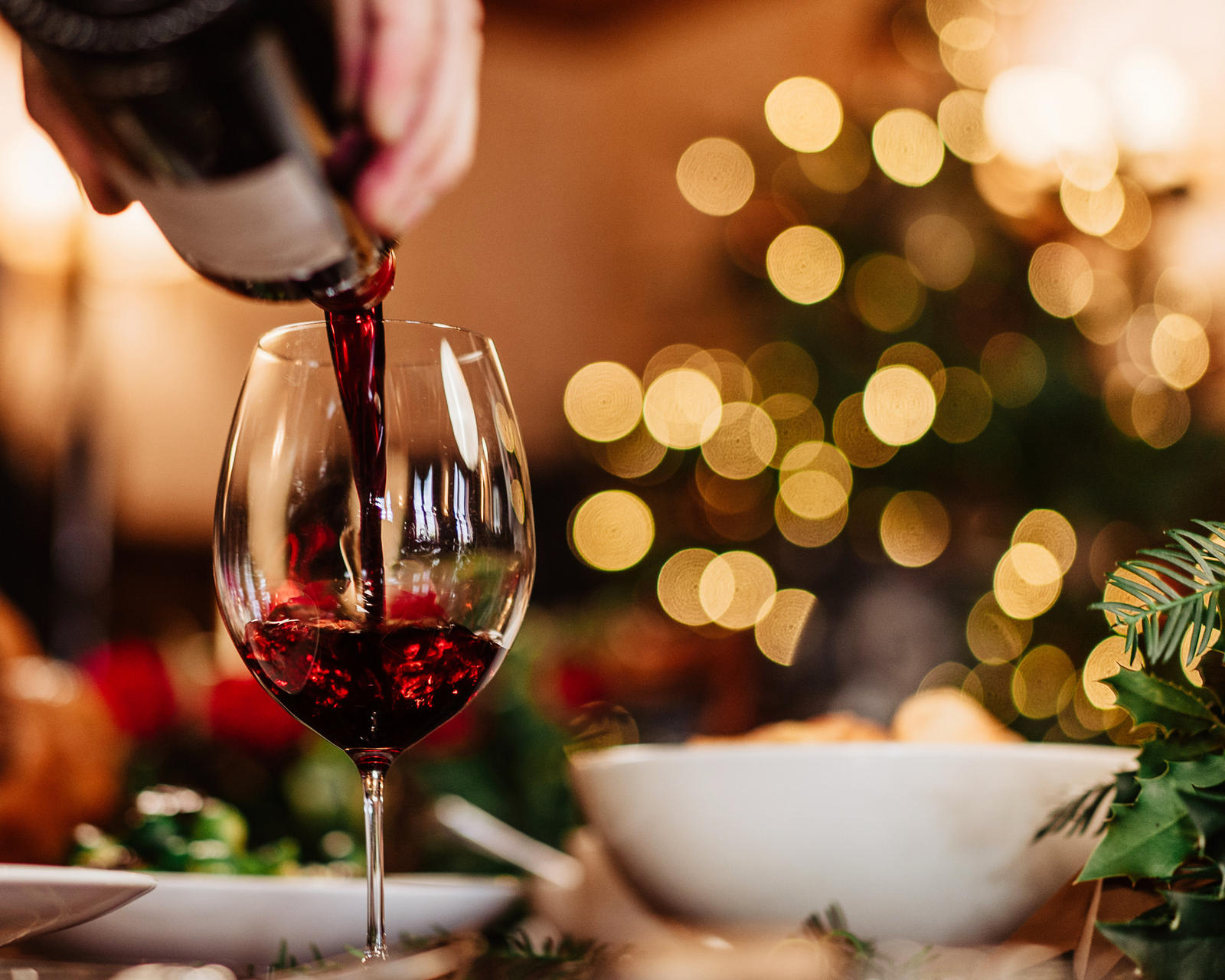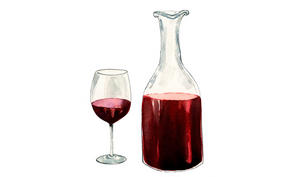 The act of decanting Claret is a classic festive ritual, and a jug of fine red Bordeaux makes a particularly beautiful centrepiece on the Christmas table. But it's also crucial to the enjoyment of Clarets of certain ages. Tom Cave gives us a handy overview of which Clarets to decant, and how.
In years gone by, all Bordeaux reds would have been decanted – if fortunate enough – by your butler in his pantry and brought through to your dining room. Hence there was little need for the wonderful array of labels on bottles we enjoy today. This is the very reason why Berry Bros. & Rudd bottlings had such a neat and concise, if plain, label: the owner never really saw the bottle.
There are two main reasons to decant red Bordeaux. If it's a young wine with robust tannins, the act of decanting allows the wine to breathe and open out. Typically, for any vintage since 2000, you might decant an hour before serving, and longer for younger wines.
The other main reason people decant is associated with older, more mature wines. Pour these gently through a funnel with gauze. This prevents any larger particles, like those from a crumbly cork (as well as finer sediment, which is best left in the bottle), from entering the decanter, and in due course, your glass.
Timing very much depends on the age of the wine. For a good-grade wine from the 1990s, I would decant an hour or so before serving. For something very much older, I might decant minutes before pouring.
"Double-decanting" is a good option. This means emptying a bottle, rinsing it well with un-tainted water, and returning the wine to that same bottle. However, in my mind, the gorgeous colour of a red Bordeaux in a decanter – whether a more vivid hue or pale brick – is a wonderful sight on any table, hence the fine array of Victorian Claret jugs to be found.
A final word: do check any decanter or vessel (really, it needn't be finest crystal – any jug will do) is clean before pouring your precious wine into it. Standing the bottle up for at least 12 hours before decanting, so that any fine sediment can settle, is also sensible.
Oh, and when you come to clean the decanter the following morning – perhaps a little dazed from the festive indulgence – take care not to chip it on the tap (we've all done it.)
With its high tannins and luscious flavours, red Bordeaux pairs beautifully with many savoury dishes. Henrietta Gullifer offers a few tips for finding the perfect festive food-match.
Claret and Christmas go effortlessly together. For many, red Bordeaux is the ultimate winter wine: a warming, rich style that goes well with classic seasonal dishes, such as braised or roasted meats, savoury risottos and hearty stews.
It's also a celebratory wine, with some wines laid down for decades until they're perfectly ready for the Christmas table.
Red Bordeaux has a high tannin content which not only brings colour and texture, but also enables it to age for long periods of time. These can seem rough when drinking the wine on its own, but when protein binds with these tannins its softens them; bringing out flavour and creating a velvety texture.
Therefore, when I'm drinking Claret, I always turn to high protein, savoury dishes. Anything from a nut roast to Christmas goose will pair well – as long as the Claret doesn't overpower the flavours in the food.
A younger, fruitier Bordeaux, like this 2018 Pomerol will go wonderfully with lighter flavours – perhaps even a meatier fish or turkey. On the other hand, a mature Claret such as this 2007 Ch. Haut-Bailly will balance the more gamey elements of goose or roast beef. Personally, I will find a place for both styles over the festive season.
What to eat with red Bordeaux: Christmas goose
Head Chef Stewart Turner shares his recipe for goose with chestnuts and figs: hearty, festive and delicious with red Bordeaux.
Choosing wine for Christmas can be a daunting task. A lot of it depends on what you're serving: Pinot Noir has always been my go-to for turkey, and Claret if we're having goose or beef. So, here's my recipe for goose leg, which will be a winner with various wines, but is a perfect match for Claret.
Whether you opt for turkey or goose at Christmas, my top tip is to always take the legs off the bird and cook them separately. It's a bit of a faff, but it makes life simpler on the day, reduces cooking time and, more importantly, the result is delicious.
I confit the legs before roasting, then I flake the meat and finish with figs and chestnut. The legs can be cooked the day before and finished on the big day, while roasting the crown of the goose.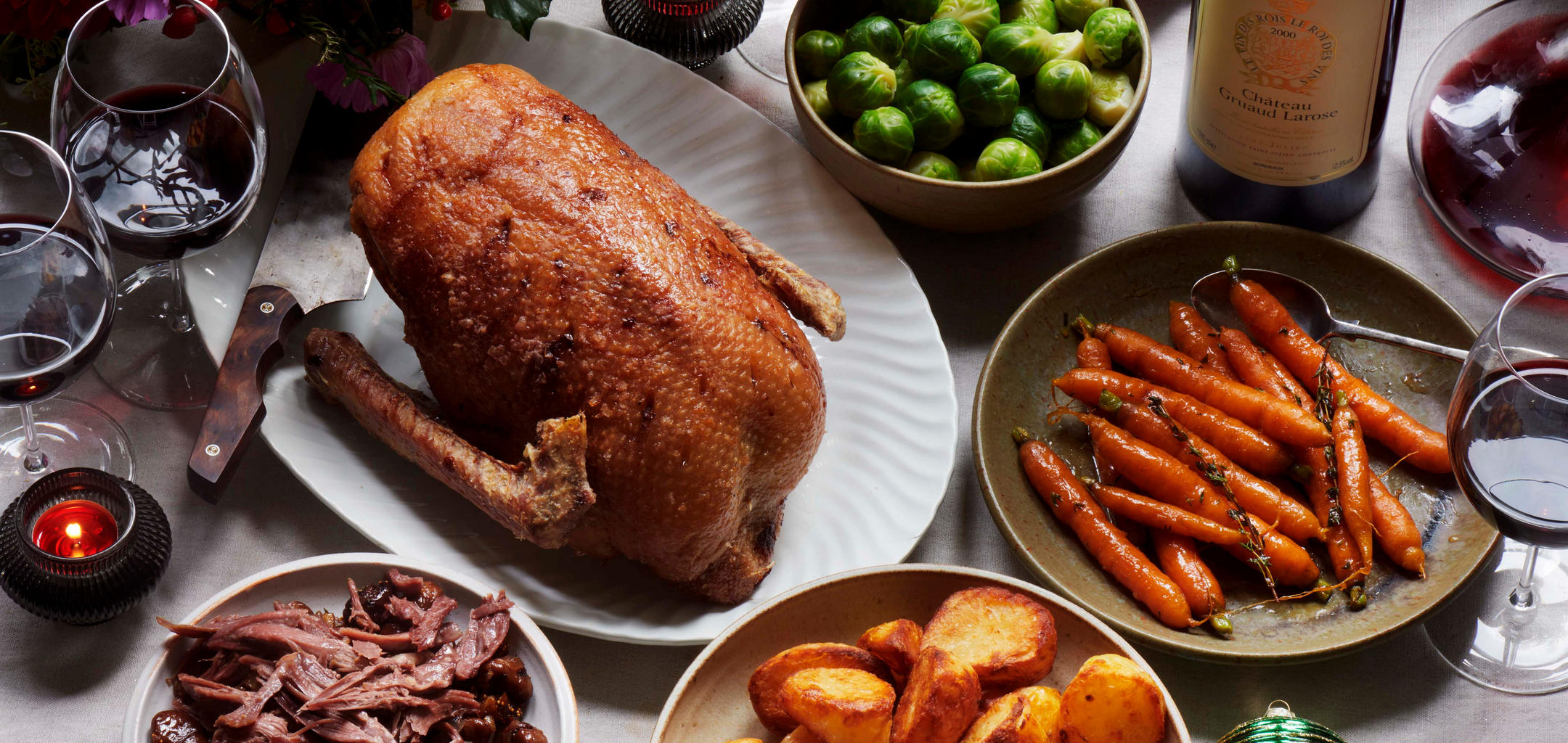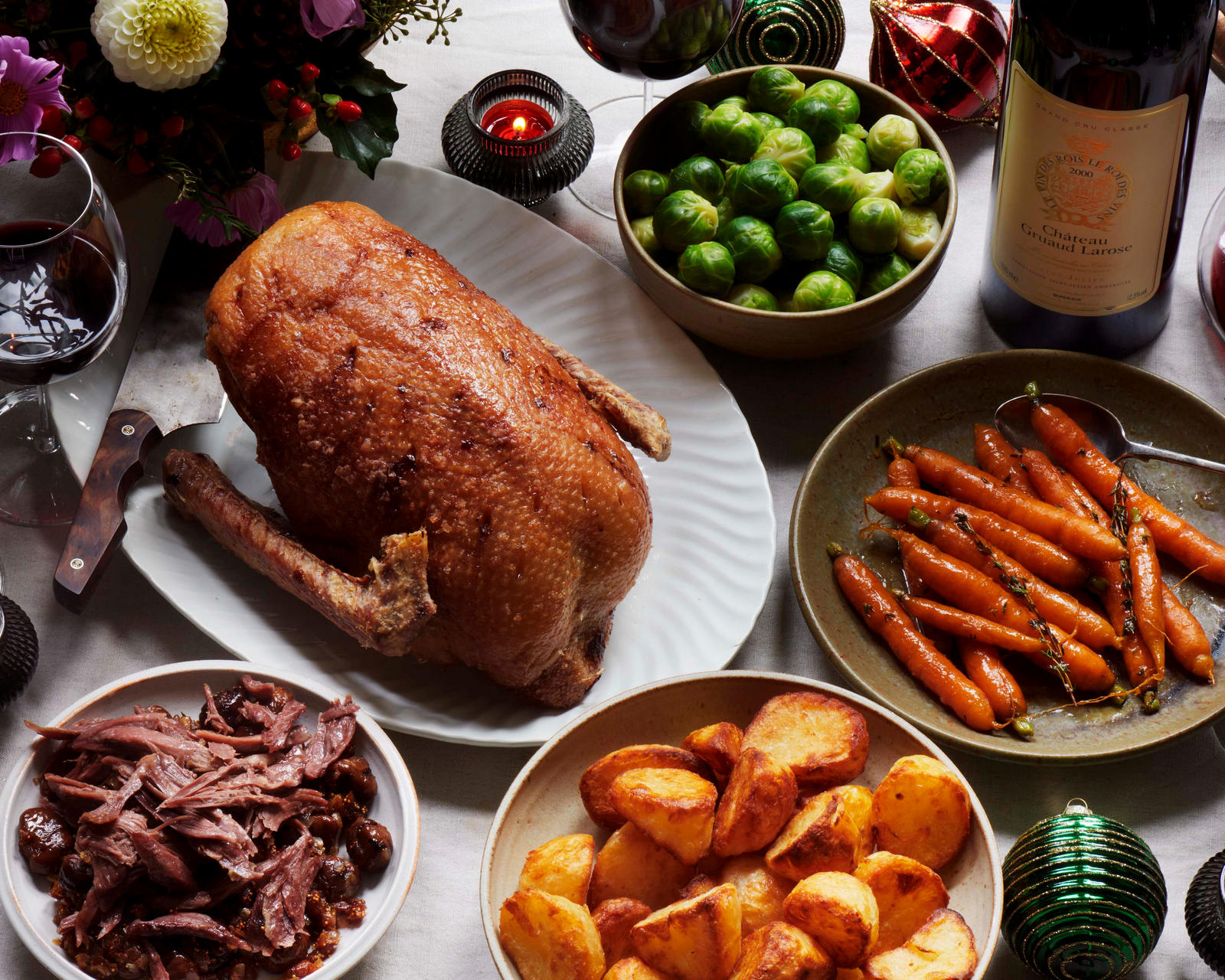 The recipe:
One goose, legs removed (if you ask your butcher to do this for you, ask them to also remove the wishbone)

50g rock salt
½ tsp peppercorns
Five sprigs of thyme
One sprig of rosemary
Three cloves of garlic
Goose fat to cover
Start by blitzing the salt, peppercorns, herbs and garlic in a food processor. Liberally sprinkle the blended mixture over the goose legs, place them in a tray or dish, cover them with the goose fat and refrigerate overnight for about 12 hours.
The next day, preheat the oven to 120°C. Brush off all the salt mix and place the legs in a casserole dish. Melt the goose fat and pour it over the legs, cover them and place them in the oven. Cook for around three hours, until the meat is tender and falling from the bone. Remove the dish from the oven and allow it to cool. Keep it refrigerated until ready to serve.
To finish:
One tbsp goose fat
Two shallots, peeled and finely chopped
Two cloves garlic, peeled and finely chopped
One tsp thyme, picked
½ bunch sage, picked and leaves shredded
200g of chestnuts, cooked and peeled
100g of dried figs, chopped
15ml of Cabernet Sauvignon vinegar
Salt and freshly ground pepper
Preheat the oven to 180°C. Allow the goose legs to come up to room temperature and remove them from the fat, which can be kept for the roasties. Place the legs in a roasting tray, pop them in the preheated oven for around 30 minutes, until they're lovely and golden.
Heat the goose fat in a frying pan over a medium heat. Sweat down the shallots, garlic, and thyme until they're softened but not coloured. Season with salt and pepper. Add the chestnuts and figs, cook for a further five minutes until they start to turn a lovely golden hue, then deglaze with the vinegar. Set the pan aside.
Flake the confit goose leg – think crispy duck at a Chinese restaurant – and discard the bones. Place the flaked meat in a serving dish and scatter over the fig and chestnut mix. Keep the dish warm, before serving with roasted goose breast and a traditional apple sauce.
A top red Bordeaux for Christmas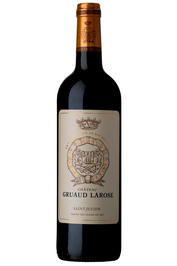 2000 Château Gruaud Larose, St Julien, Bordeaux
As one of the most popular St. Julien wines on the market, the Ch. Gruaud Larose is a great choice for red Bordeaux to drink this Christmas. Showing a wonderful depth of black fruit, smoke, cassis and a hint of cigar box, this is a powerful Claret from a year deemed the "vintage of the century" by renowned critic Robert Parker – who also deems the 2000 to be sitting at full maturity, where it will stay for another 10 years.