Home > Editorial > How to find the perfect Boxing Day wine
FIVE-MINUTE READ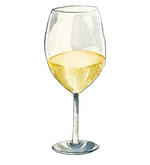 Will Wrightson believes it's crucial to approach Boxing Day as an entirely new day, with a revivifying walk followed by delicious food and wines.
It would not be unreasonable to say that Boxing Day is a little like the day after your birthday. There is the metaphysical (and usually very real) hangover to contend with, the utter carnage of Christmas to clear and some of the sparkle of the previous day has gone. But, in the spirit of supporting the underdog, allow me to say that – while it may suffer from being in the shadow of Christmas Day – there is actually a lot to commend it.
There are a few things you can do to add a little sparkle to your Boxing Day. Firstly, get out of the house as soon as you can. The worst thing you can do is surround yourself with the detritus of Christmas Day, so throw on a coat and blow off the cobwebs with a Boxing Day walk. The sensible ones will have dug out an old hipflask (perhaps you got a small one in a cracker) and filled it with something bracing like a King's Ginger and whisky – a legendary take on a whisky mac. This should give you a revivifying kick, while singlehandedly making you the most popular person on the walk.
Perhaps your walk takes you near a pub, where you pause for a well-earned pint or glass of mulled wine. Ultimately, all of this is designed to give you the requisite courage to attack the mess that awaits you at home. It is crucial that you approach Boxing Day as an entirely new day, as opposed to merely an echo of Christmas. After this, the key milestone is lunch. It would be mad not to make prudent use of leftovers, but make sure you have something new and central like a ham or terrine.
Finally, the most important part: the wine. Regardless of what is served on Christmas Day, I always look to open something lighter on 26th December. It doesn't matter if it's red or white – but if you do choose white, look to the Godello grape, ideally in the hands of Rafael Palacios. A real treat would be a bottle of Louro do Bolo. It is a wonderful white wine – and that's coming from a self-confessed lover of white Burgundy.
In Elle Macleod's household, Boxing Day provides the perfect opportunity to uncork some lighter-bodied reds – and Burgundy and Beaujolais are the order of the day.
In my family, Boxing Day provides an opportunity to change tack from traditional winter dishes, in favour of something zestier and more varied. And so, out come the Ottolenghi cookbooks that have been given and received the day before. Equally as important are the wines chosen to drink alongside this Boxing Day feast. By the end of Christmas Day, I'm craving lighter, fresher and fruitier wines. The ideal lighter-style red for this occasion is red Burgundy. It's indulgent enough to please the whole family, great with meat and vegetable dishes and, most importantly, its lifted fruit and acidity is so refreshing. This year, I'm eyeing up our Berry Bros. & Rudd Bourgogne Pinot Noir by Benjamin Leroux, which provides wonderful purity of fruit; or something from the brother-and-sister duo behind Denis Carré. They make the most beautifully perfumed Hautes-Côtes Pinot Noir and their wines are still reasonably priced.
A Boxing Day meal without any Beaujolais would be a sad affair. So, another key pick would be the reds from Olivier Merlin, who makes wine in the Mâconnais (Burgundy's southerly region) and Beaujolais. Gamay – Beaujolais' prized grape variety – produces lighter-bodied reds with delicious, juicy red and black fruits. This would work so well with a ham, or even a classic Boxing Day curry. It would match particularly well with Olivier's Moulin-à-Vent. For those that want to stay firmly with Pinot Noir, Olivier's 2019 Bourgogne Rouge, Les Cras is fresh and herbal with crunchy fruit and a great acidity.
Often overlooked are the lighter-bodied red wines from the Loire. There are some fantastic wines to try from this region, offering freshness, minerality and affordability. Cabernet Franc and Pinot Noir are often farmed organically and biodynamically in this region to create reds that are lighter in style, but still have complexity and can be age-worthy. Frédéric Mabileau's wines have been a firm favourite in my household, and his 2019 St Nicolas de Bourgueil, Les Rouillères is no exception. It has a lively and silky style that would go well with food or on its own. Serve this slightly chilled for extra refreshment.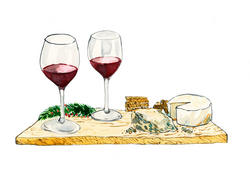 Christmas Day leftovers call for their own specially selected wines to complement them. Alexandra Gray de Walden shares a few of her favourite styles to enjoy alongside classic Boxing Day fare.
Presents have been opened, crackers pulled and wrapping paper lies strewn around the house; all tell-tale signs that Boxing Day has arrived. As well as leaving us all with a tighter waistband, the previous day's revelry gives us a plethora of leftovers from Christmas dinner. Cold meats, pickles, the remnants of yesterday's cheeseboard and – my personal favourite – bubble and squeak; these are all superb Boxing Day fare, calling for something warming and red to accompany them.
For lighter-bodied red wines, there is no better grape than Gamay. Beaujolais' fruity, floral wines make for incredibly friendly drinking – delicious with cranberry sauce on a slice of cold turkey. Siblings Louis-Benoît and Claude-Emmanuelle Desvignes produce lusciously concentrated and refreshing Morgon, as well as our Berry Bros. & Rudd Own Selection Beaujolais-Villages.
If you feel the need for something a little more voluptuous, Californian Zinfandel offers blueberry, bramble fruit and black-pepper flavours with the optimum level of well-integrated tannin – providing that signature Californian structure. Ridge Vineyards have been producing terroir-driven classics since the late 1950s, best enjoyed as a sundowner in front of a roaring log fire.
A personal guilty pleasure is a sparkling Lambrusco from Emilia-Romagna in central Italy. Lambrusco di Sorbara is at the paler end of the rosso colour chart, with refreshingly high acidity and deliciously ripe red cherry, plum and strawberry flavours. Because sometimes, only fizz will do.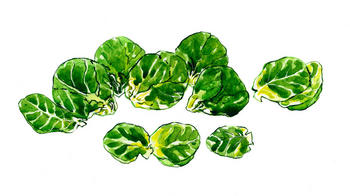 Christmas Day is behind you, leaving a trail of delicious leftovers in its wake – but what to do with them? Head Chef Stewart Turner shares his recipe for that timeless Boxing Day favourite: bubble and squeak.
Bubble and squeak is the ultimate festive comfort food – something of a family tradition in my house. It can be the cause of much debate: should it be a potato cake or more of a sautéed potato-and-vegetables mix? I'm firmly in the second camp. For me, it's always about frying up all the leftover potatoes and vegetables until they are lovely and golden. The ratio is always very important, there has to be plenty of caramelised sprouts – they take the dish to the next level.
The recipe
2/3rds leftover potatoes, carrots, parsnips or other root vegetables
1/3rd cooked greens, sprouts or cabbage
Olive oil
Salt and freshly ground pepper
Heat a good splash of oil in a heavy frying pan over a medium heat. Add the potato mix and sauté for about 10 minutes, turning occasionally until starting to brown. Then, add the greens and continue to fry for another 10 minutes, until the sprouts start to caramelise, and you have a lovely golden mix.
Serve with honey-glazed ham and cranberry sauce.
If you're looking for a delicious Boxing Day wine, our buyers recommend this 2009 Châteauneuf-du-Pape. Full of rich, spicy notes, it's the perfect wine for a cold day.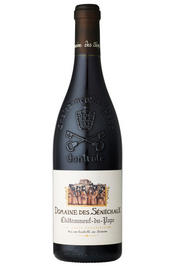 2009 Châteauneuf-du-Pape Rouge, Domaine des Sénéchaux, Rhône
"This perfectly mature Châteauneuf-du-Pape is both festive and exotic," says Georgina Haacke, our Wine Buyer, "it really embodies the flavours of Christmas." The 2009 is made up of 60% Grenache, 20% Syrah, 18% Mourvèdre, and 2% Vaccarèse-Cinsault. With a decade now behind it, this is a wonderful example of a mature Châteauneuf-du-Pape, with all the rich, spicy notes for which the appellation is renowned – the perfect wine for a cold day.
It has a fruity nose of wild strawberries and raspberry jam, mingling with sauna wood spice, cedar and dried flowers. There's a savoury backbone of forest floor, leather and roasted meat, and a seamlessly silky palate of tannins. It's ideal if you prefer goose over turkey for your Christmas meal, or for adding a little grandeur to the Boxing Day leftovers.