Home > Editorial > Why your Christmas wine selection calls for Champagne
FIVE-MINUTE READ
---
Christmas Champagne is perhaps the quintessential festive wine. Below, you'll find a short collection of writing that captures the spirit of uncorking Champagne at Christmas. Dip into Champagne's festive history, discover some food-matching advice and try out a stunningly simple recipe for "Oysters Christian Dior" from our Michelin-trained chef.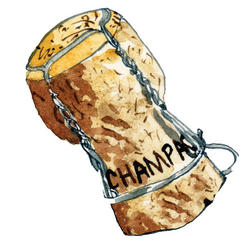 For Alexandra Gray de Walden, Champagne is uniquely versatile, pairing beautifully with everything from Christmas breakfast to ripped wrapping paper and muddy wellies.
What is the first sign of Christmas Day in your household? In mine, it's that unmistakable pop; that release of lively effervescence as a caged cork escapes from the neck of a Champagne bottle, bedecked in its foil cloak.
Sometimes it appears as early as 7am as the liquid accompaniment to our traditional Christmas Day breakfast of smoked salmon and scrambled eggs. It signals the arrival of family, relaxation and the start of a very special day. No wonder Noël Coward wittily proclaimed: "Why do I drink Champagne for breakfast? Doesn't everyone?".
But while ante meridiem drinking may not be for everyone (apologies, Mr Coward), the joy of Champagne is its suitability for any time of day. Whether your household prefers to make an occasion of Christmas lunch or of Christmas dinner, nothing says "celebration" or "togetherness" quite as festively as a twinkling glass of Champagne.
Champagne has the unmatched ability to carry you on a magic carpet of fine mousse from Christmas Eve through to Boxing Day – and beyond. And it pairs beautifully with ripped wrapping paper, The Monarch's Speech and the kicking-off of wellies after a Boxing Day hike.
While Champagne facilitates the annual celebration of Christmas time, it also creates its own Yuletide memories. I shall never forget a childhood Christmas spent in Moscow when numerous bottles of Bollinger were chilled in the snow in our garden for Christmas lunch, owing to a lack of space in the already bulging fridge.
For superlative seasonal sipping, nothing will add a sparkle to your Christmas quite like Champagne.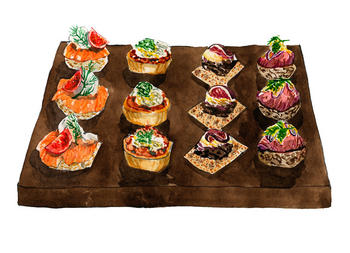 We tend to think of Champagne solely as an apéritif; a sparkling start to a meal. But, in fact, it pairs brilliantly with a range of dishes. Henrietta Gullifer shares a few key tips for matching Champagne to food.
Champagne has a naturally high acidity caused by the early harvest and cool climate in Champagne. Not only does this enhance the wine, making it refreshing and palate-cleansing, but it also helps it pair incredibly well with anything salty or fatty, as the acidity cuts right through the richness of a dish.
This lends itself to traditional pairings such as smoked salmon blinis, but it can also allow you to get a bit more creative. For example, you could serve the Champagne with the cheese course; some delicious nutty Comté pairs wonderfully with the buttery notes in a richer style of Champagne. It even goes well with deep-fried food, possibly some arancini or Spanish croquettes.
Not all Champagnes are the same, of course. Younger, fruitier, non-vintage styles are great with fresher flavours, such as seafood or a zesty market salad. Vintage Champagnes tend to have a bit more weight, developing savoury flavours over time; this could allow you to explore umami flavours such as mushrooms or even meat-based dishes.
If you're looking for something different to finish your meal off, you might want to explore the demi-sec styles of Champagne. While it may be a little too light for a traditional Christmas pudding, these styles have slightly more residual sugar in them and can go perfectly with desserts such as fruit tarts or a Christmas pavlova.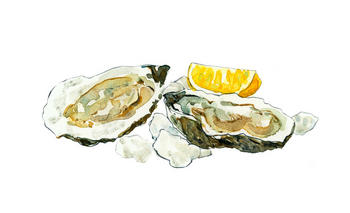 Stewart Turner, our Michelin-trained chef, has plenty of tricks up his sleeve when it comes to creating festive dishes with a special touch. Here, he shares a simple (yet appropriately decadent) recipe that's perfect with Champagne.
When it comes to food and wine, I don't think there is a more intuitive match than Champagne and oysters. Oysters are a big Christmas special for a lot of people and this dish combines the two. It's a classic from my days at The Connaught Hotel, mysteriously named "Oysters Christian Dior" – which is basically oysters with Champagne sabayon and the optional addition of black truffle.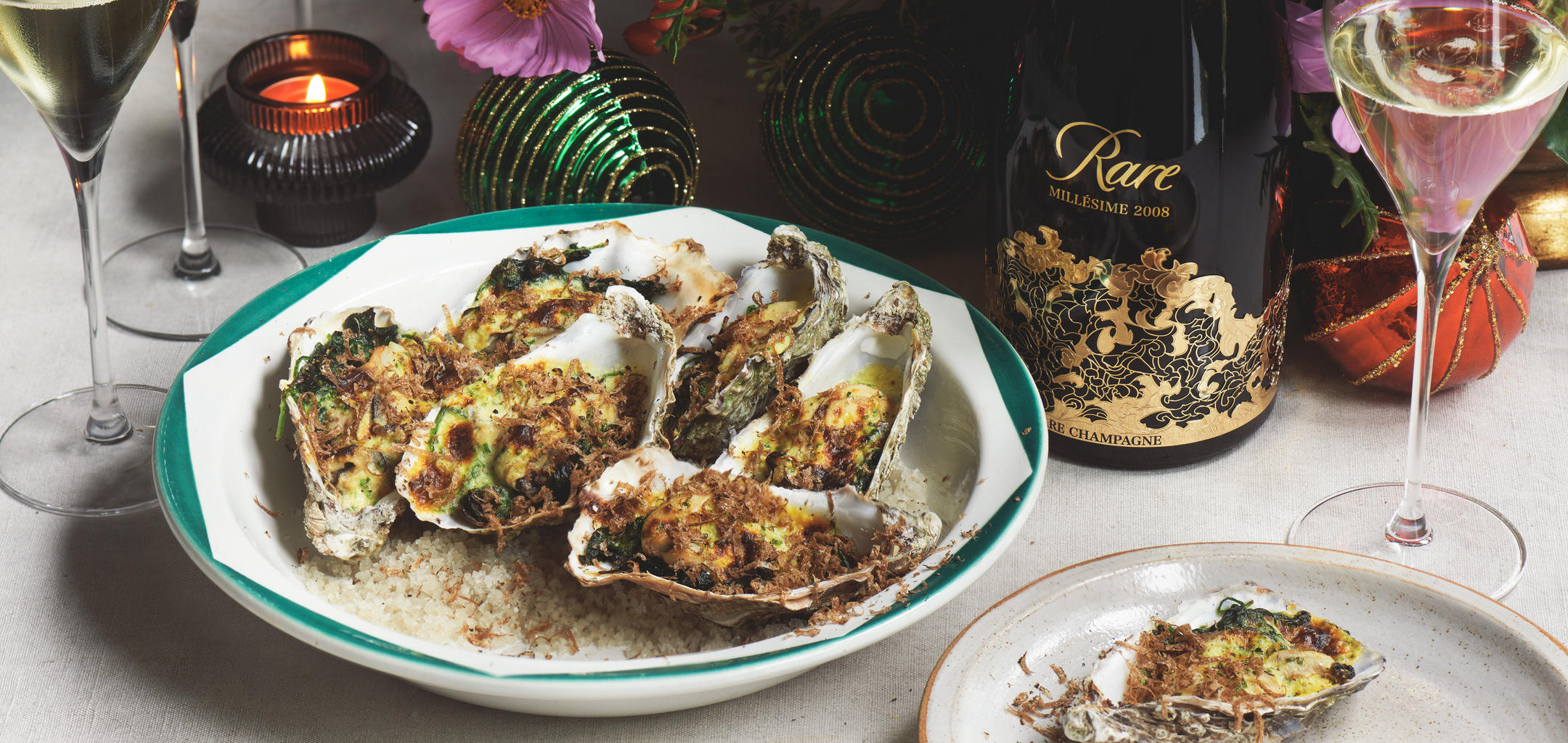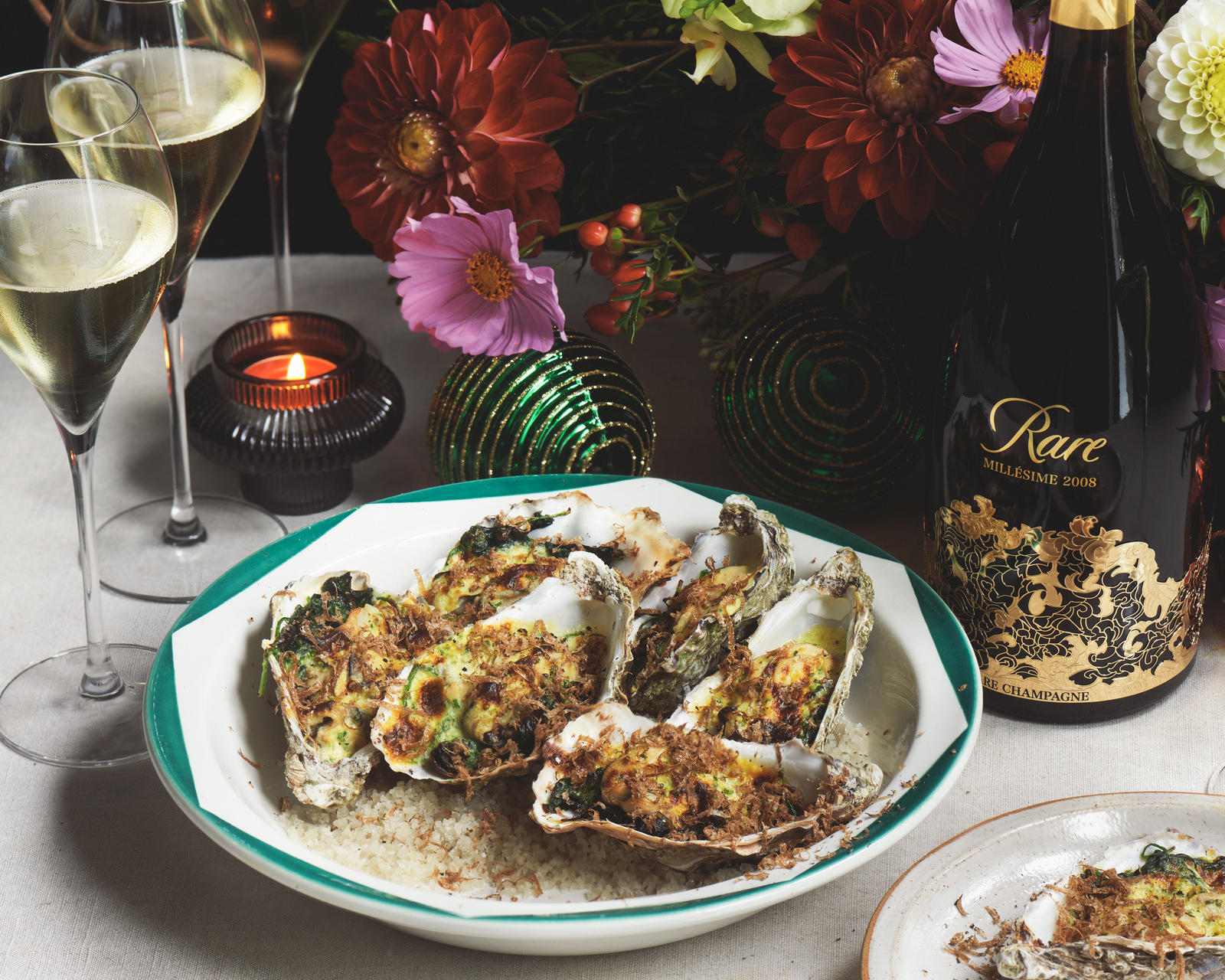 Oysters, Champagne sabayon and truffle – serves four
Eight oysters
50ml Champagne
Two egg yolks
Two tbsp whipped cream
75g baby spinach wilted in a little butter
Two grams of fresh truffle – optional
Two tbsp chopped chives

Shuck the oysters and retain the water and the bottom shell. The tops can be discarded. Place the shells on a bed of salt on a baking tray.
Strain the oyster water through a very fine sieve or muslin into a small saucepan. Add the Champagne, bring it to the boil and reduce the liquid by half. Once reduced, place the mixture in a heatproof mixing bowl with the egg yolks and sit this on top of a pan of boiling water. Continue whisking vigorously for about three minutes, or until the mixture thickens, then take it off the heat and immediately whisk in the whipped cream and chives.
Fill the shells with a little wilted spinach and nestle the oysters on the top. Spoon over the sabayon mixture and place the oysters until a hot grill for two to three minutes until has a lovely golden-brown colour. Finish with the truffle (if you're using it) and serve immediately.
Our recommendation for Christmas Champagne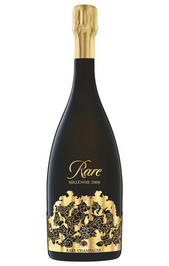 2008 Rare Champagne, Millésime, Brut
A stellar addition to your Christmas wine selection would be the 2008 Millésime Rare Champagne, says Private Account Manager Paul Keating. "It's zesty and refreshing with well-defined fruit," he explains, "with hints of pineapple, blood orange, liquorice and sweet spice, and undertones of freshly-baked pastries." The 2008 vintage is well-renowned as a quality year for Champagne, and this bottle certainly fits the bill.