Home > Editorial > From Champagne to Cava: Davy Żyw on sparkling wine
LONGER READ
---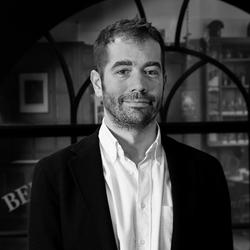 We speak to Davy Żyw, our Wine Buyer, about the rich and fascinating world of sparkling wine, covering Champagne, Prosecco, Cava and English sparkling wine.
What are the main methods used for making sparkling wine?
The most important sparkling wines can be split into two camps. The first one is the traditional method (méthode traditionelle), where the sparkle is achieved with second fermentation in bottle, giving a huge spectrum of different flavours and textures. The second camp is sparkling wine which is made with what the Italians call autoclave or Charmat – the tank method.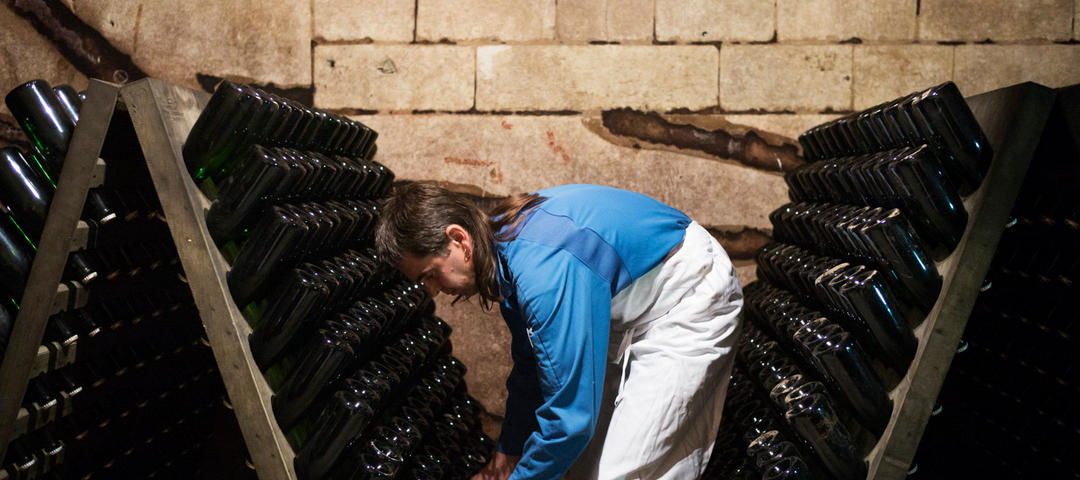 You do get some smaller, more peculiar styles which are produced in smaller quantities, such as méthode ancestrale – the original sparkling wine. This style of wine was first mentioned in 1536, in the town of Limoux, just outside Carcassonne. The written record of méthode ancestrale sparkling wine can be traced to a Benedictine abbey down there. These kinds of wines are made by bottling still wines that have still-active yeast inside, and there's a natural fermentation which happens inside the bottle – but they're in very small production.
What are the most famous examples of these methods?
There's one particularly famous wine associated with the tank method: Prosecco. It's one of the biggest success stories of the last 30 years, and it's down to a little grape called Glera, which grows on the flat, foggy plains of Veneto and Friuli, and is very high yielding. It's quite easy to produce and very quick to make: you can make a bottled Prosecco, from grape to glass, in 60 days. This is one of the reasons why it's so cheap, but also why it's so light, fruity, pleasing and easy to drink – because you're tasting the pure essence of what that fruity grape is, rather than any intricate or technical winemaking intervention.
The most important sparkling wine, of course, is made from the traditional method, honed through centuries of human endeavour and achieved in the chalky crayères [subterranean chalk quarries] of Champagne. This is the global benchmark of sparkling wine, and for good reason: Champagne represents the pinnacle of quality and expression, and what sparkling wine can achieve.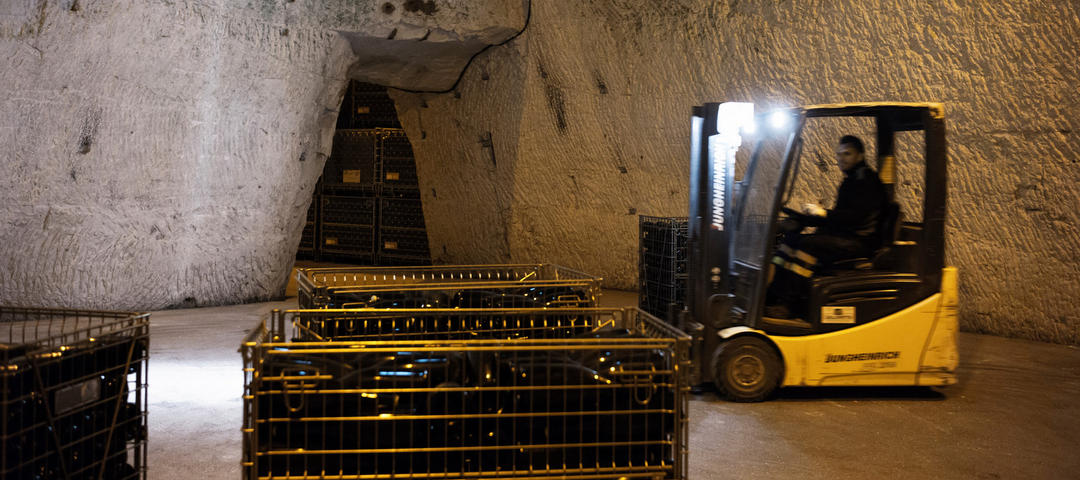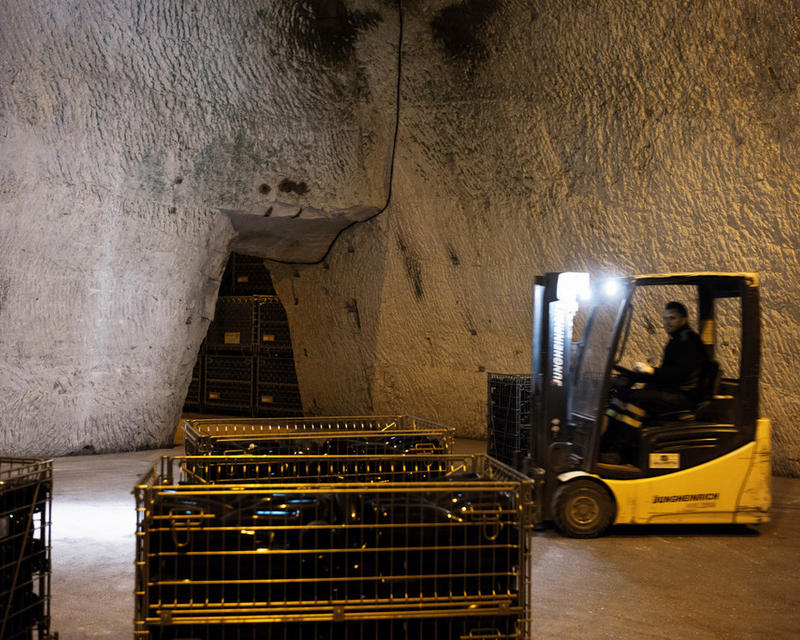 On Champagne
What makes Champagne so remarkable?
There are a multitude of reasons here. One is the northern climate: it's the most northerly wine region of France. To harvest ripe grapes is something producers have traditionally struggled to achieve – although this is different now with global warming.
Although there could be up to seven different grapes in Champagne, there are three frontrunners: Pinot Meunier, Chardonnay and Pinot Noir. The latter two have a wonderful ability to pick up vinous detailed expression from the vineyards. This leads us onto what the vineyards are like in Champagne, and what really sets this region apart is the chalk, set on a 65-million-year-old marine bed.
There are many benefits to this chalky soil. One is about the retention of water. So, even if it rains and snows a lot in winter, but doesn't rain at all in summer, the chalk slowly releases just enough water to keep the vines healthy. It's like sitting on a sponge.
The deeper the vines go into the chalk, the more salty, mineral character you get, which you can taste in the Champagne itself. Personally, I find this one of the most desirable elements when I look for a Champagne – particularly in Chardonnay from the Côte de Blancs, there's this incredible salty marine character you find in the back of the palate, woven in with the acidity. It's this incredible sea breeze, very crystalline character.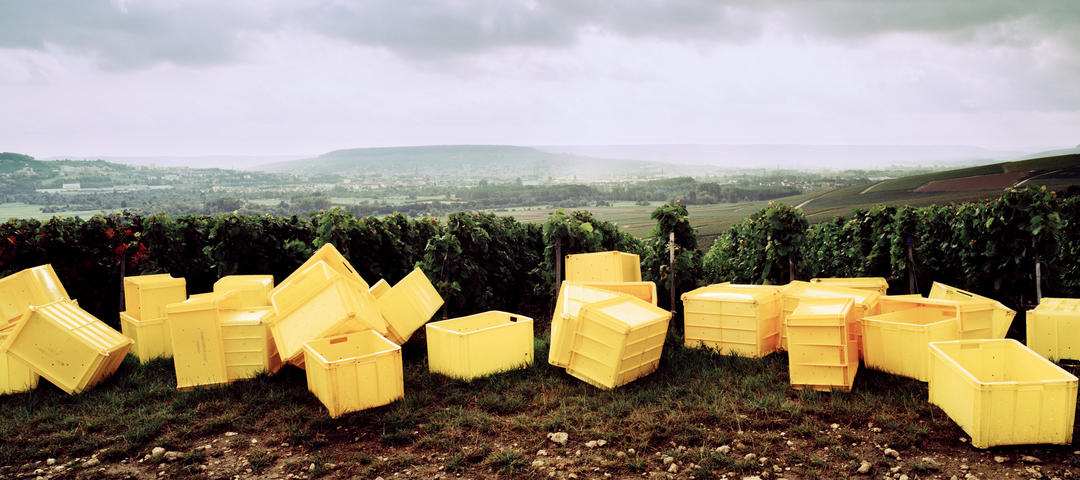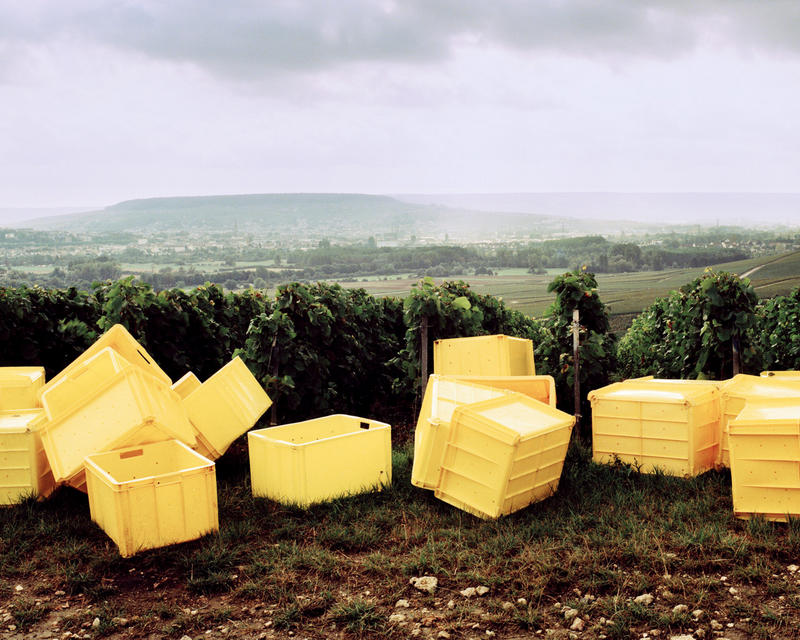 How did Champagne build such a prestigious reputation as a wine region?
It's fascinating what the Champenois have done over the centuries. Champagne is historically the poorest, most war-stricken, desolate, bleak, cold, gloomy area of France. It's in the midst of some incredible wine regions: you've got Alsace, the Jura, and Burgundy's not too far away either.
But there have been a few intrepid winemakers and salesmen who, over the last few centuries, have built Champagne's reputation as the height of sophistication, luxury and quality. But the Champenois have had it hard. The two world wars were fought in the vineyards of Champagne, which makes it even more incredible when you consider how successful Champagne is. This comes down to how export-focused they were, and how savvy they were with marketing themselves as this delicious, desirable wine which we know and love today.
It's also on a critical route between Western Europe, Germany and Russia, so it's always been in a strategic position – in terms of conflict, but also trade. They've been incredibly clever, knowing they're in a poor region of France making an expensive wine, to target customers overseas – and they've created a whole culture around it.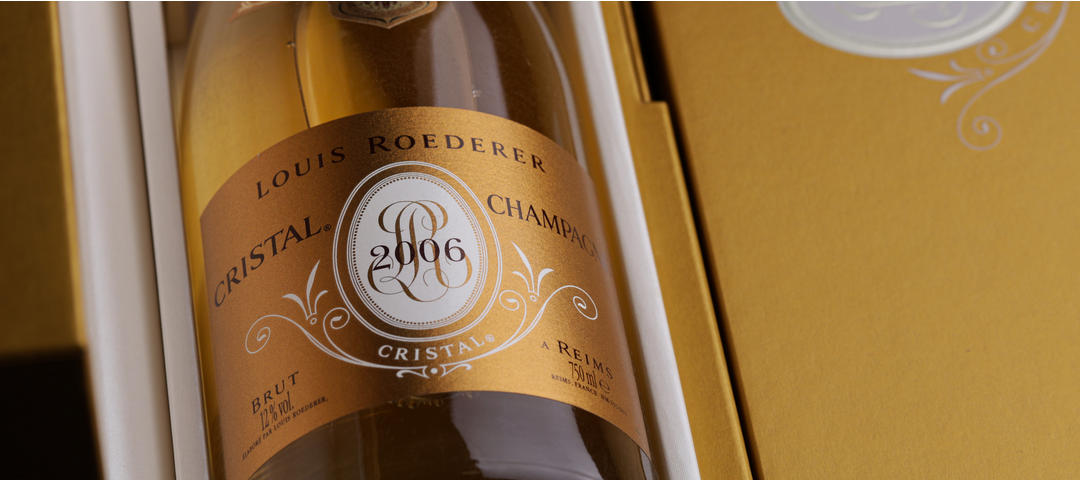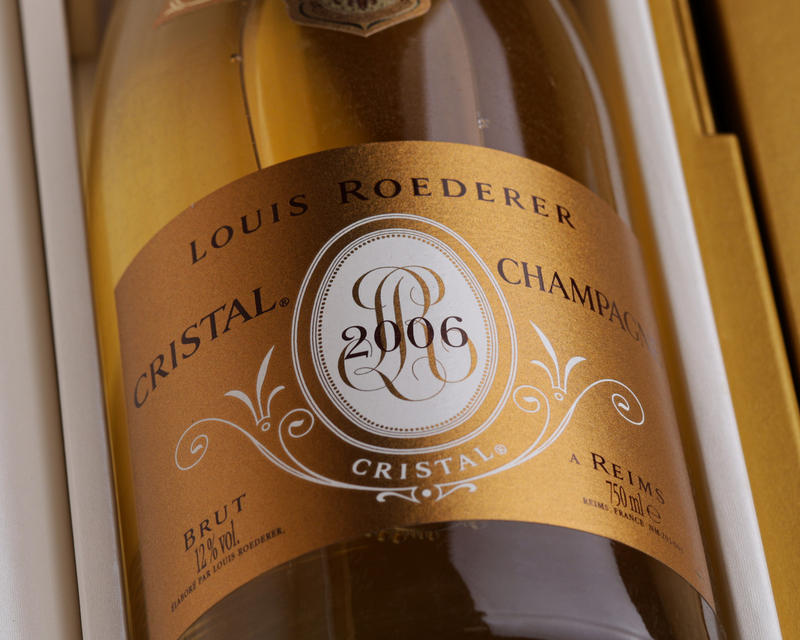 What's the difference between the Grandes Marques, the cooperatives and the growers?
In Champagne, there's a bit of a disconnect between the Grandes Marques and the cooperatives. The Grandes Marques – Möet, Clicquot, Roederer – hold the names of rich landowners, merchants or politicians – people who came from a place of money and privilege before they became winemakers. The Grandes Marques are family houses, and they're generally privately owned. They may have some of their own vineyards, but they'll also buy grapes from growers around the region to bottle under their own brand – apart from Roederer, who own the entirety of their vineyards.
On the other hand, you have the cooperatives. Take, for instance, Mailly, who make our UKC [Own Selection Champagne]. They are a cooperative in the Grand Cru town of Mailly, owned and run by the families of the village. Everyone has a share, and everyone has a say in how they grow the grapes, how they run the company and how the wines are made. Here, we're lucky to work with the only two Grand Cru cooperatives: Mailly and Le Mesnil.
What makes Champagne so interesting now is that there's been a shift in recent years, with more respect for terroir and for the farmer. There's a lot to be said about the success that happened to Burgundy, looking at vineyard-specific wines and expression of detail of individual terroirs, and how winemakers are utilising their toolbox to best express their sense of place. These growers are becoming more and more important in Champagne, producing some of the region's most exciting – and progressive – styles; not necessarily the most commercial, because some of the styles are quite challenging. But the role of the grower is becoming increasingly recognised and this is something I'd really like to champion.
---
On Prosecco, Cava and English sparkling wine
You mentioned that Prosecco has become particularly famous in recent years. Where do its strong cultural associations come from?
If we start with Prosecco and look at where it's made, it comes from the pianure – the flat plains – under the Alps, from Verona, tucked under the Dolomites, all the way to Udine right on the Slovenian border. Prosecco can come from any vineyard between the two, which is a very large amount of land. Historically, it's not one of the richest parts of Italy. Ownership of land and borders have changed an awful lot, even in the last 100 years.
But you've got a few of these rich merchant towns – Venice being one of them – which have had a huge influence on the economies of these regions and the density of the population: the people who are looking to drink these wines. So, if you take Verona and Venice – two of the most popular tourist destinations in Italy – there's this very strong piazza culture of eating, drinking and socialising. Prosecco has become this drink that people can start the evening with, because they're likely to move onto the other incredible wines that are made in the region. There's a real convivial social element to it: that's the heart of Prosecco culture.
In Champagne, you only really make Champagne. In Veneto, you've got Soave, Soave Classico, Valpolicella, Pinot Grigio, Traminer – the list goes on. So, Prosecco is just one of the wines of the region, which affects how it's consumed.
It's also very cocktail-friendly. Just look at the Aperol Spritz – who doesn't love an Aperol Spritz? You meet for one glass: it's fizzy, it's sweet, it's bitter, it's fruity, it's refreshing. Then you go onto dinner. It's very much associated with this lifestyle you have in this part of Italy.
Overseas, Prosecco has become a hugely popular wine. It's the first step on the ladder to other sparkling wines. If you look at the last 10 years and how many drinkers would be swapping their everyday bottle of still wine for a sparkling wine of the same price, it's fantastic. It has that sense of occasion, the pop of the cork, the theatre. We can be quite dismissive of Prosecco because of the quality ceiling, but in terms of what it's done for the sparkling wine category and Italy in general, it's an amazing achievement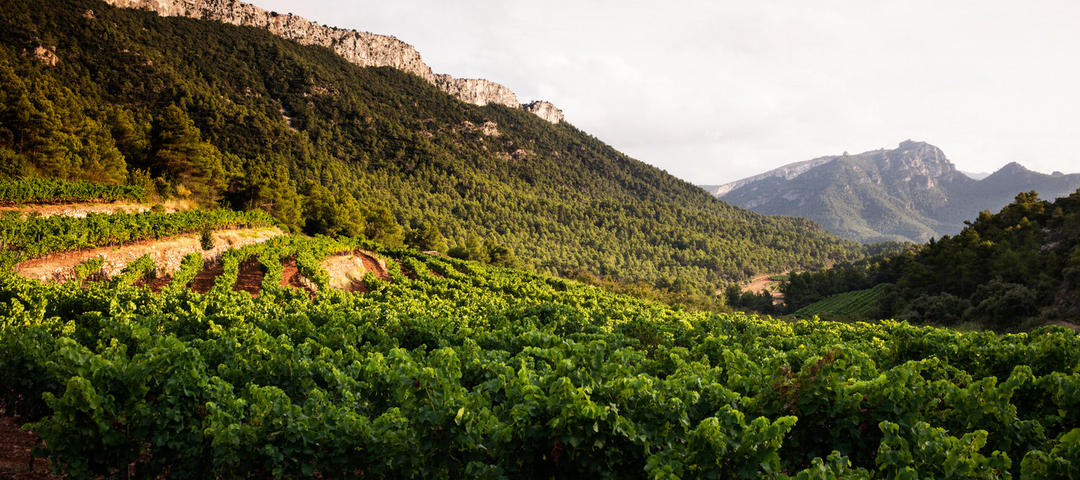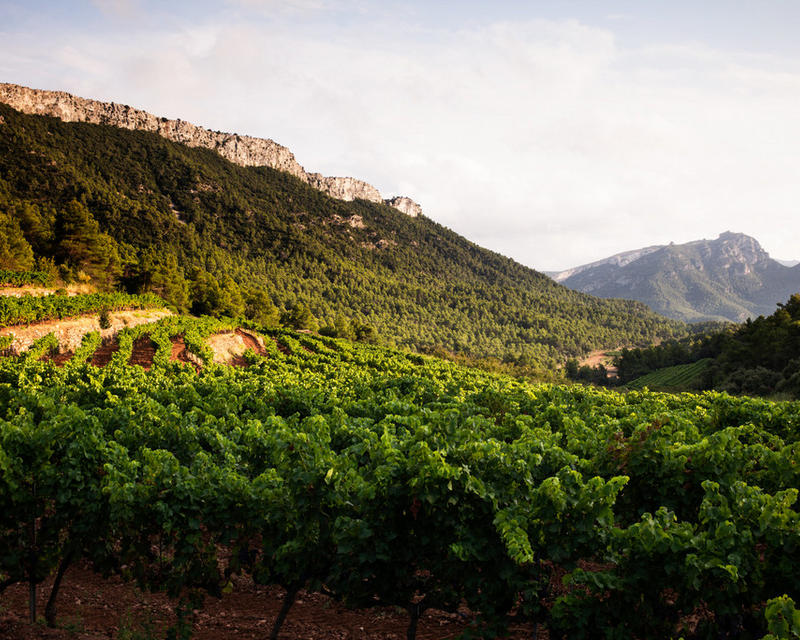 Moving onto Spanish sparkling wine, can you tell us a little more about Cava?
In Catalonia, they have more of a challenge when it comes to producing sparkling wine. Cava is very expensive to make: it requires the same time and effort as making Champagne, but in the past, it's been sold very cheaply. This is the problem with large retailers. They're selling Cava, which takes three or four years to make, for the same price as Prosecco, which takes 60 days to make. It's been a challenge to secure its premium status in the UK, but the quality can be very high.
The grapes here are mixed. There are many local grapes around Catalonia, but you can also use Pinot Noir and Chardonnay. And Cava production isn't limited to Catalonia – you can make Cava anywhere in Spain – but generally, it tends to be made mostly around the hills outside Barcelona.
This is important, with Barcelona being such a huge gastronomic hub. The eating culture here is incredible. It seems as if the imbibers of Catalonia needed a drink for sharing which wasn't Sherry or a still white wine, to have with tapas before they start eating dinner. Cava was created to whet the appetites and thirst of these drinkers and diners in the plazas of Barcelona – a way to start the evening before moving onto the more serious whites and reds of the nearby regions.
The soils in the area aren't as chalk-rich as in Champagne; they're darker, richer, more basalt, which is great for quality, but they don't have quite the same precision as some of the sparkling wines you'd find elsewhere. But some styles are very, very good.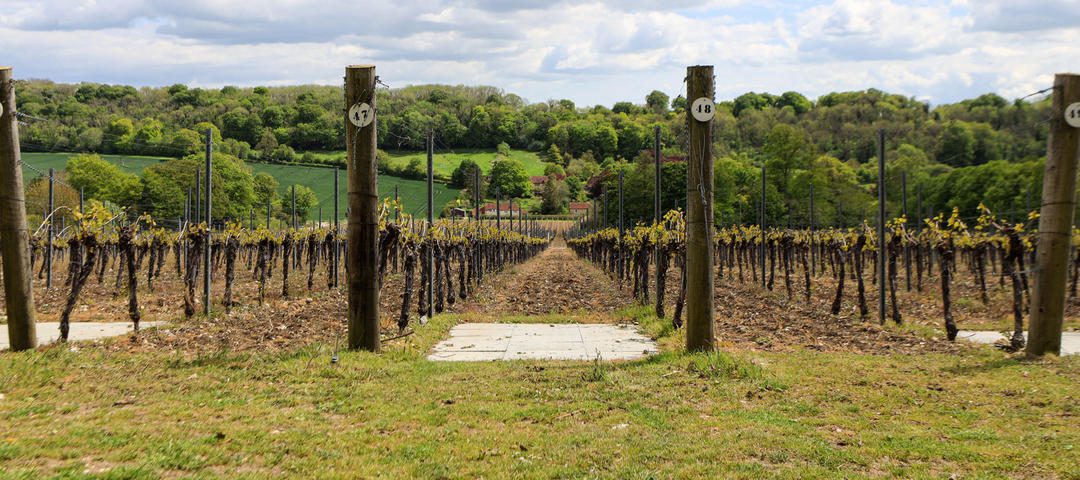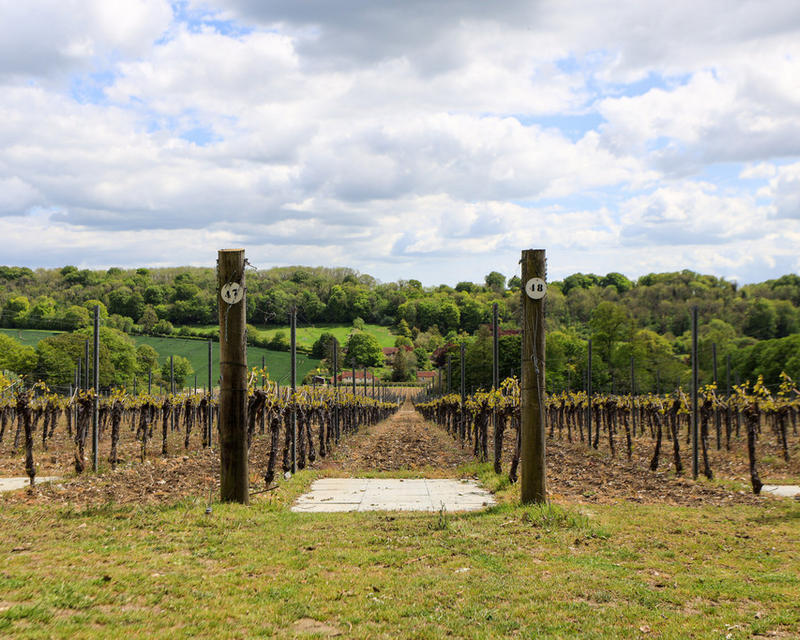 With the rise of British viticulture, we no longer have to look very far to find excellent sparkling wines. Can you tell us about the English sparkling wine scene?
You can trace viticulture in England back to the Romans. It's almost seen as a novelty industry now, but it's far from the truth: we've got a long relationship with winemaking in England that has never really come to fruition before. Now, we're enjoying the heyday of English and British wine.
There are a few reasons why we've emulated our Champenois friends across the channel. One: although we're a tiny country, we're the world's largest export market for Champagne – we love it here, so why not create our own? Up until a few years ago, it was said that London drank more Champagne than the entirety of the United States.
Another reason is because of the chalk. It's the same band of Jurassic sea basin that stretches from Champagne, under the channel, then touches the south-east of England. A lot of the greatest English vineyards are planted on the same chalk. The vineyards of Hambledon – where our Own Selection English sparkling wine comes from – are planted on the same chalk we'd find in the Côte de Blancs. The chalk gives the wine all the same benefits of longevity, hydration, salinity and minerality.
This is an incredible moment for British winemaking. Over the last 10 years, the vineyard area has grown by 150%. We've got hundreds of different wineries across the UK now, and they're only just beginning to realise the potential of their quality and just how great the terroir here is. It's so exciting to be on the brink of this change. The UK is one of the new frontiers of quality wine in the world – and it's happening right on our doorstep.