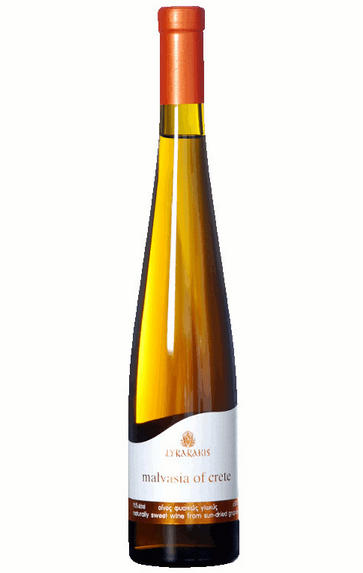 Domaine Lyrarakis, Malvasia of Crete, Greece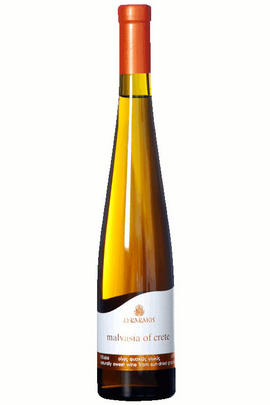 About this WINE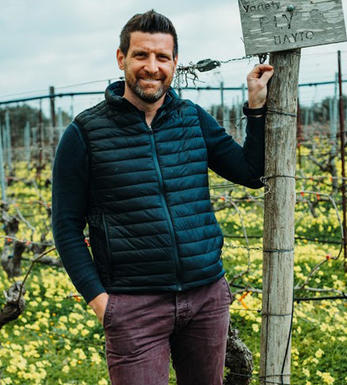 Domaine Lyrarakis
Domaine Lyrarakis, established in 1966, is located in the mountainous commune of Alagni (440 metres above sea-level), south of the city of Heraklion, in Crete. The well-preserved 14th-century stone-presses in the fields around the winery are testament to the area's long history of grape-growing and winemaking.

The winery is at the forefront of viticultural innovation, championing obscure local varieties such as the ancient white cultivars of Plytó, Dafni, and Vidiano, that it rescued from extinction.

The winery's extensive portfolio consists of a range of monovarietal wines (Vidiano, Plytó, Mandilari, Assyrtiko, Vilana, Thrapsathiri, Kotsifali) – some from single, "premium" vineyard plots, as well as blends of indigenous and international varieties (such as Syrah, Cabernet and Merlot). Quality remains key and the style emphasises fruit precision, purity and supple texture – placing the wines firmly in the modern camp, yet without flamboyance or exaggeration.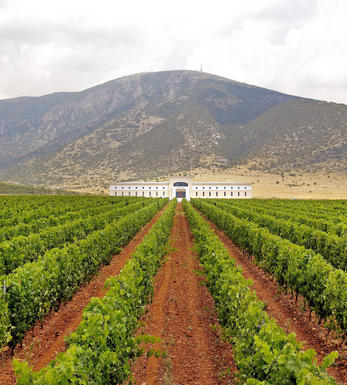 Crete
Crete is the steam engine of Greek wine production, with 50,000ha and one bottle out of every five in the country. The influence of co-operatives is still strong, in contrast to the mainland Greece, where boutique wineries and independent producers have already had a revolutionising presence over the past two decades.
Wine styles have evolved from the heady, rustic, alcoholic, slightly oxidative reds of the past, to fresh, clean, forward drinking red and whites, thanks to modern techniques in both the vineyard and the winery and the development of new plantings in higher, cooler altitudes.
Local Grape Varieties
A significant white in Crete is Vilana, mainly in the appellations of Peza and Sitia. At high altitudes, it can give refreshing, dry, peppery and floral whites.
Other niche, traditional varieties include the dry aromatic whites Plyto and Dafni, saved from extinction by the pioneering Lyrarakis winery.
Kotsifali, the signature red grape of Crete, can be aromatic and high in alcohol. Mandilaria makes the perfect blending partner enhancing tannins and colour. It is often married together with Kotsifali, the latter may be also vinified with Syrah.
Another local speciality (especially in the east region of Sitia) is the red Liatiko, similar to the Aglianico. It can be vinified into delicious, dry reds, but the most promising way forward is sweet wines from sun-dried grapes.

Malvasia di Candia represents both a grape variety and an ancient wine style from Crete with its heydays dating back to the Venetian occupation of the island. This variety gives wines with rich aromas, intense grape & floral flavours. Its comtemporaty incarnation comes with "Malvasia di Candia Aromatica" clone in Crete.

Recommended Producers: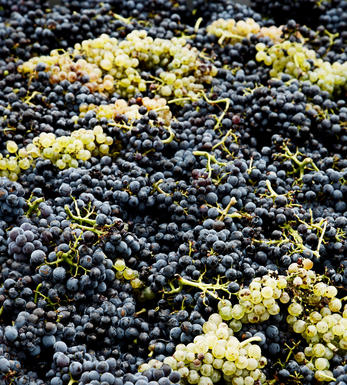 Other Varieties
There are over 200 different grape varieties used in modern wine making (from a total of over 1000). Most lesser known blends and varieties are traditional to specific parts of the world.
Reviews
Customer reviews
Critic reviews
Cretan blend of Plyto, Dafni, Vidiano and Vilana grapes grown and dried in the sun for nine days. Pale orange, and orange-peel flavours. Surprisingly light bodied, racy and transparent.
Jancis Robinson - Top holiday wines-  jancisrobinson.com - Dec 2013

Deep bright gold. Fireworks on the nose! Caramelised cashews and lemon peel and rich and deep. A herbal note that's a bit like honeyed cedar and pine sugar, over a succulent mid palate of apricots and orange zest. Ambrosial sweetness. Lovely balance, truly delicious.
Jancis Robinson - jancisrobinson.com - April 2013

Blend of Plyto, Dafni, Vidiano and Vilana dried in the sun for 9 days. Bright orangey gold. Spiced, bitter orange and apricot. Lightly caramelised but there's that herbal character from the Dafni. Gorgeously rich, essence of stewed apricot with an underlying marked grapefruit freshness. Irresistible and beautifully balanced. Very persistent.
Julia Harding MW, jancisrobinson.com, July 2012

Sweet, dried-grape wine with lovely freshness and structure – and a bit of chew still. I'd love some restaurant to offer me this by the glass.
Jancis Robinson MW, jancisrobinson.com, May 2012
The Malvasia that became famous during the Middle Ages is believed to have been a blend of different varieties rather than any particular variant of the Malvasia grape. The Lyrarakis family have been working for years to recreate a wine that may approach the original, settling on a blend of the local Plyto, Dafni, Vidiano, Vilana, all dried in the sun for about 9 days. This is a fascinating wine, savoury and sweet, the flavours ranging from saffron and cider to apricot, tart cherry and strawberry…it is a terrific choice for a cheese course.
Wine & Spirits Magazine, June 2015
This non-vintage sweet wine comes in a tall elegant bottle, and whilst the name suggests otherwise, it is apparently a blend of Plyto, Dafni, Vidiano and Vilana grapes, dried in the sun for nine days and aged for one year in new oak barrels. The colour is a deep, burnished gold and the nose is an intriguing amalgam of glycerine and herbs, with fat lemony fruit and edges of caramelised orange or apricot.
On the palate that honey and glycerine character is there, and this does have a mellow, rich fruitiness, but it is medium-bodied rather than heavy, and the clarity of the citrus fruit and acidity is good. More honey and a touch of buttered toast fill out the finish, but the low alcohol (11.5% ABV) and core of acid keep it fresh.
Tom Cannavan - www.wine-pages.com - Aug 2012

Read the review: 
Domaine Lyrarakis has led the wine revolution on the island of Crete