About this SPIRIT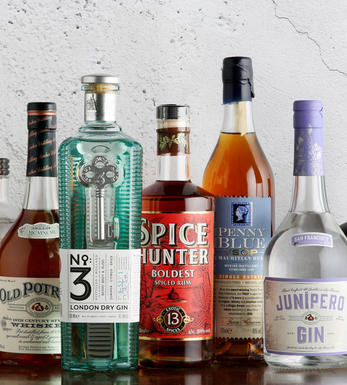 Berrys' Selected Spirits
Founded in 1698, the cellars of Berry Bros. & Rudd have been, for centuries, a temporary resting place not only for the very finest wines but also for some quite exquisite spirits.

Perhaps lesser known, our range of spirits has been expanding year on year, and exponentially since we first introduced Berrys'Own Spirits in 2003. As have the accolades and awards that our spirits team have received in recognition of their expert and passionate product sourcing and blending. In all we do, Berry's strives to provide unparalleled quality and service. To ensure we achieve these aims we source only from people we ourselves trust.

These ideals were perhaps never more in evidence than in the selection of The Berrys' Selected Spirits. Carefully chosen and blended by our spirits team, led by DouglasMcIvor, they represent the standard-bearers of style and quality from four classic spirits producing regions.

The Selected By Berrys' range comprises two blended Malts from Speyside and Islay, the most popular regions of Scotland, an XO Cognac and a golden Caribbean Rum. Each selection is endorsed personally by Simon Berry and is the perfect introduction to the world of Berrys' spirits.
Blended Whiskies
Blended Whisky is made from a blend of whiskies from different distilleries. Ireland, Canada, Japan all produce blends, yet the most renown manifestation of this whisky type comes in the form of Blended Scotch Whisky. The term denotes a blend of one or more Single Malt Scotch Whiskies with one or more Single Grain Scotch Whiskies from different distilleries.

The typical proportion is 60% grain to 40% malt. The degree of complexity and smoothness in the final blend depends on the percentage of malt. Each whisky used in the blending will normally have been matured for about 5 years, although many other longer-matured versions are also available on the market.
The term should not be confused with Blended (formely known as Vatted) Malt Scotch Whisky, which comprises only Single Malt Scotch Whiskies (100% barley), which have been distilled at more than one distillery.
The practice of blending Scots malts trace its origins back to the Victorian times. The original family-run distilleries did not have bottling facilities. They used to sell whole casks of whisky to bottlers, blenders and merchants who then combined the product of various distilleries, to craft a consistent "brand style".
It is still true that a significant proportion of the malt whisky produced in Scotland is used in Blends, which constitute a large share of the market, although the recent trends in the whisky trade have brought Single Malts into prominence. Important style ambassadors include Bailie Nicole Jarvie, Chivas Regal, Dewars, Haig, Whyte & Mackay, Bell's Whisky, Compass Box, The Famous Grouse, Langs, Black&White (Buchanans), Cuttty Sark, Johnnie Walker, Stronachie