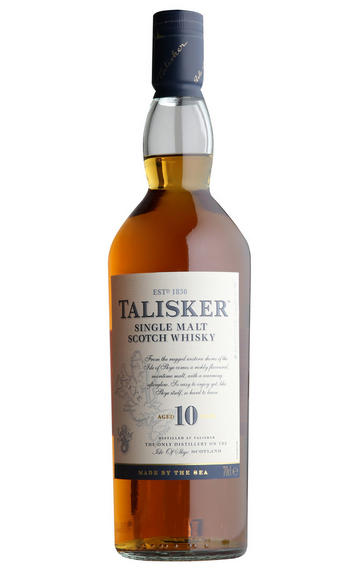 Talisker, 10-year-old, Island, Single Malt Scotch Whisky (45.8%)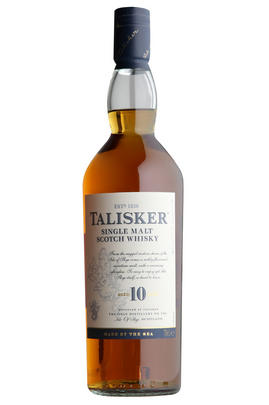 Critics reviews
Nose
Wonderful aroma. Pungent, smoke-accented, rounded.
Palate
Full maltiness, slightly syrupy, with sourness and a very big pepperiness developing.
Finish
Very peppery, huge, long.
Comment
Always a classic, though I still miss the 8 Years Old.

Michael Jackson - Whisky Magazine Issue 5 Nose
A razor-sharp spiciness lances through demerara sweetness and rich peat. Absolutely magnificent.
Palate
The enormous build up of spice adds to the multi-layered peat. The sweetness is almost like freshly crushed grist. Wave upon wave, layer upon layer of complexity.
Finish
Massively warming and still spicy. The peat lingers while the spice bristles.
Comment
A dram to be savoured and celebrated.

Jim Murray - Whisky Magazine Issue 5
About this SPIRIT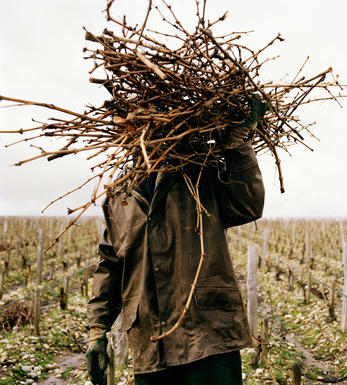 Talisker Distillery, Isle of Skye
Talisker is one of the most remote distilleries, lodged far from any neighbour in the small coastal community of Carbost at the head of Loch Harport.

It was in 1825 that Hugh and Kenneth MacAskill came here from the smaller island of Eigg, first to bring sheep to Skye, leasing Macleod land at Carbost. They built Talisker Distillery in 1830 against the fiery protestations of the former parish Minister, the Rev. Roderick Macleod, who declared this "one of the greatest curses that... could befall it or any other place". Disaster struck the distillery in November 1960, which was then still coal-fired, when fire burned down the still-room. The distillery was rebuilt fastidiously around exact copies of the old stills.

Today, Talisker is one of the single malts in Diageo's portfolio since 1988. A great deal is marketed as single malt, but Talisker is a part of the Johnnie Walker and White Horse blends too.


Skye
Skye is home to only one distillery, but my, what a distillery. One of Diageos finest, Talisker is a highly distinctive whisky with a strong, smoky, peaty flavour because both the malt and the water used to make it are heavily peated.
Talisker was built in 1831 and named after Talisker House which was traditionally the residence of the eldest son of the Macleod clan.
The stills are great onion-shaped kettles, richly gleaming and radiating heat, with ever-narrowing swan-neck tops which gracefully lead their vapours away through the stillroom wall to cool and condense beyond. There are five stills at Talisker, two large ones for the first distillation and three smaller for the final. Their precise size and shape, even the angle at which the swan-neck lies, are vital to the continuing production of spirit with the authentic Talisker signature in aroma and flavour.