About this WINE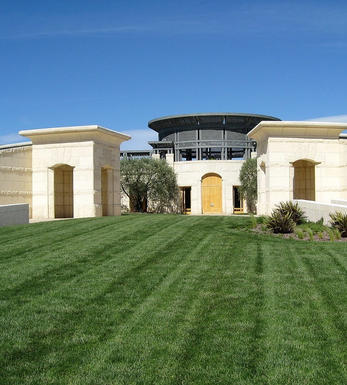 Opus One
Opus One was a joint venture between Robert Mondavi and the late Baron Philippe de Rothschild. The first vintage (1979) was released in 1983 at the then unprecedented price of fifty dollars a bottle.
Opus One's fruit comes from the densely planted vineyards that surround the state of the art winery in the Oakville appellation. Opus One is a blend of 95% Cabernet Sauvignon and 5% Merlot and is aged for 18 months in French barrels (100% new) and then another 18 months in bottle before it is released.
Without doubt Opus One is one of California's most high profile wines, as well as being one of its best.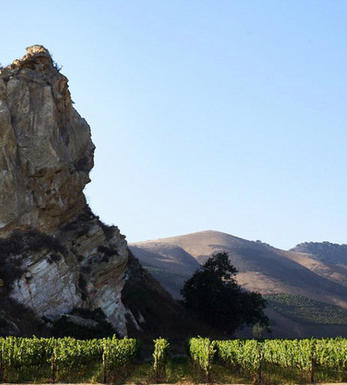 USA
The United States is the world's fourth largest wine-producing nation after France, Italy and Spain, with double the quantity of fifth-placed Argentina. California is far and away the country's most important winemaking region, accounting for 90 percent of production. Wine is actually produced in every one of America's 50 states, even if Utah, Wyoming and North Dakota have only 12 wineries and just over 35ha of vines between them.

The history of the US wine industry is a thorny one; try as they might, the early East Coast settlers had little success making wine and had to wait until the mid-19th century for their first commercially-successful example: Nicholas Longworth's famous sparkling Catawba from Cincinnati, Ohio. The West Coast had a climate far more conducive to vine-growing and from its first vineyard (most likely Mission) planted in 1769 at San Diego, the wine industry swiftly flourished, boosted by the influx hastened by the Gold Rush.

However, the twin blights of mildew and phylloxera at end of the 19th century, followed by Prohibition from 1920 to 1933, set the wine industry back 100 years. Ever since, wine has endured a somewhat uneasy existence, flourishing despite an obstructive distribution system and often tacit government disapproval.

The US boasts every type of producer, from the tiny garagiste nurturing a couple of barrels of incredibly rare and expensive wine, to the monumental producers of cheap brands like Ernst & Julio Gallo who sell 75m cases of wine a year – 25 percent of the total production of the US. Such progress has largely taken place in the last 40 years through an unquenchable desire for quality, the insistence on the finest expertise and technology, enormous investment and astute marketing.

California produces some of the world's greatest Cabernet Sauvignon, Merlot, Zinfandel, Pinot Noir and Chardonnay from famous regions like Napa and Sonoma. Recognition of this success dates back to the 1976 Judgment of Paris where The Golden State's finest trounced the cream of French wine in a blind tasting.
After California, New York is in fact the second biggest wine-producing state; most wines are made from Concord, a grape often described as `foxy' – and not in a good way – although increasingly also from Chardonnay. From a qualitative point of view, however, California's closest rivals are Washington, which specialises in Bordeaux blends, and Oregon - which yields some very fine Pinot Noir. Of the rest, Virginia's reds from Cabernet and Merlot are showing potential, while Georgia, Missouri, Texas, Idaho, South Carolina, Pennsylvania and Michigan all have significant plantings, mostly of hybrid American varieties.

Although it doesn't yet have an AOC system per se, the concept of American Viticultural Areas (AVAs) was introduced here in 1980. From the very first in Augusta, Missouri, they have now grown to number 188. AVAs have none of the restrictive rules of the AOC system and are all the better for it: 85 percent of any wine labelled with a given AVA must come from that region. In addition, every state and county is classified as its own appellation.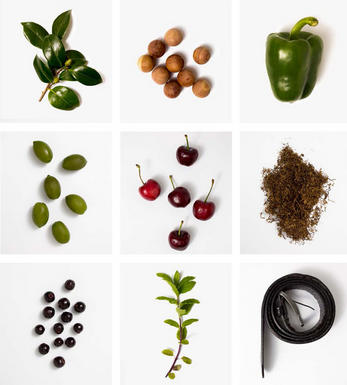 Cab.Sauvignon Blend
Cabernet Sauvignon lends itself particularly well in blends with Merlot. This is actually the archetypal Bordeaux blend, though in different proportions in the sub-regions and sometimes topped up with Cabernet Franc, Malbec, and Petit Verdot.

In the Médoc and Graves the percentage of Cabernet Sauvignon in the blend can range from 95% (Mouton-Rothschild) to as low as 40%. It is particularly suited to the dry, warm, free- draining, gravel-rich soils and is responsible for the redolent cassis characteristics as well as the depth of colour, tannic structure and pronounced acidity of Médoc wines. However 100% Cabernet Sauvignon wines can be slightly hollow-tasting in the middle palate and Merlot with its generous, fleshy fruit flavours acts as a perfect foil by filling in this cavity.

In St-Emilion and Pomerol, the blends are Merlot dominated as Cabernet Sauvignon can struggle to ripen there - when it is included, it adds structure and body to the wine. Sassicaia is the most famous Bordeaux blend in Italy and has spawned many imitations, whereby the blend is now firmly established in the New World and particularly in California and Australia.