About this WINE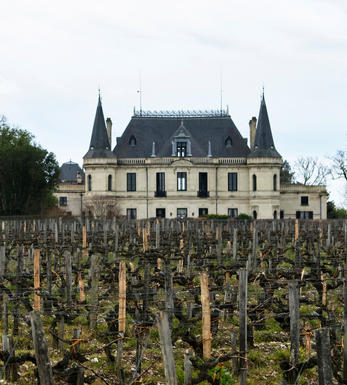 Château Palmer
Château Palmer is a leading wine estate in Margaux. Within its appellation, Palmer is certainly the closest rival to their first growth neighbour, Ch. Margaux. Although officially ranked a third growth, at their best the wines of Ch. Palmer are among the greatest anywhere in Bordeaux.
The estate dates to the 17th century, though it was not until 1814 that Englishman Charles Palmer took ownership and gave it his name. In 1938, the estate was bought by four Bordeaux négociant families, two of whom – the Sichel and Mähler-Besse families – own the property today. Since 2004, the estate has been led by the charismatic agronomist and oenologist Thomas Duroux, who had lately returned from a stint making wine at Ornellaia, in Tuscany. He undertook major renovations including a complete modernisation of the grape reception area, the vat rooms and barrel cellar. In the vineyards, the technical team began experimenting with biodynamic farming and today Palmer is among the leading biodynamic vineyards in Bordeaux. In addition to the Grand Vin, the Ch. Palmer portfolio also includes a cuvée called Alter Ego. Introduced in 1998, Alter Ego is produced from grapes grown on dedicated plots and with a different blend from that of the Grand Vin. As such, Ch. Palmer regard it not as a second wine, but very much as a distinctive cuvée in its own right.
The estate lies just outside the village of Margaux, its 66 hectares of vines planted on a plateau of gravel, sand and clay soils overlooking the Gironde estuary. Plantings include equal parts of Merlot and Cabernet Sauvignon at 47% each, along with 6% Petit Verdot. Although the average age of the vines is fairly typical of the region at about 40 years, some of the vines are over 70 years old. That, along with the relatively high Merlot content and the benefits of careful, well-established biodynamic practices, may account for both the richness and complexity of the wines.
Fermentation takes place in conical, stainless steel vats in varying sizes, to permit each variety and parcel to be fermented separately for subsequent selection and blending. The Grand Vin is aged for 20-22 months in barrel, of which less than 50% is new. Thanks to the health and consistency of their biodynamically produced fruit, Palmer have been able, over the past few years, to begin safely reducing the amount of sulphur added throughout the process, with the aim of producing wines with more freshness and purity of flavour. For Alter Ego, less new wood is used, and ageing time is slightly reduced with a view to producing a wine they describe as "distinguished by its freshness of fruit, crisp intensity and richness from the moment out of barrel".
Between 2008 and 2013, Ch. Palmer made the transition to 100% biodynamic farming. In addition to its vineyards, the estate is home to a diversity of complementary plants and grazing animals.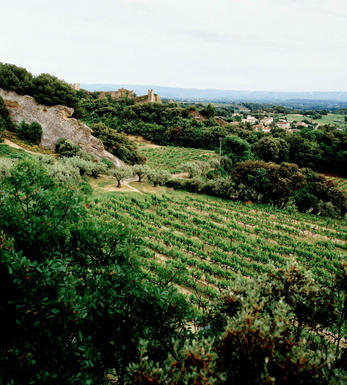 France
Despite their own complacency, occasional arrogance and impressive challenges from all-comers, France is still far and away the finest wine-producing nation in the world and its famous regions – Bordeaux, Burgundy, Champagne, Loire, Rhône, Alsace and increasingly Languedoc Roussillon – read like a who's who of all you could want from a wine. Full-bodied, light-bodied, still or fizzy, dry or sweet, simple or intellectual, weird and wonderful, for drinking now or for laying down, France's infinitesimal variety of wines is one of its great attributes. And that's without even mentioning Cognac and Armagnac.
France's grape varieties are grown, and its wines emulated, throughout the world. It also brandishes with relish its trump card, the untranslatable terroir that shapes a wine's character beyond the range of human knowledge and intervention. It is this terroir - a combination of soil and microclimate - that makes Vosne-Romanée taste different to Nuits-St Georges, Ch. Langoa Barton different to Ch. Léoville Barton.
France is a nation with over 2,000 years of winemaking, where the finest grapes and parcels of land have been selected through centuries of trial and error rather than market research. Its subtleties are never-ending and endlessly fascinating. Vintage variation is as great here as anywhere – rain, hail, frost and, occasionally, burning heat can ruin a vintage. Yet all this creates interest, giving the wines personality, and generating great excitement when everything does come together.

However, this is not to say that French wine is perfect. Its overall quality remains inconsistent and its intricate system of classification and Appellation d'Origine Contrôlée (AOC) based on geography as opposed to quality is clearly flawed, sometimes serving as a hindrance to experimentation and improvement.

Nevertheless, the future is bright for France: quality is better than ever before – driven by a young, well-travelled and ambitious generation of winemakers – while each year reveals new and exciting wines from this grand old dame.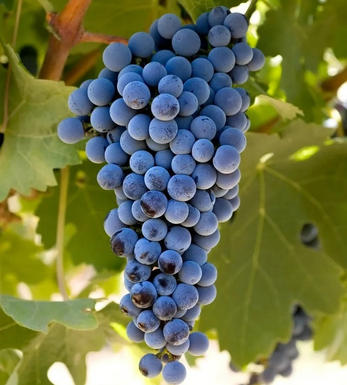 Shiraz & Cab.Sauvignon
Shiraz/Cabernet (or Cabernet/Shiraz, depending on which is the dominant variety) can be described as Australia's archetypal red wine blend. The blend can trace its roots back to 1865, when the famous Dr Guyot recommended it for the sunbaked vineyards of Provence. It became popular in the early 1960s and 1970s and came about largely due to the high demand for red wines and that fact there there was not enough Cabernet Sauvignon to meet this. At this time Shiraz was widely regarded as inferior to Cabernet Sauvignon and was still being grubbed up in Australian vineyards up until the mid 1980s.
The fleshiness and richness of Australian Shiraz acts as perfect foil for the more tannic and angular Cabernet Sauvignon and the blend is often matured in American oak, which adds notes of vanilla and spice. The proportions in the blend vary from 50/50 to 80/20 in some cases. It is seen across the whole quality spectrum in Australia and the blend is now been used in Languedoc Roussillon in France as well as in South Africa and California.