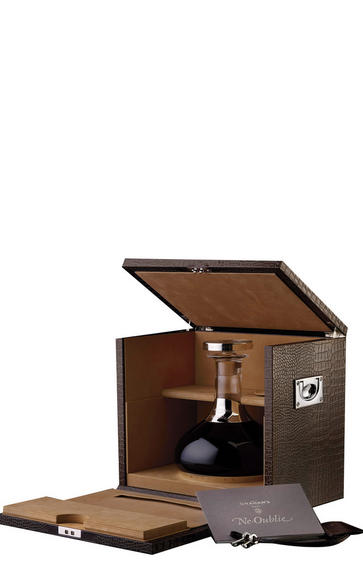 Graham's,'Ne Oublie', Colheita Port & Decanter (1882 vintage)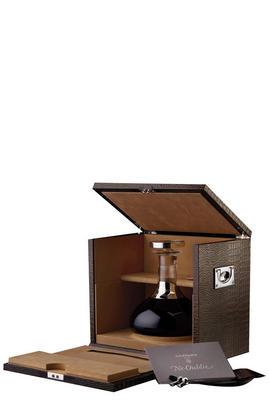 Critics reviews
Loads of dried fruit with apricot and Brazilian limes. Full body and very sweet. Bright acidity. The density and purity of this port is astonishing. Honey, caramel and dried fruits. Gets fresher and fresher on the palate. Goes on for minutes. Leaves me speechless.
James Suckling - jamessuckling.com - July 2014
About this WINE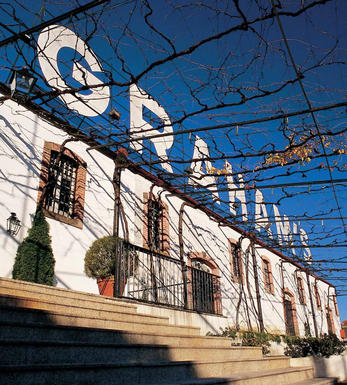 Graham
W & J Graham was originally a Glasgow-based textiles firm, founded by two brothers William and John Graham, which became port shippers in the early 1800s. The family already had extensive business interests in Scotland and India but they decided to channel their considerable resources and energy towards the pursuit of the Port industry.
Later that century, a young Scot called Andrew James Symington emigrated to work for Graham's, but, losing interest in textiles, he became a successful port shipper and his descendants today now own Graham's, which is the jewel in the crown of the Symington Group.
The Symington family's ancestry in the Port trade spans a period of over 350 years, through 13 generations with 5 members of the family currently actively involved in Graham's day to day management.
Throughout the 19th century Grahams rapidly grew and went from strength to strength and in 1980 they became one of the first Port companies to invest in Upper Douro vineyards with the acquisition of Quinta dos Malvedos. Since then Quinta dos Malvedos has been recognized as one of the Douro Valleys finest 'river quintas'.
The Port wines from Quinta dos Malvedos form the backbone of Graham's renowned Vintage Port in declared years. The vineyard produces Ports with floral characteristics, opulent blackberry fruit aromas backed by well balanced tannins.

Graham's Vintage Ports are the epitome of richness and concentration, and this is reflected right through their range of wines from ruby to vintage classics. They are Port wines with innate quality and potential for long-term ageing.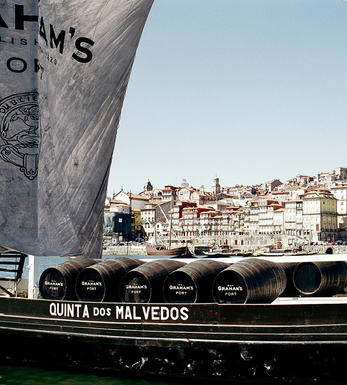 Colheita
A Colheita (literally `harvest' or `crop') is an aged Tawny Port made with grapes from a single vintage. By law, Colheitas should be matured in wooden casks for at least seven years, although in practice they tend to be aged for much longer - sometimes up to 50 years. They are bottled only when the producer decides that the Port is ready to drink, and should be drunk in the following year or so. The label should carry both the vintage and the bottling date.
Colheita is a relatively rare style which is a shame as many are exceptional, combining all the sweet, dried fruit and nutty finesse of an aged Tawny with individual vintage character. They normally offer outstanding value too. In order to make the category more appealing to consumers, some shippers have replaced `Colheita' with the term `Single Harvest Reserve', with some success. The term Colheita is also used for single-vintage Madeiras.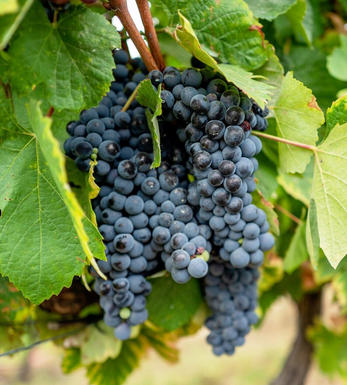 Port Blend
There are around 40 different grape varieties permitted in the production of Port - however the vast majority of Ports are produced from a blend of 5 grapes - Touriga Nacional, Touriga Francesca, Tinta Barroca, Tinta Roriz, and Tinto Cão.
Touriga Nacional produces small, dark-skinned grapes that produce opaque black wines of great extract and high tannins - it gives grip, body, and structure to the blend.
Touriga Franca has a thinner skin and consequently produces wines lighter in colour and tannins than Touriga Nacional. It contributes fruit, aroma, suppleness and roundness.
Tinta Roriz is the Portuguese name for Tempranillo and its high sugar content and low acidity contribute colour and fruit.
Tinta Barroca which is normally grown at highish altitudes and on north-facing slopes, is prized for producing wines of delicacy, finesse and with smooth, velvety fruit. It brings elegance and sweet, ripe fruit to the final blend.
Finally Tinto Cão produces fine and complex wines, though it is probably the least important of the 5 grapes as its painfully small yields have reduced plantings to almost insignificant levels.