About this SPIRIT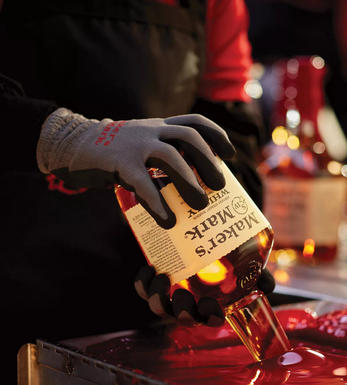 Maker's Mark Distillery
Maker's Mark was founded by T. William "Bill" Samuels Sr. in 1953, who wanted to create a bourbon whiskey with a smoother and milder flavour profile than traditional bourbons, which led to the development of Maker's Mark's distinctive recipe.
One of the most distinguishing features of Maker's Mark is its mash bill, which consists of corn, malted barley, and red winter wheat. Most bourbons use rye as a secondary grain, but Maker's Mark's use of wheat gives it a sweeter and less spicy flavour profile.
The distillery is known for its dedication to a handcrafted approach, using small-batch production methods, copper pot stills, and a relatively low barrel entry proof, contributing to the bourbon's consistency and smoothness. Each bottle is sealed with a distinctive hand-dipped red wax, a brand's signature feature. The wax sealing process is done by hand, adding a personal touch to each bottle.
Over the years, Maker's Mark has introduced variations of its bourbon, including Maker's 46, which is aged longer and finished with French oak staves for added complexity. They have also released limited-edition and special bottlings.
The distillery has been committed to sustainability and environmental responsibility, implementing various eco-friendly initiatives to reduce its carbon footprint and minimise waste.