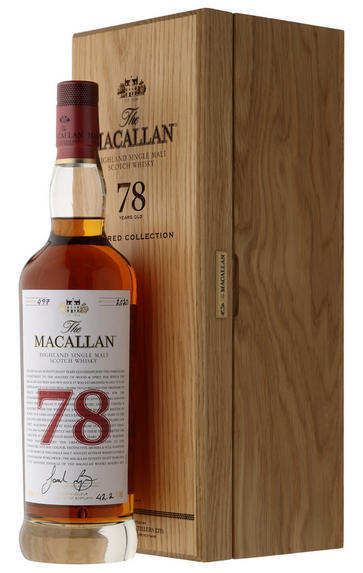 The Macallan, The Red Collection, 78-Year-Old, Highland, Single Malt Scotch Whisky (42.2%)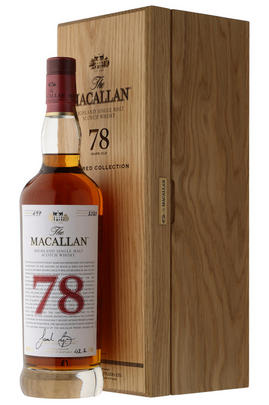 About this SPIRIT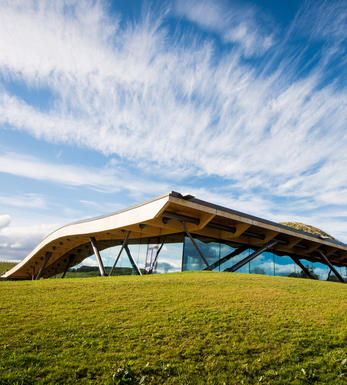 Macallan Distillery, Speyside
Macallan was one of the first Highland distilleries to take out a licence in 1824, since when it has been distilled by generations of craftsman on a small estate over looking the River near Craigellachie in the heart of Speyside.

A purposefully traditionalist distillery, no short cuts are taken in time, investment and production of the best glass. Alongside its unusually small handbeaten copper stills, Macallan is perhaps best known for its emphasis on sherry ageing. Since 1970 and until very recently, the Macallan's entire output  matured in sherry wood.

When the availability of casks became a problem in 1976 the company began to buy its own new wood in Spain and have it seasoned in the bodegas of Jerez for four years before shipping it and filling it with whisky in 1976. This is an expensive policy (the cost of a sherry butt is about ten times that of a bourbon cask), but it makes a major contribution to Macallan's uniqueness. The first batch of The Macallan was not deemed to be ready for the market until 1980: since then its popularity and success has been phenomenal. The contemporary Macallan Sherry Oak Range exemplifies this long tradition, with single malts exclusively matured in sherry oak casks

In the recent years,  Macallans' philosophy for whisky maturation has moved away from its insistence on sherry-casks exclusively, to adopting a variety of cask types for parts of the whisky range. The Fine Oak Range combines mainly ex-bourbon cask matured malts, with discretionary amounts of sherry aged stock to achieve balance and complexity.

Macallan was acquired by Edrington Group in 1999. The whole production matured in sherry Oloroso casks is sold as single malt, the remaining being sold to blenders, among which Famous Grouse, Cutty Sark, J&B, Chivas Regal, Lang's Supreme, Ballantine's or Long John.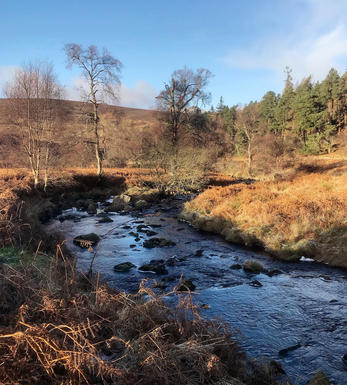 Speyside Whisky
To some Speyside represents the jewel in whisky's crown. Speyside is the home of legal whisky production and it's best known examples. Around the world Glenlivet, Macallan, Glenfiddich, Glenrothes and Glenfarclas typify all that whisky, at it's best has to offer. At it's heart running from the Monadhliath mountains north to the sea, is the River Spey. It is the fastest flowing river in Britain, and also well known for its salmon fishing.
Speyside is the principal whisky-producing region: Speyside has within it some forty-six operating distilleries - over half the total number in the entire Scotland.
Speysides are essentially sweet whiskies. They have little peaty character They are typically highly perfumed, feminine and elegant.
The classical nature of Speyside's malts means that a number of the finest malts are used almost exclusively for blending. It is the top Speysider's that give good blends their 'Top Dressing'.
Malts such as Mortlach, Glen Elgin, Strathmill and Benrinnes are rarely found as distillery bottlings, however when individual casks are tracked down by independent bottlers such as our Own Selection Single Malt Whiskies the resultant whisky can be quite wonderful.