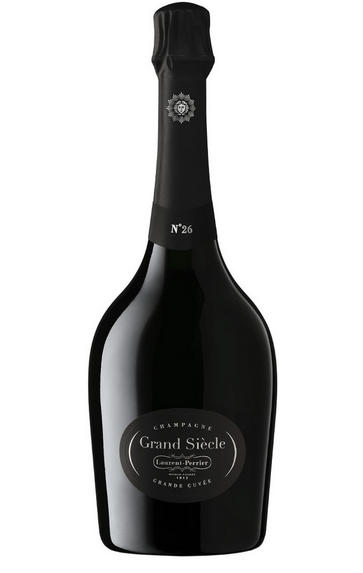 Champagne Laurent-Perrier, Grand Siècle No. 26, Brut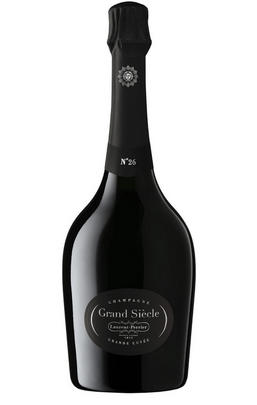 Critics reviews
Jancis Robinson MW
19.5/20
Expected release in the UK and US in October 2023. The usual tri-vintage blend, in this case 65% 2012, 25% 2008 and 10% 2007. About 70 different ingredients from eight grands crus, of which, as usual, the dominant grape is Chardonnay, comprising 58% of the blend. The Chardonnay came from Le Mesnil-sur-Oger, Oger, Cramant and Avize, while the 42% Pinot Noir was from Laurent-Perrier's home town of Tours-sur-Marne plus Ambonnay, Bouzy and Verzy.
Powerful aroma of orange peel and something in the putty/chalk spectrum. It somehow manages to be both tight yet approachable, dense in terms of flavour concentration yet filigree in terms of texture. As usual, it's so Chardonnay! Overriding citrus character and quite amazingly long, a mouthful tingling on the palate for minutes not seconds. Enormous finesse. Massive pleasure. This would make the most luxurious aperitif. Michel Fauconnet, having welcomed the new chef de cave in January 2023, must be especially proud of this wine.
Drink 2023 - 2033
Jancis Robinson MW, JancisRobinson.com (July 2023)
A blend of the 2012, 2008 and 2007 vintages, the NV Brut Grand Siècle #26 won't be released for another four or five years, but there is a great deal to anticipate, as it's a stunning young wine in the making. 
Unfurling in the glass with scents of crisp nectarine, pear and honeyed citrus fruit that mingle with notions of fresh mint, blanched almonds and iodine, the wine is full-bodied, concentrated and tightly wound, with broad structural shoulders, tangy acids and a long, intense finish. It's a great Grand Siècle in the making.
Drink 2025 - 2045
William Kelley, Wine Advocate (April 2019)
This is really something. Electric on the palate. The aromas are so complex with sliced fresh and dried ginger, subtle pie crust, tarte tatin and hints of nutmeg with some salted caramel. Toasted bread, too. Always subtle. The palate is full- to medium-bodied yet hemmed-in with a freshness and balance that draws you back. Savoury and vibrant. It's full of energy. Spectacular. Fascinating.
Symphonic blend of 2012, 2008 and 2007. 65% of the 2012, 25% of the 2008 and 10% of the 2007. Eight grand cru. Chardonnay 58% and 42% pinot noir. Disgorged February 2023. 10 years on the lees. 7g/L dosage.
Drink or hold
James Suckling, JamesSuckling.com (August 2023)
This iteration of Grand Siècle is almost entirely composed of two of Champagne's greatest recent vintages, so expectations are high. The wine more than meets them, tempering the generosity of 2012's fruit – ripe apricots, white peach, clementines and sunny, zesty citrus – with a pitch-perfect streak of 2008 tautness and structure. 
There are some fleshy, creamy notes of papaya and toasted white sourdough, but everything is as delicately rendered as expected and impeccably shaped with a sleek, silky mousse. A little more approachable than Itération No. 25, it will welcome extended bottle age rather than demand it. 
The blend is 58% Chardonnay and 42% Pinot Noir from eight Grand Cru vineyards. 65% is from the 2012 vintage, 35% from 2008 and 10% from 2007.
Drink 2023 - 2043
Tom Hewson, Decanter.com (June 2023)
The NV Grande Cuvée Grand Siècle No. 26, a blend of 2012, 2008 and 2007, is absolutely gorgeous. Dried pear, smoke, crushed rocks and mint infuse a super-expressive, creamy Grand Siècle built on textural richness and resonance with Chardonnay's front and centre brightness. I tasted the no. 26 from a trial disgorgement. Even in the early going, it is extremely promising.
Antonio Galloni, Vinous.com (July 2019)
About this WINE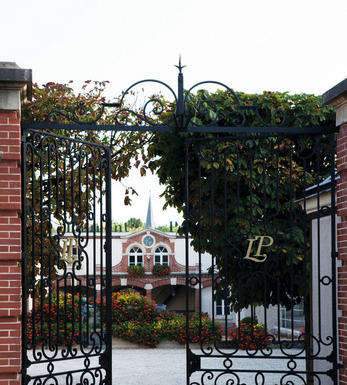 Laurent Perrier
Laurent Perrier was founded by André-Michel Pierlot in 1812 in the village of Tours-sur-Marne. However, it was the Nonancourt family who made this the famous Champagne House it is today. Bernard de Nonancourt, a veteran of the Second World War, took charge of the firm aged just 28. He is credited with creating Laurent-Perrier's house style, centred on freshness, finesse and elegance. Today, Lucie Pereyre de Nonancourt is the fourth generation of the family here.
Laurent-Perrier is unique in that its prestige cuvée, Grand Siècle, is a multi-vintage blend rather than a vintage Champagne. Each "iteration", as they call their new releases, is produced from three vintages, carefully selected by the Cellar Master.
In 2023, Maximilien Bernardeau was appointed Cellar Master, following in the footsteps of the long-serving Michel Fauconnet.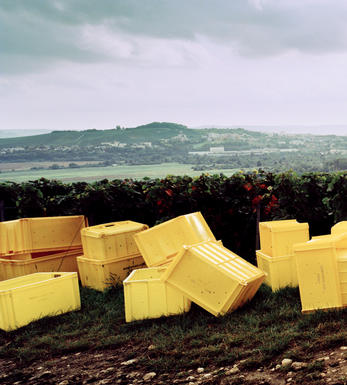 Brut Champagne
Brut denotes a dry style of Champagne (less than 15 grams per litre). Most Champagne is non-vintage, produced from a blend from different years. The non-vintage blend is always based predominately on wines made from the current harvest, enriched with aged wines (their proportion and age varies by brand) from earlier harvests, which impart an additional level of complexity to the end wine. Champagnes from a single vintage are labelled with the year reference and with the description Millésimé.

Non-vintage Champagnes can improve with short-term ageing (typically two to three years), while vintages can develop over much longer periods (five to 30 years). The most exquisite and often top-priced expression of a house's style is referred to as Prestige Cuvée. Famous examples include Louis Roederer's Cristal, Moët & Chandon's Dom Pérignon, and Pol Roger's Cuvée Sir Winston Churchill.
Recommended Producers : Krug, Billecart Salmon, Pol Roger, Bollinger, Salon, Gosset, Pierre Péters, Ruinart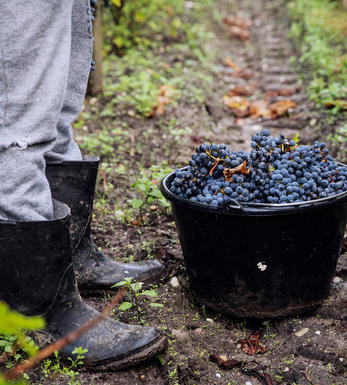 Champagne blend
Which grapes are included in the blend, and their proportion, is one of the key factors determining the style of most Champagnes. Three grapes are used - Pinot Noir, Chardonnay and Pinot Meunier.

26% of vineyards in Champagne are planted with Chardonnay and it performs best on the Côtes des Blancs and on the chalk slopes south of Epernay. It is relatively simple to grow, although it buds early and thus is susceptible to spring frosts. It produces lighter, fresher wines than those from Burgundy and gives finesse, fruit and elegance to the final blend. It is the sole grape in Blancs de Blancs, which are some of the richest long-lived Champagnes produced.
Pinot Noir accounts for nearly 40% of the plantings in Champagne and lies at the heart of most blends - it gives Champagne its body, structure, strength and grip. It is planted across Champagne and particularly so in the southern Aube district.
The final component is Pinot Meunier and this constitutes nearly 35% of the plantings. Its durability and resistance to spring frosts make the Marne Valley, a notorious frost pocket, its natural home. It ripens well in poor years and produces a soft, fruity style of wine that is ideal for blending with the more assertive flavours of Pinot Noir. Producers allege that Pinot Meunier lacks ageing potential, but this does not deter Krug from including around 15% of it in their final blends.