2009 Warwick Estate, Three Cape Ladies, South Africa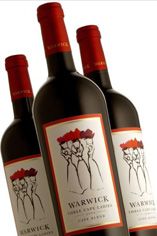 The Producer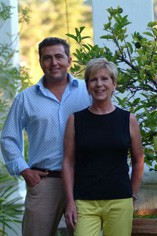 Warwick Wine Estate
Warwick is one of South Africa's foremost wine estates and owes its name to Colonel William Alexander Gordon, Commanding Officer of the Warwickshire Regiment during the Boer War.

After the war he decided not to return to the UK but instead bought this farm, naming it in honour of his regiment. In 1964 the estate was bought by Stanley and Norma Ratcliffe, who had searched long and hard to find a farm suitable for the production of high-quality wine, and the estate remains in the same family ownership today.

Norma, who had no previous experience of wine-making, began to study the subject in depth and proved so talented at it that she rapidly acquired a reputation as one of the country's most skilled practitioners.

She remains very much at the heart of the business,and holds a special place in the affections of South African wine enthusiasts and professionals. Managing Director Mike Ratcliffe is renowned in South African wine circles, not just because he produces quality wines here, but because of his wider role in promoting the country's wines, and he sits on a number of industry bodies, too.
View Producer
The Grape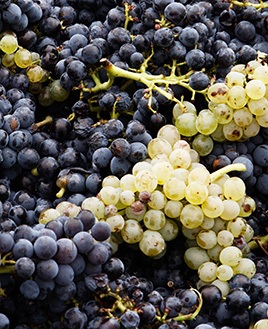 Other Varieties
There are over 200 different grape varieties used in modern wine making (from a total of over 1000). Most lesser known blends and varieties are traditional to specific parts of the world.
View Grape
The Region
Stellenbosch is South Africa's best-known wine region, producing a wide variety of wines from leading estates, even though it accounts for less than 20 per cent of the country's total production. Designated wards within the wine region are Jonkershoek Valley, Simonsberg-Stellenbosch, Bottelary, Devon Valley and Papegaaiberg.

At 17,500 hectares, Stellenbosch remains the Cape's most famous and important fine wine district, thanks to its proximity to Cape Town, to the cooling influences of False Bay, its mountainous (ie Helderberg, Simonsberg), granitic topography and its centres of learning such as Elsenburg Agricultural College.
It's notable for the refinement of its Cabernet Sauvignon and Chardonnay, especially from the likes of Glenelly Estate, Keermont Vineyards Oldenburg Vineyards, Raats Family and Anwilka
View Region
Customer Reviews
Questions And Answers