Critics reviews
Jancis Robinson MW
16.5/20
Jancis Robinson MW
16.5/20
Vilana and Sauvignon Blanc. Pale straw. Light candied citrus-peel nose – reminds me of Sicily and cannoli. Great spine. Nervy. Great Value!
(Jancis Robinson MW, jancisrobinson.com, May 2012)
About this WINE
Mediterra Winery
Mediterra winery is located in the village Kounavi near the city of Heraklion in Crete. The name of the village is a vestige of the ancient wine-making tradition in the area ("kanaves" is the name for the historic wine presses in the island)

The winery is equipped with modern winemaking facilities and it also includes underground wine cellars with capacity of over 500 oak barrels (300lt) and barriques (225lt).

The Mediterra company consists of two distinct brands: The Mediterra label wines, which include among others the limited release red Pyrorago, the Anassa white (Vilana & Sauv. Blanc blend aged sur "lies" in French oak barriques). The Creta Olympias label offers classic Greek varietals, as well dessert wines like Mavrodaphne, Muscat of Samos and Muscat of Patras.

The wines are available in over 20 countries all over the world and have earned numerous medals in in international wine competitions. The company exploits the untapped potential of indigenous grape in Crete (Vilana, Thrapsathiri, Kotsifali, Mandilari) as mon-varietal bottlings and in blends with international varieties (Syrah, Sauvignon Blanc, Cab. Sauvignon).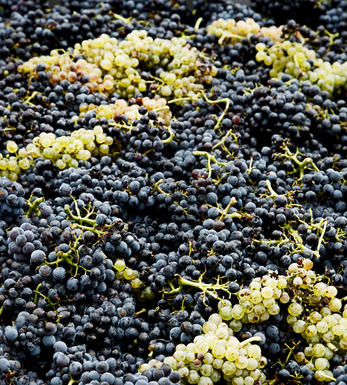 Vilana White
Vilana is the most widely-planted white cultivar on the island of Crete, in fact it is rarely seen outside of this region as it is notoriously delicate to handle. It is prone to oxidize and quality is greatly affected by vineyard elevation, orientation and yields.

This is a grape that archetypally yields dry, thirst-quenching whites, appealing, with fresh notes of granny smith apple, citrus and dry herbs, soft acidity and medium alcohol. The broad, easy-going character of the wine allows it to pair well with a large number of sometimes contrasting dishes with meat/fish, cheese and salad– a typical theme of the local cuisine in Crete.

Ambitious producers have also released small quantities of premium, oak-aged bottlings. Two examples, Mediterra Anassa wine & Lyrarakis' Estate Cuvée Grand Colline (both blends with Sauvignon Blanc) showcase the qualities of Vilana.