Champagne Pierre Peters, Rosé d'Albane
The Producer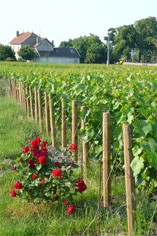 Champagne Pierre Peters
The loquacious and extremely likeable Rodolphe Péters of Champagne Pierre Péters is one of the most highly respected champagne growers in Le Mesnil-sur-Oger, where 12 of his 17 hectares are located.

The style of Le Mesnil Champagnes, differing markedly from more gentle siblings from villages such as Cramant, focuses on mineral power and capacity to age. Péters is the master of this art; a full malolactic fermentation and moderately high fermentation temperatures serve to tame the steely acidity of the wines, but in no way diminishes their inherent power and potential to develop over the medium to long term.

The non-vintage bottlings always incorporate a significant proportion- up to 40% - of reserve wine assembled over decades by saving back a portion of each year's blend and adding it to a solera.
View Producer
The Grape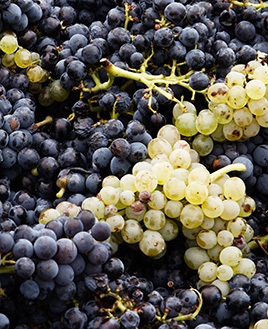 Champagne Blend
Which grapes are included in the blend, and their proportion, is one of the key factors determining the style of most Champagnes. Three grapes are used - Pinot Noir, Chardonnay and Pinot Meunier.

26% of vineyards in Champagne are planted with Chardonnay and it performs best on the Côtes des Blancs and on the chalk slopes south of Epernay. It is relatively simple to grow, although it buds early and thus is susceptible to spring frosts. It produces lighter, fresher wines than those from Burgundy and gives finesse, fruit and elegance to the final blend. It is the sole grape in Blancs de Blancs, which are some of the richest long-lived Champagnes produced.
Pinot Noir accounts for nearly 40% of the plantings in Champagne and lies at the heart of most blends - it gives Champagne its body, structure, strength and grip. It is planted across Champagne and particularly so in the southern Aube district.
The final component is Pinot Meunier and this constitutes nearly 35% of the plantings. Its durability and resistance to spring frosts make the Marne Valley, a notorious frost pocket, its natural home. It ripens well in poor years and produces a soft, fruity style of wine that is ideal for blending with the more assertive flavours of Pinot Noir. Producers allege that Pinot Meunier lacks ageing potential, but this does not deter Krug from including around 15% of it in their final blends.
View Grape
The Region
Rosé wines are produced by leaving the juice of red grapes to macerate on their skins for a brief time to extract pigments (natural colourings). However, Rosé Champagne is notable in that it is produced by the addition of a small percentage of red wine – usually Pinot Noir from the village of Bouzy – during blending.
Recommended Producers : Billecart Salmon (Elizabeth Salmon Rose), Ruinart
View Region
Customer Reviews
Questions And Answers