2011 Viognier, Le Pied de Samson, Vin de Pays, Domaine Georges Vernay About this WINE
Domaine Georges Vernay
Seeking to secure great wines from leading producers is not always an easy task, simply because the volumes are scarce and they are on everyone's most wanted list. Domaine Georges Vernay is no exception.

Under Georges Vernay's management, the domaine has contributed so much to keep Condrieu on the map, especially during the 1960s' when the appellation covered only 8 hectares, that talking of Condrieu and not mentioning Domaine Georges Vernay could be like going to Jerusalem and not visiting the Church of The Holy Sepulchre, in other words a terrible mistake.
Today managed with brio by George's daughter Christine and her husband Paul Ansellem, the domaine covers 8 Ha in Condrieu, making them one of the top three owners; 2.5 ha in Côte-Rôtie and 1.5 Ha in the Saint-Joseph appellations.
In Condrieu, three cuvees are made from vineyards situated in Condrieu, the heart of the appellation, on south to southeast facing steep slopes, and all express the purest; most restrained expression of the Viognier grape.
From top to bottom: Côteau de Vernon, created in 1940 by Christine's grand-father Francis, is the reference amongst all Condrieu: 60 years old vines on decomposed granite locally called "gore", is a wine of great personality and definition and has on numerous occasion shown a surprising ability to age;

Chaillées de l'Enfer, made from 50 years old vines. Chaillées is the local name for small terraces which are so steep that working here is particularly arduous. This is an early ripening site and yields a wine which has more opulence, richness than the former; Terrasses de l'Empire, made from 40 years old vines is a great introduction to Condrieu, offering early approachability.
Côte-Rôtie is represented by two cuvees: Maison Rouge, a pure Syrah whose name refers to the small red house located at the feet of this impressively steep lieu-dit made of granite-rich soil and Blonde du Seigneur, a Syrah-Viognier blend which combines richness of flavours and a floral aspect.
The Vins de Pays des Collines Rhodanienne's range represented by Le Pied de Samson (Viognier); Fleurs de Mai and Mirebaudy (Syrah cuvees) is really worth the discovery and constitute an ideal first step in your approach and exploration of this great domaine.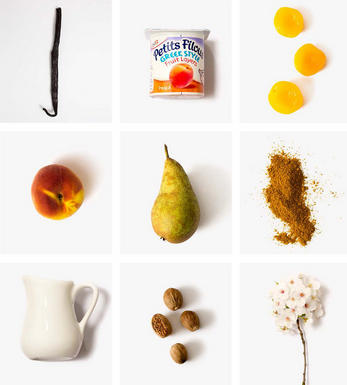 Viognier
A white grape variety originating in the Northern Rhône and which in the last ten years has been increasingly planted in the Southern Rhône and the Languedoc.
It is a poor-yielding grape that is notoriously fickle to grow, being susceptible to a whole gamut of pests and diseases. Crucially it must be picked at optimum ripeness - if harvested too early and under-ripe the resulting wine can be thin, dilute and unbalanced, while if picked too late then the wine will lack the grape's distinctive peach and honeysuckle aroma. It is most successfully grown in the tiny appellations of Château-Grillet and Condrieu where it thrives on the distinctive arzelle granite-rich soils. It is also grown in Côte Rôtie where it lends aromatic richness to the wines when blended with Syrah.
Viognier has been on the charge in the Southern Rhône and the Languedoc throughout the 1990s and is now a key component of many white Côtes du Rhône. In Languedoc and Rousillon it is increasingly being bottled unblended and with notable success with richly fragrant wines redolent of overripe apricots and peaches and selling at a fraction of the price of their Northern Rhône cousins.