2010 Viña Tamaya, Winemaker's Gran Reserva Syrah, Limari Valley
The Producer
Vina Tamaya
Tamaya, a word from the ancient indigenous Diaguita language, means 'high lookout' ; a reference to the location of the winery which overlooks the Limari Valley, 400 Km to the north of Santiago and only 20 km from the Pacific Ocean. Great natural phenomena seem to converge here with not only the ocean, but also the arid Atacama Desert and the Andes Mountains all close by. The vineyards are deprived of rainfall in spring and summer, a problem addressed by a series of reservoirs, canals and pipelines bringing water down from the mountains.

This is region famed for the clarity of its skies and the purity of its air; this natural benevolence has been harnessed by Head Winemaker Jose Pablo Martin and is captured in the wines, which are virtually free from chemical or other forms of intervention.

The vines are mainly grown on poor clay and granite ; there are over 250 hectares in total ; the whites being Chardonnay Viognier and Sauvignon Blanc and the reds Cabernet Sauvignon, Merlot, Carmenère, Syrah and Sangiovese.

The Limari Valley is seen as the most exciting and innovative in Chile and Tamaya as its leading winery.
View Producer
The Grape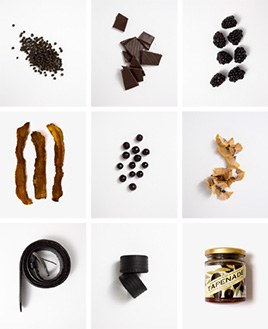 Syrah/Shiraz
A noble black grape variety grown particularly in the Northern Rhône where it produces the great red wines of Hermitage, Cote Rôtie and Cornas, and in Australia where it produces wines of startling depth and intensity. Reasonably low yields are a crucial factor for quality as is picking at optimum ripeness. Its heartland, Hermitage and Côte Rôtie, consists of 270 hectares of steeply terraced vineyards producing wines that brim with pepper, spices, tar and black treacle when young. After 5-10 years they become smooth and velvety with pronounced fruit characteristics of damsons, raspberries, blackcurrants and loganberries.

It is now grown extensively in the Southern Rhône where it is blended with Grenache and Mourvèdre to produce the great red wines of Châteauneuf du Pape and Gigondas amongst others. Its spiritual home in Australia is the Barossa Valley, where there are plantings dating as far back as 1860. Australian Shiraz tends to be sweeter than its Northern Rhône counterpart and the best examples are redolent of new leather, dark chocolate, liquorice, and prunes and display a blackcurrant lusciousness.

South African producers such as Eben Sadie are now producing world- class Shiraz wines that represent astonishing value for money.
View Grape
The Region
The Limari Valley is seen as the most exciting and innovative wine-producing region in Chile. It is located 400 Km to the north of Santiago and only 20 km from the Pacific Ocean. Great natural phenomena seem to converge here with not only the ocean, but also the arid Atacama Desert and the Andes Mountains all close by.

The vineyards are deprived of rainfall in spring and summer, a problem addressed by a series of reservoirs, canals and pipelines bringing water down from the mountains.

This is region famed for the clarity of its skies and the purity of its air and mineral-rich soils; this natural benevolence has been harnessed by winemakers such as Jose Pablo Martin of Tamaya (one of region's most avant-garde wineries) and is captured in the wines, which are typically free from chemical or other forms of intervention.

The valley is planted with a range of grapes, predominantly Cabernet Sauvignon (720ha), Merlot (190ha), Carménère (124ha), Syrah (112ha) and Chardonnay (134ha)
View Region
Customer Reviews
Questions And Answers