2005 Ch. Partarrieu, Sauternes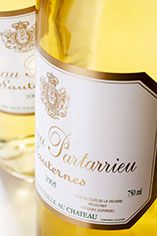 Scores and Reviews
BBR

17/20

The Wine Advocate

90/100
The Producer
Chateau Partarrieu
Château Partarrieu an 11ha property in the commune of Fargues lies just to the East of Château Rieussec and to the north of Ch de Fargues.

This 150-year old property was purchased in 1993 by the previous part-owner of Ch Suduiraut, Philippe Mercadier, from Jacqueline Tuyttens-Laville. Philippe's main vineyard interests are in the Languedoc, being passionate about Sauternes wines, when this excellent little property came up for sale, he seized the opportunity to add it to his holdings.

The plantings consist of 95% Sémillon and 5% Sauvignon old vines. The character of these wines is distinguished by impressive suppleness and smoothness, yet they are endowed with the classic Barsac richness and viscocity.

The wines are ideally drunk young, to allow savouring the purity and vivacity of their fruit flavours, but they can equally  undergo 5+ years of flawless ageing , although more ageing potential may unfold with time (hard to judge at this stage, as the first vintage of modern Partarrieu was only in 1999)
View Producer
The Grape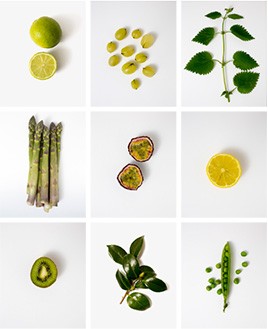 Sauvignon Blanc
An important white grape in Bordeaux and the Loire Valley that has now found fame in New Zealand and now Chile. It thrives on the gravelly soils of Bordeaux and is blended with Sémillon to produce fresh, dry, crisp Bordeaux Blancs, as well as more prestigious Cru Classé White Graves.

It is also blended with Sémillon, though in lower proportions, to produce the great sweet wines of Sauternes. It performs well in the Loire Valley and particularly on the well-drained chalky soils found in Sancerre and Pouilly-Fumé, where it produces bone dry, highly aromatic, racy wines, with grassy and sometimes smoky, gunflint-like nuances.
In New Zealand, Cloudy Bay in the 1980s began producing stunning Sauvignon Blanc wines with extraordinarily intense nettly, gooseberry, and asparagus fruit, that set Marlborough firmly on the world wine map. Today many producers are rivalling Cloudy Bay in terms of quality and Sauvignon Blanc is now New Zealand`s trademark grape.

It is now grown very successfully in Chile producing wines that are almost halfway between the Loire and New Zealand in terms of fruit character. After several false starts, many South African producers are now producing very good quality, rounded fruit-driven Sauvignon Blancs.
View Grape
The Region
Sauternes is where arguably the world's finest sweet white wines are produced. The Sauternes appellation actually consists of five communes: Barsac, Preignac, Bommes, Fargues and Sauternes itself. Barsac is also an appellation in its own right.
Sauternes literally has an atmosphere different from any of the other major communes. At the southern tip of the Graves,close to the Garonne, not only is the land hillier and decidedly more bucolic but it also enjoys a specific mesoclimate of evening autumn mists which linger until well into the following day, unless burnt off by warm sunshine.
The mists are caused by the cool, spring-fed waters of the Ciron River meeting the warmer tidal Garonne, and the result is an ideal environment for the growth of the mould botrytis cinerea. When its arrival is felicitous, it feeds on the water in the ripe grapes, dehydrating them and leaving sweet, shriveled fruit.
Other regions in Bordeaux (ie Cadillac, Loupiac) produce wines in a similar style from the same method, but none achieve the profundity and complexity of Sauternes.
Recommended Châteaux : Ch. D'Yquem, Ch. Climens (Barsac), Ch. Suduiraut, Ch. Rieussec, Sigalas- Rabaud, Ch. Coutet (Barsac), Ch. de Fargues, Ch. Lafaurie-Peyraguey, Ch. Doisy-Védrines (Barsac), Chateau Partarrieu, La Tour Blanche
View Region
Customer Reviews
Questions And Answers