1967 Longmorn, Speyside, Single Malt Scotch Whisky (43%)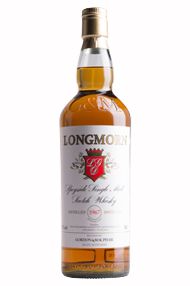 The Producer
Longmorn Distillery, Speyside
Built on the site of an old chapel (actually the name Longmorn derives from "Lhanmorgund" meaning "place of the holy man") the Longmorn Distillery was founded by John Duff (owner of Glenlossie Distillery) and two associates, Charles Shirres and George Thomson in 1894, together with its neighbour Benriach.

Despite winning early acclaim for the quality of its malts within the whisky world in those days, John Duff was caught up in the middle of the great recession and he was forced to sell the distillery to John Grant (from Glen Grant). In the early 1970's, Longmorn merged with "The Glenlivet" to create "The Glenlivet Distillers" and was subsequently acquired by Seagram in 1977.

The distillery now belongs to "The Chivas and Glenlivet Group" that have been bought by the French group Pernod-Ricard in 2001. Longmorn is one of the few distilleries that never ceased production, it even survived the grain shortages of the Second World War.

Longmorn's malt whisky is highly prized by blenders at least as highly as those of its sister distilleries Glen Grant and The Glenlivet. Much of the production is snatched for blends, very little is marketed as single malt. It is appreciated for its complexity and smoothness of texture. It is noted for its cereal-grain malty character and its perfumed bouquet of honeyed and floral notes.
View Producer
The Region
To some Speyside represents the jewel in whisky's crown. Speyside is the home of legal whisky production and it's best known examples. Around the world Glenlivet, Macallan, Glenfiddich, Glenrothes and Glenfarclas typify all that whisky, at it's best has to offer. At it's heart running from the Monadhliath mountains north to the sea, is the River Spey. It is the fastest flowing river in Britain, and also well known for its salmon fishing.
Speyside is the principal whisky-producing region: Speyside has within it some forty-six operating distilleries - over half the total number in the entire Scotland.
Speysides are essentially sweet whiskies. They have little peaty character They are typically highly perfumed, feminine and elegant.
The classical nature of Speyside's malts means that a number of the finest malts are used almost exclusively for blending. It is the top Speysider's that give good blends their 'Top Dressing'.
Malts such as Mortlach, Glen Elgin, Strathmill and Benrinnes are rarely found as distillery bottlings, however when individual casks are tracked down by independent bottlers such as our Own Selection Single Malt Whiskies the resultant whisky can be quite wonderful.
View Region
Customer Reviews
Questions And Answers