2011 St Joseph, Terres d'Encre, Domaine Georges Vernay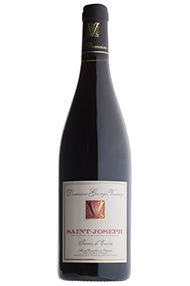 The Producer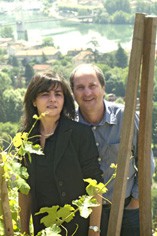 Domaine Georges Vernay
Seeking to secure great wines from leading producers is not always an easy task, simply because the volumes are scarce and they are on everyone's most wanted list. Domaine Georges Vernay is no exception.

Under Georges Vernay's management, the domaine has contributed so much to keep Condrieu on the map, especially during the 1960s' when the appellation covered only 8 hectares, that talking of Condrieu and not mentioning Domaine Georges Vernay could be like going to Jerusalem and not visiting the Church of The Holy Sepulchre, in other words a terrible mistake.
Today managed with brio by George's daughter Christine and her husband Paul Ansellem, the domaine covers 8 Ha in Condrieu, making them one of the top three owners; 2.5 ha in Côte-Rôtie and 1.5 Ha in the Saint-Joseph appellations.
In Condrieu, three cuvees are made from vineyards situated in Condrieu, the heart of the appellation, on south to southeast facing steep slopes, and all express the purest; most restrained expression of the Viognier grape.
From top to bottom: Côteau de Vernon, created in 1940 by Christine's grand-father Francis, is the reference amongst all Condrieu: 60 years old vines on decomposed granite locally called "gore", is a wine of great personality and definition and has on numerous occasion shown a surprising ability to age;

Chaillées de l'Enfer, made from 50 years old vines. Chaillées is the local name for small terraces which are so steep that working here is particularly arduous. This is an early ripening site and yields a wine which has more opulence, richness than the former; Terrasses de l'Empire, made from 40 years old vines is a great introduction to Condrieu, offering early approachability.
Côte-Rôtie is represented by two cuvees: Maison Rouge, a pure Syrah whose name refers to the small red house located at the feet of this impressively steep lieu-dit made of granite-rich soil and Blonde du Seigneur, a Syrah-Viognier blend which combines richness of flavours and a floral aspect.
The Vins de Pays des Collines Rhodanienne's range represented by Le Pied de Samson (Viognier); Fleurs de Mai and Mirebaudy (Syrah cuvees) is really worth the discovery and constitute an ideal first step in your approach and exploration of this great domaine.
View Producer
The Grape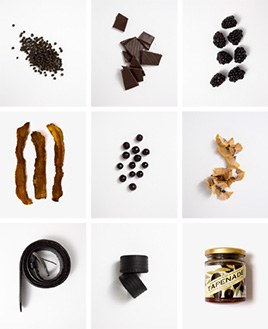 Syrah/Shiraz
A noble black grape variety grown particularly in the Northern Rhône where it produces the great red wines of Hermitage, Cote Rôtie and Cornas, and in Australia where it produces wines of startling depth and intensity. Reasonably low yields are a crucial factor for quality as is picking at optimum ripeness. Its heartland, Hermitage and Côte Rôtie, consists of 270 hectares of steeply terraced vineyards producing wines that brim with pepper, spices, tar and black treacle when young. After 5-10 years they become smooth and velvety with pronounced fruit characteristics of damsons, raspberries, blackcurrants and loganberries.

It is now grown extensively in the Southern Rhône where it is blended with Grenache and Mourvèdre to produce the great red wines of Châteauneuf du Pape and Gigondas amongst others. Its spiritual home in Australia is the Barossa Valley, where there are plantings dating as far back as 1860. Australian Shiraz tends to be sweeter than its Northern Rhône counterpart and the best examples are redolent of new leather, dark chocolate, liquorice, and prunes and display a blackcurrant lusciousness.

South African producers such as Eben Sadie are now producing world- class Shiraz wines that represent astonishing value for money.
View Grape
The Region
St Joseph is the second-largest appellation in the Northern Rhône with 50 growers producing wines from over 600 hectares of vineyards. Established in 1956, over 90 percent of the wine is red – made exclusively from the Syrah grape. The white wines, meanwhile, are typically a blend of Marsanne and Roussanne varieties. Its vineyards run due south on the west side below Condrieu, and are in six communes: Mauves, Tournon, St Jean-de-Muzols, Lemps, Vion and Glun.
The styles of wine in St Joseph tend to be much lighter than other red Appellations d'Origine Contrôlee and the quality can vary dramatically. The soils and climate differ, as it is a long, narrow AOC. There is no particular characteristic of the commune as some wines are produced near
Côte-Rôtie
, while others are near to
Cornas
.
The best St Josephs are still produced in the original heartland of the appellation between St Jean-de-Muzols and Mauves, where soils are predominately granitic with patches of limestone and schist. Typically, even the finest St Josephs are slightly lighter and faster-maturing than the wines of
Hermitage
, as St Joseph's east-facing vineyards lose the sun up to two hours earlier in the crucial ripening season.
To meet demand, some extensions of the appellation have been made on less than ideal land, producing wines of indifferent quality.
Recommended producers:
Pierre Gaillard
,
Jerome Coursodon
,
Paul Jaboulet
Best vintages: 2006, 2005, 2004, 2003, 2000, 1999, 1996, 1990
View Region
Customer Reviews
Questions And Answers