About this WINE
Champagne Janisson Baradon
The latest addition to our artisan champagne offering is Janisson-Baradon, a small grower from the Montagne de Reims established in 1922 by George Baradon (a remueur) and his son-in-law (a cooper).

Five generations later, and now directed by Richard Janisson, and his sons Maxence (principal winemaker) and Cyril Janisson, they have 9ha of vineyards which encircle Epernay (Champagne's capital) to the west, in the Massif St. Thierry, and with the remainder in Chouilly (this latter forming the base for a Grand Cru Chardonnay which they produce).

For several years they have been practising lutte raisonnée, basically using the bare minimum of chemicals in their vineyards and grassing over between vine rows, for example, to maintain soil integrity as much as possible, a practise that has becoming increasingly common in Champagne.

Vinification is a mix of steel and wood with malolactic fermentation for the non-vintage cuvées and 100% wood (old Burgundy barrels, 3-18 years old) with no malolactic performed for the vintages. They are also experimenting with cement egg fermentation, of which they have two.

All the wines are characterised by long lees ageing and 6 months minimum resting period between disgorgement and release. The vintage cuvées are striking in their presentation as they don't have printed labels, rather, the cuvée name is stencilled in white (actually, it looks like it's been Tippex-ed!) on the dark bottle.

We have taken on two cuvées, the non-vintage Non-Dosé and the vintage Chemin des Conges.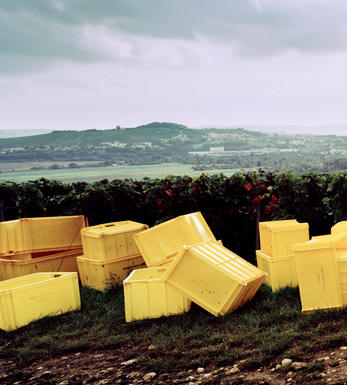 Brut Champagne
Brut denotes a dry style of Champagne (less than 15 grams per litre). Most Champagne is non-vintage, produced from a blend from different years. The non-vintage blend is always based predominately on wines made from the current harvest, enriched with aged wines (their proportion and age varies by brand) from earlier harvests, which impart an additional level of complexity to the end wine. Champagnes from a single vintage are labelled with the year reference and with the description Millésimé.

Non-vintage Champagnes can improve with short-term ageing (typically two to three years), while vintages can develop over much longer periods (five to 30 years). The most exquisite and often top-priced expression of a house's style is referred to as Prestige Cuvée. Famous examples include Louis Roederer's Cristal, Moët & Chandon's Dom Pérignon, and Pol Roger's Cuvée Sir Winston Churchill.
Recommended Producers : Krug, Billecart Salmon, Pol Roger, Bollinger, Salon, Gosset, Pierre Péters, Ruinart
Reviews
Customer reviews
Critic reviews
A great non label – just a minimalist 'handwritten' name across the bottle. Smells, in the very nicest way, like raspberry cheesecake. Creamy and rich. Long, yeasty, savoury with a blade of sharp green apple running right through from start to finish. Broad spread but pointu on the finish. Bags of character here.
Fermented in 100% oak (5-10 years old), no malolactic, 5 g/l dosage. 100% Pinot Meunier and named for the vineyard site planted in 1960.
Jancis Robinson - jancisrobinson.com - April 2013