1999 Chambolle-Musigny, Domaine Georges Roumier
The Producer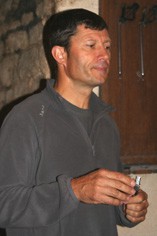 Domaine Georges Roumier
The domaine was founded in 1924 by Georges Roumier, who began domaine bottling in 1945. He was succeeded in 1957 by his son Jean-Marie and now grandson Christophe, who joined his father in 1982 and took over completely in 1992. Most of the wines are rented (en fermage) from family members although Ruchottes Chambertin is held on a share cropping deal with an external proprietor, Michel Bonnefond. The wines are seductively fruity in their youth yet with excellent ageing potential.

The grapes are sorted in the vineyard, with a table de tri at the winery since 2003. They are mostly destemmed, albeit depending on vineyard and vintage, with a few more stems being used recently – then placed in wooden fermenters. The juice is given a cool soak at 15° then allowed to start naturally. The juice is punched down twice a day and temperature controlled so as not to exceed 32°C.

There is no great reliance on new wood in the maturation cellar, with 15-25% being used for village wines, 25-40% for premiers crus and no more than 50% for Bonnes Mares. In recent years Christophe has been searching for, and achieving, a greater sense of precision in his wines.

Jasper Morris MW, Burgundy Wine Director and author of the award-winning Inside Burgundy comprehensive handbook.
View Producer
The Region
Chambolle produces the most elegant wines in the Côte de Nuits, having more active chalk and less clay in the soil than the other villages. The wines may be a little lighter in colour and less tannic than Gevrey-Chambertin but they have a sublime concentration of fruit. Village Chambolle-Musigny usually provides excellent value.
Le Musigny is one of the top half-dozen vineyards in Burgundy, producing wines of extraordinary intensity and yet with a magical velvety character. Les Amoureuses is immediately appealing, a wonderfully sensual wine which deserves Grand Cru status. Bonnes Mares tends to have a firmer structure and ages very well
94 hectares of village Chambolle-Musigny.
61 hectares of Premier Cru vineyards (24 in all). The finest vineyards include Les Amoureuses, Les Charmes, Les Fuées, Les Baudes and Sentiers.
24 hectares of Grand Cru vineyard - Bonnes Mares and Le Musigny.
Recommended restaurant: Le Chambolle
View Region
Customer Reviews
Questions And Answers