2010 Pavlidis Winery, Thema Red, Greece
The Producer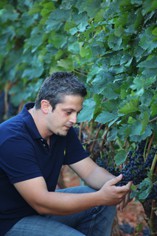 Ktima Pavlidis
The wine appellation of Drama in the far North-East of Greece is one of most exciting regions with a number of vanguard wineries, and the 30 hectare Ktima (meaning Domaine) Pavlidis is one of its shining stars.




Founded in 1998 by the local entrepreneur Christophoros Pavlidis, who made a fortune in marble, granite and construction, the estate is located at an altitude of 240-340m.

The young oenologist Nikos Karatzas (pictured right) produces a range of contemporary-styled wines from a mixture of indigenous and international varieties that include Syrah, Agiorgitiko Chardonnay, Merlot, Tempranillo (red & rose wines), the indigenous Assyrtiko, Sauvignon blanc (in blends with the former).
View Producer
The Grape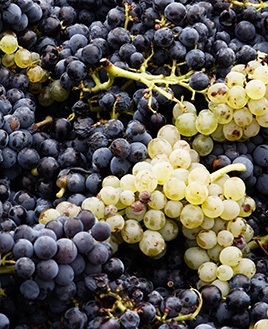 Agiorgitiko
Agiorgitiko (aka Aghiorghitiko, Mavro Nemeas and St. George) is one of the two most widely-grown and commercially well-established red wine grape varieties in Greece, the other being Xynomavro. The Nemea AOC wine region of the Peloponnese is the bastion of the grape.

The resulting wine can take on a diverse range of characteristics, from soft, easy-drinking and plummy to fleshy, robustly tannic and age-worthy, depending on the yields, the location (elevation/aspect) of the vineyards and the winemaking processes.

The differences between low-yield, high-lying and high-yield, low-lying vineyards are so pronounced, that there has been a call for a super-appellation in Peloponesse, "High Nemea" (which rises to an altitude of 800 metres) to make these quality distinctions within the Nemea appellation zone more clear.

At their best Agiorgitiko wines possess "good" tannins in abundance which make it an outstanding candidate for both barrel ageing and carbonic maceration. With respect to the stylistic expression and blending potential, Agiorgitiko compares most closely with Merlot.

It can be vinified as a single varietal, though it is frequently blended with Cabernet Sauvignon or Syrah. The hallmarks of the grape are low acidity, medium body, plush fruitiness, overlaid by notes of spices and ripe plum.
View Grape
The Region
The wine appellation of Drama is one of the hot-beds of viticultural innovation in Greece.

Centred in the eponymous region that spans in parts of East Macedonian and Thrace in North-East Greece, the region plays host to a number of successful wine estates, such as Domaine Pavlidis.

The area around Drama has known viticulture probably from the bronze age to the present. Leading the way on the vineyard are the classic Bordeaux varieties Cab. Sauvignon & Merlot Sauvignon Blanc, Semillon, as well as Chardonnay; all seem to be at home in the land-locked, mountainous climate of the region.

Blocks of Sangiovese, Ugni Blanc, Tempranillo, Cab. Franc, Grenache & Syrah also add to the diversity of the region. Red wines often receive barrel treatment in French oak and tend to be muscular and fleshy, with well-defined flavours.

The dominant Indigenous grapes are the whites Roditis & Assyrtiko and the full-bodied red Limnio (often blended with Cab. Sauvignon).
View Region
Customer Reviews
Questions And Answers