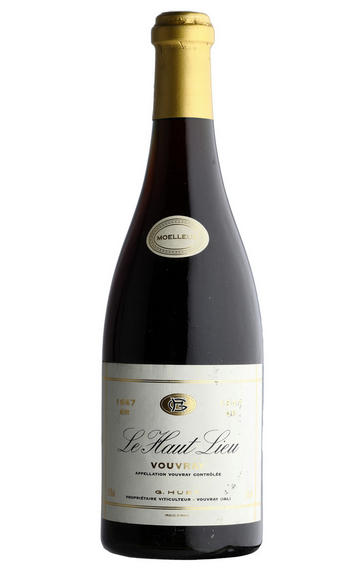 1947 Vouvray, Le Haut-Lieu, Moelleux, Or, Domaine Huet, Loire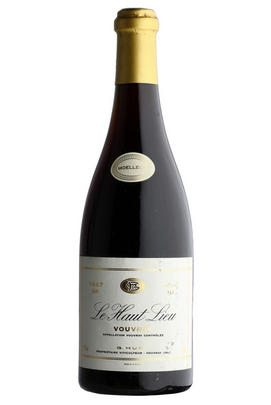 Critics reviews
From a legendary vintage ("the most highly respected Loire vintage of the 20th Century" – Richard Kelly), Gaston Huet's dark amber-clored 1947 Vouvray Le Haut Lieu Moelleux opens with a very clear, intense and concentrated bouquet of super ripe peaches, apricots, and blood oranges mingled with fresh lime and coolish mineral flavors,; it is highly elegant and noble in its beautiful balance and intensity. Powerful, sweet, intense and very rich on the palate, this is an absolutely exceptional wine: dense, intense and finesse-full, with firm yet delicate tannins and an endless fruit intensity. There is mind-blowing balance, tension and freshness here. The finish is so pure and salty, so firm and intense that this quintessence of Chenin Blanc should go for another 50 years. Or, as Jürgen Franke from the German retailer Vinaturel puts it: "The 1947 is great but is always giving you the impression you have open the bottle two or three decades too early."
According to Kelly, who quotes Gaston Huet himself, the 1947 was "the greatest vintage I (Huet) ever made." He reports: "The harvest commenced on the 19th September and all the sweet wines came from heavily botrytised fruit. According to Gaston, the apparent deep, oxidized appearance of the wines arrived early on in their maturation, but once the color deepened, the wines themselves changed very little." 
Stephen Reinhardt, Wine Advocate (Nov 2015)
About this WINE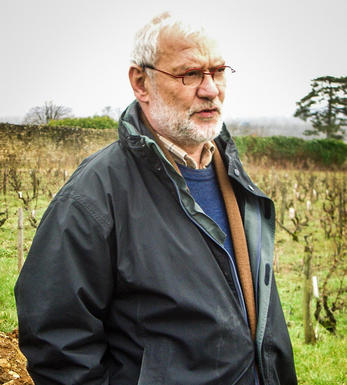 Domaine Gaston Huet

Gaston Huet and his wife built up a domaine with a formidable reputation over the years following its creation by Victor Huet, his father, in 1928. Gaston, war hero and one-time mayor of Vouvray, managed the family domaine from 1947 until his death in 2002. He was a prisoner for most of the Second World War and longed for his home and for the taste of his Vouvray. He managed to arrange a special wine celebration in the POW camp. "It saved our sanity… Talking about wine and sharing it made all of us feel closer to home and more alive. It was only a thimbleful but it was glorious and the best wine I ever drank."

The Huet Style
The entirety of the vineyard plantings at the estate were given over to the versatile and often under-appreciated Chenin Blanc. Climate plays a huge part in the wine-making in each vintage with warmer years creating unctuously sweet wines (mo?lleux for which Huet is renowned and doux the sweetest of all styles). Cooler vintages result in fruit which is used in the production of vivacious demi-sec, bone-dry sec or pétillant sparkling wines. It is important to emphasise that regardless of the sweetness level, the hallmark of Chenin Blanc and indeed Domaine Gaston Huet is an unmistakable freshness and natural acidity which permit the wines to age for centuries

Biodynamic techniques have been used at all of Domaine Huet's vineyards since 1990. The estate comprises three vineyards, all with their own unique blueprint and personality: Le Haut-Lieu, Le Clos du Bourg and Le Mont. The original vineyard, Le Haut-Lieu (literally meaning 'the high place') surrounds the house and extends for some nine hectares. The soil is made up of three metres of clay at the surface, underpinned by Vouvray's famous sedimentary limestone. Its wines are opulent and approachable when young but are genuine vins de gardes and benefit from long-term ageing.

Le Clos du Bourg, which was purchased by Gaston in 1953, is the oldest site in the appellation of Vouvray, dating back to the eighth century. The allure of this vineyard is not entirely contained within its neat and historic walls but moreover its reputation for producing formidable sweet wines. The final musketeer completing the trio is the most famous, Le Mont, with its green-tinged soils and late-harvesting vines from which Gaston produced his longest-lived and arguably most famous wines.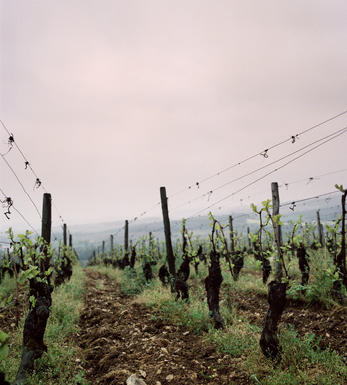 Vouvray
Based just outside Tours, in the Touraine district of the Loire, the small, 2,000-hectare semi-continental Vouvray appellation covers a range of dry, through off-dry, sweet to sparkling styles. Its Chenin Blanc vineyards, perched above chalky tuffeau cliffs give the wines vibrant acidity and a stony, floral and at times waxy character.
Ideally, under perfect skies, the producers aim for moelleux sweet wines, hand-harvested by trie, often imbued with noble rot and rich with residual sugar.

A less successful season would deliver more demi-sec, sec and, if really tough, sparkling mousseaux. Vinification is principally in large, inert vessels such as stainless-steel, old oak foudres and demi-muids. Malolactic fermentation is avoided.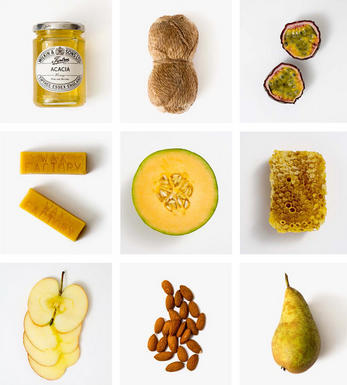 Chenin Blanc
Chenin Blanc is an important white grape variety planted in the Anjou-Saumur and Touraine regions of the Loire Valley and the most widely planted varietal grape in South Africa.

In the Loire it produces high quality dry wines in Savenniéres, and luscious sweet, dessert wines in Coteaux du Layon, Bonnezeaux and Quarts de Chaume. In Vouvray and Montlouis it can be dry, medium dry, or sweet, and still or sparkling. Whether dry or sweet, the best Loire Chenin Blancs possess marvellously concentrated rich, honeyed fruit together with refreshingly vibrant acidity. It is Chenin Blanc's high acidity that enable the wines to age so well.
In South Africa Chenin Blanc is easier to grow and is prized for its versatility. It is used as a cheap blending option with Chardonnay, Colombard, and Muscat but also bottled unblended. The best producers keep their yields low and produce impressive mouthfilling wines.