About this SPIRIT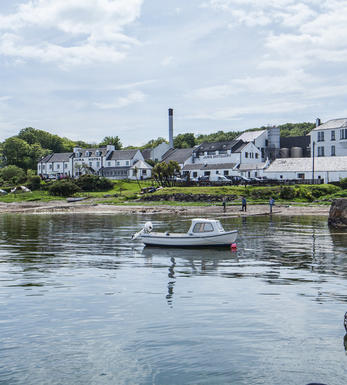 Isle of Jura Distillery
Laird Archibald Campbell built the Isle of Jura distillery in the early 1800's near a cave where illegal distilling had been carried on possibly from the 1600's. The whisky produced then was a characteristic peaty malt whisky – not at all like the present day product. The distillery was let out to many people over the years, among others to Ferguson familly in 1875. In the early 1900's the Fergusons seem to have been in dispute with the then Laird Colin Campbell and decided to quit the Jura distillery, dismantling and selling the machinery.

It seemed as if whisky making on Jura had come to a permanent end. After having been closed for about 40 years between 1914 and 1958, the distillery was completely rebuilt with the financial aid of the Scottish & Newcastle Breweries and using the services of the well known architect Delmé Evans who also built amongst others, the distillery of Glenallachie and Jura. He said of his plans: "It was our intention to produce a Highland-type malt differing from the typically peaty stuff last produced in 1900. I therefore designed the stills to give spirit of a Highland character, and we ordered malt which was only lightly peated."

The new distillery of Isle of Jura was opened in 1963. From 2003 it is one of the key distilleries of Whyte and Mackay, formally Kyndal Spirits.