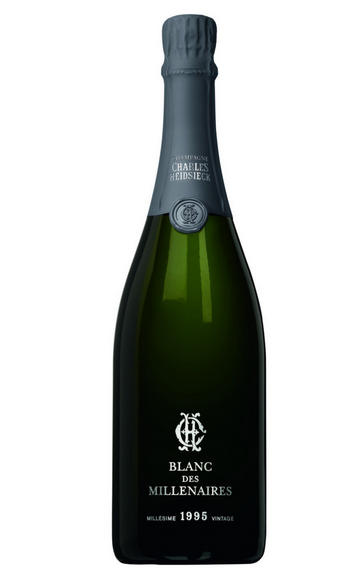 1995 Champagne Charles Heidsieck, Blanc des Millénaires, Brut
Prices start from £1,440.00 per case
Critics reviews
Drunk from a bottle that was disgorged in 2016, the 1995 Blanc des Millenaires continues to show very well, wafting from the glass with a complex bouquet of waxy citrus rind, dried pear, walnut oil, warm bread and fresh pastry. On the palate, it's full-bodied, enveloping and chalky, with a rich and muscular core, lively acids and a long, precise finish. Impeccably balanced, this is a cuvée I have drunk on many occasions, which used to be well-represented in my own cellar, but this is as good a bottle as I have ever encountered. In the abundance of full maturity, now is a great time to pop corks.
Drink 2015-2035
William Kelley, Wine Advocate (August 2019)
Disgorged 2015. Daniel Thibault was so confident of the quality and longevity of this wine that he made ten times the amount his boss suggested (on the basis that presidents of champagne companies change much more frequently than chefs de cave). Minimal bottle variation, apparently. Some of the vast lots are disgorged every year in summer.
Still greenish gold. Still lots of freshness on the nose. Noble and magnificent. Savoury and yet lacy. Full phenolic ripeness (a bit more than 2004, which is currently embargoed). Dances on the palate. Lovely, lightly toasty, mature Chardonnay flavours but tight-knit champagne, not burgundy! So clean.
Drink 2006-2026
Jancis Robinson, jancisrobinson.com (September 2017)
About this WINE
Champagne Charles Heidsieck
Charles-Camille Heidsieck set up his own Champagne company in 1851 and right from the start, the pursuit of the highest quality was always the company's main aim.
Based in the great city of Reims, Charles Heidsieck is one of the few houses that are able to use the fabulous chalk "crayères" cellars under the city. The "crayères" were hollowed out during Gallo-Roman times so that the chalk could be used for building. These cellars now provide a perfect atmosphere for the ageing of Champagne.
The entire Charles Heidsieck range is excellent from the Brut Réserve right up to the luxury cuvées Blanc des Millénaires and Champagne Charlie. A great believer in the ageability of fine Champagne, Charles Heidsieck ensure that their luxury cuvées drink well for decades.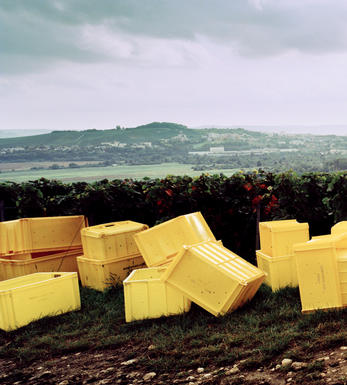 Brut Champagne
Brut denotes a dry style of Champagne (less than 15 grams per litre). Most Champagne is non-vintage, produced from a blend from different years. The non-vintage blend is always based predominately on wines made from the current harvest, enriched with aged wines (their proportion and age varies by brand) from earlier harvests, which impart an additional level of complexity to the end wine. Champagnes from a single vintage are labelled with the year reference and with the description Millésimé.

Non-vintage Champagnes can improve with short-term ageing (typically two to three years), while vintages can develop over much longer periods (five to 30 years). The most exquisite and often top-priced expression of a house's style is referred to as Prestige Cuvée. Famous examples include Louis Roederer's Cristal, Moët & Chandon's Dom Pérignon, and Pol Roger's Cuvée Sir Winston Churchill.
Recommended Producers : Krug, Billecart Salmon, Pol Roger, Bollinger, Salon, Gosset, Pierre Péters, Ruinart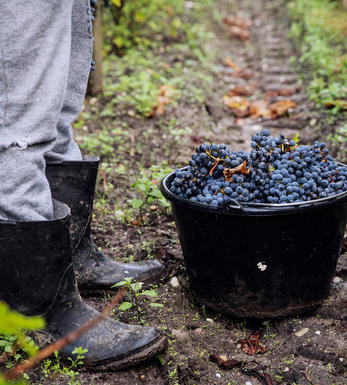 Champagne blend
Which grapes are included in the blend, and their proportion, is one of the key factors determining the style of most Champagnes. Three grapes are used - Pinot Noir, Chardonnay and Pinot Meunier.

26% of vineyards in Champagne are planted with Chardonnay and it performs best on the Côtes des Blancs and on the chalk slopes south of Epernay. It is relatively simple to grow, although it buds early and thus is susceptible to spring frosts. It produces lighter, fresher wines than those from Burgundy and gives finesse, fruit and elegance to the final blend. It is the sole grape in Blancs de Blancs, which are some of the richest long-lived Champagnes produced.
Pinot Noir accounts for nearly 40% of the plantings in Champagne and lies at the heart of most blends - it gives Champagne its body, structure, strength and grip. It is planted across Champagne and particularly so in the southern Aube district.
The final component is Pinot Meunier and this constitutes nearly 35% of the plantings. Its durability and resistance to spring frosts make the Marne Valley, a notorious frost pocket, its natural home. It ripens well in poor years and produces a soft, fruity style of wine that is ideal for blending with the more assertive flavours of Pinot Noir. Producers allege that Pinot Meunier lacks ageing potential, but this does not deter Krug from including around 15% of it in their final blends.