 2000 Pinot Gris, Vendange Tardive, Clos Jebsal, Domaine Zind-Humbrecht, Alsace
Prices start from £698.00 per case About this WINE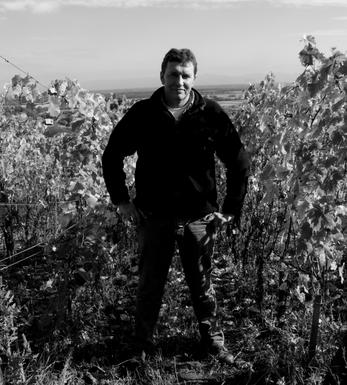 Domaine Zind Humbrecht
The wines of Olivier Humbrecht M.W. need little introduction, possessing great depth, exactitude as well as generosity…like the man himself.

The Humbrecht family viticultural roots can be traced back to The Thirty Years War of 1620. Today they own forty hectares across five villages in the Haut-Rhin, the southern half of the picturesque vineyards overlapping the Vosges foothills, treasured for its idyllic climate, tapestry of terroirs as much for its half-timbered houses.

The domaine has vines in 4 Grands Crus - Rangen (Thann) 5.5 ha, Brand (Turckheim) 2.4 ha, Hengst (Wintzenheim) 1.4 ha, Goldert (Gueberschwihr) 0.9 ha as well as Single Vineyards; Rotenberg (Wintzenheim) 1.8 ha, Clos Häuserer (Wintzenheim) 1.2 ha, Herrenweg (Turkheim) 11.5 ha, Clos Jebsal (Turkheim) 1.3 ha, Heimbourg (Turkheim) 4 ha and Clos Windsbuhl (Hunawihr) 5.2 ha.

Olivier has arguably overseen the most notable improvements in the estate's illustrious history: a new cellar in 1992 while retaining the traditional 'foudre' oval barrels; initiating biodynamic practices in 1997 (certified in 2002); and the buying of a horse in 2006 to plough the vineyards!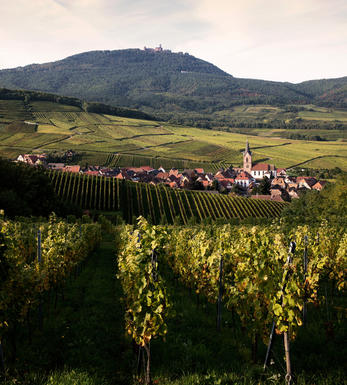 Pinot Gris AOC Alsace
Pinot Gris AOC Alsace is a white wine produced in the Alsace, the northeastern part of France, near the border with Germany. Pinot Gris is one of the four noble grape varieties grown in Alsace, along with Riesling, Gewürztraminer, and Muscat.
Pinot Gris, also known as Pinot Grigio in Italy, is a grape variety that produces various styles, from light and crisp to rich and full-bodied. In Alsace, Pinot Gris tends to lean towards the fuller-bodied end of the spectrum. The wines are known for their aromatic complexity, with flavours that include ripe stone fruits like peach, apricot, and pear and notes of honey, spice, and sometimes a hint of smoke.
Pinot Gris AOC Alsace wines typically have a golden yellow colour and a rich, oily texture on the palate. They can be dry or off-dry, with a noticeable presence of residual sugar in some examples. The wines often have a good level of acidity, which helps balance the richness and sweetness.
Alsace is known for its unique terroir, which plays a significant role in shaping the character of Pinot Gris wines. The region's vineyards benefit from a semi-continental climate with sunny, dry days and cool nights. The Vosges Mountains protect from excessive rainfall, creating a relatively dry microclimate. The diverse soils, which include granite, limestone, marl, and sandstone, add further complexity to the wines.
Pinot Gris AOC Alsace wines are quite versatile regarding food pairings. Their fuller body and slightly off-dry character make them an excellent match for various dishes. They pair well with roasted poultry, grilled fish, seafood, creamy sauces, and spicy Asian cuisine. The wines can also be enjoyed on their own as an apéritif.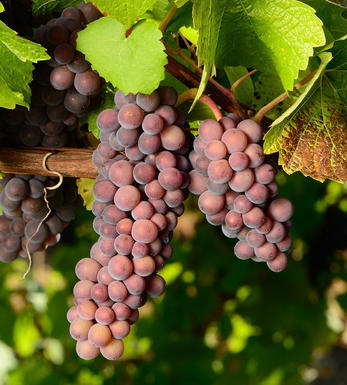 Pinot Gris/Pinot Grigio
A first class grape variety grown in Alsace, where it is known as Tokay Pinot Gris, and in Italy, where it is called Pinot Grigio. In Alsace it is best suited to the deep, clay rich soils found in the north of the region where it produces richly honeyed, dry whites as well as superb sweet late harvest wines. At its best it combines the heady perfume and rich aroma of Gewürztraminer with the acidity one associates with Riesling. It ages very well, developing rich buttery characteristics.
In Northern Italy Pinot Grigio produces many thin undistinguished dry whites. However it comes into its own in Friuli-Venezia and the Alto Adige, where leading producers such as Alvaro Pecorari of Lis Neris produce marvellously rounded, elegant, and mineral laden examples. Pinot Gris is now grown with notable success in Oregon in the USA and in New Zealand.