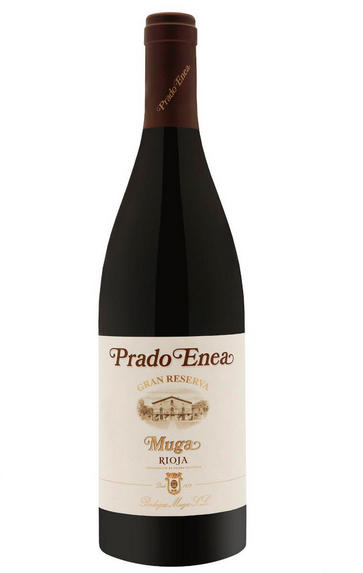 2004 Prado Enea, Gran Reserva, Bodegas Muga, Rioja
Prices start from £380.00 per case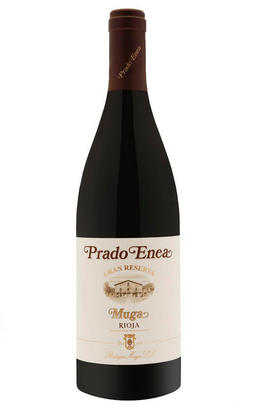 Critics reviews
I revisited the 2004 Prado Enea Gran Reserva, as they hold small quantities of older vintages that are sold mostly to restaurants. I was really surprised by the slow development of this vintage in bottle, which is still young and with an incredible aging potential. The aromas are only starting to develop some tertiary characteristics while still showing a fruit side, and the spices are slowly increasing but the pace is really slow. The palate has concentration and depth, clean and focused flavors and great length, with outstanding overall balance and harmony. I think this is a more classical vintage than the 2005 I ended up tasting next to it, which can be a little more modern. At that time, they were producing some 150,000 bottles of Prado Enea.
Luis Gutirrez - 28/02/2018
About this WINE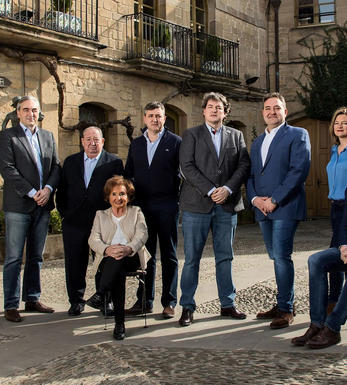 Bodegas Muga
Traditional Rioja, quite naturally enough, has a great following at Berry Bros. & Rudd; the synergy of values and history is self-evident and the wines, of both colours, are to my mind some of the most distinctive and under-rated in Europe. When one visits the area around the old railway station at Haro, one is overwhelmed by the role-call of great names, all located in close proximity to one another, all famous names... with Tondonia, la Rioja Alta, CVNE all stalwarts of the Berry Bros. & Rudd list. The other famous name, hitherto absent from our catalogue, and only, in all probability, to avoid the embarrassment of such riches, is Muga. Tasting the wines recently, we decided that Muga were every bit as good as the others and so we now complete the Haro jigsaw by proudly purchasing them for the first time.
Bodega Muga was founded in Haro in 1932 and is still in family ownership; the company farms 250 hectares in La Rioja Alta and in addition has long-standing contracts with the owners of another 150 hectares. Located in the foothills of the Montes Obarenses, the five principle vineyards (El Estepal, La Loma, Blatracones, La Loma Alta, and Sajazarra) share clay and limestone soils, each with its own unique microclimate, informed by the happy coincidence of continental, Mediterranean and Atlantic influences. The extended Muga family controls all aspects of the production and advocates the complexity afforded by the entire canon of grapes, that is to say Tempranillo, of course for the red, but also Garnacha, Mazuelo and Graciano in addition to Viura and Malvasia for the whites.

The key to everything here is wood, from the magnificent 18th century wooden Bodega to the impressive collection of 14,000 barrels used for the maturation. In addition the wines are fermented in large wooden casks, of which there were 90, all of subtly differing sizes, at the last count. An in-house Cooperage employs three experts full time in addition to a 'Cubero', a specialist who makes and maintains the large casks. It should come as no surprise that vinification is traditional with racking every four months and clarification with egg-whites. The residual egg-whites, together with the discarded lees go to make up a high quality compost, which serves as an organically sustainable fertiliser. And so the whole process resumes, nourishing itself as it will surely nourish those who sample their most impressive range.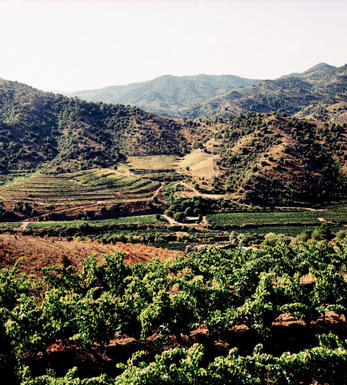 Rioja
Rioja is known primarily for its reds although it also makes white wines from the Viura and Malvasia grapes and rosés mainly from Garnacha. Most wineries (bodegas) have their own distinct red wine formula, but are normally a combination of Tempranillo, Garnacha and sometimes Graciano. Other red varieties recently approved into the Denominación de Origen Calificada (DOCa) regulations are the little-known Maturana Tinta, Maturana Parda, and Monastel (not to be confused with Monastrell). The most important of these by far is the king of native Spanish varieties, Tempranillo, which imbues the wines with complex and concentrated fruit flavours.
The Garnacha, meanwhile, bestows its wines with warm, ripe fruit and adds an alcohol punch. Graciano is an améliorateur grape (one that is added, often in small proportions, to add a little something to the final blend) and is found mainly in Reserva and Gran Reserva wines, albeit in small quantities (two to five percent), adding freshness and aroma, and enhancing the wines' ageing potential.

Crianza wines are aged for one year in oak followed by maturation for one year in bottle before being released for sale. Reservas must undergo a minimum of three years' ageing before release, at least one of which should be in oak casks. Finally, Gran Reservas, which are only produced in the finest vintages, must spend at least five years maturing, of which at least two must be in oak.

Geographically, Rioja is divided in to three districts: Alavesa, Alta and Baja. Rioja Alavesa lies in the northwest of the La Rioja region in the Basque province of Álava. Along with Rioja Alta, it is the heartland of the Tempranillo grape. Rioja Alta, to the north-west and south of the Ebro River in the province of La Rioja, stretches as far as the city of Logroño. Elegance and poise is the hallmark of wines made here with Rioja Alta Tempranillo. Mazuelo (Carignan) is occasionally added to wines from this area to provide tannins and colour. Rioja Baja, located to the south-east, is the hottest of the three districts and specialises in Garnacha.
Rioja has witnessed a broad stylistic evolution over the years. The classic Riojas pioneered by Murrieta and Riscal in the 19thcentury were distinguished by long oak-barrel-ageing whereas the modern style, represented by Marqués de Cáceres since 1970, showcases the fruit and freshness of Tempranillo, keeping oak ageing to the legal minimum. The post-modern school that emerged in the late 1990s from producers like Palacios Remondo and Finca Allende concentrate on making wines from old vines or specific vineyard plots to accentuate the terroir, and using larger proportions of minority varietals such as Graciano.
The alta expression wines, pioneered by Finca Allende (among others) and later taken up by almost every other producer in Rioja, represent the newest flagship category in Rioja. Alongside the traditional Gran Reservas, alta expression wines are limited production and come from low-yielding vines, often from a single vineyard, and are hand-picked. Excellent examples of this style are Artadi's Pagos Viejos and El Pison.
However, modernisation has not held back the continuation of successful traditional styles as well. Happily long-established houses such La Rioja Alta, CVNE and Marques de Vargas continue to make graceful, old style wines better than ever before.
White Rioja is typically produced by the Viura grape which must comprise at least 51 percent of the blend; the rest can be made up by other, recently-authorised varieties, namely Sauvignon Blanc, Chardonnay and Verdejo, as well as the native Maturana Blanca, Tempranillo Blanco, and Turruntés (not to be mistaken for Torrontés).
Recommended Producers:
Finca Allende, Amezola de la Mora, Artadi, CVNE, Marqués de Vargas, Palacios Remondo, La Rioja Alta, Murrieta.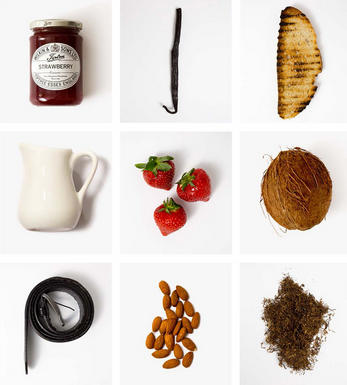 Tempranillo/Tinto Fino
A high quality red wine grape that is grown all over Spain except in the hot South - it is known as Tinto Fino in Ribera del Duero, Cencibel in La Mancha and Valdepenas and Ull de Llebre in Catalonia. Its spiritual home is in Rioja and Navarra where it constitutes around 70% of most red blends.
Tempranillo-based wines tend to have a spicy, herbal, tobacco-like character accompanied by ripe strawberry and red cherry fruits. It produces fresh, vibrantly fruit driven "jovenes" meant for drinking young. However Tempranillo really comes into its own when oak aged, as with the top Riojas where its flavours seem to harmonise perfectly with both French and American oak, producing rich, powerful and concentrated wines which can be extraordinarily long-lived.
In Ribera del Duero it generally sees less oak - the exception being Vega Sicilia where it is blended with Cabernet Sauvignon and Merlot and then aged for an astonishing 7 years in oak and is unquestionably one of the world`s greatest wines.