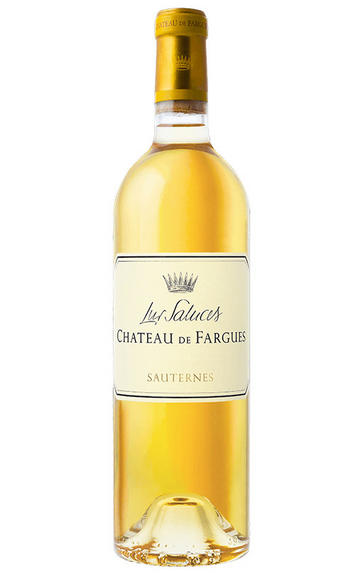 2007 Ch. de Fargues, Sauternes
Prices start from £590.00 per case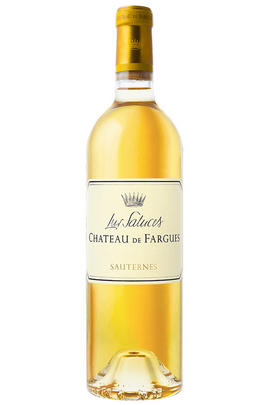 Critics reviews
The de Fargues 2007 delivers 13.9% alcohol and 134 grams of residual sugar. Picking commenced on September 11, with slow botrytis formation and recommenced October 2-24, the picking ale to be conducted at a relatively leisurely pace. It has a very typical de Fargues nose that has lost its tongue at first, but it opens up to reveal a slightly spirituous bouquet with clear honey, pressed flowers, almond and a distant scent of the sea. The palate is medium-bodied with very fine tannins and outstanding delineation. It is utterly harmonious with a thrilling, edgy finish that expresses the terroir with great clarity. There is an effervescent quality that really takes the 2007 to another level, while the marmalade and white pepper finish is powerful and leaves a lasting impression. This is a fabulous 2007, one of the wines of the vintage. Tasted April 2013.
Neal Martin - 28/06/2013
About this WINE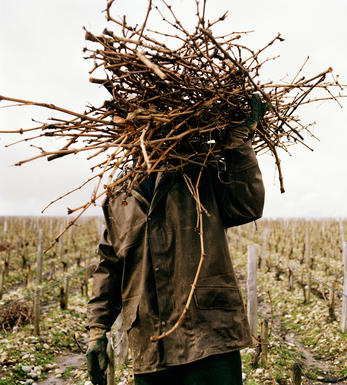 Chateau de Fargues
Château de Fargues has been owned by the Lur-Saluces family since 1472. The family owned d`Yquem until 1999 and de Fargues is known by some critics as d`Yquem jnr. The same winemaking techniques are use at both properties and de Fargues often matches d`Yquem in terms of power and intensity.
De Fargues's 15 hectare vineyard is situated 4 kilometres southeast of d`Yquem and is planted with 80% Sémillon, and 15% Sauvignon Blanc. Yields are minute (lower even than d`Yquem) and the grapes are harvested in as many as 12 separate "tries". The grapes are fermented and the wine is subsequently aged for 3 years in one-year-old oak bariques that were previously used at d`Yquem.
De Fargues's production is small with sometimes only 500 cases a years being produced. The wines require at least 10 years of bottle ageing before they should be approached.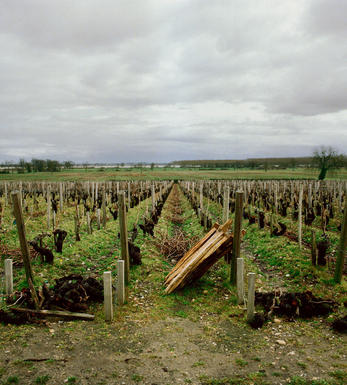 Sauternes
Sauternes is where arguably the world's finest sweet white wines are produced. The Sauternes appellation actually consists of five communes: Barsac, Preignac, Bommes, Fargues and Sauternes itself. Barsac is also an appellation in its own right.

Sauternes literally has an atmosphere different from any of the other major communes. At the southern tip of the Graves,close to the Garonne, not only is the land hillier and decidedly more bucolic but it also enjoys a specific mesoclimate of evening autumn mists which linger until well into the following day, unless burnt off by warm sunshine.

The mists are caused by the cool, spring-fed waters of the Ciron River meeting the warmer tidal Garonne, and the result is an ideal environment for the growth of the mould botrytis cinerea. When its arrival is felicitous, it feeds on the water in the ripe grapes, dehydrating them and leaving sweet, shriveled fruit.


Other regions in Bordeaux (ie Cadillac, Loupiac) produce wines in a similar style from the same method, but none achieve the profundity and complexity of Sauternes.

Recommended Châteaux : Ch. D'Yquem, Ch. Climens (Barsac), Ch. Suduiraut, Ch. Rieussec, Sigalas- Rabaud, Ch. Coutet (Barsac), Ch. de Fargues, Ch. Lafaurie-Peyraguey, Ch. Doisy-Védrines (Barsac), Chateau Partarrieu, La Tour Blanche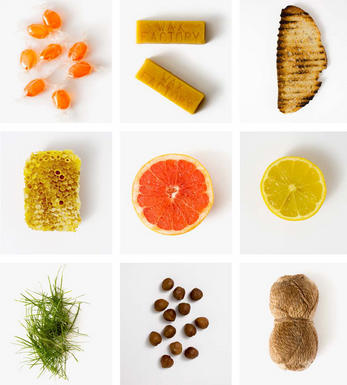 Sémillon
The main grape for Sauternes and particularly successfully grown in Australia's Hunter Valley. Hunter Valley Sémillon is one of Australia's iconic and unique wines, totally unlike any wine produced elsewhere in the world from the same grape variety.

In youth the wines are quite citrusy and fresh, but are generally perceived to gain hugely in complexity as they age and are deemed to be best drunk when at least 5 years old, frequently lasting for 10 or more years. Unusually for Australia, the alcohol levels rarely exceed 11.5%.

In Bordeaux it is the most widely planted white grape and is blended with Sauvignon Blanc to produce the great long-lived dry whites of Graves as well as the great sweet wines of Sauternes. It is high in alcohol and extract and relatively low in aroma and acidity. Its thin skin makes it very susceptible to botrytis which is prerequisite for the making of Sauternes. It responds well to oak ageing and, while having a lightly lemony aroma when young develops lanolin flavours which some describe as "waxy", as well as a rich, creamy, intense, texture and a deep golden colour.