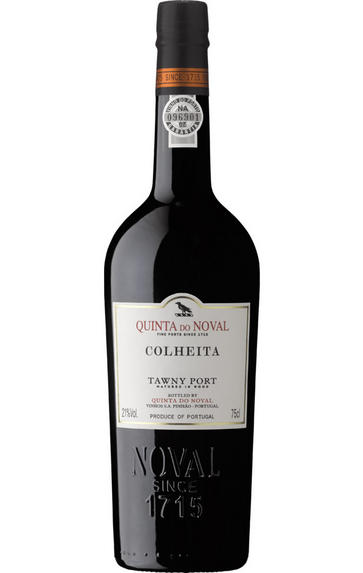 2007 Quinta do Noval, Colheita, Port, Portugal
Prices start from £52.00 per bottle (75cl).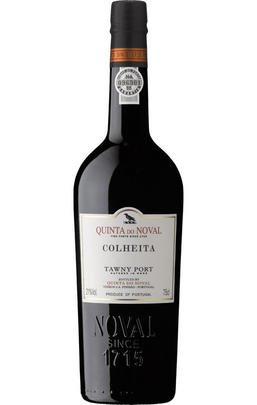 Critics reviews
Touriga Nacional, Touriga Francesa, Tinto Cão and Sousão from Quinta do Noval's own vineyards. The grapes were trodden by foot and fermented in the traditional lagares of the Quinta. Aged in barrel until bottling – this is the first bottling of the 2007, and Noval make a Colheita only in exceptional years. According to Quinta do Noval, 'The weather in 2007 was nicely balanced between rainfall in spring and slightly cool summer nights. 
It was an exceptional year with very specific characteristics. In particular, the winter rains were abundant, followed by a relatively mild summer, with beautiful sunny days followed by cool nights, thus providing ideal conditions for optimal ripening of the grapes. Sugars came from the slow ripening of the grapes. With the exception of two rainy days towards the end of September, the harvest took place in magnificent sunshine, and the grapes were in perfect condition. Fermentations were slower than usual and easy to control.'
Deep, tawny colour, still with a reasonable amount of red to it. The fabulous aroma of dried fruits, especially prunes in spirit (pruneaux d'Agen), walnuts, and bitter-orange marmalade. I don't think I would have picked out liquorice but it is clear once it has been pointed out to me, particularly noticeable on the palate. It is a touch-spirited but no more than you would expect of a wine of 21%—rich, intense and mouth-filling, with great concentration and length. 
There's power but also lovely harmony between the sweetness and the freshness, with lots of fruit at the core despite all the wood-aged developed flavours. In fact, there is something woody here (as opposed to oaky). There's still some tannin here, but it's smooth and compact rather than chewy, adding density to the energy. Immense persistence.
Drink 2021 - 2037
Julia Harding MW, JancisRobinson.com (September 2021)
The 2007 Colheita Tawny Port is a typical field blend of grapes like Touriga Nacional, Touriga Franca, Tinto Cão, Sousão and Tinta Roriz, bottled on March 2, 2021, with 120 grams of sugar, 21% alcohol and a long cork. Dark and stern, this young Colheita shows off more treacle and molasses than I would typically expect at this young age. It seems older than the vintage date suggests, which is not necessarily bad for a young Colheita, and it also seems so rich that it is almost syrupy early on. Then, it adds plenty of power. 
This is not the easiest or friendliest young Colheita, but it has plenty of "wow" factors in power, ripeness, concentration and complexity. A "wow" factor isn't always the final answer, though, and I'm not sure its balance will meet expectations. It sure isn't your typical young Colheita. Plus, the price here is relatively high for a young Colheita. Whether this exceeds or thwarts your expectations is a matter of taste in the long run. It's undoubtedly very good in its big style and sometimes more than that, but at $90, it must also be unequivocally sensational.
This does come with a long cork for those who want to try ageing it. It is a myth that Tawnies never change, although they age slowly. I wonder if a few years in the cellar would smooth this out. In that regard, it did drink better with a week in the fridge. At that point, I liked it a lot more. In any event, I'm leaning up on this because it does so well.
Drink 2021 - 2040
Mark Squires, Wine Advocate (July 2021)
Noval's Colheita is a rare Port produced in small quantities from a single harvest in exceptional years. Unlike vintage Ports (also from a single harvest), colheitas are aged in barrels until bottling. This first bottling from the 2007 barrels boasts complex, layered aromatics with arresting freshness: sweet dried figs, molasses, plump sultanas and raisins, dried citrus peel, some candied peel, mellow undertones of old polished furniture. 
Unctuous palate balanced by vibrant acidity; layered with dried fruits, figgy pudding, some fresh citrus, ginger syrup, ripe red berries and plums. Lose yourself in the long, lingering, fresh finish. Drink up: colheitas don't improve with bottle age.
Drink 2021 - 2023
Julie Sheppard, Decanter.com (April 2021)
A different beast compared to the 2009, the 2007 Colheita Tawny Port is a richer, more powerful, heady effort that still has complexity and balance. A normal field blend of mostly Touriga Nacional, Touriga Franca, and other varieties, this ruby/garnet-hued Tawny takes a touch of air to show at its best but then gives up lots of mature, caramelized red and black fruits, cigar, tobacco leaf, candied orange, and chocolate. 
These carry a full-bodied, heady, powerful Tawny that brings serious intensity yet at the same time is still nicely balanced and stays light on its feet, with a gorgeous finish. It's a seriously good Tawny to drink over the coming decade or two.
Drink 2023 - 2033
Jeb Dunnuck, JebDunnuck.com (February 2023)
Declared as a vintage by most shippers, including Noval, 2007 was a relatively cool year in the Douro, with wines characterised by their fruit purity. Mid-deep and still reasonably youthful in colour with a lovely orange-tawny glint; forthcoming on the nose with a complex creamy-floral character along with a touch of malt and spice; soft and sublime on the palate, sweet but a touch savoury toasted almonds character too, piqued with peppery tannins and leading to a long, beautifully lithe finish.
Drink 2021 - 2030
Richard Mayson, Decanter.com (September 2021)
About this WINE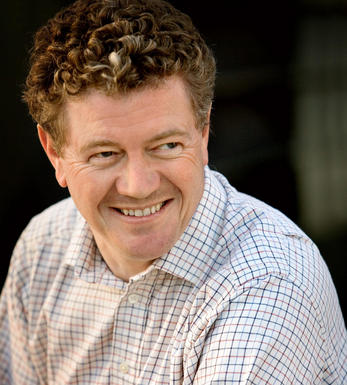 Quinta do Noval
Quinta do Noval was first owned, for more than a century, by the Rebello Valente family who were given it by the Marquês do Pombal, Portugal's Prime Minister. It was later owned by the Van Zeller family who had to rebuild following a catastrophic fire in 1981. Finally Quinta do Noval was sold to AXA insurance group in May 1993.
Quinta do Noval is one of the most evocative of names and the maker of the most famous of all Vintage Ports - Naçional.
The scourge of European vineyards in the late 19th century, the phylloxera aphid was thwarted at Noval's best vineyard by intense fumigation and, rather than grafting the vines on to American root-stocks, which was the usual practice, they managed to survive using Portuguese stock - hence "Naçional".
Noval made its reputation with the declaration of 1931. Due to world recession and vast shipment of 27's, it was one of only three shippers declared in 1931. Noval introduced the first stenciled bottles and in 1958 the first house to introduce a Late Bottled Vintage.

The Quinta do Noval itself lies perfectly situated along a steep hillside in the heart of the Douro Valley where the vines flourish and produce the highest-grade fruit.

Noval today appears to be thriving under the ownership of insurance group AXA with Managing Director Christian Seely, ensuring that their Vintage Port remains one of the most sought-after wines. AXA is a group which already includes a string of leading Bordeaux châteaux.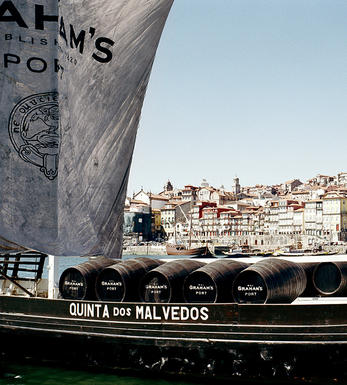 Vintage Port
Vintage Port accounts for only a small percentage of the total Port production - which includes Tawny, Ruby, Late Bottled Vintage, Single Quinta Vintage styles, among others - but is the finest, longest-lived and most expensive style that is produced. The best are as good as any wine in existence.
With the exception of legendary vineyards like Quinta do Noval Nacional and Quinta do Vesuvio, Vintage Port is made from a blend of wines from a producer's finest plots. It is aged for around 18 months in wooden casks before bottling; from then on the watch-word is patience. At least 15 years ageing – and for the top wines it will be significantly longer – is required before the tannins, spirit and fruit are fully integrated. Indeed, the finest examples can last well over 50 years.
Vintage Port is only made in exceptional years (normally around three times per decade) with considerable stylistic variation between different years and shippers. However, they all share a sweet, warming, spicy richness, power and complexity. In other good but not great vintages, many shippers produce a Single Quinta Vintage Port from their finest vineyard. These are made in the same way and have the same style as Vintage Port but tend to mature faster and are less profound. All Vintage Port throws a sediment as it matures, and thus requires decanting.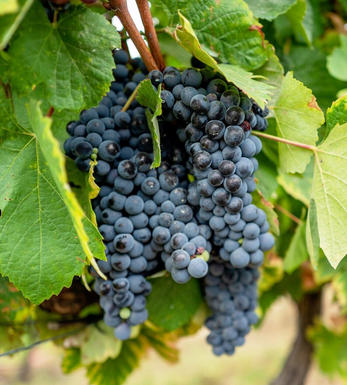 Port Blend
There are around 40 different grape varieties permitted in the production of Port - however the vast majority of Ports are produced from a blend of 5 grapes - Touriga Nacional, Touriga Francesca, Tinta Barroca, Tinta Roriz, and Tinto Cão.
Touriga Nacional produces small, dark-skinned grapes that produce opaque black wines of great extract and high tannins - it gives grip, body, and structure to the blend.
Touriga Franca has a thinner skin and consequently produces wines lighter in colour and tannins than Touriga Nacional. It contributes fruit, aroma, suppleness and roundness.
Tinta Roriz is the Portuguese name for Tempranillo and its high sugar content and low acidity contribute colour and fruit.
Tinta Barroca which is normally grown at highish altitudes and on north-facing slopes, is prized for producing wines of delicacy, finesse and with smooth, velvety fruit. It brings elegance and sweet, ripe fruit to the final blend.
Finally Tinto Cão produces fine and complex wines, though it is probably the least important of the 5 grapes as its painfully small yields have reduced plantings to almost insignificant levels.