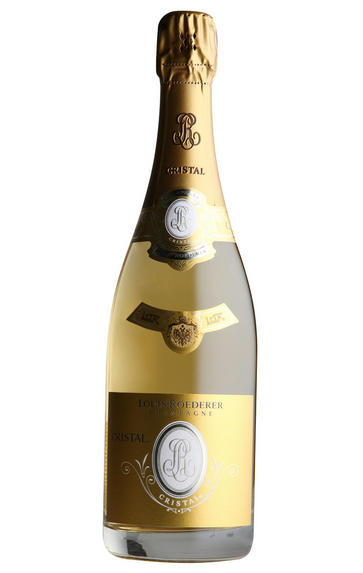 2008 Champagne Louis Roederer, Cristal, Brut
Prices start from £464.75 per bottle (75cl).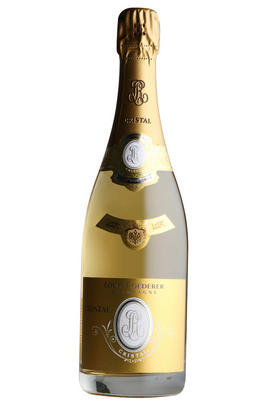 Critics reviews
Antonio Galloni, Vinous
99/100
The 2008 Cristal is one of the most complete, most dazzling Champagnes I have ever tasted. A stunning wine from any and all perspectives, the 2008 simply has it all. Spherical in construction, with superb persistence. The 2008 takes hold of all the senses and never gives up. 
One of the many things that makes the 2008 special is a combination of ripe fruit and bright, piercing acidity. Marzipan, lemon confit, dried flowers, orchard fruit build into the explosive, resonant finish. 
"We learned from the mistakes of 1996, when we picked more on acid than ripeness, as was the norm in Champagne back then," Chef de Caves Jean-Baptiste Lécaillon told me recently. "In 1996, the best fruit turned out to be the last picks, where the fruit was physiologically ripe. Today, we aim to pick all our fruit with that criteria."
Drink 2020 - 2050
Antonio Galloni, Vinous.com (December 2019)
Disgorged in September 2017 with 7.5 grams per litre dosage, the 2008 Cristal was produced from 37 of the 45 parcels that are candidates for inclusion in this cuvée—some 40% of which were farmed organically back in 2008—and it's a blend of 60% Pinot Noir and 40% Chardonnay. 
The finest young Cristal in decades, the wine wafts from the glass with a pure and vibrant bouquet of crisp orchard fruit, clear honey, warm brioche, citrus zest and white flowers. 
It's full-bodied, intense and incisive on the palate, with superb concentration, racy acids and a long, searingly chalky finish. Pristinely balanced, there are some 500,000 bottles of this legend-in-the-making.
Drink 2022 - 2050
William Kelley, Wine Advocate (March 2020)
Jancis Robinson MW
19.5+/20
16% malo, only on Pinot Noir from the Montagne de Reims. 'There were many similarities with 1996, which allowed us to replay the 1996 vintage! Maybe we picked 1996 a bit early, so 2008, we waited longer by at least a week than in 1996. 
Lots of tasting – far more than in 1996 when Roederer based picking only on analysis – and there was no malo in 1996.' For the first time ever, they decided to release it later than the younger vintage, 2009 – so 2008 had nine years on lees. 
The last batch of 2008 will be disgorged in March 2019. (Scan the back label via the Roederer app to get the disgorgement year.) Jean-Baptiste Lécaillon is coy about the assemblage. 'I'm looking for chalkiness.' In 2008 60% Pinot Noir and 40% Chardonnay reflected perfectly the balance of their plantings. 40% of the estate was biodynamic then.
Really dense nose with lots of evolution but still extreme freshness. Some apple-skin character. Bone dry but wonderful lift and freshness. Long and super-lively. Real undertow but very racy on the nose. Lots to chew on. Really elegant!
Drink 2018 - 2038
Jancis Robinson MW, JancisRobinson.com (December 2018)
OMG. A masterpiece. A benchmark. Tight and structured, with fantastic precision and structure. A sharp line of acidity throughout, with fine and tight bubbles. Pineapple, lemon, white apricot, seashell, biscuit, blanched almond, and chamomile hint. 
Vertical and mineral. Dosage 7g/L. Special release in magnum and aged two or three years longer on the lees than the normal bottling. I can't go higher than this. 
Even better in a few years.
James Suckling, JamesSuckling.com (August 2022)
A sublime Champagne from Cristal from the famous and much praised 2008 vintage, which Jean-Baptiste Lécaillon calls a 'dry and cool year that was a replay of 1996'. 'The 2008s are so good because all the cellar masters learnt from 1996 - we adapted,' he said during the masterclass in New York. 
Sharp, tangy, seriously mouthwatering, direct and compelling, with tension at the very beginning that slowly expands and widens as the flavours relax in the mouth. Brioche, toasty notes on the nose with just-ripe green and yellow fruit aromas. Great energy and confidence are on show, with hints of white chocolate that offset the low pH and high acidity. 
Pure and expressive, this is a wine that really gives the emotion with flavour that just lasts and lasts in the mouth full of red berries and chalkiness. Simply divine.
Drink 2023 - 2050
Georgina Hindle, Decanter.com (June 2023)
The 2008 Cristal is a perfect wine, and Champagne simply does not get any better. This incredible wine offers a beautiful perfume of clean, crisp fruits, layers of complexity in its toasted spice and white flowers, and an utterly seamless yet powerful style on the palate. 
This is a rich, decadent expression of Cristal, yet it's still crystalline and elegant, with no sensation of weight, and it just glides over the palate. Haute couture at its finest, this majestic, profound, legendary Cristal can be drunk any time over the coming 2-3 decades.
Drink 2018 - 2038
Jeb Dunnuck, JebDunnuck.com (December 2018)
About this WINE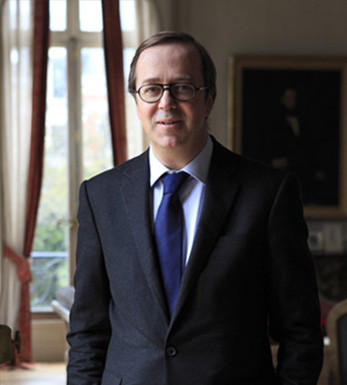 Louis Roederer
Founded in 1776, Louis Roederer is a family-owned, independent Champagne house with a well-deserved reputation for quality. It is managed by Frédéric Rouzaud, the seventh generation to be at the helm.
In 1876, Louis Roederer created the now-famous Cristal at the request of Alexander II. This once intensely sweet wine is now one of the most luscious, deeply flavoured champagnes available, with the '88, '89 and '90 among the greatest Cristals ever released.
Louis Roederer's best-selling non-vintage blend for almost 40 years, Brut Premier, has recently been replaced by Collection 242. This new multi-vintage blend was created by Chef du Caves Jean-Baptiste Lécaillon in response to increasingly warm vintages. The cuvée aims to capture freshness and is based on a perpetual reserve which focuses on acidity and minerality.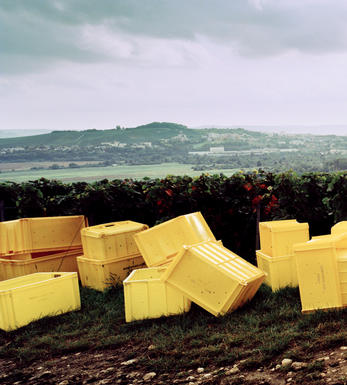 Brut Champagne
Brut denotes a dry style of Champagne (less than 15 grams per litre). Most Champagne is non-vintage, produced from a blend from different years. The non-vintage blend is always based predominately on wines made from the current harvest, enriched with aged wines (their proportion and age varies by brand) from earlier harvests, which impart an additional level of complexity to the end wine. Champagnes from a single vintage are labelled with the year reference and with the description Millésimé.

Non-vintage Champagnes can improve with short-term ageing (typically two to three years), while vintages can develop over much longer periods (five to 30 years). The most exquisite and often top-priced expression of a house's style is referred to as Prestige Cuvée. Famous examples include Louis Roederer's Cristal, Moët & Chandon's Dom Pérignon, and Pol Roger's Cuvée Sir Winston Churchill.
Recommended Producers : Krug, Billecart Salmon, Pol Roger, Bollinger, Salon, Gosset, Pierre Péters, Ruinart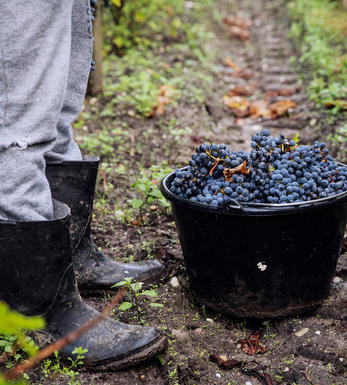 Champagne Blend
Which grapes are included in the blend, and their proportion, is one of the key factors determining the style of most Champagnes. Three grapes are used - Pinot Noir, Chardonnay and Pinot Meunier.

26% of vineyards in Champagne are planted with Chardonnay and it performs best on the Côtes des Blancs and on the chalk slopes south of Epernay. It is relatively simple to grow, although it buds early and thus is susceptible to spring frosts. It produces lighter, fresher wines than those from Burgundy and gives finesse, fruit and elegance to the final blend. It is the sole grape in Blancs de Blancs, which are some of the richest long-lived Champagnes produced.
Pinot Noir accounts for nearly 40% of the plantings in Champagne and lies at the heart of most blends - it gives Champagne its body, structure, strength and grip. It is planted across Champagne and particularly so in the southern Aube district.
The final component is Pinot Meunier and this constitutes nearly 35% of the plantings. Its durability and resistance to spring frosts make the Marne Valley, a notorious frost pocket, its natural home. It ripens well in poor years and produces a soft, fruity style of wine that is ideal for blending with the more assertive flavours of Pinot Noir. Producers allege that Pinot Meunier lacks ageing potential, but this does not deter Krug from including around 15% of it in their final blends.