About this SPIRIT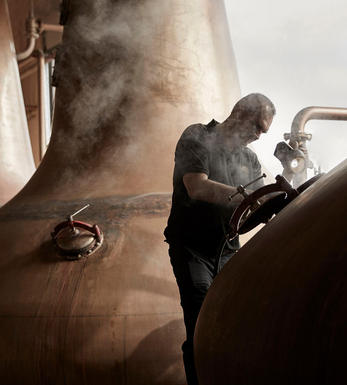 Royal Brackla Distillery, Speyside
The Brackla distillery was built in 1812 by Captain William Fraser of Brackla House on the Cawdor estate, which was the setting for Shakespeare's Macbeth, thane of Cawdor. At the time, the district was notorious for illicit whisky production, so much so that Captain Fraser complained that we was surrounded by people who drank nothing but whisky yet he could not sell 100 gallons in a year.
In 1835 William IV granted Brackla a Royal warrant – the first distillery to enjoy this distinction – proclaiming it to be his favourite whisky. At that time it became known as 'Royal Brackla' or 'The King's Own Whisky'. The warrant was renewed by Queen Victoria in 1838, for it is indeed a whisky fit for a Sovereign and Thane.
The distillery was modernised in 1965, extended in 1970, closed between 1983 and 1991, and further improved in 1997. The process water is drawn from the Cursack Springs above Cawdor Castle, and its cooling water from Cawdor Burn, and it uses lightly peated barley supplied to order. It operates a large stainless steel, full Lauter mash tun, six Oregon pine and two stainless steel washbacks and four large stills. Unusually the wooden washbacks each have a stainless steel cover instead of wooden ones; and the two stainless steel washbacks are located outside. The fermentation is relatively long, typically 72 hours. The wort is clear, and the tall stills have upwardly inclining lyne arms to encourage reflux, hence the light spirit results. The whisky is largely matured in ex-bourbon American Oak casks with some sherry casks being used for malts.

Royal Brackla's location classification is a matter of confusion for some whisky lovers, as some consider it to be a Speyside distillery; however, on the whole it is generally regarded to be part of the Northern Highlands.