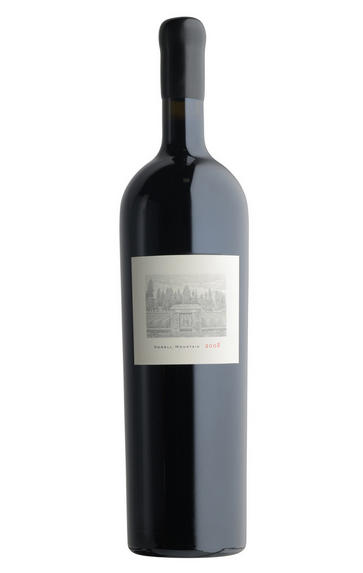 2008 Abreu Vineyards, Howell Mountain, Napa Valley, California, USA
Prices start from £1,418.00 per magnum (150cl).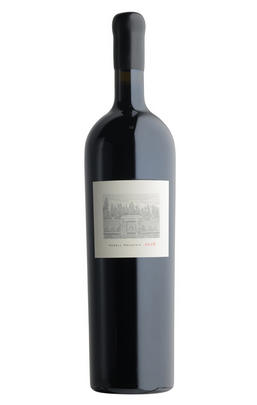 Critics reviews
Antonio Galloni, Vinous
96/100
A wine of myriad contrasts and dimensions, the 2008 Howell Mountain is super-impressive. Layers of intense, dark fruit play off the continuous beams of the Howell Mountain structure in a powerful yet remarkably nuanced and vibrant wine. Hints of rose petals and spice add an exotic flair. There is a linear energy to 2008 that is quite appealing.
The blend is 63% Cabernet Sauvignon, 18% Cabernet Franc, 10% Petit Verdot and 9% Merlot. With the 2011 vintage, Abreu replaced the Howell Mountain name with Las Posadas, the ranch where all the fruit is sourced.
Drink 2018 - 2028
Antonio Galloni, Vinous.com (May 2018)
About this WINE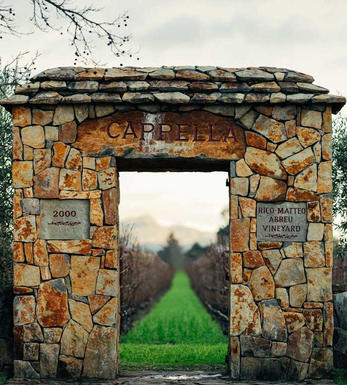 Abreu Vineyards
David Abreu was born into a family of ranchers in the Napa Valley district of California, and spent most of his youth working in the first ever Napa vineyards.

In the 1980s David purchased Madrona Ranch, which he developed into vineyards and farmland. This is where it all started, and was the first property David ever purchased. With Madrona being a hugely diverse plot of land, many grape blending options were available to David, each with their own complexity of flavours.

A little later, he purchased the Cappella vineyards, one of the oldest in St. Helena. Because of the diseased rootstock that lay there, it took David six years before he managed to grow the new vines into a healthy condition. He had tasted the Cappella fruit in the 70s, and new it would be worth the hard work.

Thorevilos was one of the places David spent a lot of his childhood. Situated between St. Helena and Howell Mountain, the soil there is perfect for grape growing. So David cultivated the land.

In 2000, David purchased Howell Mountain which sits at about 2000 feet elevation, and is surrounded by a protected pine tree forest. Before vine planting, David removed, stacked and preserved a large quantity of redwood stakes, for use in a later life. All the Abreu Vineyards are made up of Cabernet blends.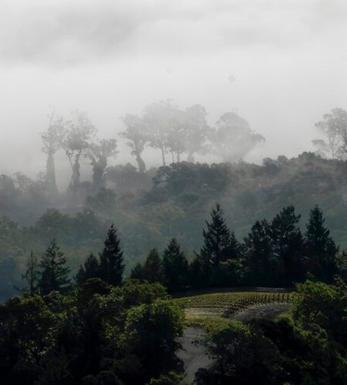 Howell Mountain
Howell Mountain is situated in the eastern hills of the Napa Valley and is known for producing some of California's most sought-after and acclaimed wines, particularly Cabernet Sauvignon and other Bordeaux varietals. What sets it apart is its significant elevation. Vineyards in Howell Mountain typically range from 1,400 to 2,200 feet (425 to 670 meters) above sea level, providing a unique microclimate influencing the grapes' growing conditions.
The higher elevation results in cooler temperatures than the valley floor. The mountain's vineyards often experience cooler evenings, benefiting grape ripening. The temperature variation between day and night, known as diurnal temperature variation, helps grapes develop complex flavours while retaining good acidity.
While the elevation and volcanic soils offer distinct advantages, they also present challenges, including cooler temperatures that can delay ripening, steep slopes that require careful vineyard management, and irrigation due to lower rainfall at higher elevations.
The region's soils are mainly volcanic, with a mix of rocky, well-draining soils. These volcanic soils contribute to the region's distinct terroir, often imparting mineral notes and a unique character to the wines. The rocky terrain also requires vine roots to penetrate deeply in search of water and nutrients, leading to concentrated flavours in the grapes.
While Howell Mountain is known for its Cabernet Sauvignon, it also produces other Bordeaux varietals, including Merlot, Cabernet Franc, Petit Verdot, and Malbec. Zinfandel and Chardonnay are also grown in smaller quantities.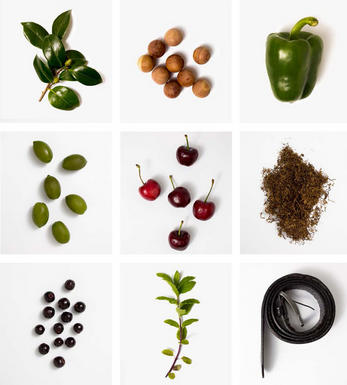 Cabernet Sauvignon
The most famous red wine grape in the world and one of the most widely planted.
It is adaptable to a wide range of soils, although it performs particularly well on well-drained, low-fertile soils. It has small, dusty, black-blue berries with thick skins that produce deeply coloured, full-bodied wines with notable tannins. Its spiritual home is the Médoc and Graves regions of Bordeaux where it thrives on the well-drained gravel-rich soils producing tannic wines with piercing blackcurrant fruits that develop complex cedarwood and cigar box nuances when fully mature.
The grape is widely planted in California where Cabernet Sauvignon based wines are distinguished by their rich mixture of cassis, mint, eucalyptus and vanilla oak. It is planted across Australia and with particular success in Coonawarra where it is suited to the famed Terra Rossa soil. In Italy barrique aged Cabernet Sauvignon is a key component in Super Tuscans such as Tignanello and Sassicaia, either on its own or as part of a blend with Sangiovese.