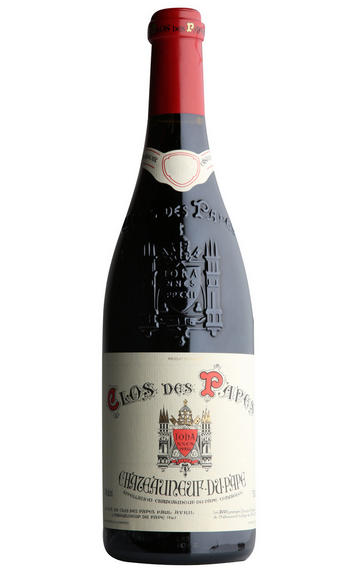 2010 Châteauneuf-du-Pape Rouge, Clos des Papes, Paul Avril et Fils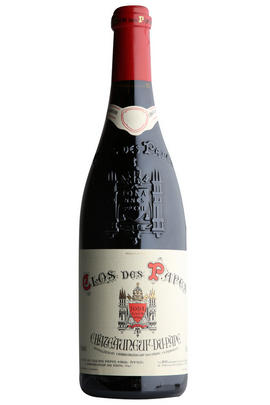 About this WINE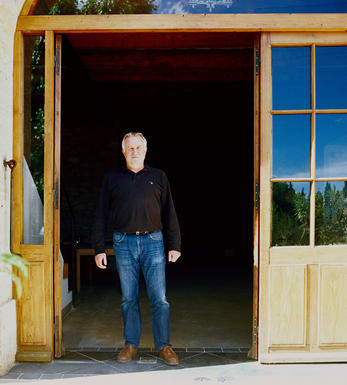 Paul Avril et Fils
A father-and-son team, Paul and Vincent Avril run the firm and are already established as one of the very finest wine making-partnerships in the southern Rhône. The domaine's situation is not helped by having plots of vines scattered throughout the area, but this does mean that they can spread the length of harvesting over a longer period of time and get the very best from each of their sites.
The blend, though this will vary annually depending on conditions, is predominantly Grenache (65%) with the remaining being made up of Mourvèdre, Syrah and a tiny amount of Counoise. Châteauneuf-du-Pape comes in many guises, its popularity has led to unscrupulous merchants driving prices up, and therefore quality down, to achieve light, thin wines that are frequently part-vinified by the carbonic maceration process more often seen in a Beaujolais.
To find the true character of these wonderful wines which age so well, one has to search out the dedicated growers such as the Avrils.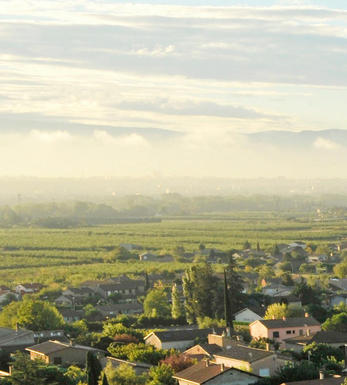 Châteauneuf-du-Pape
Châteauneuf-du-Pape is the largest and most important wine appellation in the southern Rhône. It is home to more than 3,200 hectares of vineyards and over 80 growers; more wine is produced in Châteauneuf than the whole of the northern Rhône put together. The vineyards are bounded to the west by the Rhône river and to the east by the A7 autoroute.

Châteauneuf-du-Pape was the first ever Appellation d'Origine Contrôlée established in France, in 1932. Small, rounded rocks from the ancient river bed known as galets roulés are a key aspect of what makes Châteauneuf -du-Pape wines so distinctive, with the rocks reflecting heat back into the vines at night, thus increasing ripeness and reducing acidity.

The gloriously rich red wines, redolent of the heat and herbs of the south, are enhanced by the complexity which comes from blending several grape varieties. Fourteen are permitted for reds: Grenache, Mouvedre, Syrah, Cinsault, Vaccarese, Counoise, Teret Noir, Muscadin, Picpoul Noir, Clairette, Grenache Blanc, Rousanne, Picpoul Gris and Picardin. With red Châteauneuf-du-Pape, Grenache typically dominates with Syrah and Mourvèdre in support.
White Châteauneuf-du-Pape is becoming increasingly sought-after, even though it represents less than 10 percent of the total production. Here, five grapes are permitted: Grenache Blanc, Clairette, Roussanne, Bourboulenc and Picardin.

Recommended Producers: Château de Beaucastel, Clos de Papes, Vieux Télégraphe, Château Rayas,, Domaine de la Charbonnière, Sabon, Château La Nerthe, Domaine Perrin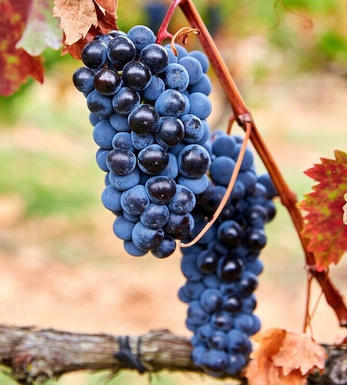 Southern Rhône Blend
The vast majority of wines from the Southern Rhône are blends. There are 5 main black varieties, although others are used and the most famous wine of the region, Châteauneuf du Pape, can be made from as many as 13 different varieties. Grenache is the most important grape in the southern Rhône - it contributes alcohol, warmth and gentle juicy fruit and is an ideal base wine in the blend. Plantings of Syrah in the southern Rhône have risen dramatically in the last decade and it is an increasingly important component in blends. It rarely attains the heights that it does in the North but adds colour, backbone, tannins and soft ripe fruit to the blend.
The much-maligned Carignan has been on the retreat recently but is still included in many blends - the best old vines can add colour, body and spicy fruits. Cinsault is also backtracking but, if yields are restricted, can produce moderately well-coloured wines adding pleasant-light fruit to red and rosé blends. Finally, Mourvèdre, a grape from Bandol on the Mediterranean coast, has recently become an increasingly significant component of Southern Rhône blends - it often struggles to ripen fully but can add acidity, ripe spicy berry fruits and hints of tobacco to blends.
Reviews
Customer reviews
Critic reviews
Mind blowing stuff, the 2010 Chateauneuf du Pape is most likely the greatest wine ever from this estate. Still inky colored, it has a powerful, slightly backward feel in its crushed rocks, cassis, kirsch, toasted spice, licorice and dried flower-like aromas and flavors. Massively concentrated, thick, rich and textured, it delivers a serious lashing of tannin, yet nevertheless is perfectly balanced, ultra-pure, precise and long. It's the quintessential Clos des Papes and will have 30+ years of longevity. Note, yields were a miniscule 16 hectoliters per hectare, so there's not much of this out there.
Jeb Dunnuck - 14/09/2015
Very substantial and handsome, even if much less open than the other ingredients. Intense, meaty, then floral nose even if a tiny bit reduced. The impact of this wine is mainly on the finish. Lots of tannin and clearly made for the future. Very concentrated, crackling but not severe.
(Jancis Robinson & Julia Harding MW - www.jancisrobinson.com - 20 Dec 2011)
The 2010 looks to be extraordinary. A slightly fresher and more elegant version of the 2007, I think it may well be the greatest Clos des Papes since the 1990 and 1978. The 2010 has a dense ruby/purple color, a beautifully precise and pure nose of deep black raspberry, black cherry, boysenberry and blueberry notes with some licorice, garrigue, and bouquet garni. Additionally, there is a meaty richness that probably comes from the Mourvedre and Syrah.

It is an extraordinarily intense, fresh, lively wine with great finesse and elegance, which is somewhat unusual given the richness of fruit and the power of this wine. The color is a dense ruby/purple, perhaps slightly less opaque than the 2007, but very dark. This wine should evolve for 30+ years.
(Robert Parker - Wine Advocate #197 Oct 2011)

This is one of the great estates in Chateauneuf du Pape, with a history that dates back to the mid-1700s.  Clos des Papes, with its 90+ acres of vines spread among 24 separate parcels in the appellation, is one of the traditional hallmarks of classic, long-lived Chateauneuf du Pape. Everything is aged in old wood foudres, no old vine or luxury cuvee is produced, and the red wine is a classic blend of 65% Grenache, 20% Mourvedre, 20% Syrah, and the rest Vaccarese, Counoise, and Muscardin. It is generally not fined or filtered after aging 15 months in these old wood foudres.