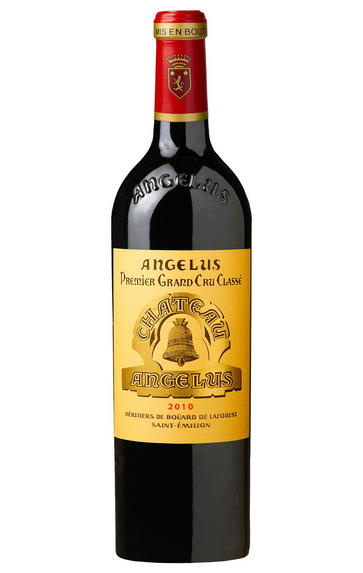 2010 Ch. Angélus, St Emilion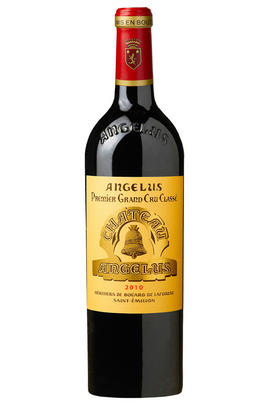 About this WINE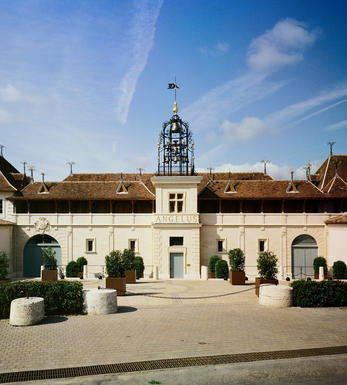 Chateau Angelus
Château Angelus is one of the largest and most prestigious St-Emilion estates and was promoted to 1er grand cru classé status in the 1996 St-Emilion reclassification. Passionately managed for over four generations, Angelus is owned and run by two cousins, Hubert de Boüard de Laforest, and Jean-Bernard Grenie and is located in the centre-west of the St-Emilion appellation, due west of St-Emilion town.

Angelus's vineyards, 57.8 acres, situated less than a kilometer away from the famous St Emilion steeple, enjoys a perfect southerly-exposed slope - Cabernet Franc (which makes up 48% of the blend) is grown at the bottom of the slope, where the soil is sandier and warmer, while the Merlot (50% of the blend) is grown in the limestone-rich clay soils at the top of the slope. The wine is matured in 100% new oak for 18 months. Rich, concentrated and complex, Angelus needs at least five years of bottle age before it should be approached.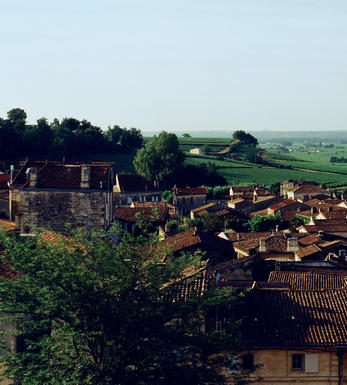 St-Emilion
St Emilion is one of Bordeaux's largest producing appellations, producing more wine than Listrac, Moulis, St Estèphe, Pauillac, St Julien and Margaux put together. St Emilion has been producing wine for longer than the Médoc but its lack of accessibility to Bordeaux's port and market-restricted exports to mainland Europe meant the region initially did not enjoy the commercial success that funded the great châteaux of the Left Bank.
St Emilion itself is the prettiest of Bordeaux's wine towns, perched on top of the steep limestone slopes upon which many of the region's finest vineyards are situated. However, more than half of the appellation's vineyards lie on the plain between the town and the Dordogne River on sandy, alluvial soils with a sprinkling of gravel.
Further diversity is added by a small, complex gravel bed to the north-east of the region on the border with Pomerol. Atypically for St Emilion, this allows Cabernet Franc and, to a lesser extent, Cabernet Sauvignon to prosper and defines the personality of the great wines such as Ch. Cheval Blanc.
In the early 1990s there was an explosion of experimentation and evolution, leading to the rise of the garagistes, producers of deeply-concentrated wines made in very small quantities and offered at high prices. The appellation is also surrounded by four satellite appellations, Montagne, Lussac, Puisseguin and St. Georges, which enjoy a family similarity but not the complexity of the best wines.
St Emilion was first officially classified in 1954, and is the most meritocratic classification system in Bordeaux, as it is regularly amended. The most recent revision of the classification was in 2012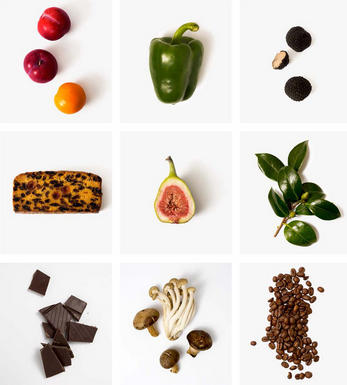 Merlot
The most widely planted grape in Bordeaux and a grape that has been on a relentless expansion drive throughout the world in the last decade. Merlot is adaptable to most soils and is relatively simple to cultivate. It is a vigorous naturally high yielding grape that requires savage pruning - over-cropped Merlot-based wines are dilute and bland. It is also vital to pick at optimum ripeness as Merlot can quickly lose its varietal characteristics if harvested overripe.
In St.Emilion and Pomerol it withstands the moist clay rich soils far better than Cabernet grapes, and at it best produces opulently rich, plummy clarets with succulent fruitcake-like nuances. Le Pin, Pétrus and Clinet are examples of hedonistically rich Merlot wines at their very best. It also plays a key supporting role in filling out the middle palate of the Cabernet-dominated wines of the Médoc and Graves.
Merlot is now grown in virtually all wine growing countries and is particularly successful in California, Chile and Northern Italy.
Reviews
Customer reviews
jancisrobinson.com
17.5/20
Critic reviews
This is another magnificent wine. How much fun will it be to have the 2000, 2005, 2009 and 2010 in future tastings to see which vintage comes out on top? They are all candidates that will flirt with perfection, depending on the state of their evolution. The 2010 has a similar color to the 2009, but is perhaps even more opaque, which seems almost impossible. Subtle barbecue smoke, graphite, blackberry liqueur, licorice and chocolate jump from the glass, and the wine hits the palate with a thunderous cascade of sweet, velvety, full-bodied, concentrated black fruits, nice definition from the tannins and decent acidity. The wine has a majestic, multilayered finish that goes on for a minute. This magnificent wine is still frightfully young and still somewhat unformed, but every bit as prodigious as its older sibling, the 2009. This will probably end up evolving on a slightly slower evolutionary track. However, it has 50 years of longevity in it.
Robert M. Parker, Jr. - 28/08/2015
The 2010 Ch. Angélus is really fine, with gorgeous mouthfeel to the notes of blueberry, plum and black cherry preserves. Shows alluring black tea and incense hints in the background, with ample, iron-tinged grip on the finish. This has density and elegance. Impressive.
(James Molesworth – The Wine Spectator – Mar 2011)
jancisrobinson.com
17.5/20
Very dark crimson. Manages to be both savoury and luscious on the nose. Thick and dense and very sweet on the finish. All stops pulled out to make an impression! Very firm finish after great riches. Dry, slightly tarry finish.
(Jancis Robinson MW- jancis robinson.com April 2011)

An absolutely spectacular wine from this estate, run with meticulous precision by Hubert de Bouard, the opaque bluish/purple 2010 Angelus offers up a beautifully sweet smorgasbord of aromas ranging from blueberry pie to espresso roast, white chocolate, creme de cassis, licorice, truffle and a touch of lead pencil shavings. There is even a floral underpinning to this extraordinary, highly-scented, full-bodied wine. Rich, layered and built like a skyscraper, this multi-dimensional Angelus has lavish concentration and moderately high tannin, but it is sweet and well-integrated, as is the oak. Just enough acidity provides focus and delineation to this exceptionally well-endowed wine, which should hit its prime in 7-10 years and last 30-40.
(98 Robert Parker- Wine Advocate- Feb 2013)

A blend of 55% Merlot and 45% Cabernet Franc cropped at 32 hectoliters per hectare, the 2010 may not hit the peaks of the extraordinary 2009 or 2005, but it is another fabulous wine from proprietor Hubert de Bouard. It boasts an inky/blue/purple color along with abundant aromas of acacia flowers, blueberry liqueur, black raspberries, licorice and subtle toasty oak in the background. A notion of graphite emerges as the wine sits in the glass, which tends to be a characteristic of Angelus. Long, rich, dense and full-bodied with high but well-integrated tannins, it will rival the 1989 and 1990 as well as the 2009 and 2005 as one of the finest wines made at this estate. At present, the 2009 has a slight edge because of its more sumptuous texture. Nevertheless, the 2010 is a great wine with a future of at least 30 years!
(94-96+ Robert Parker- Wine Advocate- May 2011)
2010 was the point at which everyone was sitting up and taking notice of Angélus, two years before they were officially recognised as a First Growth in the 2012 ranking. Extremely silky and concentrated, still knitted down and nowhere near ready to go. The Cabernet Franc side here is blossoming into violet freshness, accompanied step for step with blackberry, bilberry and crushed raspberry puree. The fruit is deep and concentrated, there is accompanying spice, cherry pits, grilled cinnamon and licorice but the overall feeling is of controlled, confident, autumnal fruit brushed over with a mineral-edged uplift through the finish. Great stuff here.
Jane Anson, Decanter (January 2020)