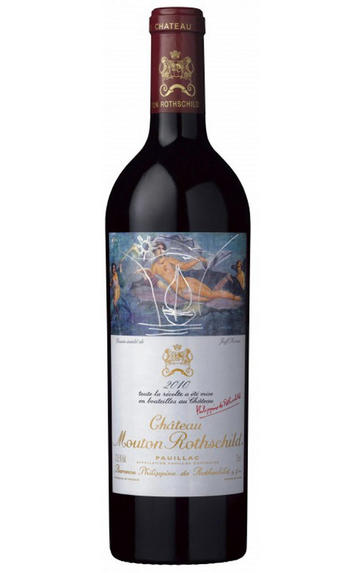 2010 Château Mouton Rothschild, Pauillac, Bordeaux
Prices start from £3,240.00 per case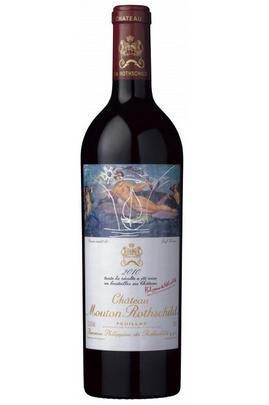 Critics reviews
Tasted at the Mouton-Rothschild vertical in London, the 2010 Mouton-Rothschild is a modern-day benchmark for the First Growth and here, side-by-side with the 2009, it certainly has its nose in front. It is in possession of quite breathtaking delineation and precision, a crystalline bouquet with black fruit laced with minerals, potent pencil shaving notes, a touch of cold slate. It is totally entrancing. The palate has beguiling symmetry, but for me what really distinguishes this Mouton is its effortlessness. Like watching Usain Bolt in his prime sprinting to another world record, this wine is almost self-effacing in terms of its brilliance. Will Philippe Dhalluin ever better this Mouton-Rothschild? Keep it in the cellar for 15 years, if you know what's good for you. Tasted May 2016.
Neal Martin - 31/01/2017
Jancis Robinson MW
18.5/20
Tasted 17 Feb: Very youthful and very Cabernet and pretty spicy. Very correct and with an attractive dryness on the finish. Very snazzy.

Tasted 8 Apr: 94% Cabernet Sauvignon, 6% Merlot. Burnished dark pruney crimson. Very opulent and heady on the nose. Lovely perfume. Lots of fully ripe black fruits. Amazingly polished – so much so that you are almost distracted from the huge tannic charge. Not quite as dense as some of the greatest 2010s but very well balanced. Hugely Cabernet. As in 2009, great care has been taken not to produce too heavy a wine. There is almost Lafite-like structure here. Very, very polished middle palate. Bone dry, pretty tannic finish.
Jancis Robinson MW- jancis robinson.com, Apr 2011


Another battleship in the making, with a massive core of red currant, plum and blackberry fruit laced with iron and roasted apple wood and backed by massive grip. Despite the heft, this is sleek and long, with terrific poise.
James Molesworth – The Wine Spectator –  Mar 2011
Only 49% of the production made it into the 2010 Mouton Rothschild, which has a strikingly beautiful label by Jeffrey Koons. This is a truly great wine, with a very high percentage of Cabernet Sauvignon (94%) and the other 6% Merlot. At 13.9% natural alcohol, Mouton's director, Philippe Dhalluin, has clearly produced another 50- to 60-year wine that has a chance at perfection in about 15 years time, when I suspect this wine will be rounding into drinking condition. It is dense, rich and full-bodied, with the classic Mouton creme de cassis, forest floor, licorice and floral notes, but also some blueberry and hints of subtle espresso and mulberry. The wine has more minerality and precision than the rich, extravagantly opulent 2009, and while that may please some, others will have their patience tested as they wait and wait for this compelling Mouton Rothschild to hit full maturity.
Robert Parker- Wine Advocate- Feb 2013

The 2010 Mouton possesses the highest level of Cabernet Sauvignon (94%) of any wine this estate has produced. Combined with 6% Merlot, the wine achieved 13.9% natural alcohol. Under director Philippe Dalhuin, the harvest was accomplished between September 28 and October 13, and only 49% of the crop made it into this powerful effort. Reminiscent of the 1986, it is a 50-60 year wine that is not meant for consumers looking for near-term gratification. This backward, tannic, full-bodied, exceptionally promising 2010 reveals enormous weight along with extravagant levels of precise, fresh boysenberry and creme de cassis fruit. The abundant minerality is due no doubt to the fresh acidity. In need of at least 15 years of cellaring, it will undoubtedly remain an infant at age 25 (as does the 1986).
Robert Parker- Wine Advocate- May 2011

Chateau Mouton Rothschild offers a huge, exotic multi-fruit nose, layers and layers of flavour, the richness lifted by ingrained acidity. Perfect balance for such a richly textured wine, the best Mouton for years.
After the disappointment – to me at least – of 2009, this is an impressive return to form for Mouton, showing less charry oak and much more finesse and freshness, despite the higher alcohol. It's a more classic Pauillac, with notes of graphite and cassis, lots of Cabernet structure, tangy acidity, subtle vanilla oak, a touch of herbal
spice and the structure to age.
About this WINE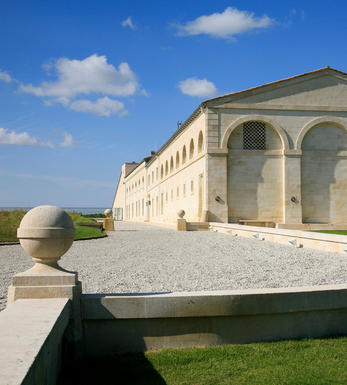 Château Mouton Rothschild
A first growth in the 1855 Classification, Château Mouton Rothschild has a long and storied history; wine has been made here since Roman times.
The estate has been in the Rothschild family since 1853, but it wasn't until the arrival of Baron Philippe de Rothschild in 1922 that its fortunes were transformed. Baron Philippe was a dynamic figure who revolutionised the estate and was the first to introduce château-bottling as early as 1924. He also introduced the concept of commissioning an artist to design each new vintage's label. Some of the most notable contributors include Salvador Dalí, Henry Moore, Marc Chagall, Pablo Picasso, Francis Bacon, Lucian Freud, and Anish Kapoor.
His daughter Baroness Philippine continued to help raise the estate to new heights with numerous endeavours, including the inauguration of a new vat house in 2013. Today, her three children, Philippe and Camille Sereys de Rothschild and Julien de Beaumarchais de Rothschild, continue the efforts of their predecessors.
Following the retirement in 2020 of Philippe Dhalluin, the winemaking team is now headed up by Jean-Emmanuel Danjoy. With his team, he oversees over 83 hectares of vines, planted with Cabernet Sauvignon (78%), Merlot (18%), Cabernet Franc (3%), and Petit Verdot (1%). The average age of the vines is around 50 years.