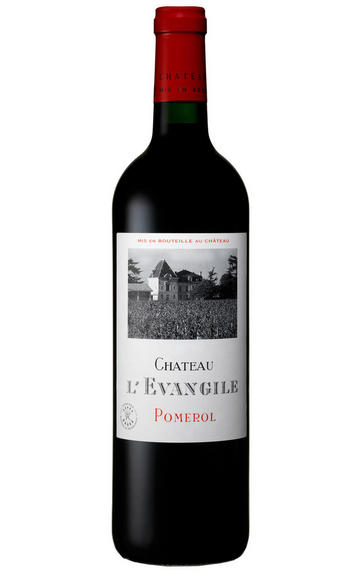 2010 Château l'Evangile, Pomerol, Bordeaux
Prices start from £1,044.00 per case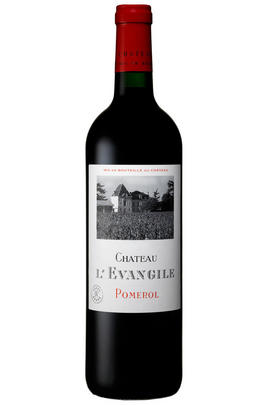 Critics reviews
Another spectacular effort from LEvangile, the 2010 is a close rival to the 2009 and should be fascinating to compare with that vintage over the next 30 or so years. Stunningly rich and black/purple in color, the 2010 LEvangile offers up the tell-tale floral note as well as black raspberry jam intermixed with cassis and kirsch. There are also ethereal floral notes and a hint of background oak. The pH is slightly above average (3.7 versus the pH of 4.0 that the 2009 and 2000 possessed). This is a massive, rich, very impressive LEvangile, and readers should take note of the + in my rating, which could certainly push this wine way up there. Remarkably, I was shocked when I learned that this wine was aged in 100% new oak, as the oak is a background element in this blockbuster lEvangile. Forget it for 3-5 years, and drink it over the following 30-40.
Robert M. Parker, Jr. - 28/02/2013
Very dark crimson indeed. Very very sweet. Sweet and rich and full and extremely lush and flattering. Very smart and long and rich. Purity was the aim. Sweet start but lots of tannin and firmness. A wine I would really relax with. Long and relaxing and a bit like a massage. Their reconstruction aimed to increase the Cabernet Franc. Dry finish but so calming and charming. They have introduced some organic methods in the vineyard and replaced old vines.
(Jancis Robinson MW- jancis robinson.com, 15 Apr 2011)


Gorgeous raspberry ganache, fig and boysenberry fruit is liberally laced with fruitcake and graphite. Superracy, with linzer torte and red licorice taking over the finish. Very long, with lots going on here already. Tasted non-blind.
(James Molesworth – The Wine Spectator – Apr 2011)
Another spectacular effort from L'Evangile, the 2010 is a close rival to the 2009 and should be fascinating to compare with that vintage over the next 30 or so years. Stunningly rich and black/purple in color, the 2010 L'Evangile offers up the tell-tale floral note as well as black raspberry jam intermixed with cassis and kirsch. There are also ethereal floral notes and a hint of background oak. The pH is slightly above average (3.7 versus the pH of 4.0 that the 2009 and 2000 possessed). This is a massive, rich, very impressive L'Evangile, and readers should take note of the "+" in my rating, which could certainly push this wine way up there. Remarkably, I was shocked when I learned that this wine was aged in 100% new oak, as the oak is a background element in this blockbuster l'Evangile. Forget it for 3-5 years, and drink it over the following 30-40.

With an alcohol level hitting the scales at 14.8%, the 2,000 cases of 2010 L'Evangile come from a blend of 88% Merlot and 12% Cabernet Franc, which I assume is much less Cabernet Franc than what was used under the old administration of the Ducasse family versus what is being done now by Eric de Rothschild and his team. The new administrators have added some vineyard parcels from neighboring sites, particularly Le Croix de Gay, and they have also replanted part of this vineyard, which sits on the St.-Emilion border next to La Conseillante and facing Cheval Blanc and La Dominique.
(98+ Robert Parker- Wine Advocate- Feb 2013) As I have been predicting, the Rothschilds are pushing l'Evangile to the highest level of the Pomerol hierarchy. Composed of 88.8% Merlot and 11.2% Cabernet Franc, the 2010 achieved 14.7% alcohol naturally, making it one of the few 2010s with lower alcohol than its 2009 counterpart (the 2009 had 15% alcohol and the 2008 had 14.5%). Most of that is due to the superb ripeness and the high concentration of Merlot in 2010. The berries were extremely tiny and the drought and cool nights in August and September gave the 2010 a lower pH and higher acidity than the 2009. For example, the 2010's pH is 3.7, the 2009's is higher and in 2000 it was 4.0. The dense purple-colored 2010 exhibits massive levels of black raspberries, Asian plum sauce, truffles and cassis. The wine is unctuously textured and remarkably fresh with a weighty richness (much like the 2009) but greater delineation. A marvelous effort, it, along with the 2009, may turn out to be one of the two greatest wines made by l'Evangile. The 2010 should drink well young yet last for three decades or more.
(96-98 Robert Parker- Wine Advocate- May 2011)
Dense and opulent, as is the style of Chateau l'Evangile, but very refined. Full-bodied, succulent with a rich concentration of fruit. Powerful but with more apparent freshness than the excellent '09. Beautifully textured - tannins velvety and smooth. Long, clean finish.
There will only be around 3,000 cases of this wine in 2010 because of the exceedingly small yields, but those who secure one can count themselves extremely fortunate. Richly coloured, sumptuously perfumed, this is a sleek Pomerol with mouth-­filling fruit flavours, plush tannins and creamy, almost exotic fruit flavours. A wine for
unashamed hedonists.
(Tim Atkin MW,
www.timatkin.com
, May 2011)
About this WINE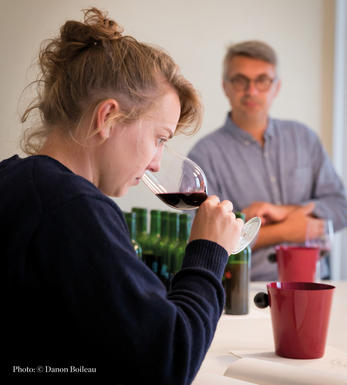 Chateau l'Evangile
Château L'Evangile is one of the prestigious estates in Pomerol and produces some of the most sought-after wines in the appellation. It is located in the far east of the Pomerol appellation and its vineyards border those of Château La Conseillante, Château Gazin and Château Cheval Blanc. Its 14.1 hectares of vineyards (Merlot 78%; Cabernet Franc 22%) lie on deep gravel beds pitted with sand and clay.
The wine is vinified traditionally, undergoing a lengthy cuvaison followed by maturation in oak barriques (40% new) for 16-20 months. L`Evangile has always been a top-class estate but quality has been pushed noticeably higher since Domaines Baron de Rothschild of Château Lafite acquired a majority shareholding in 1990.
With Michel Rolland as consultant winemaker, the wines of L'Evangile are now challenging Pétrus and Lafleur in terms of their sheer class and quality.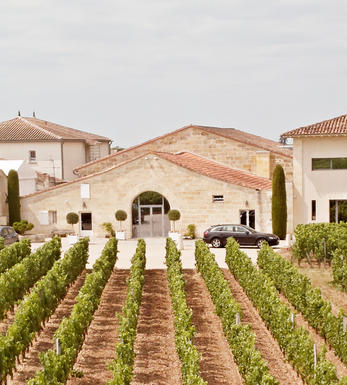 Pomerol
Pomerol is the smallest of Bordeaux's major appellations, with about 150 producers and approximately 740 hectares of vineyards. It is home to many bijou domaines, many of which produce little more than 1,000 cases per annum.

Both the topography and architecture of the region is unremarkable, but the style of the wines is most individual. The finest vineyards are planted on a seam of rich clay which extends across the gently-elevated plateau of Pomerol, which runs from the north-eastern boundary of St Emilion. On the sides of the plateau, the soil becomes sandier and the wines lighter.

For a long time Pomerol was regarded as the poor relation of St Emilion, but the efforts of Jean-Pierre Moueix in the mid-20th century brought the wine to the attention of more export markets, where its fleshy, intense and muscular style found a willing audience, in turn leading to surge in prices led by the demand for such limited quantities.


There is one satellite region to the immediate north, Lalande-de-Pomerol whose wines are stylistically very similar, if sometimes lacking the finesse of its neighbour. There has never been a classification of Pomerol wines.

Recommended Châteaux : Ch. Pétrus, Vieux Ch. Certan, Le Pin, Ch. L'Eglise-Clinet, Ch. La Conseillante, Ch. L'Evangile, Ch. Lafleur, Trotanoy, Ch. Nenin, Ch. Beauregard, Ch. Feytit-Clinet, Le Gay.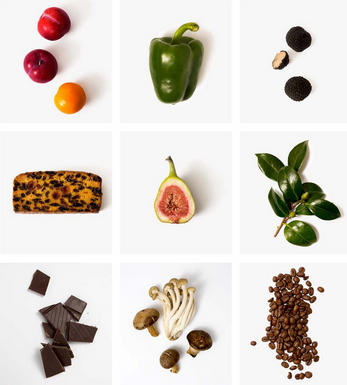 Merlot
The most widely planted grape in Bordeaux and a grape that has been on a relentless expansion drive throughout the world in the last decade. Merlot is adaptable to most soils and is relatively simple to cultivate. It is a vigorous naturally high yielding grape that requires savage pruning - over-cropped Merlot-based wines are dilute and bland. It is also vital to pick at optimum ripeness as Merlot can quickly lose its varietal characteristics if harvested overripe.
In St.Emilion and Pomerol it withstands the moist clay rich soils far better than Cabernet grapes, and at it best produces opulently rich, plummy clarets with succulent fruitcake-like nuances. Le Pin, Pétrus and Clinet are examples of hedonistically rich Merlot wines at their very best. It also plays a key supporting role in filling out the middle palate of the Cabernet-dominated wines of the Médoc and Graves.
Merlot is now grown in virtually all wine growing countries and is particularly successful in California, Chile and Northern Italy.